Deliciously Decadent Cranberry Kuchen
I'm a fan of anything that mixes sweet and tart flavors together – so when I discovered the recipe for Cranberry Kuchen, I was thrilled! The combination of sweet cake batter and tart cranberries was a flavor match made in heaven. I love baking and experimenting with recipes, and this one has quickly become a favorite. With a few simple ingredients and minimal effort, I'm able to make a delicious, mouthwatering dessert that everyone in my family loves.
Cranberry Kuchen Recipe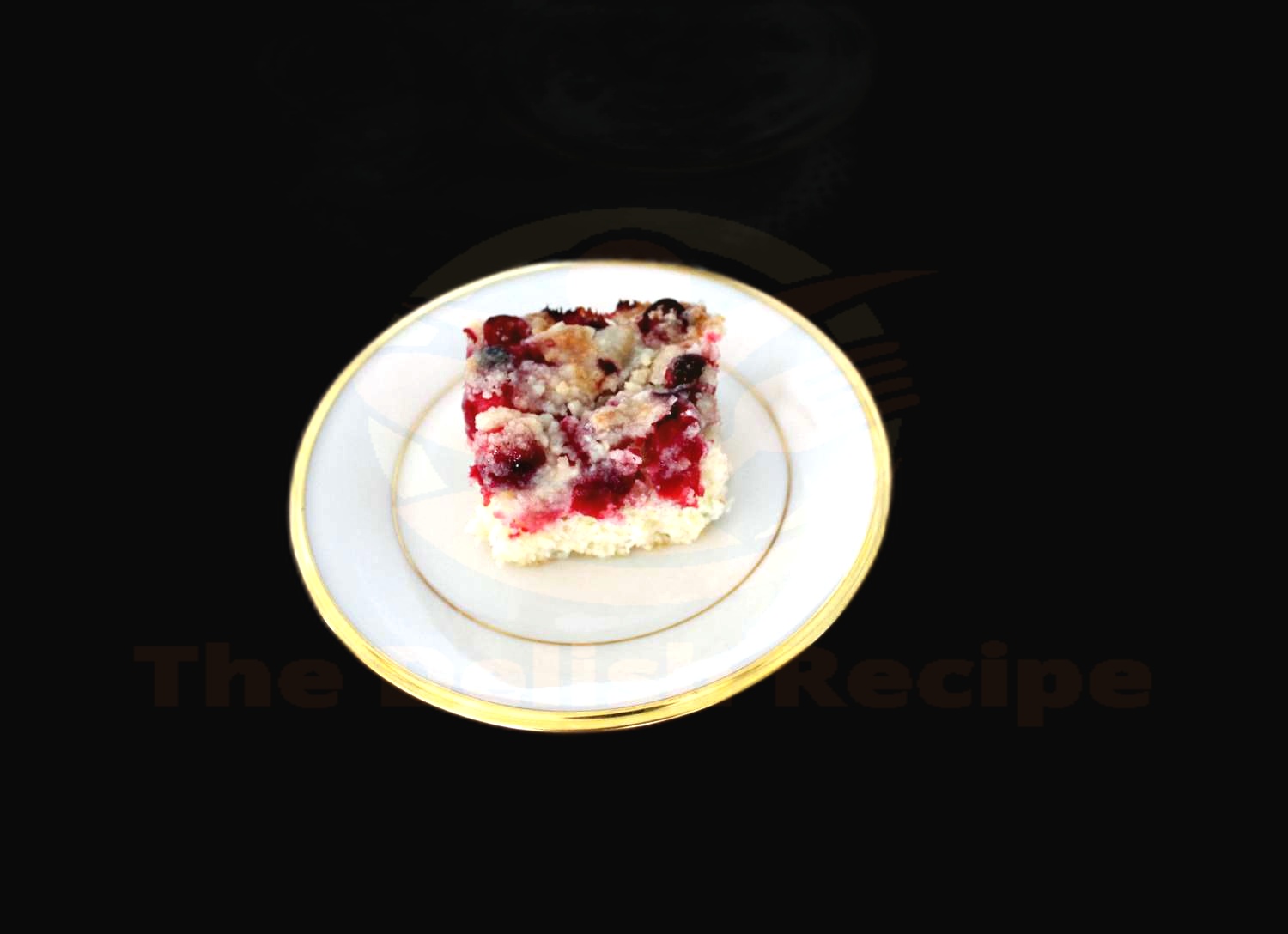 Ingredients
1/2 cup all-purpose flour
1 teaspoon baking powder
1/4 teaspoon salt
1/4 cup granulated sugar
2 tablespoons unsalted butter, melted
1/2 cup fresh or frozen cranberries
1/4 cup plain Greek yogurt
1/4 cup whole milk
1 large egg
1 teaspoon vanilla extract
2 tablespoons turbinado sugar
Instructions
Preheat your oven to 350 degrees and grease an 8-inch round baking pan.
In a medium bowl, whisk together the all-purpose flour, baking powder, and salt.
In a separate bowl, cream together the melted butter and granulated sugar.
Add the egg, Greek yogurt, milk, and vanilla extract to the butter-sugar mixture, and mix until combined.
Pour in the dry ingredients and mix until a thick batter forms.
Fold in the cranberries.
Pour the batter into the greased baking pan and spread it out evenly.
Sprinkle the turbinado sugar on top.
Bake the cranberry kuchen for 35-40 minutes, or until golden brown.
Let the kuchen cool for 25 minutes before serving. Enjoy!
Nutrition Facts
Calories: 600
Fat: 24g
Carbohydrates: 87g
Protein: 10g
Sugars: 37g
Sodium: 300mg
Cholesterol: 80mg
What are the unique flavors of cranberry kuchen?
Cranberry Kuchen is a unique and delicious dessert that offers a variety of flavorful combinations. You can create a classic version of the dish with a sweet and tangy cranberry base, or you can add a twist by incorporating different flavors such as almonds, walnuts, and orange zest. The possibilities are endless! Here are some of the most popular flavor combinations for Cranberry Kuchen:
Classic Cranberry and Almond: This combination is classic, yet still unique. The crunchy almonds provide a nice contrast to the tart cranberries, while the sweetness of the honey perfectly complements both flavors.
Cranberry and Walnut: This is a great option for those who love the classic cranberry and almond combo, but want to add a nutty flavor. The walnuts offer a subtle nutty flavor, which is complemented by the tartness of the cranberries.
Cranberry and Orange Zest: This is a great flavor combination for those who want to add a citrusy kick to their Cranberry Kuchen. The orange zest adds a wonderful brightness to the dish, while the cranberries provide a sweet and tart balance.
No matter what flavor combination you choose, Cranberry Kuchen is sure to be a hit. With its unique flavors and textures, it's sure to please even the pickiest of eaters.
What is the history of cranberry kuchen?
Cranberry Kuchen has a rich and fascinating history! It has been enjoyed in Germany since at least the 18th century, and is believed to have been brought over to America by German immigrants in the 19th century. It is a beloved treat that has been enjoyed for generations, and is the perfect combination of tart cranberries and sweet cake.
The original recipe for Cranberry Kuchen likely included flour, sugar, eggs, butter, and of course, cranberries. It was a fairly simple recipe, but with a few tweaks here and there, it became the beloved recipe that is still enjoyed today. Through the years, bakers have experimented with the recipe, adding different ingredients such as nuts and spices to give the cake more flavor.
In the late 19th century, Cranberry Kuchen became a popular treat in German-speaking areas of the United States. It was often served as a dessert after a Sunday dinner or brought to church events. It quickly gained popularity, and soon became a staple in many households.
Today, Cranberry Kuchen is still a popular treat, although it has gained popularity in other areas of the world as well. It can be found in bakeries, grocery stores, and even online.
What are the health benefits of cranberry kuchen?
Yes! Cranberry Kuchen is not only delicious, but it can also be good for your health! Here are some of the amazing health benefits of this tasty treat:
Rich in Antioxidants: Cranberries are packed with antioxidants, which help protect your body from cell damage and reduce inflammation.
High in Fibre: Cranberries are a good source of dietary fibre, which helps promote healthy digestion.
Low in Calories: Cranberry Kuchen is a low-calorie treat that won't leave you feeling guilty after indulging in a slice or two.
Vitamin C: Cranberries are a great source of Vitamin C, which can help boost your immune system and keep you feeling healthy.
Heart-Healthy: Cranberry Kuchen is high in beneficial polyphenols, which help reduce your risk of cardiovascular disease.
What type of occasion is cranberry kuchen best suited for?
Cranberry kuchen is the perfect dessert for any occasion! With its delicious sweet and tart flavor, this traditional German dish is a delight to the palate. Whether you're hosting a dinner party or celebrating a special occasion, cranberry kuchen is sure to make an impression. Plus, it's so simple to make that even novice bakers can whip it up in no time.
The best occasions for cranberry kuchen are those that call for a sweet and festive dessert. For example, try serving it at a holiday gathering or a birthday celebration. It's particularly well-suited for occasions with a rustic theme, like a harvest festival or an Oktoberfest. And, of course, it's perfect for any German-themed event.
When it comes to presenting cranberry kuchen, the possibilities are endless. For a more traditional look, bake your kuchen in a Bundt pan and serve it with a dusting of confectioner's sugar. Or, try baking it in a rectangular pan and then cutting it into squares or bars. You can also top it with a cream cheese frosting or a crumble topping.
No matter what the occasion, cranberry kuchen is sure to add a special touch of sweetness.
What are some creative ways to serve cranberry kuchen?
Serving up cranberry kuchen doesn't have to be boring! There are lots of creative and fun ways to serve this tasty treat. Here are just a few ideas to get you started:
Try serving your cranberry kuchen in individual mini-tarts. This way, everyone can have their own little tart, and you can decorate each one differently.
If you're feeling ambitious, why not make a giant cranberry kuchen? This would make a stunning centrepiece for any dinner table.
A cranberry kuchen cake is also a great option. Simply layer slices of cranberry kuchen together with a whipped cream filling, and top with a drizzle of icing.
For a more traditional option, spread out slices of cranberry kuchen on a platter, with a selection of sauces and toppings. This is a great way to get everyone's creative juices flowing and come up with their own unique creations.
No matter how you choose to serve cranberry kuchen, it's sure to be a hit! Have fun experimenting with different ways to enjoy this classic dessert.