Ingredients
2 (3 ounce) packages strawberry flavored Jell-O®
1 cup ground pecans
1 cup flaked coconut
¾ cup sweetened condensed milk
½ teaspoon vanilla extract
1 (2.25 ounce) jar red decorator sugar
5 drops green food coloring
¼ cup sliced almonds
Instructions
1. Combine the gelatin, pecans and coconut in a bowl.
2. Stir in the milk and vanilla extract until well mixed.
3. Chill the mixture for 1 hour in the fridge.
4. Once chilled, shape it into small strawberries using your hands or a fork .
5. Roll each strawberry in red decorator sugar to coat evenly . For extra effect , you can tint some sliced almonds with green food coloring and insert them into the top of each "berry" to form leaves.
Nutrition Facts
Serving size: 1 strawberry
Calories: 60
Fat: 3.5 g
Saturated fat: 0.5 g
Unsaturated fat: 2.5 g
Trans fat: 0 g
Cholesterol: 0 mg
Sodium: 35 mg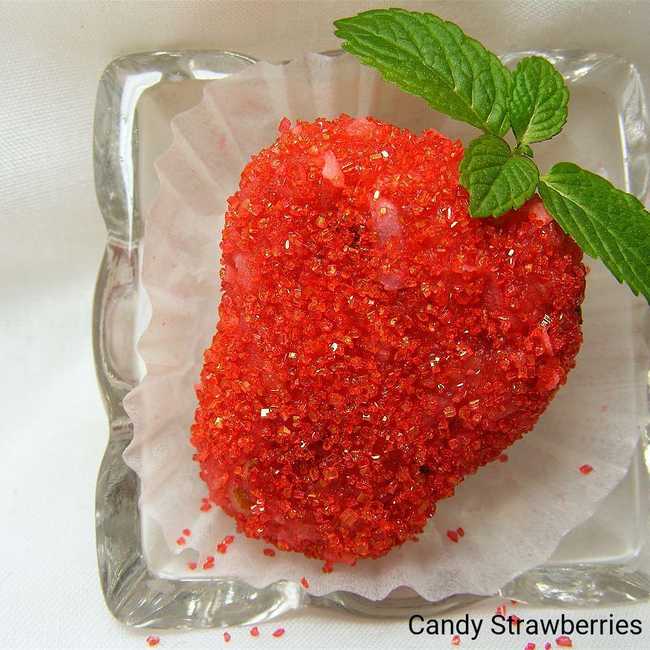 How long do chocolate covered strawberries last?
When it comes to chocolate covered strawberries, you can expect them to last for up to two days. After that, the quality of the chocolate will start to deteriorate and the strawberry will begin to spoil. For best results, store them in a cool, dry place out of direct sunlight.
How do you store candy melted strawberries?
When it comes to storing candy melted strawberries, there are a few things you need to keep in mind. First of all, make sure that the strawberries are clean and dry before dipping them into the melted candy. This will help ensure that the candy coating will adhere properly. Once dipped, place the strawberries on a parchment paper-lined cookie sheet and refrigerate until firm.
How do you make hard sugar strawberries?
Wash strawberries and pat dry. Pierce each strawberry through the top with a wooden skewer or toothpick. Set aside. In a small saucepan, add sugar, water, and light corn syrup. Bring to a boil over medium heat, stirring occasionally until sugar is dissolved. Remove from heat. Acting quickly, dip strawberries into the syrup one at a time. Use a fork to help remove them if needed. Allow excess syrup to drip off before placing on a wax paper-lined baking sheet or cooling rack set over parchment paper (this will catch any drips).
Can you candy strawberries?
Yes, you can candy strawberries! Candied strawberries are one of the easiest desserts you can make at home. They're super simple – cook up the candy mixture, dip the berries, let them cool off and harden, and enjoy! Making candied strawberries is a great way to use up any strawberries that are closer to losing their freshness, too.
How long will candied strawberries last?
Candied strawberries are a delicious and healthy treat that can be enjoyed year-round. However, they don't last forever and need to be eaten within a few days of being made.
always store the berries in an airtight container in the refrigerator. This will help them stay fresh for as long as possible. ২ জুন, ২০২১
try to eat them within one or two days after making them. If you can't finish them all within that time frame, they'll still be edible for a few more days but may not taste as fresh. After about 5 days, the berries will start to mold and should be thrown away.
So how long do candied strawberries last? If stored properly, they should stay fresh for 1-2 days.