Deliciously Decadent Pumpkin Swirl Brownies Recipe
When I think about Pumpkin Swirl Brownies, I'm immediately taken back to my childhood. Every fall, my mom would make them for us, and the smell of pumpkin, brown sugar, and chocolate would fill our house. The combination of flavors was so delicious and comforting, and I was always so excited to take a bite and savor the sweet, creamy goodness. Now, I'm excited to share this recipe with you so you can experience the same amazing flavor I remember so fondly.
Pumpkin Swirl Brownies Recipe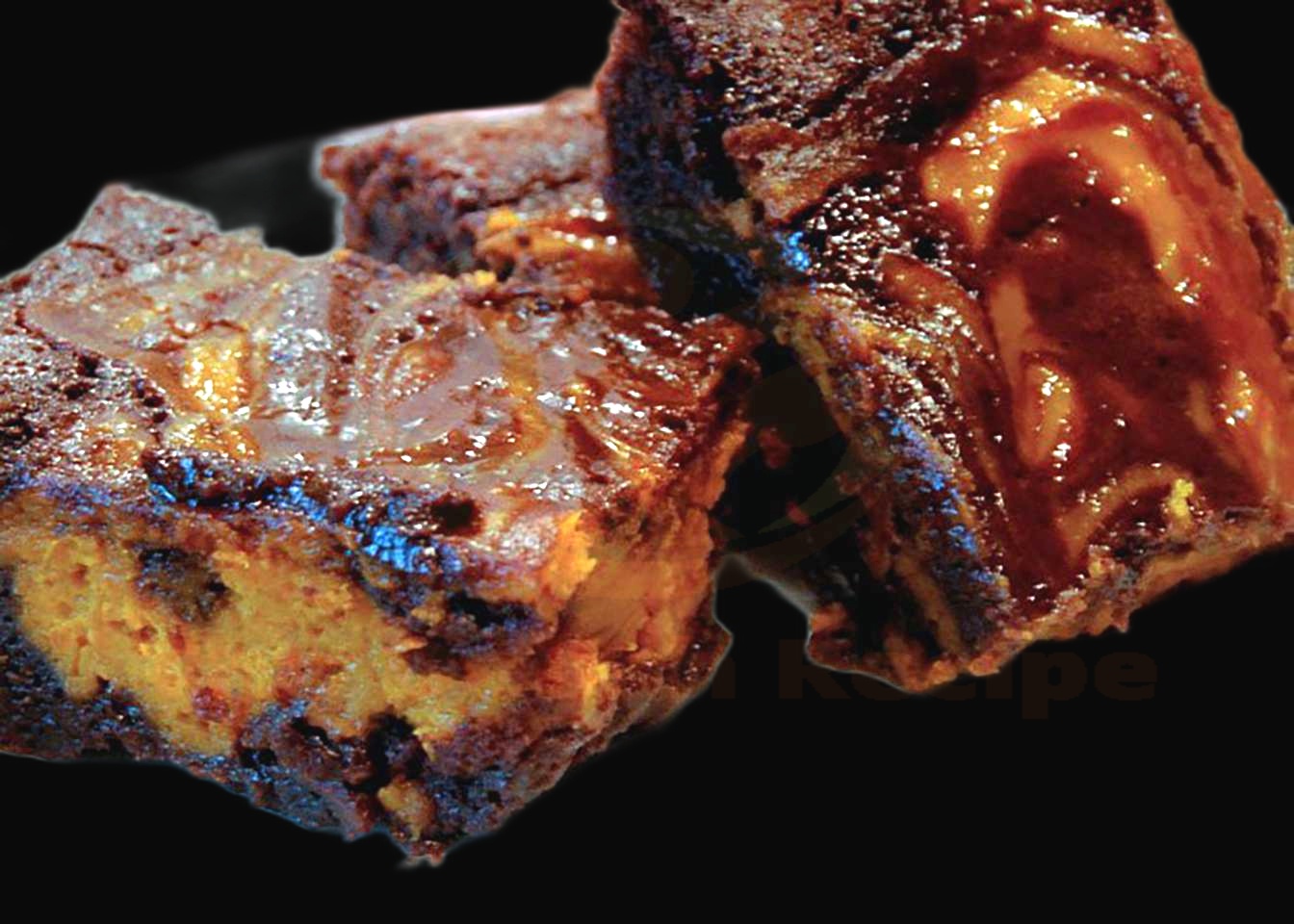 Ingredients
1/2 cup all-purpose flour
1/4 teaspoon baking powder
1/4 teaspoon salt
1/3 cup cocoa powder
1/2 cup (1 stick) unsalted butter
1 cup white sugar
2 large eggs
1 teaspoon vanilla extract
1/2 cup canned pumpkin puree
1/4 cup condensed milk
1/4 cup chopped walnuts (optional)
1/4 teaspoon ground cinnamon
1/4 teaspoon ground nutmeg
1/4 teaspoon ground ginger
Instructions
Hey there! Welcome to my pumpkin swirl brownie recipe! This recipe is sure to make your taste buds go wild and have you coming back for more. Now let's get started!
Preheat oven to 350F and lightly grease a 9×9 inch baking pan.
In a medium bowl, whisk together flour, baking powder, and salt, then set aside.
In a large bowl, cream together butter and sugar until light and fluffy. Beat in the eggs one at a time, then stir in the vanilla extract.
Slowly add in the flour mixture, stirring until just combined.
Take half the batter and spread it in the prepared pan. Set aside.
In a separate bowl, mix together the cocoa powder, pumpkin puree, condensed milk, walnuts, cinnamon, nutmeg, and ginger.
Spoon the pumpkin mixture over the batter in the pan.
Take the remaining batter and dollop it over the pumpkin mixture. Swirl it in with a knife.
Bake for 30 minutes or until a toothpick inserted in the center comes out clean.
Allow the brownies to cool for 10 minutes in the pan, then cut into squares and enjoy!
Now you have your delicious pumpkin swirl brownies! I hope you enjoy them!
Nutrition Facts
Calories: 288, Fat: 14g, Cholesterol: 62mg, Sodium: 221mg, Carbohydrates: 36g, Protein: 5g, Fiber: 3g
What's so special about pumpkin swirl brownies?
Pumpkin swirl brownies are the ultimate fall dessert! They're incredibly moist, rich, and full of flavor. The pumpkin swirl is the perfect compliment to the fudgy brownies, with its light and creamy texture. Plus, it's an easy and fun way to get your daily dose of pumpkin!
What makes pumpkin swirl brownies so special is that they're easy to make and require few ingredients. All you need is a box of fudge brownie mix, pumpkin puree, pumpkin pie spice, and some cream cheese. Once you've combined the ingredients, all you have to do is swirl them together and bake!
The combination of fudgy brownies and creamy pumpkin swirl makes for an incredibly delicious and indulgent dessert. Plus, the pumpkin spice and cream cheese give the brownies an added layer of flavor. It's a classic fall treat that's sure to be a hit with everyone in the family.
How can you make pumpkin swirl brownies even more delicious?
If you want to make pumpkin swirl brownies that are even more delicious, you can easily do so with a few simple additions! To really take the flavor of your brownies up a notch, try adding a pinch of cinnamon and nutmeg to the batter, as well as some chopped walnuts or pecans. Mixing up the ingredients will give your pumpkin swirl brownies a unique flavor and texture that you won't find anywhere else.
You can also add a layer of cream cheese to the batter before baking the brownies. This will give the brownies an extra richness that's hard to resist. The combination of the pumpkin, cream cheese, and spices is sure to make your pumpkin swirl brownies a hit with everyone who tries them.
Finally, try adding a layer of caramel or chocolate to the top of the brownies before baking them. This will help to balance out the sweetness and make the brownies even more irresistible. Simply drizzle the melted caramel or chocolate over the top of the batter and then bake according to the recipe instructions.
By following these simple tips, you can make pumpkin swirl brownies that are even more delicious than before. With the right ingredients and a little extra effort, you can easily create a memorable treat that everyone will love.
What are some tips for creating the perfect pumpkin swirl?
Start with your favorite pumpkin swirl brownie recipe as a base.
Make sure you use high-quality ingredients for the best results.
Ensure your butter and eggs are at room temperature for a smoother, creamier batter.
For a more pronounced pumpkin flavor, opt for canned pure pumpkin over pumpkin pie mix.
You can add extra spices such as cinnamon, nutmeg, and ginger for a more flavorful swirl.
Mix the pumpkin swirl ingredients together before pouring into the brownie batter.
Make sure you spread the pumpkin mixture evenly throughout the brownie batter.
What are the health benefits of pumpkin swirl brownies?
Pumpkin Swirl Brownies are not only delicious and comforting, but they also carry some important health benefits! Here are a few reasons why you should enjoy a pumpkin swirl brownie every now and then:
Rich in Vitamin A: Pumpkin is an excellent source of Vitamin A, which helps improve eyesight, boost immunity and protect the skin.
High in Fiber: Pumpkin is high in dietary fiber, which helps improve digestion and keeps you feeling full for longer.
Source of Healthy Fats: Swirl brownies are often made with healthy fats like coconut oil and nut butter, which can help reduce bad cholesterol levels and promote heart health.
Low in Sugar: The small amount of sugar used in pumpkin swirl brownies is much lower than traditional brownies, so you can enjoy them without worrying about your blood sugar levels.
Rich in Antioxidants: Pumpkins are packed with antioxidants that can help protect your cells from free radical damage.
What are some variations of pumpkin swirl brownies?
Making pumpkin swirl brownies is one of the best ways to enjoy all the delicious flavors of fall! There are many different variations of this classic treat, all of which are sure to satisfy your pumpkin-loving sweet tooth. Some of our favorite variations include the classic pumpkin swirl brownie, pumpkin cream cheese swirl brownies, and pumpkin white chocolate swirl brownies.
The classic pumpkin swirl brownie is a simple yet delicious version of pumpkin brownies. The batter is mixed with pumpkin puree and cinnamon for a fall-inspired flavor. Once the batter is poured into the baking dish, you can swirl it with a knife to create a beautiful marbled effect.
For a creamier version, try making pumpkin cream cheese swirl brownies. Start by making a cream cheese filling, then swirl it into your pumpkin brownie batter. This variation is perfect for those who want a more decadent take on the classic brownie.
Finally, if you're looking for something truly special, the pumpkin white chocolate swirl brownie is the way to go. Start by melt white chocolate chips, then fold it into your pumpkin brownie batter. Swirl it with a knife, then bake it up for a sweet treat that will have everyone begging for more.
No matter which variation you choose, pumpkin swirl brownies are sure to be a hit! With so many delicious variations to choose from, you'll have plenty of opportunities to get creative in the kitchen.
What's the best way to store pumpkin swirl brownies?
The best way to store pumpkin swirl brownies is to wrap them up tight and keep them in the fridge! Not only does this help keep the brownies extra moist, but it also prevents them from drying out or going stale. Plus, putting them in the fridge also helps to keep the pumpkin swirls from losing their shape. To store your brownies, make sure they are completely cooled and then wrap them in a few layers of plastic wrap or aluminum foil. Then, place them in an airtight container or plastic bag and pop them in the fridge.