Delicious Walnut-Shaped Cookies With Dulce De Leche Recipe
I absolutely love making these delicious walnut-shaped cookies filled with dulce de leche! They are a cinch to make and always a crowd-pleaser. Every time I make a batch, people can't help but be drawn to their warm, nutty scent and delightful texture. The dulce de leche center adds a creamy, caramel-like flavor that ties everything together. Not to mention, they look so pretty with their unique shape! I guarantee that if you give these cookies a try, you'll be hooked.
Walnut-Shaped Cookies with Dulce de Leche Recipe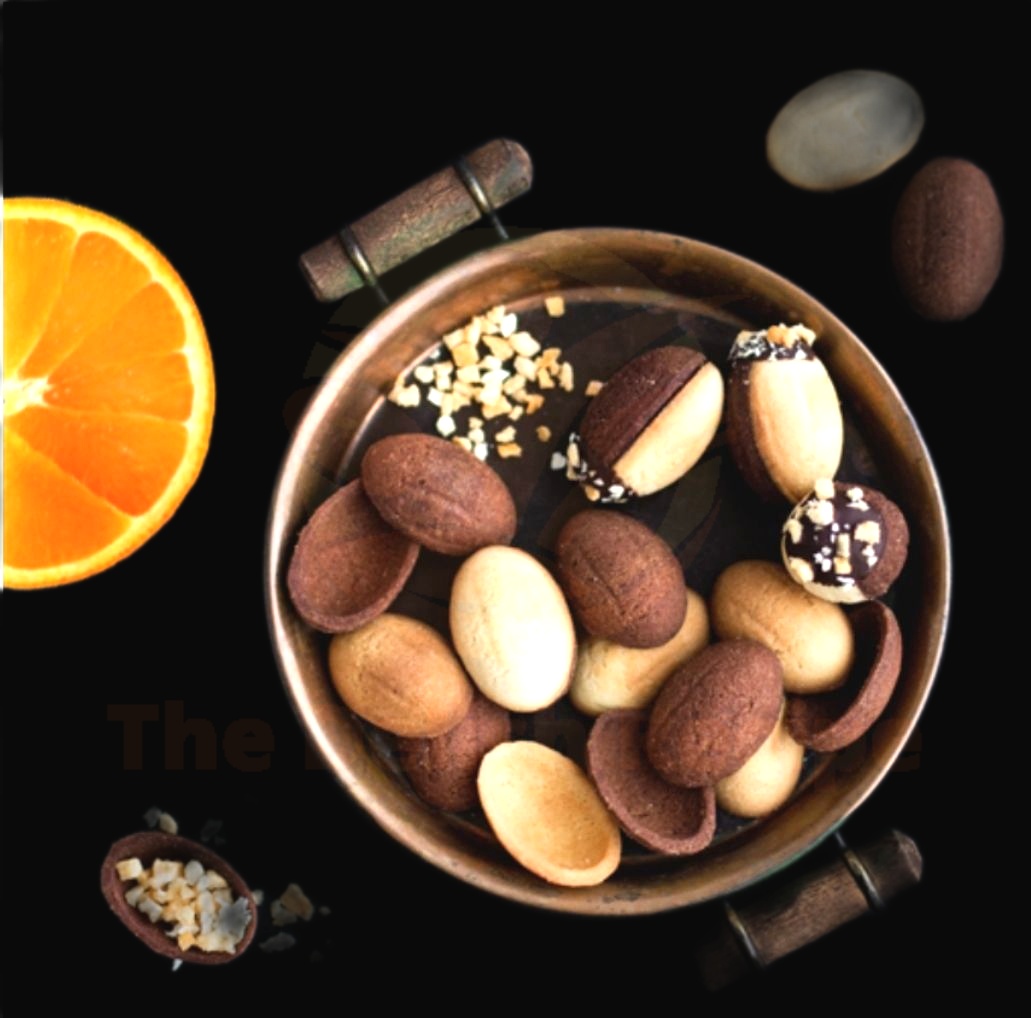 Ingredients
1 cup all-purpose flour
¼ teaspoon baking powder
¼ teaspoon baking soda
¼ teaspoon salt
½ cup unsalted butter, softened
¼ cup granulated sugar
¼ cup light brown sugar
1 large egg
2 teaspoons vanilla extract
¾ cup finely chopped walnuts
½ cup dulce de leche
Instructions
Preheat your oven to 350°F and line a baking sheet with parchment paper.
In a medium bowl, whisk together the flour, baking powder, baking soda, and salt.
In a large bowl, cream together the butter and both sugars until light and fluffy.
Add the egg and vanilla extract and beat until combined.
Slowly add the dry ingredients to the wet ingredients and mix until a dough forms.
Stir in the chopped walnuts.
Take a tablespoon of the dough and roll it into a walnut-shaped ball. Place the ball on the baking sheet.
Continue the same process with the remaining dough, placing the shapes about 2 inches apart.
Bake for 25 minutes or until lightly golden brown.
Let the cookies cool for about 5 minutes on the baking sheet, then transfer to a cooling rack.
Once the cookies are cooled, spread a teaspoon of dulce de leche on top of each cookie and let it set.
Enjoy your delicious walnut-shaped cookies with dulce de leche!
Total time: 50 minutes
Nutrition Facts
Serving size: 1 cookie
Calories: 200
Total fat: 10g
Saturated fat: 5g
Sodium: 170mg
Carbohydrates: 25g
Fiber: 1g
Sugar: 10g
Protein: 3g
What do walnut-shaped cookies with dulce de leche taste like?
You are in for a treat! Walnut-shaped cookies with dulce de leche are an absolute delight. The combination of sweet and nutty flavors makes for an incredibly delicious treat.
The walnut-shaped cookies have a crisp buttery texture that adds a delightful crunch to the overall flavor. These cookies are light and airy, yet surprisingly filling and satisfying. The dulce de leche adds a rich and creamy sweetness that blends perfectly with the nutty flavor of the walnuts.
When you take a bite of these cookies, you'll be met with a delightful mix of sweet and savory flavors. The sweet dulce de leche coupled with the crunchy walnut-shaped cookies creates a unique and delectable flavor that is hard to beat.
These walnut-shaped cookies with dulce de leche are an ideal snack for any occasion. Whether you are looking for a sweet treat to enjoy with a cup of tea or a quick snack in between meals, these cookies are sure to hit the spot.
What unique ingredients do you need to make these cookies?
If you're eager to make these unforgettable walnut-shaped cookies with dulce de leche, you'll need some special ingredients to get the job done. You'll need all-purpose flour, baking powder, unsalted butter, an egg, and some brown sugar. Obviously, you'll also need ground walnuts, dulce de leche, and powdered sugar for topping. If you want to get really creative, you can also add some of your favorite spices or extracts.
The dough for these cookies is quite simple to make. Just mix all the dry ingredients together before adding the egg and butter. Once everything is combined, you'll need to refrigerate the dough for at least an hour. When it's ready, roll it out and use a walnut-shaped cookie cutter to make your shapes. After that, bake them in the oven for about 10 minutes.
Once the cookies have cooled, use a spoonful of dulce de leche to fill the insides of each walnut shape. Finally, sprinkle the powdered sugar over the top for some extra sweetness.
What are the benefits of making cookies with dulce de leche?
Making cookies with dulce de leche is a great way to enjoy a truly unique and delicious dessert! Not only is it simple and fun to make, but it also offers a range of benefits that make it an even more appealing choice. Here are some of the advantages of making cookies with dulce de leche:
Rich, unique flavor: Dulce de leche has a unique flavor that is made even richer when baked into a cookie. It's a delicious combination that's sure to please your taste buds!.
Texture variety: Baking with dulce de leche also gives you the chance to play around with textures. The caramel-like consistency of the dulce de leche allows you to create a range of textures, from chewy and soft to crunchy and crisp.
Options for decorating: Once your cookies are baked, you can decorate them with nuts, chocolate chips, or other ingredients, giving them a creative and delicious twist.
Easy to make: Making cookies with dulce de leche is a great way to enjoy a sweet treat without putting in too much effort. All you need is the right ingredients and a few simple steps to create delicious walnut-shaped cookies with dulce de leche.
As you can see, making cookies with dulce de leche offers a range of benefits that make it a truly irresistible dessert option.
What tips can make the cookie-making process easier?
If you're ready to tackle making these delicious Walnut-Shaped Cookies with Dulce de Leche, here are some tips to make the cookie-making process easier:
Make sure all your ingredients are at room temperature before you get started. This will ensure that the dough has the right consistency and that the butter and sugar are properly creamed.
Pre-measure all of your ingredients and lay them out in order of use. This will save you from having to double-check the recipe and make sure everything is ready to go.
Have all of your baking supplies ready and organized in one place. This will prevent you from having to go back and forth between the refrigerator and the cupboard.
Divide the dough into small pieces, roll each piece into a ball and then flatten it into a disc. This will make it easier to shape the cookies into walnuts.
Chill the dough before baking. This will prevent the dough from spreading too much during baking and help preserve the walnut shape.
Use an oven thermometer to make sure your oven is the correct temperature. This will ensure that the cookies bake evenly.
Bake the cookies one sheet at a time. This will prevent the cookies from spreading too much and ensure that each cookie gets the same amount of heat.
Allow the cookies to cool completely before dipping them in the dulce de leche. This will give the cookies time to set and make them easier to dip.
If you follow these tips, you'll be well on your way to making delicious Walnut-Shaped Cookies with Dulce de Leche.
What are some creative ways to decorate the cookies?
Are you looking for some creative ways to take your walnut-shaped cookies with dulce de leche to the next level? Look no further! Here are some simple yet creative ideas for decorating your cookies.
You could try dipping the cookies in melted chocolate and sprinkling them with colorful sprinkles. For a more playful touch, you could use a tiny cookie cutter to cut shapes out of the dough before baking. After baking, color the cutouts with a food coloring or edible food marker. You could also mix together melted chocolate and peanut butter to create a unique two-tone frosting.
Another great way to decorate cookies is to form a basket weave pattern on top by adding thin lines of melted chocolate. To get a more festive look, add a few drops of food coloring to the melted chocolate before you start the basket weave pattern. You could also make little fondant decorations to top the cookies. Roll out some fondant, cut out shapes with a cookie cutter, and stick them to the cookies with a bit of water or melted chocolate.
Whatever creative ideas you come up with, decorating your walnut-shaped cookies with dulce de leche is sure to be a fun and delicious experience.
How can you store the cookies to keep them fresh?
You can keep your walnut-shaped cookies with dulce de leche fresh for a long time with a few simple steps. It's easy to store them in the right way! First, make sure the cookies are completely cooled before you store them. If you store them while they are still warm, the moisture can form condensation and make them soggy. Once cooled, place the cookies in an airtight container. This will keep any humidity from seeping in and turning them stale. For extra freshness, you can also add a slice of bread to the container. The bread will help absorb any moisture and keep the cookies soft and delicious. Finally, store the container in a cool and dry place.
What special occasions are these cookies perfect for?
These walnut-shaped cookies with dulce de leche are perfect for any special occasion! Whether you're celebrating a birthday, a holiday, or a wedding, these deliciously buttery and nutty cookies with a creamy center are a perfect treat. Their unique shape and flavor make them stand out from other cookies, and offer a delightful surprise for your guests. Plus, you can customize them with different glazes and toppings to make them even more special.