Nothing says summer like a peach cobbler fresh out of the oven. This recipe is easy to follow and yields a delicious, fruit-filled dessert that will have your guests coming back for seconds. Whether you use fresh or frozen peaches, this cobbler is sure to please.
Ingredients
1/2 cup butter, melted
4 cups fresh peaches, peeled, pitted and sliced
2 tablespoons white sugar
1 cup white sugar
1/4 teaspoon salt
1 teaspoon baking powder
1 cup all-purpose flour
1 teaspoon ground cinnamon
1/2 cup milk
Instructions
1. Preheat oven to 350 degrees F (175 degrees C).
2. Pour butter in the bottom of a large casserole or 9 x 13 inch pan.
3. In the prepared dish, toss together the peaches and 2 tablespoons sugar.
4. In a mixing bowl, combine the 1 cup sugar, salt, baking powder, flour and cinnamon. Add milk and stir until smooth.
5 Spoon batter over peaches in pan.
6 Bake for 45 minutes or until top is golden brown
Nutrition Facts
Serving size: 1/12 of a recipe (4.7 ounces).
Calories: 263
Fat: 10.5 grams
Saturated fat: 6 grams
Unsaturated fat: 3.6 grams
Trans fat: 0 grams
Carbohydrates: 38.8 grams
Fiber: 2.1 grams
Sugar: 25.3 grams
Protein 3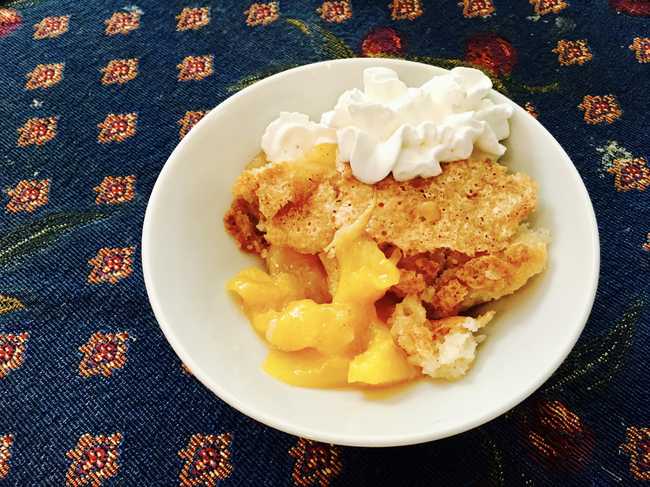 Is peach cobbler and peach crisp the same?
A cobbler and a crisp are both variations on the crustless pie, but there are some key differences between them. A cobbler typically has a more solid topping made of biscuits or dumplings, while a crisp tends to have oats in a more freeform topping. Additionally, the topping on a crisp usually forms larger clumps made of flour, butter, and sugar. So while peach cobbler and peach crisp may share some similarities, they are not the same dish.
What is the difference between peach cobbler?
A cobbler is a fruit-based dessert that is easy to make. Unlike a pie, which has a bottom and often top crust, the dough and fruit filling in a cobbler cook together. This makes for a quicker, easier dessert to prepare.
Peach cobbler is best served warm with vanilla ice cream, but it can also be enjoyed cold. The main difference between peach cobbler and other cobblers is the type of fruit used. Other popular fruits for cobblers include blueberries, apples, and cherries.
How do you make peach cobbler not runny?
When making peach cobbler, one of the main goals is to avoid a runny final product. There are a few key steps that can help achieve this goal.
First, cook the fresh or frozen peaches down with some sugar, lemon juice, and cornstarch until bubbling. The cornstarch will thicken the juices so that your peach cobbler doesn't come out runny.
Second, make sure to use a good quality pie dish or baking dish that has been properly greased before adding the peach mixture. This will also help to prevent any sticking and ensure easy removal once the cobbler is cooked.
Third, bake the cobbler in a preheated oven according to recipe instructions until golden brown and bubbly. Allow it to cool slightly before serving for best results.
What makes a pie a cobbler?
A pie is a baked dish which typically has a base and sides made from pastry, and a filling of fruit, meat, or custard. A cobbler, on the other hand, is a baked fruit dessert without a bottom crust. The top crust is usually made from biscuit dough instead of traditional pastry or pie dough.
So what makes a cobbler? Well, the lack of bottom crust is the most obvious difference between pies and cobblers. But it's not just that-cobblers also tend to have a more rustic appearance than pies. This is because the biscuit dough topping is often less smooth and evenly rolled out than pie dough.
Cobblers originated in America during the 18th century, when cooks would bake fruit with a simple batter on top. Over time, this evolved into the recipes we know today-with a biscuit-like topping instead of batter.
What's the difference between peach pie and peach cobbler?
There are a few key differences between peach pie and peach cobbler. The biggest difference is that cobblers are much easier to make than pies. Pies require a bottom crust, which must be rolled out and fit into a pie dish. Cobblers do not have a bottom crust; instead, the dough and fruit filling cook together in one pan.
Another difference is that pies usually have a top crust as well, made from the same dough as the bottom crust. Cobblers typically only have a top crust, made from biscuits or some other type of quick bread dough. This makes them quicker and easier to prepare than pies.
Finally, cobblers are usually served with ice cream or whipped cream, while pies are not typically served with anything on top (though they can be). This is because the fruit juices in cobblers tend to run out more during baking than they do in pies, making them more like a dessert soup than an actual pie.