Delicious Vegetable Banh Mi Recipe
I'm a huge fan of the traditional Vietnamese sandwich, Banh Mi, and I love experimenting with different takes on the classic. Recently, I tried a delicious vegetarian version of this tasty sandwich – a Vegetable Banh Mi. The combination of fresh vegetables, crunchy baguette, and delectable sauce was absolutely heavenly. The flavors were perfectly balanced and it was so incredibly satisfying. I'm excited to share this wonderful recipe with you!
Vegetable Banh Mi Recipe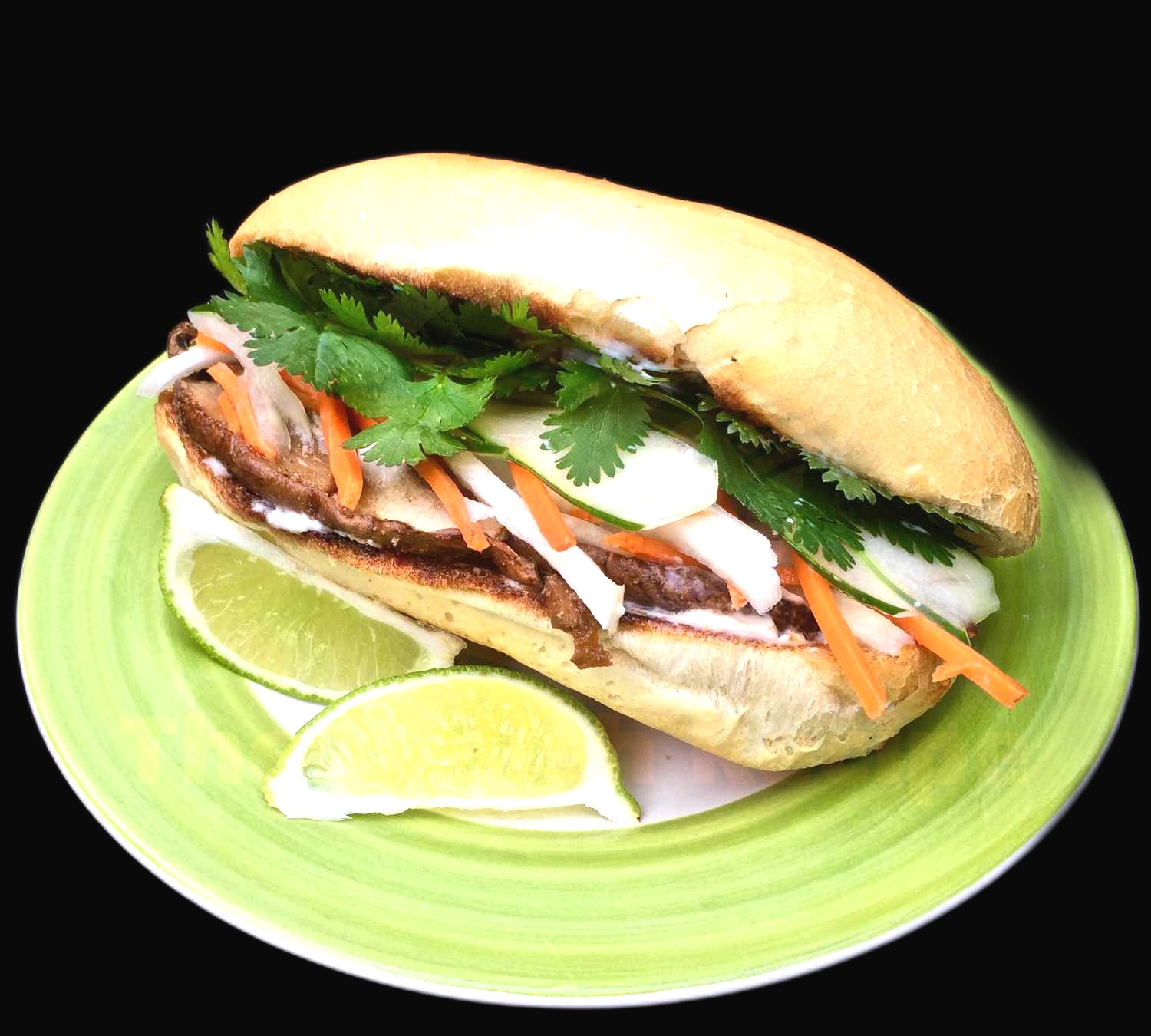 Ingredients
2 cups cooked jasmine rice
3 French baguettes
2 carrots, julienned
1 cucumber, julienned
1/2 cup pickled daikon
1/4 cup white wine vinegar
2 tablespoons sugar
1/2 teaspoon salt
2 tablespoons vegetable oil
1/4 cup mayonnaise
1 teaspoon sriracha
1/2 teaspoon garlic powder
1/4 teaspoon ground black pepper
1/4 cup fresh cilantro leaves
1/4 cup fresh mint leaves
1 jalapeno, thinly sliced
Instructions
Let's get cooking!
Start by prepping your ingredients. Start by julienning the carrots and cucumber then set aside. Then mix together the white wine vinegar, sugar and salt in a bowl, stirring until everything is evenly combined.
Next, heat the vegetable oil in a pan over medium-high heat. Add the julienned carrots and cucumber and cook for about 8 minutes, stirring occasionally, until the vegetables are lightly browned.
Once the vegetables are done cooking, transfer them to a plate and set aside.
Now it's time to assemble your banh mi! Start by splitting each baguette in half lengthwise.
Spread mayonnaise on the inside of each baguette, then layer with cooked jasmine rice, cooked veggies, pickled daikon, jalapeno slices, fresh cilantro and fresh mint leaves.
To finish, combine the sriracha, garlic powder and ground black pepper in a small bowl and mix until combined. Drizzle the mixture over the top of the banh mi sandwiches.
Serve your Vegetable Banh Mi and enjoy!
Nutrition Facts
Calories: 488
Total Fat: 8.5 g
Saturated Fat: 1.1 g
Total Carbohydrate: 89.5 g
Dietary Fiber: 7.2 g
Sugars: 13.2 g
Protein: 13.2 g
Sodium: 1075 mg
What is banh mi and why is it so delicious?
If you love a good sandwich, then you've come to the right place. Banh mi is an iconic Vietnamese sandwich that's full of flavor and texture. It's made with a crunchy French baguette, fresh vegetables, and a variety of meats or tofu. It's a balanced combination of sweet, savory, and spicy that makes it incredibly delicious.
The star ingredient of banh mi is the French baguette. It's the perfect vehicle for all of the other components, providing a crunchy, airy texture that contrasts perfectly with the other ingredients. The baguette is then filled with whatever you desire, from classic Vietnamese fillings like pork, chicken, or tofu to Western-style ingredients like tomato, avocado, and cheese.
The vegetables used in banh mi vary depending on the region, but typically include cucumber, carrot, cilantro, and pickled daikon radish. Combined with the crunchy baguette and flavorful meats and sauces, the vegetables add a fresh, bright taste that makes the sandwich pop.
Last but not least, the banh mi is topped off with a variety of sauces and condiments, like mayonnaise, Sriracha, hoisin sauce, and fish sauce. These sauces bring an extra layer of flavor to the sandwich, resulting in a flavor profile that's sweet, salty, and spicy all at the same time.
In short, banh mi is a delicious and balanced sandwich that combines the crunch of a French baguette, the freshness of vegetables, and the flavor of meats and sauces. So, if you're in the mood for a unique and flavorful sandwich, give banh mi a try.
What are some tips and tricks for making the perfect vegetable banh mi?
Making the perfect vegetable banh mi is not as hard as it sounds! If you follow these tips and tricks, you'll be able to make the most delicious, flavorful, and nutritious banh mi right at home:
Start with a good base: the bread. Make sure to use a fresh and soft baguette or a French-style bread roll.
Prepare the vegetables, such as cucumber, carrot, and daikon radish. Slice them into thin strips and soak them in a mix of sugar, salt, and vinegar for about 20 minutes. This will help balance out the flavors and make them extra crunchy.
Assemble the sandwich with your favorite vegetables, like lettuce, tomatoes, mushrooms, and bell peppers.
Pile on the condiments! Spread some mayonnaise and make sure to include some chili sauce for added flavor.
Grill the sandwich for a few minutes until the bread is golden and crisp.
Serve the banh mi hot and enjoy!.
With these simple tips and tricks, you'll be able to make the perfect vegetable banh mi at home in no time.
What makes a vegetable banh mi special?
You've probably seen the iconic Vietnamese banh mi sandwich, but have you ever tried the vegetarian version? Vegetable banh mi is just as delicious and stuffed with a variety of tasty veggies. But what makes this sandwich special?
Vegetable banh mi isn't just a vegan-friendly alternative to the traditional pork-filled sandwich. It's also incredibly flavorful and satisfying. The hearty mix of vegetables, herbs, and spices give this sandwich a unique and delicious flavor. Plus, the combination of crunchy vegetables and creamy sauces makes it a delightfully textured dish.
The vegetables used in a vegetable banh mi are typically marinated and sautéed, giving them an extra kick of flavor. A typical vegetable banh mi will contain crunchy cucumbers and carrots, sweet bell peppers, and a variety of herbs and spices. The vegetables are then topped with a flavorful sauce, usually a combination of mayonnaise and sriracha. This adds a creamy, spicy note to the sandwich that is both unexpected and delicious.
The combination of flavors, textures, and colors makes a vegetable banh mi truly unique. Whether you're looking for a vegan-friendly option or just something new and delicious, a vegetable banh mi is a great choice.
What are the essential ingredients for a vegetable banh mi?
If you're looking to make a delicious and satisfying vegetable banh mi, there are five essential ingredients you'll need: a baguette, pickled vegetables, fresh vegetables, a creamy spread, and a flavorful sauce.
First, you'll need a good-quality baguette for the base. It should be lightly toasted and crispy on the outside, but still soft on the inside.
Next, you'll need pickled vegetables, like julienned carrots, daikon radishes, and cucumbers. You can pickle them yourself or buy them ready-made at the store.
Third, you'll need fresh vegetables, like sliced tomatoes, cucumbers, and lettuce. These will add crunch and texture to the sandwich.
Fourth, you'll need a creamy spread, like mayonnaise or a vegan-friendly aioli. This will give the sandwich richness and creaminess.
Finally, you'll need a flavorful sauce, like Sriracha or hoisin. This will give the sandwich a kick of flavor.
Once you have all these ingredients, you're ready to assemble your vegetable banh mi. Start by lightly toasting the baguette and spreading the creamy spread on top. Then, layer the pickled and fresh vegetables, followed by the flavorful sauce.
How can you customize your vegetable banh mi to suit your tastes?
You can customize your vegetable banh mi to suit your tastes in a few different ways! To start, you can play with the filling. If you're feeling adventurous, try adding some pickled vegetables like carrots or daikon radish. You can also go for a more classic approach and add some crunchy cucumbers or bell peppers. If you like spicy food, consider adding some chilis or jalapeños. And if you're looking for a more indulgent option, try adding some fried tofu or seitan.
Another way to customize your banh mi is to play with the sauces and condiments. A traditional banh mi usually comes with a spicy mayo, but you can also switch it up with some pesto or tahini. You can also add other sauces like Sriracha or hoisin for a more flavorful kick.
Finally, you can customize your banh mi with different types of bread. A classic banh mi is usually served on a French-style baguette, but you can also try creating your own version on a whole wheat bun or a hoagie roll. You can also go for a healthier option, such as a lettuce wrap or a gluten-free bread.
Customizing your vegetable banh mi is a great way to make it your own and experiment with different flavors and textures. You can have fun mixing and matching fillings, sauces, and bread to create a unique and delicious meal.
Is a vegetable banh mi suitable for vegetarians?
Yes, absolutely! Vegetable banh mi is a great option for vegetarians. It's a delicious, Vietnamese-style sandwich that is loaded with fresh vegetables and flavorful sauces. Whether you're a vegetarian or not, this meal is sure to please.
Vegetable banh mi is typically made with a combination of vegetables, including cucumbers, carrots, and radishes. The vegetables are typically marinated and then layered with a variety of sauces, such as hoisin sauce and chili sauce. The sandwich is then served on a French baguette, which adds a light and crunchy texture.
The beauty of vegetable banh mi is that it can be customized to your tastes. If you're a fan of spicy food, you can add some chili sauce to give it an extra kick. Or if you prefer something a bit milder, you can opt for a sweeter sauce. You can also adjust the amount of vegetables you include to make it more or less filling.
In addition to being vegetarian-friendly, vegetable banh mi is also very easy to make. All you need is your favorite vegetables, some sauces, and a French baguette. And if you have a bit of extra time, you can marinate the vegetables to make them even more flavorful.
So, if you're looking for a delicious, vegetarian-friendly meal, look no further than vegetable banh mi. With its combination of fresh vegetables and flavorful sauces, it's sure to be a hit with vegetarians and non-vegetarians alike.
How can you serve a vegetable banh mi to make it extra special?
You can make your vegetable banh Mi extra special by adding extra flavorful ingredients like hoisin sauce, jalapenos, and cilantro. Start by lightly toasting the banh mi roll and spread a generous layer of hoisin sauce on the inside for extra sweetness. Then, layer your favorite vegetables like cucumber, carrots, pickled radish, and bean sprouts. Finally, top your banh mi with some fresh jalapenos and cilantro for a spicy kick.