Delicious Homemade Strawberry Pie Recipe
Nothing says summer quite like a delicious slice of homemade strawberry pie! I'm so excited to share this recipe with you today, because it's one of my absolute favorite desserts. It's so simple to make, yet it's always a crowd-pleaser. The sweet, juicy strawberries combined with the flaky pastry crust make it a perfect treat for any occasion. I know you'll love it as much as I do – let's get baking!
Strawberry Pie Recipe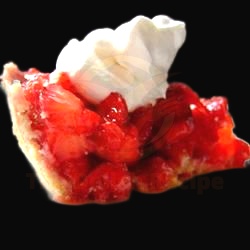 Ingredients
4 cups fresh strawberries, hulled and sliced
1/2 cup granulated sugar
3 tablespoons cornstarch
2 tablespoons freshly squeezed lemon juice
1/4 teaspoon ground cinnamon
1/4 teaspoon salt
1 9 inch unbaked pie crust
2 tablespoons unsalted butter, melted
1 tablespoon turbinado sugar
Instructions
Preheat your oven to 375°F.
Place the pie crust in a 9-inch pie pan.
In a large bowl, combine the strawberries, sugar, cornstarch, lemon juice, cinnamon, and salt. Mix well and set aside.
Pour the strawberry mixture into the pie crust.
Drizzle the melted butter over the top of the strawberries.
Sprinkle the turbinado sugar over the top of the butter.
Bake in the preheated oven for 45 minutes, or until the crust is golden brown and the filling is bubbling.
Allow to cool before slicing and serving. Enjoy!
Nutrition Facts
Calories: 476
Total Fat: 15g
Saturated Fat: 8g
Trans Fat: 0g
Cholesterol: 30mg
Sodium: 123mg
Total Carbohydrate: 81g
Dietary Fiber: 3g
Sugars: 53g
Protein: 4g
What makes strawberry pie so special?
Strawberry pie is so special because it is the perfect combination of sweet and tart. The perfect balance of flavors is what makes it so irresistible, and it is sure to be the highlight of any summer gathering. The sweet and tart contrast of the strawberries and the sugary crust creates an unforgettable taste experience.
What's more, strawberry pie is easy to make and looks beautiful. It only takes a few simple ingredients and a few minutes to prepare. Plus, the end result is a stunning dessert that will have everyone asking for more. With its bright red color, it is sure to have your guests oohing and aahing.
Finally, strawberry pie is versatile. You can have it classic style with just a couple of ingredients, or you can get creative with the toppings and fillings. With a little imagination, you can make strawberry pie your own.
All in all, strawberry pie is a unique and delicious dessert that stands out among the rest. It's a must-have for any summer gathering, and it's sure to be a hit with people of all ages.
What is the best way to make a delicious strawberry pie?
The best way to make a delicious strawberry pie is by using fresh ingredients and taking your time. Start off by blending together some fresh strawberries with a bit of sugar and a few tablespoons of cornstarch until you get a smooth mixture. Then, preheat your oven and roll out your favorite pie crust. Line the bottom of a pie dish with the crust and pour in your strawberry mixture. Dot the top of the pie with some butter and sprinkle with sugar before baking for about 30 minutes or until the crust is golden brown.
What ingredients do you need for a perfect strawberry pie?
You only need a few simple ingredients to make a perfect strawberry pie! All you need is a pre-made pie crust, fresh or frozen strawberries, sugar, cornstarch, water, and butter.
To start, preheat your oven to 375F. Press the pre-made pie crust into a 9-inch pie plate and bake for about 10 minutes. Then, mash a cup of the strawberries in a large bowl.
In a separate bowl, mix together ¾ cups of sugar, 3 tablespoons of cornstarch, and ¼ cup of cold water. Whisk until all the ingredients are fully combined. Now add the mashed strawberries to the bowl and mix it all together.
Pour the strawberry mixture into the pre-baked pie crust and dot the top with small pieces of butter. Bake the pie for 30 minutes, or until the top is golden brown.
Once it's finished baking, let it cool completely before serving.
How can you make a strawberry pie that will be remembered for years to come?
You can make a strawberry pie that will be remembered for years to come by starting with the freshest strawberries you can find. Look for plump, juicy strawberries that have a bright, deep red color. Once you have found the perfect strawberries, you can begin to make your pie.
Blend together your favorite crust recipe and pre-bake it in a pie dish. While the crust is baking, mash together the strawberries with a bit of sugar and a squeeze of lemon juice. The mixture should be spreadable but not too thin. Once the crust is done, spread the strawberry mixture into the pie dish and spread it out evenly.
For decoration, try cutting shapes out of extra crust and using those to create a pattern on top of the pie. Brush the crust with a bit of milk or butter, and sprinkle some sugar on top. Bake the pie until the crust is golden brown and the top is bubbling. Let the pie cool before slicing and serving.
Your strawberry pie will be remembered for years to come because of the delicious combination of flavors and the beautiful presentation. The tart sweetness of the strawberries and the buttery, flaky crust will be a memorable combination. With a little bit of effort, you can create a strawberry pie that your family and friends will be talking about for years.
What is the best topping for a classic strawberry pie?
When it comes to classic strawberry pie, there's one topping that stands out above the rest: whipped cream! It adds the perfect touch of sweetness and creaminess that pairs perfectly with the tartness of the strawberries and the flaky crust. Plus, it's light and airy, which means it won't overpower the flavor of the pie.
If you're looking for something a little more special, try adding a crumble topping. The crunchy texture of the crumble perfectly complements the juiciness of the strawberries, while the sweetness of the crumble balances it all out. For an even richer flavor, use a combination of brown sugar and oats for the crumble.
If you're a fan of meringue, that's another great option for a classic strawberry pie. The meringue adds a light and fluffy texture, while the sweetness contrasts nicely with the tartness of the strawberries. Plus, it looks beautiful when it's finished! If you want to add something extra special, try toasting the meringue for a golden-brown color and a delicious caramel flavor.
No matter which topping you choose, you can't go wrong with a classic strawberry pie. Each topping will bring its own unique flavor profile to the pie, and you can even mix and match for a truly unique flavor experience. So go ahead and top your pie with whipped cream, crumble, meringue, or whatever suits your fancy.
What are some creative ways to serve a strawberry pie?
Serving strawberry pie doesn't have to be boring! There are so many creative ways you can prepare and serve the classic dessert.
For starters, why not try an upside-down strawberry pie? To make this delicious treat, start by pre-baking a cake mix on the bottom of the pie dish. Then arrange a layer of fresh strawberries over the cake. Finally, add a layer of strawberry jelly. The result? A sweet, gooey strawberry treat your guests won't be able to resist!
Another creative way to serve strawberry pie is to add a layer of chocolate ganache. Start by baking your favorite strawberry pie. Then make a simple ganache with just two ingredients: chocolate chips and heavy cream. When the pie is almost done, spoon the ganache over the top and pop it back in the oven. In minutes, you'll have a chocolatey, strawberry masterpiece.
If you're looking for a lighter option, try a frozen strawberry pie. Start by making a graham cracker crust and fill it with a mixture of cream cheese, sugar, and fresh strawberries. Then freeze it until firm. The result will be a creamy, cool slice of strawberry heaven.
These are just a few of the creative ways you can serve strawberry pie. Don't be afraid to use your imagination and get creative! Your guests will definitely be impressed.