A Bowl Of Comfort – Spicy Beef Stew
I'm a big fan of spicy food, so when I tried this Spicy Beef Stew recipe for the first time, I was instantly hooked! The combination of beef and spice added a unique flavor that I just couldn't get enough of. I've been making this recipe for years now, and it never fails to impress. It's a great way to warm up on a cold day, and I'm sure you'll love it as much as I do.
Spicy Beef Stew Recipe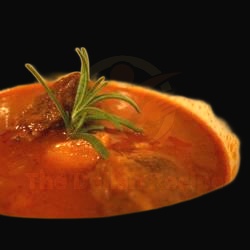 Ingredients
2lbs lean ground beef
2 tablespoons olive oil
1 large onion, diced
2 cloves of garlic, minced
2 tablespoons chili powder
1 teaspoon cumin
2 tablespoons tomato paste
1 teaspoon hot sauce
2 cups beef broth
4 cups potatoes, cubed
1 green bell pepper, diced
1 teaspoon salt
1/2 teaspoon black pepper
2 tablespoons fresh parsley, chopped
Instructions
Start by heating your two tablespoons of olive oil in a large pot over medium heat.
Once the oil is hot, add your diced onion and minced garlic. Stir them together until the onion is softened, about 3-5 minutes.
Now it's time to add the ground beef. Cook it until it's no longer pink, breaking it up as you go.
Once the beef is cooked, add the chili powder, cumin, tomato paste, and hot sauce. Stir it all together.
Pour in the beef broth and give it all a good stir.
Add the cubed potatoes, diced green bell pepper, salt, and black pepper. Stir it all together.
Put the lid on the pot and let it simmer for two hours, stirring occasionally.
After two hours, take the lid off and let it simmer for another hour.
Once the stew has thickened, turn off the heat and stir in your chopped parsley.
Voila! You've just made a delicious and spicy beef stew. Enjoy!
Nutrition Facts
Calories: 270
Fat: 10g
Carbohydrates: 20g
Protein: 22g
Sodium: 200mg
Cholesterol: 40mg
What makes this spicy beef stew so special?
This spicy beef stew is special because it combines the perfect blend of spices and flavors that make every bite a delight! The beef is slow-cooked in a mixture of tomato sauce and beef stock, with a hint of red chili flakes, garlic and a dash of cumin to give it an extra kick. The vegetables add a freshness to the dish and the potatoes give it a creamy texture.
How can this dish be customized to suit different tastes?
There are so many ways to customize a spicy beef stew to suit different tastes! To start, you can adjust the amount of spices used to make the stew milder or spicier. You can also adjust the seasoning using different herbs like oregano or thyme. Additionally, you can add different vegetables such as potatoes, carrots, and peppers for a heartier stew. If you want to add more protein, you could add ground beef or shredded chicken. If you're looking for a vegetarian version, you can leave out the beef and add extra vegetables. Finally, if you like a thicker stew, you can add a roux or some cornstarch to thicken it up.
What are some tips for cooking the perfect beef stew?
Start with the best beef – choose a cut that has good marbling and is tender, like chuck roast or beef brisket.
Season the beef generously with salt, pepper, and herbs before browning it.
Make sure you get a nice, golden brown crust on the beef before adding the liquids to the pot.
Use a combination of beef stock and red wine to add more flavor to the stew.
Add the vegetables to the pot after the beef has been cooked. Onions, carrots, celery, and potatoes are some of the best vegetables for beef stew.
Simmer the stew for at least two hours. This will allow the flavors to blend together and the meat to become tender.
Taste the stew and adjust the seasonings as needed.
Serve the stew with crusty bread or over mashed potatoes.
What ingredients are essential to making a flavorful stew?
Absolutely essential ingredients for a flavorful beef stew are beef, onions, garlic, and tomatoes. Of course, you might want to add a few extras for some extra kick, but these are the four crucial ingredients if you want your stew to taste heavenly!
When it comes to beef, any cut will do, but you'll get the best results if you opt for one that has a good amount of fat, like chuck roast. This fat will break down during cooking, creating a rich and flavorful base for your stew.
Onions and garlic add a delicious depth of flavor to any stew, so don't forget to add them in! And if you want an extra punch, throw in some chili peppers or red pepper flakes.
Lastly, tomatoes are a must for any beef stew. You can use canned or fresh, whichever you prefer. The tomatoes provide a wonderful richness and acidity that perfectly balances out the flavors of the beef and other ingredients.
So there you have it! Beef, onions, garlic, and tomatoes are essential for making a flavorful beef stew.
What side dishes pair nicely with spicy beef stew?
When it comes to pairing side dishes with spicy beef stew, the possibilities are endless! From light, refreshing salads to comforting mashed potatoes and roasted vegetables, you can easily find something to complement the stew's flavors. Here are some of our favorite side dishes that pair perfectly with spicy beef stew.
For a light and healthy option, try a bright green salad made with romaine lettuce, spinach, radishes, and cucumbers. Add a drizzle of olive oil, a splash of red wine vinegar, and a sprinkle of salt and pepper. The cool, crunchy salad will help to counteract the heat of the stew.
If you're looking for something heartier, mashed potatoes are always a great choice. Boil some potatoes until they're fork-tender, then mash them with butter, cream, and garlic for an extra flavorful side. The creamy texture and savory flavors will balance out the spiciness of the stew.
Roasted vegetables are another great accompaniment to spicy beef stew. Toss some sweet potatoes, carrots, and Brussels sprouts in olive oil, salt, and pepper, and roast them in the oven until they're golden brown. The mix of sweet and savory flavors will be the perfect compliment to the stew.
No matter what side dishes you choose to pair with spicy beef stew, you're sure to have a delicious meal. With the right combination of flavors, you can create a flavorful and satisfying meal that is sure to be a hit.
What are some creative ways to serve spicy beef stew?
If you're looking for some creative ways to serve up your spicy beef stew, you've come to the right place! Spicy beef stew is a delicious and hearty meal that can be served in a variety of ways. Here are a few creative ideas to get you started.
Serve it over mashed potatoes. The creamy mashed potatoes offer a great contrast to the spicy stew, creating a perfectly balanced meal.
Top it off with crispy tortilla strips. Tortilla strips offer a nice crunchy texture to the dish, and they pair perfectly with the spices in the stew.
Add a dollop of sour cream. Sour cream adds a cool and creamy element to the dish, and it helps to cut the spiciness of the stew.
Make a stew sandwich. Slice up some baguette or crusty bread and top it with spicy beef stew for a delicious and unique sandwich.
Serve it over rice. Rice is a great accompaniment to spicy beef stew, and it absorbs all the delicious flavors of the dish.
With these creative ideas, you can now enjoy your spicy beef stew in a whole new way. And don't forget to experiment and come up with your own unique recipes for your spicy beef stew.