This is a moist and yummy cake that is perfect for any occasion! The mayonnaise makes it super moist and the texture is simply amazing.
Ingredients
-2 cups all-purpose flour
-1 1/2 teaspoons baking soda
-1 cup white sugar
-1/4 teaspoon salt
-1 cup water
-3/4 cup mayonnaise
-2 squares unsweetened chocolate, melted
Instructions
1. Preheat oven to 350 degrees F (175 degrees C). Grease and flour a 9 inch square pan.
2. In a large bowl, sift together flour, soda, sugar, and salt. Add the water, mayonnaise, and melted chocolate. Mix together well.
3. Bake for 35 minutes or until done then frost with your favorite icing
Nutrition Facts
-Serving size: 1 cake
-Calories: 2200
-Fat: 99 g
-Saturated fat: 17 g
-Unsaturated fat: 67 g
-Trans fat: 0 g
-Cholesterol: 165 mg
-Sodium: 3090 mg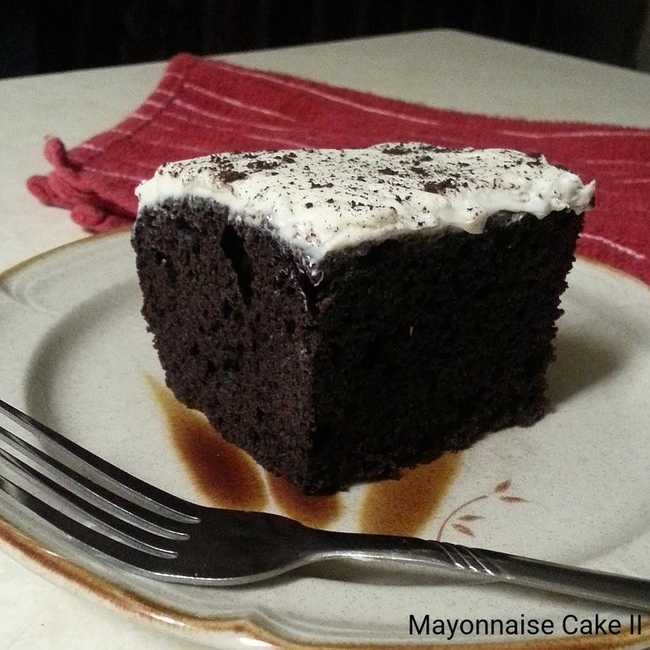 Where did mayonnaise cake originated?
Mayonnaise cake is a type of cake that is made with mayonnaise as one of the main ingredients. While the exact origins of mayonnaise cake are unknown, it is believed to have first appeared in print in 1927 in the Oakland Tribune. However, it did not become popular until the 1940s when ingredients like dairy and sugar were rationed during World War II.
Mayonnaise cake is usually a vanilla or chocolate cake that is made with mayonnaise instead of butter or oil. This gives the cake a moist texture and makes it very rich and flavorful. Mayonnaise cakes are often decorated with frosting, fruit, or nuts and can be served as either a dessert or snack Cake.
What does adding mayo to cake mix do?
Adding mayonnaise to cake mix is an old-timey baking trick that can boost the moisture level in a cake recipe. Made from eggs and oil, mayonnaise is a standard cake ingredient that can gussy up your boxed cake mix enough to taste homemade. While adding mayonnaise to dessert may sound odd, it is a simple way to improve the texture and flavor of your cake.
What is mayo cake?
Mayo cake is a type of cake that uses mayonnaise as an ingredient in the batter. This gives the cake a soft and moist texture. Mayo cakes do not usually need a frosting, but they can be delicious when covered with a smooth and creamy Chocolate Ganache.
Mayo cake was invented during the Depression era by Hellmann's Mayonnaise. During this time, people were looking for ways to make their food stretch further. Using mayonnaise in place of some of the butter or oil in a cake recipe helped to achieve this goal.
Today, mayo cakes are still popular because of their moist texture and simple ingredients list. Most recipes only require a few pantry staples, making them an easy and budget-friendly option for dessert.
Can you put mayo in a box cake mix?
Yes, you can put mayo in a box cake mix! Adding mayonnaise, sour cream, yogurt, or melted ice cream to your boxed cake mix will make the finished product moist and rich. Swapping out ingredients, like oil for butter or milk for water, will take your boxed cake to the next level. Things like coffee, soda, and spices will help to amplify the flavors in your boxed cake. So go ahead and experiment with different ingredients to find what you like best.
What is the ingredients for chocolate mayonnaise cake?
Chocolate mayonnaise cake is a type of cake that contains mayonnaise as one of its key ingredients. The other ingredients include all-purpose flour, unsweetened cocoa powder, baking powder, and baking soda.
Mayonnaise is often used in cakes as it helps to create a moist and tender crumb. It also provides structure and stability to the cake.