Refreshingly Bright Lemon-Basil Strawberry Salad
If you're looking for a delicious and healthy salad that will take your meal to the next level, look no further than this Lemon-Basil Strawberry Salad! I'm so excited to share this recipe with you, because it's one of my all-time favorites. This flavorful salad combines sweet strawberries, tart lemons, and fresh basil for a delicious combination you won't be able to get enough of. Serve it as a side dish at your next gathering or as a meal on its own – either way, you'll be sure to impress your guests!
Lemon-Basil Strawberry Salad Recipe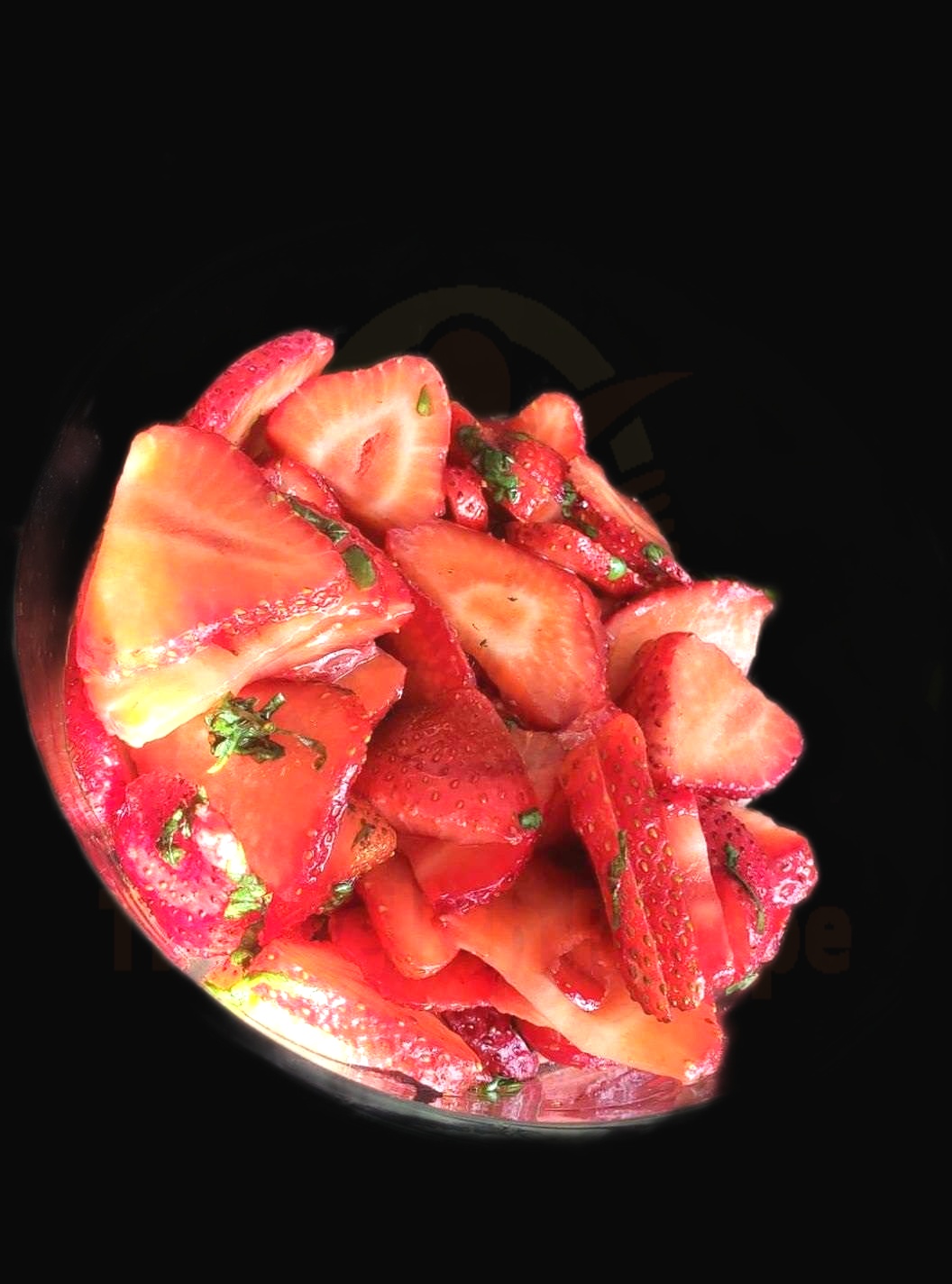 Ingredients
2 cups fresh strawberries, sliced
2 tablespoons fresh basil, chopped
2 tablespoons olive oil
2 tablespoons fresh lemon juice
1/4 teaspoon sea salt
1/4 teaspoon ground black pepper
Instructions
Get your ingredients and materials ready: Gather 2 cups of fresh strawberries, 2 tablespoons of fresh basil, 2 tablespoons of olive oil, 2 tablespoons of fresh lemon juice, 1/4 teaspoon of sea salt, and 1/4 teaspoon of ground black pepper.
Slice the strawberries: Slice the 2 cups of fresh strawberries into thin slices and set aside.
Chop the basil: Chop the 2 tablespoons of fresh basil and set aside.
Prepare the dressing: In a small bowl, combine the 2 tablespoons of olive oil, 2 tablespoons of fresh lemon juice, 1/4 teaspoon of sea salt, and 1/4 teaspoon of ground black pepper. Whisk together until all ingredients are combined.
Assemble the salad: In a medium bowl, combine the sliced strawberries and chopped basil. Drizzle the dressing over the top and toss to combine.
Enjoy! Your Lemon-Basil Strawberry Salad is ready to be enjoyed. It takes only 10 minutes to prepare and you won't be disappointed with the amazing flavor combination. Enjoy!
Nutrition Facts
Calories: 81
Fat: 7g
Carbohydrates: 4g
Fiber: 1g
Sugar: 2g
Protein: 1g
What makes this lemon-basil strawberry salad special?
This lemon-basil strawberry salad is truly special thanks to a few simple ingredients that come together to create a magical flavor combination. It starts with a base of sweet and juicy strawberries, followed by a kick of zesty lemon, and finished with a hint of fresh basil. This zesty-sweet-fresh flavor combination is simply irresistible! The crunchy texture of the fresh fruit and herbs adds another layer of flavor and texture that takes this salad over the top.
What are the nutritional benefits of this delicious salad?
This delicious Lemon-Basil Strawberry Salad is a nutritional powerhouse! Here are some of the amazing benefits of this tasty dish:
Vitamin C: This salad is packed with Vitamin C, thanks to its delicious lemon juice and fresh strawberries. Vitamin C helps support your immune system and maintain healthy skin.
Fiber: One serving of this salad offers 3.3 g of fiber, which is essential for proper digestion and can help keep you feeling full and satisfied.
Antioxidants: Strawberries are rich in antioxidants, which help protect your cells from damage and have been linked to a lower risk of chronic diseases.
Healthy Fats: This salad is also a great way to get monounsaturated fats, which are important for heart health. These healthy fats can be found in the olive oil used in the salad dressing.
Protein: The salad also contains a good amount of protein, which helps to repair and build muscle and make you feel full.
What are some tips for creating the perfect lemon-basil strawberry salad?
Begin by selecting the freshest and ripest strawberries you can find.
Cut the strawberries into slices and place them in a bowl.
Squeeze a generous amount of fresh lemon juice over the strawberries and mix until combined.
For added flavor, finely mince a handful of basil leaves and sprinkle them over the strawberries.
For a bit of sweetness, sprinkle in a tablespoon of sugar.
To bring the flavors together, add a splash of olive oil and a pinch of salt.
Gently toss the salad until all ingredients are well combined.
What other ingredients can be added to this salad to make it even more flavorful?
If you're looking to add even more flavor to your Lemon-Basil Strawberry Salad, there's no shortage of delicious additions you can make! Topping off the salad with some feta cheese will add a salty, creamy flavor that will take it up a notch. Another great option is to add toasted almonds for some crunch. Or, if you're looking for something a little more unique, try adding diced avocados for a creamy texture and bright flavor. You could also add some diced apples or pears for a tart kick, or even some dried cranberries or raisins for a hint of sweetness.
How can this salad be served as a healthy, light meal?
This Lemon-Basil Strawberry Salad makes the perfect healthy, light meal! It's easy to whip up in no time and you can enjoy it as a side dish or on its own. The fresh combination of strawberries, lemon, and basil make for a wonderfully flavorful dish that won't weigh you down. Plus, it's packed with antioxidants and nutrients, making it a great choice for those looking to eat healthily. To make it a light meal, you can add some cooked grains like quinoa or cooked beans like chickpeas. This will give the salad extra protein and fiber, making it more filling and nutritious. You can also add some nuts or seeds for an extra crunch. It's a great way to enjoy a healthy and delicious meal that won't leave you feeling weighed down.
How can this salad be made ahead of time for a summer picnic?
Yes, you can definitely make this delicious Lemon-Basil Strawberry Salad ahead of time for a summer picnic! This salad is a great way to add a bright and refreshing flavor to your picnic spread. And the best part is that you can make it the night before, so all you have to do the day of the picnic is serve it up. Here's how:
First, make the salad dressing by combining the lemon juice, olive oil, honey, basil, and garlic in a blender or food processor. Blend until the dressing is completely smooth.
Next, in a large bowl, mix together the strawberries, spinach, and feta cheese.
Finally, pour the dressing over the salad and gently mix until everything is evenly coated.
And that's it! Cover the bowl and pop it in the fridge to chill until you're ready to serve.
What other creative ways can this salad be enjoyed?
There are so many delicious and creative ways to enjoy this Lemon-Basil Strawberry Salad! You can enjoy it as a side dish, light lunch, or even as a dessert. Here are a few ideas to get you started:
• Add some feta cheese for a salty and creamy contrast to the sweet strawberries and tangy lemon.
• Try it as a topping for a pizza. The tangy lemon and sweet strawberries will be the perfect compliment to the savory crust.
• Make it into a wrap. The lemon-basil dressing gives a flavorful twist to a wrap.
• Serve it as a dip. The flavors of the berries and dressing are great for dunking veggies, chips, and more.
• Put it on top of a bowl of yogurt or oatmeal for a healthy and delicious breakfast.
These are just a few ideas to get your creative juices flowing, and there are certainly many more possibilities.