Delicious Vegan Blueberry Crisp Recipe
I'm so excited to share my family's favorite vegan blueberry crisp recipe with you! This delicious and easy-to-make treat is always a hit at potlucks, family dinners, and holiday celebrations. With a simple combination of fresh blueberries, oats, vegan margarine, and a few other pantry staples, you can whip up a crowd-pleasing dessert that everyone will love. Plus, it takes just minutes to put together – no baking experience required! So let's get started and make some vegan blueberry crisp that will quickly become a favorite in your household!
Vegan Blueberry Crisp Recipe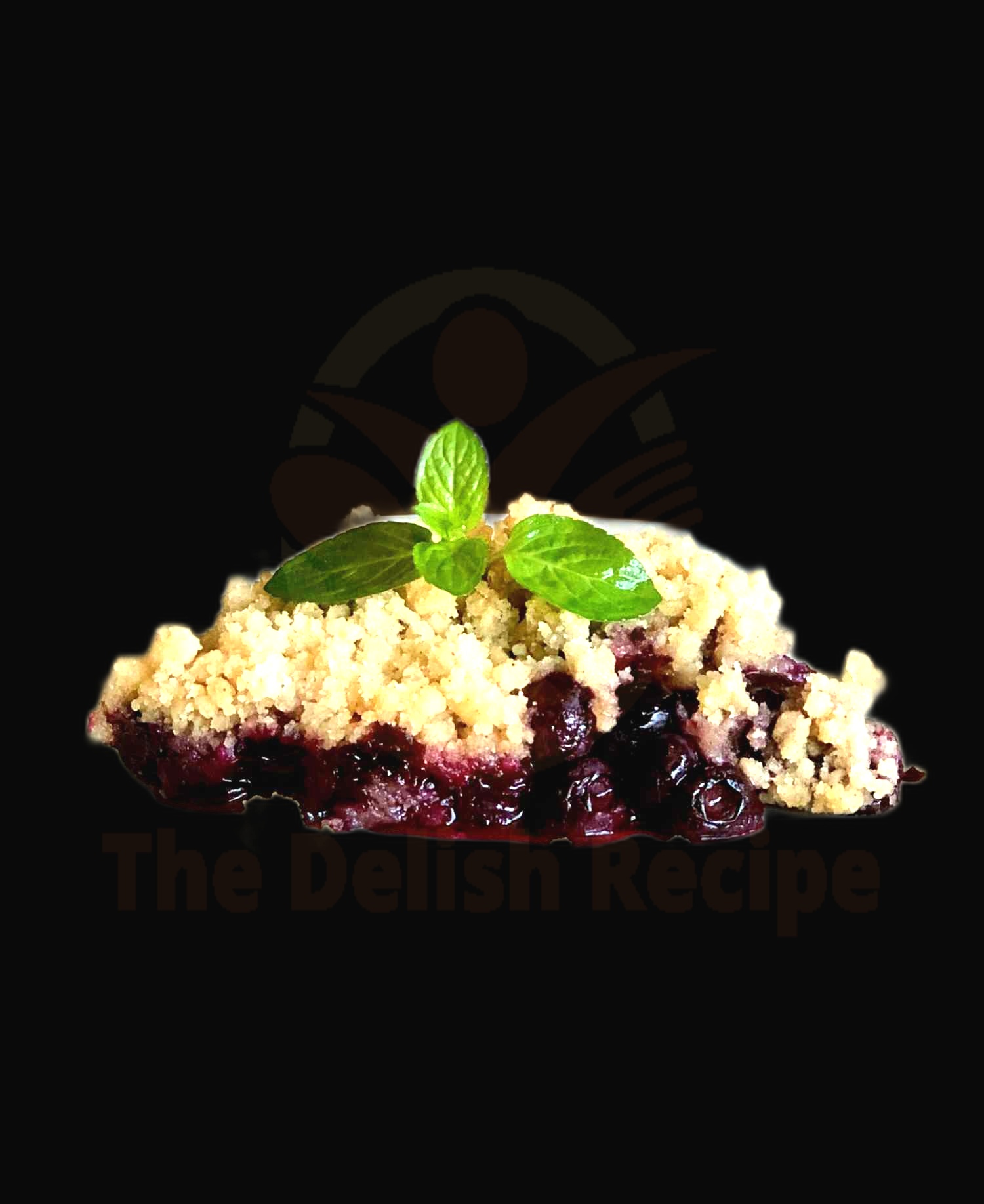 Ingredients
3 cups fresh blueberries
3 tablespoons vegan butter, melted
3 tablespoons all-purpose flour
3 tablespoons rolled oats
3 tablespoons brown sugar
½ teaspoon ground cinnamon
¼ teaspoon ground nutmeg
Pinch of salt
Instructions
Preheat your oven to 375°F.
In a medium-sized bowl, combine the blueberries and set aside.
In a separate bowl, mix together the melted vegan butter, all-purpose flour, rolled oats, brown sugar, ground cinnamon, ground nutmeg, and a pinch of salt.
Pour the blueberries into a 9-inch baking dish.
Sprinkle the mixture from step 3 over the blueberries.
Place the dish in the oven and bake for 35-40 minutes or until the top is golden brown.
Once done baking, allow the vegan blueberry crisp to cool for 10 minutes before serving. Enjoy!
Nutrition Facts
Calories: 254
Fat: 10g
Carbohydrates: 38g
Protein: 4g
Sodium: 127mg
Sugar: 18g
Why should you make vegan blueberry crisp?
You should make vegan blueberry crisp because it's a delicious and healthy dessert that everyone can enjoy! It's a great choice if you're vegan, vegetarian or just looking for a healthier alternative to traditional desserts. Plus, it's super easy to make and can be whipped up in no time.
Vegan blueberry crisp is a delicious dessert that's packed with antioxidants and healthy nutrients. Fresh blueberries are a great source of vitamin C, dietary fiber, and manganese. And because of the oats and nuts used in the topping, it's also a great source of protein, healthy fats and dietary fiber. This dessert is sure to satisfy your sweet tooth and give you a nutritional boost!
This vegan blueberry crisp is also very easy to make. You just mix up the topping ingredients, spread them over the blueberries, and bake. The result is a delicious and crispy dessert that's sure to be a hit. And because it's vegan, it can be enjoyed by everyone: vegans, vegetarians, and non-vegans alike.
Vegan blueberry crisp is a great dessert for those looking for a healthier alternative to traditional desserts. It's packed with antioxidants, healthy nutrients, and protein, and it's easy to make.
What ingredients do you need for vegan blueberry crisp?
You'll need a few simple ingredients to make a delicious vegan blueberry crisp. All you need is some fresh or frozen blueberries, vegan butter, light brown sugar, rolled oats, flour, cinnamon, nutmeg, and salt.
The blueberries are the star of this vegan blueberry crisp. If you're using fresh blueberries, make sure they're ripe and sweet. If using frozen, make sure to thaw them to room temperature first.
For the vegan butter, you'll need a non-hydrogenated vegan butter like Earth Balance. You'll also need light brown sugar for sweetness and a combination of rolled oats, flour, cinnamon, nutmeg, and salt for the topping.
Mixing all the ingredients together is easy and straightforward. Start by mixing the vegan butter and light brown sugar together in a large bowl until there are no lumps. Then add in the rolled oats, flour, cinnamon, nutmeg, and salt and mix until everything is evenly combined.
The last step is to assemble the vegan blueberry crisp. Grease a 9-inch baking dish with a little bit of vegan butter and evenly spread the blueberries in the dish. Then pour the topping over the blueberries and spread evenly. Bake the vegan blueberry crisp for about 30-35 minutes until the top is golden and the blueberries are bubbling.
Once your vegan blueberry crisp is out of the oven, let it cool for about 15 minutes before enjoying. Serve warm with a scoop of vegan ice cream or coconut whipped cream for a special treat.
How can you make vegan blueberry crisp healthier?
You can make vegan blueberry crisp healthier by using better-for-you ingredients like whole grain flour, coconut oil, and maple syrup instead of white flour, butter, and sugar. Replacing traditional ingredients with healthier options not only makes the dessert more nutritious, but it also adds a delicious depth to the flavor.
First, substitute the white flour with a whole grain or nut flour. Whole grain flours are a great source of fiber and provide more of a nutritional punch than traditional white flour. Almond flour, for example, is an excellent source of healthy fats and minerals like magnesium and manganese. Additionally, coconut flour is high in fiber and is a great gluten-free option.
Next, swap out the butter for coconut oil. Coconut oil is rich in healthy fats, like lauric acid, and is lower in calories than traditional butter. It also adds a subtle sweetness and a hint of coconut flavor that pairs perfectly with the blueberries.
Finally, replace the sugar with maple syrup. Not only is maple syrup a natural sweetener, but it also has more nutrition than regular sugar. It is high in minerals like zinc and manganese and contains small amounts of calcium and iron. Plus, it has an unbeatable flavor that will really bring out the sweetness of the blueberries.
Making these simple ingredient substitutions will transform vegan blueberry crisp into a healthier and more flavorful dessert.
What other fruits could you use to make vegan blueberry crisp?
If you're looking to switch things up a bit in your vegan blueberry crisp recipes, there are plenty of other fruits that you could use. Strawberries, raspberries, blackberries, peaches, apples, and pears all make great substitutes for blueberries in this vegan dessert.
Strawberries make for a tart and sweet vegan blueberry crisp. Use fresh or frozen strawberries for this recipe. If using frozen, simply thaw the strawberries before baking. Meanwhile, raspberries bring out a slightly tart flavor that's balanced by the sweetness of the crisp. You may want to mash or puree the raspberries before adding them to the crisp to get an even flavor throughout.
Blackberries are another great option for vegan blueberry crisp. They provide a rich and intense flavor that goes perfectly with the sweet and crunchy topping. Peaches are a great summertime option that make for a very juicy and delicious vegan blueberry crisp. Apples and pears also work well in this recipe. If using apples, it's best to use a tart variety such as Granny Smith. For the pears, you can use any variety that is ripe and juicy.
No matter which type of fruit you choose, the key is to make sure that it is ripe and sweet. This will ensure that your vegan blueberry crisp turns out perfectly every time. So don't be afraid to experiment and find the perfect combination of fruits to make your own vegan blueberry crisp.
What other vegan desserts can you make with blueberries?
You can make so many delicious vegan desserts with blueberries! Why not try a vegan blueberry galette? All you need is a store-bought vegan pie crust, fresh blueberries, and some sugar for the filling. For an extra sweet treat, try adding a cinnamon and sugar topping to the galette. Another great vegan dessert is a blueberry crumble. You can use oats, flour, vegan butter, and blueberries to create a delicious crumble topping. Serve with vegan ice cream or coconut cream for an indulgent treat. If you're looking for a cooling summer dessert, try making a vegan blueberry fool. All you need is a vegan yogurt, blueberries, and a sweetener of your choice. Layer the yogurt and blueberries in a glass and top with some vegan whipped cream. It's a healthy and delicious option. Finally, you can make a vegan blueberry mousse. Simply blend some vegan cream cheese or soy cream cheese with blueberries and a sweetener. Chill for a few hours and finish with vegan whipped cream for an impressive dessert.
Which vegan substitutes work best when making vegan blueberry crisp?
When making vegan blueberry crisp, you can't go wrong with vegan butter, coconut oil, and vegan yogurt as substitutes. Replacing traditional butter with vegan butter can give your crisp a creamy, rich texture, while substituting coconut oil can help lock in moisture and flavor. Non-dairy yogurt is also a great substitute in vegan blueberry crisp, providing a delicious and creamy texture.
Now let's dive into the specifics of how you can use these vegan substitutes in your vegan blueberry crisp.
Vegan butter is a great option to replace traditional butter when making vegan blueberry crisp. It has a similar texture and flavor to regular butter, so you won't be missing out on any of the deliciousness. You can either use store-bought vegan butter or make your own using vegan ingredients like coconut oil, vegan margarine, and vegetable shortening.
Coconut oil is another great vegan substitute for butter. It has a light coconut taste that pairs well with blueberries, and it helps to lock in moisture and flavor throughout your vegan crisp. You can use melted coconut oil in the same amount as you would use melted butter.
Non-dairy yogurt is a great way to add a creamy texture to your vegan blueberry crisp. Simply substitute a non-dairy yogurt for the same amount of traditional yogurt and you'll get a delicious, creamy vegan dessert. Choose a non-dairy yogurt made with coconut or almond milk for the best results.
Making vegan blueberry crisp can be a delicious and easy way to enjoy a vegan dessert. All you need are some vegan substitutes like vegan butter, coconut oil, and non-dairy yogurt and you're good to go.
What other toppings work well with vegan blueberry crisp?
You can really get creative with vegan blueberry crisp and try out a variety of toppings! Toasted coconut flakes and chopped walnuts add a delicious crunchy texture, while a sprinkle of cinnamon or allspice adds a touch of warmth. For a more decadent dessert, try adding a generous spoonful of vegan chocolate chips, or adding a dollop of vegan whipped cream for a cool and creamy contrast to the warm, bubbly crisp.