Flavorful Fiesta: Rajas Con Queso
Growing up in a Mexican-American household, I was fortunate enough to experience a variety of delicious dishes from both cultures. One of my all-time favorite meals is Rajas con Queso. This amazing dish is a combination of creamy cheese, roasted poblano peppers, and fresh corn that come together to create a comforting, flavorful treat. Every bite is bursting with flavor and it's sure to become a regular in your house.
Rajas Con Queso Recipe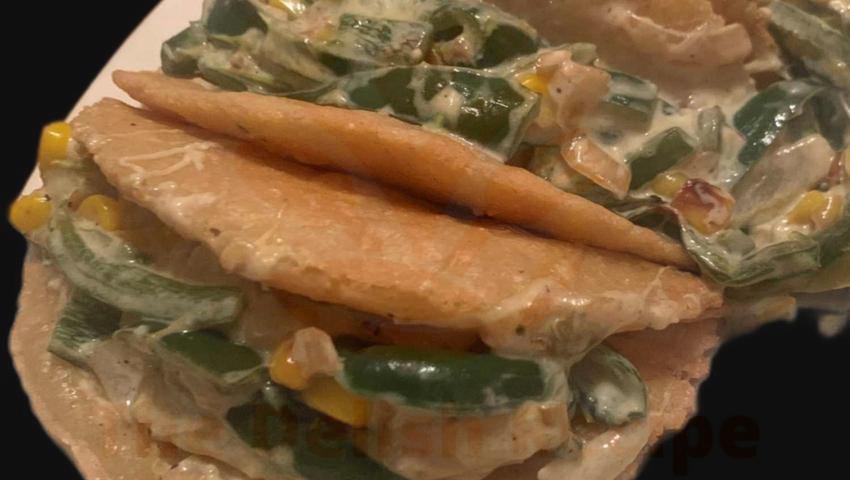 Ingredients
1 tablespoon salted butter, or as needed
6 medium poblano peppers
1 medium onion, diced
3 cloves garlic, minced
2 ears corn, kernels cut from cob
1 ½ cups shredded Monterey Jack cheese
½ cup crumbled cotija cheese
4 tablespoons Mexican crema, or more to taste
salt and ground black pepper to taste
Instructions
Preheat oven to 375°F (190°C).
Melt butter in a large skillet over medium-high heat.
Add the poblano peppers, onion, and garlic and cook until softened, about 5 minutes.
Add the corn kernels and cook an additional 3 minutes.
Remove from heat and stir in both cheeses and Mexican crema. Season with salt and black pepper to taste.
Transfer mixture to a 9×13 inch baking dish.
Bake in preheated oven for 15 minutes, or until cheese is melted and bubbly.
Serve hot with additional Mexican crema, if desired. Enjoy!
Nutrition Facts
Serving size: 1/8 of dish
Calories: 199
Fat: 14g
Carbohydrates: 10g
Protein: 7g
Sodium: 205mg
Cholesterol: 28mg
Overview of the dish's origin and cultural significance
Rajas con Queso is a traditional Mexican dish with origins in pre-colonial Aztec cuisine. The dish consists of roasted and diced poblano pepper strips cooked with cheese, usually a combination of Oaxaca and panela, as well as cream and onion. Rajas con Queso has become a popular dish in Mexican cuisine due to its unique flavor and cultural significance.
The dish is believed to have originated in the Aztec Empire due to its use of poblano peppers and cheese, two ingredients that were abundant in the region and are integral to the recipe. Rajas con Queso was likely developed as a result of the Aztecs' use of cheese in many of their dishes. This dish was further popularized by Spanish settlers, who likely added the cream and onion to the recipe.
Rajas con Queso is traditionally served as a side dish or as a filling for tacos and quesadillas. The dish is often served with rice and beans, as well as other classic Mexican dishes. In addition, it is a popular dish for celebrations and special occasions due to its bold flavors and cultural significance.
Rajas con Queso has come to represent the cultural history of Mexico and its culinary heritage. The dish is a reminder of Mexico's pre-colonial history and is a beloved icon of Mexican cuisine. This dish is a symbol of Mexican cuisine's rich and diverse flavors, as well as the country's vibrant culture and history.
Health benefits of consuming rajas con queso
Rajas con Queso has some health benefits that make it a great alternative to other processed cheese snacks.
A single serving of Rajas con Queso provides a good source of protein and calcium, making it a great snack option for those looking to add more calcium to their diets.
The cheese in Rajas con Queso contains lactic acid bacteria that can help support healthy digestion, and it's also high in vitamins A and C, which play important roles in the body's immune system.
Additionally, Rajas con Queso is low in saturated fat and sodium, making it a healthier alternative to other processed cheese snacks.
Rajas con Queso is also a great source of dietary fiber, which helps to keep your digestive system running smoothly.
Finally, Rajas con Queso is a good source of iron, which is important for healthy red blood cell production and oxygen delivery throughout the body.
In conclusion, Rajas con Queso provides several health benefits that make it a great alternative to other processed cheese snacks.
Tips for finding the best ingredients for making rajas con queso
Start by looking for fresh ingredients. The freshest vegetables (such as bell peppers, onions, and tomatoes) will provide the most flavorful and nutritious dish.
Look for local produce. Shopping at a local farmers market or visiting your local grocery store can help you get the freshest ingredients.
Check the labels. Pay attention to the ingredients list and nutritional facts on the labels to make sure you are getting the healthiest ingredients.
Look for organic ingredients. Organic produce is grown without the use of pesticides, fertilizers, or other harmful chemicals, so they are healthier and more nutrient-packed than conventional produce.
Experiment with different types of cheese. Try different types of cheese to find the combination that provides the best flavor. Some popular choices are cheddar, Monterey Jack, and queso fresco.
Buy canned chilies. Canned chilies are a convenient way to add flavor to your dish without having to worry about chopping fresh chilies.
Use fresh herbs. Fresh herbs can make all the difference in the flavor of your dish. Try adding cilantro, oregano, or parsley for extra depth.
Try different types of sauces. Try out different types of salsa or enchilada sauces to add a unique flavor to your dish.
Add spices. Spices such as cumin, chili powder, and garlic powder can add a lot of flavor without adding too much heat.
Use fresh lime juice. Fresh lime juice gives a zesty flavor to any dish. It also helps to bring out the other flavors and brightens the dish.
How to serve rajas con queso at a dinner or party
Preheat the oven to 350°F.
Slice 1/2 of a white onion and 1/2 of a red bell pepper into thin strips.
Heat a non-stick skillet over medium-high heat and add a tablespoon of butter.
Stir in the onions and peppers and cook for about 5 minutes, or until the vegetables are softened.
Add a 4-ounce can of diced green chiles and mix together.
Spoon the vegetable mixture into a greased 9×13 inch baking dish.
Sprinkle 1 cup of shredded Monterey Jack cheese over the vegetables.
In a medium bowl, whisk together 1/2 cup of sour cream, 1/2 cup of heavy cream, 1 cup of salsa con queso, 1 teaspoon of chili powder, and 1/2 teaspoon of ground cumin.
Pour the cream mixture over the vegetables and cheese.
Bake for 30 minutes, or until the cheese is melted and bubbly.
Serve warm with tortilla chips or over cooked rice.
Ideas for using rajas con queso in different recipes
Rajas Con Queso is a Mexican dish made with roasted poblano peppers, onion and queso fresco. This flavorful dish can be used in a variety of recipes, from tacos to enchiladas and burritos. Here are a few ideas for incorporating Rajas Con Queso into your meal planning:
Use Rajas Con Queso as a filling for tacos: Simply stuff your tacos with Rajas Con Queso, then top with lettuce, tomatoes, and a drizzle of sour cream.
Top your burrito with Rajas Con Queso: Add Rajas Con Queso to your burrito filling, then top it off with a generous spoonful of the dish.
Make an enchilada casserole with Rajas Con Queso: Layer corn tortillas, Rajas Con Queso, and some enchilada sauce. Then bake in the oven until bubbly.
Make a Rajas Con Queso quesadilla: Layer the Rajas Con Queso between two flour tortillas, then cook in a skillet or in the oven until golden brown and crispy.
These are just a few ideas for using Rajas Con Queso in your meal planning. With a bit of creativity, you can come up with even more delicious recipes featuring this tasty Mexican dish.