Delicious King Cake Cupcakes – A Simple And Fun Recipe
I'm so excited to share my favorite recipe with you – King Cake Cupcakes! Whenever I make these treats, I'm always amazed at how delicious they turn out. Not only are they super easy to make, but they also have a wonderfully unique flavor that will have your friends and family asking for seconds. Plus, the bright colors of the icing make them the perfect dessert for any occasion. So, if you're ready to try your hand at the King Cake Cupcakes, read on!
King Cake Cupcakes Recipe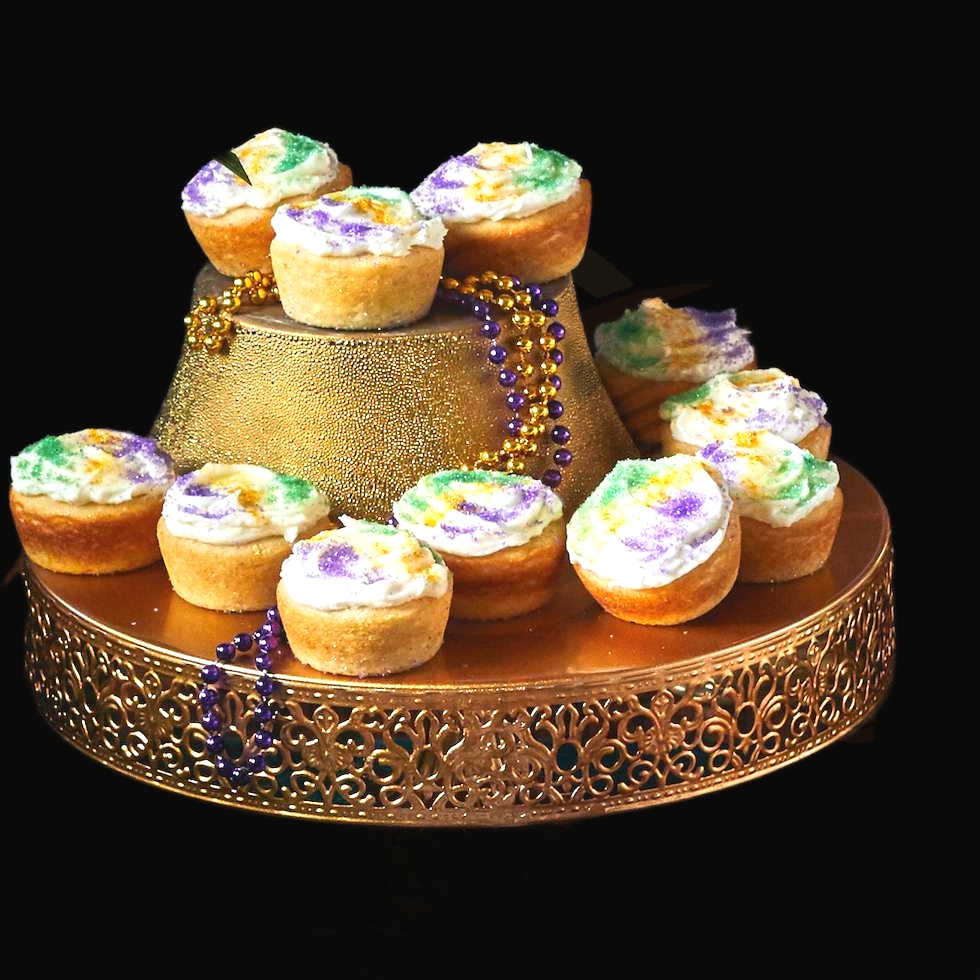 Ingredients
2 cups all-purpose flour
1 teaspoon baking powder
1/2 teaspoon baking soda
1/2 teaspoon ground cinnamon
1/2 teaspoon salt
1/2 cup vegetable oil
3/4 cup granulated sugar
2 large eggs
1 teaspoon pure vanilla extract
1/2 cup buttermilk
1/2 cup sour cream
2 tablespoons purple, green, and gold sanding sugar
1/2 cup butter, softened
4 cups powdered sugar
1 teaspoon ground nutmeg
1/4 cup heavy cream
2 tablespoons purple, green, and gold sprinkles
Instructions
Preheat the oven to 350°F and line a cupcake pan with 12 cupcake liners.
In a medium-sized bowl, whisk together the flour, baking powder, baking soda, cinnamon, and salt.
In a separate bowl, mix together the oil, sugar, eggs, and vanilla extract until combined.
Add the wet ingredients to the dry ingredients and mix together until just combined.
Add the buttermilk and sour cream and mix until combined.
Divide the batter evenly among the prepared cupcake liners, about 2/3 full.
Bake for 20-25 minutes or until a toothpick inserted in the center comes out clean.
Let the cupcakes cool completely before decorating.
To make the frosting, beat the butter in a large bowl until light and fluffy.
Gradually add the powdered sugar, 1 cup at a time, until all 4 cups are added.
Add the nutmeg and heavy cream and mix until combined.
Spread the frosting on the cooled cupcakes and top with the purple, green, and gold sanding sugar and sprinkles.
Enjoy your delicious King Cake Cupcakes!
Nutrition Facts
Calories: 400 kcal
Carbohydrates: 41 g
Protein: 5 g
Fat: 22 g
Saturated Fat: 8 g
Cholesterol: 60 mg
Sodium: 360 mg
Potassium: 140 mg
Fiber: 1 g
Sugar: 24 g
Vitamin A: 150 IU
Calcium: 60 mg
Iron: 1 mg
What is a king cake cupcake?
You may be asking yourself, what is a King Cake Cupcake? Well, it's the yummiest combination of two classic Mardi Gras treats! This unique blend of New Orleans' beloved King Cake and a classic cupcake is sure to tantalize your taste buds!
These cupcakes are made with a light and fluffy vanilla cake base. They are topped with a creamy, sweet filling, and covered with a delicious Mardi Gras-colored fondant. The traditional King Cake decorations—green, gold, and purple sprinkles—are added to the top of the cupcake, giving it the real King Cake feel.
Not only are King Cake Cupcakes delicious, but they're also incredibly easy to make. All you need is a basic cupcake recipe, a creamy filling of your choice, and a few tablespoons of colored sprinkles. Once you have those ingredients, all you have to do is bake the cupcakes, add your filling, and top them with fondant and sprinkles.
These unique and flavorful cupcakes are sure to be an eye-catching addition to your next Mardi Gras celebration.
How do you decorate a king cake cupcake?
You can decorate King Cake Cupcakes in a few simple steps. Here's how:
Begin by frosting the cupcakes with cream cheese frosting and sprinkling them with traditional king cake decorations like purple, green, and yellow sugar.
To add a festive touch, top the cupcakes with small plastic or edible baby figures. This will mimic the traditional king cake, which is served with a plastic baby inside.
Place two to three pieces of colored sugar on each cupcake, forming a triangle shape to represent the colors of Mardi Gras.
Drizzle the cupcakes with icing, and top with Mardi Gras beads.
Finally, add a sprinkle of cinnamon sugar to the tops of the cupcakes for a sweet finish.
There you have it! With these simple steps, you can easily create festive King Cake Cupcakes.
Where did king cake cupcakes originate from?
You might be wondering where King Cake Cupcakes come from, and we have the answer for you! King Cake Cupcakes originated in the United States, specifically the New Orleans area.
This delicious treat, which is a fusion of two classic desserts – the classic Mardi Gras King Cake and the cupcake – has been delighting sweet tooths everywhere since the mid-2000s. First appearing in bakeries in the New Orleans area, the King Cake Cupcake created a stir with its perfect marrying of two desserts into one delicious treat.
While the cupcake is the foundation of the King Cake Cupcake, the topping is what sets it apart. The topping is typically a mixture of cinnamon, sugar, and a hint of nutmeg, to give it that classic King Cake flavor. The topping is then typically topped with a sugary, colored glaze and sprinkled with purple, green, and gold sugar crystals to really give it that Mardi Gras flair.
Whether you're looking for a sweet treat to share at a party or just want a little something special for yourself, the King Cake Cupcake is sure to leave you satisfied.
What is the traditional king cake flavor?
When it comes to king cake cupcakes, there's only one flavor that stands out as the classic – cinnamon! Whether you're baking at home or buying from a bakery, cinnamon is the traditional flavor of king cake cupcakes. This sweet and spicy flavor brings out the unique, festive nature of the treat.
A cinnamon-flavored king cake cupcake is usually made with a yellow or white cake base and filled with a cinnamon-sugar mixture. The top of the cupcake is then covered with a cream cheese frosting that's been flavored with cinnamon and nutmeg. You might also find cinnamon-sugar sprinkled on the top of the cupcake, or even a cinnamon-sugar glaze.
For those who are looking for something a bit more creative, there are plenty of variations of the traditional cinnamon-flavored king cake cupcake. Many bakers add a hint of vanilla to their cupcakes, while others opt for a more intense flavor with a dose of nutmeg. Some even add a layer of cream cheese and cinnamon-sugar to the top of the cupcake before baking.
No matter what your tastes, you're sure to find a delicious version of the traditional king cake cupcakes.
What are some creative ways to flavor a king cake cupcake?
If you're looking for creative ways to flavor a king cake cupcake, look no further! There are endless options to make this classic Mardi Gras treat even more delicious. Here are some fun and tasty ideas to get you started.
For a classic take on the king cake cupcake, start with a moist yellow or vanilla cake and a creamy cream cheese frosting. Then, top it off with the traditional cinnamon sugar topping – it's sure to be a hit!
If you're feeling adventurous, try adding some of your favorite fruits or spices to the cake batter. You could add grated apples, a handful of blueberries, or a sprinkle of nutmeg for a unique twist. And for an extra special touch, top the cupcakes with colorful sprinkles or edible glitter.
For those who love a hint of sweetness and spice, try a king cake cupcake with a hint of rum and cinnamon. Mix a tablespoon of rum into the batter and sprinkle some cinnamon sugar on top for a truly festive flavor.
Finally, if you're looking for something even more decadent, why not try a chocolate king cake cupcake? Start with a rich chocolate cake and top it with a creamy chocolate frosting. Then, add a sprinkle of cinnamon sugar to really make it stand out.
No matter which flavor you choose, king cake cupcakes are sure to be a hit. With these creative ideas, you can turn this classic Mardi Gras treat into something truly special.
How can you make king cake cupcakes a fun and festive experience?
Making king cake cupcakes a fun and festive experience is easy! To start, pick a flavor of cupcake that will make your taste buds dance. Some classic flavors, such as chocolate and vanilla are always a hit, or you can get creative with more unique flavors like lemon and strawberry.
Once you've selected your cupcake flavor, it's time to get creative with the decorations. You can make a festive Mardi Gras-themed topping by using colorful sprinkles, purple, green, and gold sugar pearls, or a mix of all three. Or if you're feeling a bit more adventurous, you can try making your own decorations with fondant.
Finally, you can add a final festive touch to your king cake cupcakes with a small plastic baby tucked inside each one. This is a fun surprise for your guests and will certainly make your cupcakes stand out.
No matter how you decide to decorate your king cake cupcakes, they'll be sure to make your Mardi Gras celebration a memorable and festive one.