Delicious Ghirardelli Chocolate Waffles
I can't start my day off without a big stack of Ghirardelli chocolate waffles! This recipe is my absolute go-to whenever I'm looking for a delicious breakfast or snack that's sure to satisfy my sweet tooth. The best part is that it only takes a few minutes to whip up a batch of these irresistible treats. They're the perfect combination of crisp, fluffy waffles and gooey, melted Ghirardelli chocolate chips, and they always hit the spot. So if you're in the mood for something sweet, give this recipe a try and you won't be disappointed!
Ghirardelli Chocolate Waffles Recipe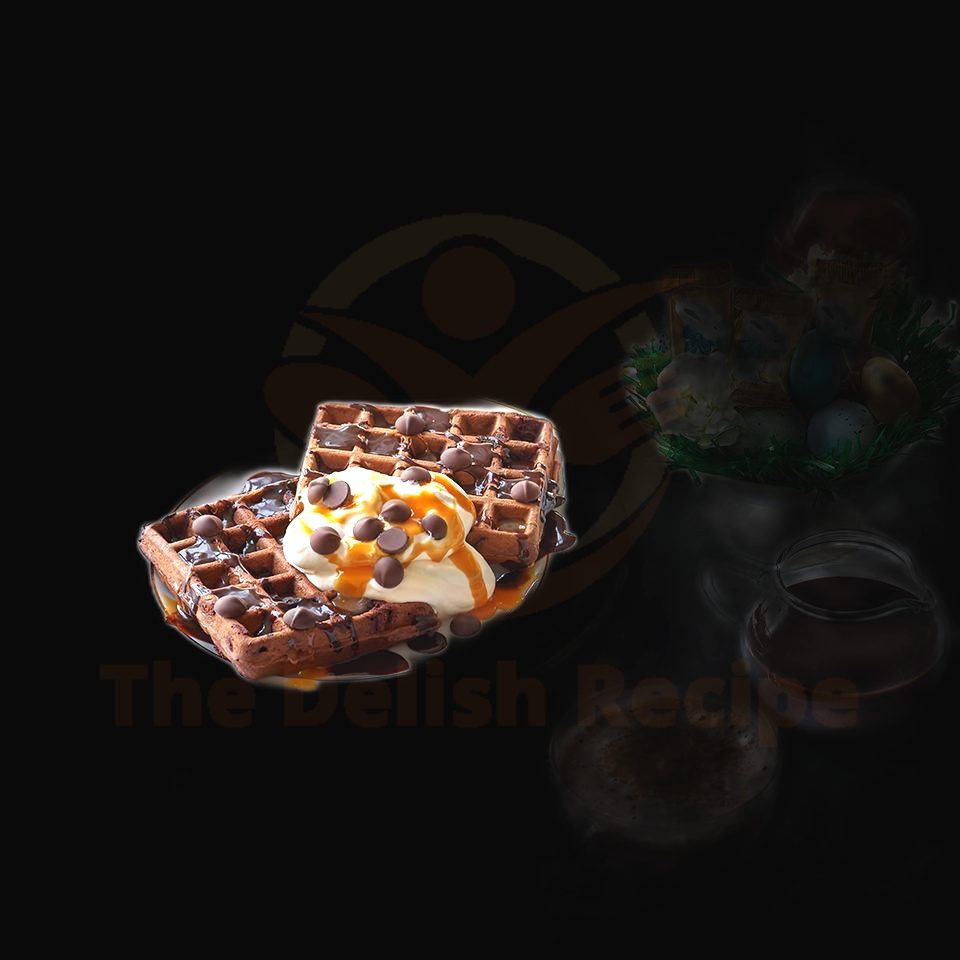 Ingredients
1 cup all-purpose flour
1 teaspoon baking powder
½ teaspoon baking soda
1/8 teaspoon salt
2 tablespoons sugar
1/3 cup Ghirardelli semi-sweet chocolate chips
2 eggs
2 tablespoons melted butter
1 cup milk
1 teaspoon vanilla extract
Instructions
Preheat waffle iron according to manufacturer instructions.
In a medium bowl, whisk together flour, baking powder, baking soda, salt and sugar.
Add in Ghirardelli semi-sweet chocolate chips and stir to combine.
In a separate bowl, beat together eggs, melted butter, milk and vanilla extract.
Add wet ingredients to dry ingredients and stir until just combined.
Grease waffle iron with cooking spray or butter.
Pour about 1/4 cup of batter into each section of the waffle iron and cook for 5 minutes, or until golden brown and cooked through.
Serve your delicious Ghirardelli Chocolate Waffles while they're still warm, with your favorite toppings like fresh fruit and maple syrup. Enjoy!
Nutrition Facts
Calories: 305 kcal
Carbohydrates: 42 g
Protein: 7 g
Fat: 13 g
Saturated Fat: 8 g
Cholesterol: 83 mg
Sodium: 396 mg
Potassium: 159 mg
Fiber: 2 g
Sugar: 18 g
Calcium: 95 mg
Iron: 1.8 mg
What makes ghirardelli chocolate waffles so special?
You'll be delighted by what makes Ghirardelli chocolate waffles so special! These waffles are made with premium cocoa and the finest ingredients, giving them that unmistakable Ghirardelli taste. The chocolate is rich and creamy, and the waffles are wonderfully light and fluffy. The combination of flavors is heavenly!
The waffles are made with Ghirardelli's signature bittersweet chocolate which gives them just the right balance of sweetness and richness. You can really taste the quality of the chocolate with every bite. Plus, you don't have to worry about artificial ingredients or preservatives because the waffles are made with natural ingredients.
The best part is that they come in several delicious flavors. You can choose from classic chocolate, white chocolate, and even caramel! With so many options, you can enjoy the perfect waffle for any occasion.
All in all, Ghirardelli chocolate waffles are truly special. The combination of high-quality cocoa and natural ingredients make them stand out from the crowd.
How easy is it to prepare ghirardelli chocolate waffles?
Yes, preparing Ghirardelli Chocolate Waffles is incredibly easy! All you need to do is follow the instructions on the package, and in no time, you'll have a delicious treat that you can enjoy with your family and friends.
Ghirardelli Chocolate Waffles come in pre-measured packets, meaning you don't have to worry about measuring out the ingredients yourself. Simply add the ingredients to a bowl, mix them together, put the waffle mix in the waffle maker, and bake. Depending on the waffle maker, you can expect your waffles to be done in just a few minutes.
For a more indulgent treat, you can top your waffle with some Ghirardelli Chocolate Syrup. Not only does it add an extra layer of flavor, but it also adds a bit of sweetness that's sure to delight. You can even add some fresh fruit or whipped cream for a truly decadent experience.
If you're looking for a delicious and easy-to-make treat, Ghirardelli Chocolate Waffles are the perfect option. With just a few simple steps, you can have a delicious dessert that will satisfy your sweet tooth in no time.
What are some creative topping ideas for ghirardelli chocolate waffles?
If you're looking for creative topping ideas for Ghirardelli chocolate waffles, you've come to the right place. These waffles are the perfect indulgence and they deserve the best toppings. Let's explore some of the most delicious topping ideas to make your Ghirardelli chocolate waffles even more special.
For a fruit topping, you can never go wrong with fresh berries or banana slices. Top your waffle with some fresh raspberries, blackberries, blueberries or strawberries, or even some banana slices. If you want to add a bit of sweetness, drizzle some honey or maple syrup over your waffles.
If you're looking for a more indulgent topping, try some melted chocolate. Melt your favorite Ghirardelli chocolate bar and pour it over your waffle. You can also add other ingredients like chopped nuts or dried fruits to make it even more special.
Another creative topping idea is to use ice cream. Scoop a generous amount of your favorite ice cream flavor over your waffle. To make it even better, add some chocolate sauce or caramel sauce.
If you're feeling a bit adventurous, try making a Ghirardelli chocolate waffle sundae! Top your waffle with some ice cream, melted chocolate chips, chopped nuts, and a few raspberries or other berries. Then, drizzle some chocolate syrup or caramel sauce over the top and enjoy!
These are some of the most creative topping ideas for your Ghirardelli chocolate waffles. Whether you're looking for something fruity, indulgent or just plain delicious, these toppings will make your waffle experience even more special.
How can ghirardelli chocolate waffles be served to make a delicious meal?
You can serve Ghirardelli chocolate waffles in all sorts of delicious ways to make a meal. To start, you can top the waffles with ice cream, fresh fruit, and a drizzle of caramel or chocolate sauce for a dessert that's sure to please. Or, you can go savory and pair the waffles with fried chicken, bacon, and your favorite syrup. The possibilities are truly endless.
If you're looking for a classic breakfast option, try serving the waffles with butter, a sprinkle of powdered sugar, and your favorite jam or jelly. And if you're feeling extra creative, why not try making a cheese omelet in between two waffles for a truly unique breakfast sandwich.
No matter how you choose to serve Ghirardelli chocolate waffles, you can rest assured that it will be a delicious meal. The combination of Ghirardelli's signature chocolate flavor in a waffle is hard to beat, and the added toppings will make it even better.
What is the best way to store leftover ghirardelli chocolate waffles?
The best way to store leftover Ghirardelli chocolate waffles is to wrap them in plastic wrap and keep in the fridge. The cold temperature will help keep the waffles from drying out and becoming stale. You can also put them in an airtight container and store in the freezer. This will keep the waffles fresh for up to two months.
If you're going to eat the waffles soon, you can just keep them at room temperature. Line a plate or tray with a paper towel, and then place the waffles in a single layer on top. Cover the plate with another paper towel to keep the waffles from drying out while they are at room temperature.
You can also make sure your waffles last longer by wrapping them individually in aluminum foil and freezing them. This way, you can take out a waffle whenever you're in the mood for one, and it will taste just as fresh as when you first made it.
No matter how you decide to store your leftover chocolate waffles, be sure to enjoy them soon.
How can ghirardelli chocolate waffles be used for a special occasion?
You can make Ghirardelli Chocolate Waffles for a special occasion like a birthday or anniversary party. This indulgent treat is sure to make any celebration even more special. With its golden, crispy waffle and rich, chocolatey syrup, this dessert is sure to be a hit!
To make Ghirardelli Chocolate Waffles, you'll need a waffle maker, Ghirardelli Chocolate Waffle Mix, butter, eggs, and some heavy cream. Start by preheating your waffle maker. Then, combine the waffle mix with the butter, eggs, and heavy cream. Once the mixture is ready, pour it into the waffle maker and cook until golden brown.
Once the waffles are cooked, serve them with a generous drizzle of Ghirardelli Chocolate Syrup. The combination of the golden, crispy waffle and the rich, chocolatey syrup will make your special occasion even more special. You can also top your waffles with additional toppings such as whipped cream, sprinkles, or fresh fruit.
Ghirardelli Chocolate Waffles are an easy and delicious way to make any special occasion even more special.