Delicious Mocha Cheesecake Brownies – An Easy Recipe
I absolutely love making Mocha Cheesecake Brownies for my friends and family. They're one of my favorite desserts to make because they're so delicious and so easy to make. I love how the rich and creamy cheesecake layer contrasts with the intensely chocolatey brownie layer, and the hint of coffee flavor that comes from the mocha adds the perfect touch of sophistication. The best part is that these brownies are always a hit with everyone that tries them!
Mocha Cheesecake Brownies Recipe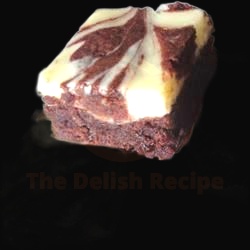 Ingredients
2/3 cup all-purpose flour
1/4 teaspoon salt
2 tablespoons cocoa powder
3 tablespoons butter, melted
1/4 cup white sugar
1/4 cup light brown sugar, packed
2 large eggs
1 teaspoon vanilla extract
8 ounces cream cheese, softened
2 tablespoons instant coffee granules
1/3 cup semi-sweet chocolate chips
Instructions
Preheat your oven to 350°F and get your 9-inch square baking pan ready by greasing it with some butter or cooking spray.
In a medium bowl, mix together the all-purpose flour, salt, and cocoa powder.
In a separate large bowl, melt the butter in the microwave and then add the white and brown sugars, eggs, and vanilla extract. Whisk everything together until it's smooth.
Add the dry ingredients to the wet ingredients and mix until just combined.
In a separate bowl, beat the cream cheese and instant coffee granules until they are smooth.
Now add the cream cheese mixture to the brownie batter and mix until combined.
Finally, stir in the chocolate chips and pour the batter into the prepared pan.
Pop it in the oven for about 45 minutes, or until a toothpick inserted into the center comes out clean.
Allow the brownies to cool completely before cutting into them and serving. Enjoy your delicious Mocha Cheesecake Brownies!
Nutrition Facts
Calories: 545
Total fat: 24.9g
Saturated fat: 14.5g
Cholesterol: 108mg
Sodium: 545mg
Total carbohydrates: 73.2g
Dietary fiber: 2.1g
Sugars: 47.5g
Protein: 8.2g
What makes mocha cheesecake brownies so irresistible?
There's something truly irresistible about mocha cheesecake brownies! The combination of a fudgy brownie base, creamy cheesecake layer, and a hint of rich mocha flavor makes these brownies the ultimate treat. Whether you're enjoying one with a cup of coffee after a long day or devouring them for dessert, mocha cheesecake brownies are simply irresistible.
But what makes them so special? Well, the answer is simple. The combination of ingredients in mocha cheesecake brownies creates a flavor that is out of this world. The rich chocolate base is topped with a creamy and smooth cheesecake layer and finished off with a hint of mocha flavor.
The contrast between the dark chocolate and creamy cheesecake layer creates a unique flavor that will keep you coming back for more. Plus, the hint of mocha adds a subtle yet delicious flavor that adds depth and complexity to the brownies.
No matter how you slice it, mocha cheesecake brownies are simply irresistible. The perfect balance of flavors and textures make these brownies the star of any gathering.
How can you make mocha cheesecake brownies at home?
Making mocha cheesecake brownies at home is easier than you might think! All you need is some brownie mix, cream cheese, sugar, cocoa powder, coffee, and a few other ingredients. Here's a step-by-step guide to help you make the most delicious mocha cheesecake brownies.
Start by preheating your oven to 350 degrees Fahrenheit. Meanwhile, prepare your brownie mix according to the box instructions. Once that's done, pour the brownie mix into a greased 9×13 inch baking pan and bake for 28 minutes.
When the brownies are finished baking, let them cool for at least 15 minutes. In the meantime, get your cream cheese and sugar ready. Beat together the cream cheese and sugar until well combined.
Once the cream cheese and sugar are combined, stir in the cocoa powder and coffee. Make sure everything is well combined.
When the brownies have cooled, spread the cream cheese mixture over the top and spread evenly. Bake the brownies for another 25 minutes.
Once the mocha cheesecake brownies are finished baking, let them cool for at least 15 minutes before cutting into squares and serving.
What are the key ingredients of mocha cheesecake brownies?
Yes! Mocha Cheesecake Brownies are the ultimate treat. With a rich, chocolatey base and a creamy, cheesecake-like topping, these brownies are the perfect combination of flavors and textures. But what are the key ingredients that make them so delicious? Let's take a look!
First off, you need some good quality cocoa powder for the brownie base. This will impart a deep, complex flavor that pairs perfectly with the cheesecake topping. Next, you'll need some coffee to give the brownies a subtle mocha flavor. You can use either freshly brewed coffee or instant espresso powder.
The cheesecake topping is comprised of cream cheese, sugar, and eggs. This creates a creamy, decadent layer of flavor that contrasts with the chocolate base. To finish off the brownies, you'll need some semi-sweet chocolate chips or chunks. These will melt into the cheesecake layer for a little extra sweetness and richness.
With the right ingredients, you can create the perfect Mocha Cheesecake Brownies. Rich, chocolatey, and topped with a creamy cheesecake layer, these brownies will satisfy your sweet tooth in no time.
What variations can you make on the classic mocha cheesecake brownies recipe?
You can make countless variations on the classic mocha cheesecake brownies recipe! If you're looking to experiment, you can add new ingredients to the recipe, alter the amounts of the existing ingredients, or use unique baking techniques. Let's explore some of the ways you can customize this delicious treat.
For starters, you can try adding a few extra flavors to the mix. For example, you could fold in chopped nuts or mini chocolate chips to the brownie batter for an added crunch. If you're feeling adventurous, you can also incorporate spices like cinnamon or nutmeg to give the brownie a unique flavor.
You can also adjust the proportions of the ingredients in the recipe. For instance, you can increase the amount of cocoa powder to make a richer, more intensely chocolaty brownie. Or you can reduce the sugar and use dark chocolate instead to give the brownie a more complex flavor.
Finally, you can also switch up the baking technique to give the brownie a unique texture. For example, you could try baking the brownie in a 9-inch springform pan to get a thicker, more cake-like texture. Or you could bake the brownie in a 9×13 inch pan and cut it into smaller squares for a more traditional brownie bar.
No matter what variations you choose to make, the classic mocha cheesecake brownies recipe is sure to be a delicious treat.
What's the best way to serve mocha cheesecake brownies?
Serving mocha cheesecake brownies is easy – the best way to do it is to cut them into small squares and plate them on a pretty platter. That way, everyone can enjoy a delicious bite of mocha cheesecake goodness. You can also serve them on a plate with a dollop of whipped cream or ice cream – yum!
When serving mocha cheesecake brownies, you should make sure they are completely cooled before cutting and plating. This will help them maintain their shape and texture. If you're in a rush, you can always pop them in the fridge for about 10 minutes to cool them down quickly.
If you're feeling extra fancy, you can also top each piece with a few chocolate chips, some crushed nuts, or a sprinkle of powdered sugar. That will add a little extra sparkle to your presentation and make your mocha cheesecake brownies look even more irresistible.