Tropical Zucchini Bread: A Sweet Pineapple Twist
I'm all about baking and trying out new recipes, so I was really excited when I stumbled across this zucchini bread with pineapple. I love zucchini and pineapple, so I knew I was in for a delicious treat. After baking it, the sweet aroma of zucchini and pineapple filled my kitchen and I couldn't wait to take my first bite. The combination of flavors was heavenly, and I knew I had found a new favorite recipe.
Zucchini Bread with Pineapple Recipe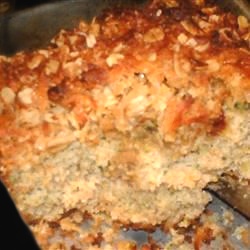 Ingredients
3 cups grated zucchini
1/2 cup vegetable oil
2 eggs
1/2 teaspoon vanilla extract
2 cups all-purpose flour
1/2 cup white sugar
1/2 cup brown sugar
1 teaspoon baking soda
1 teaspoon baking powder
1/2 teaspoon salt
1 teaspoon ground cinnamon
1/2 cup chopped pineapple
Instructions
Welcome to your Zucchini Bread with Pineapple recipe! This delicious recipe will take a total of 1 hour and 45 minutes to prepare. Let's get started!
First, preheat your oven to 350 degrees Fahrenheit.
In a large bowl, combine 3 cups grated zucchini, 1/2 cup vegetable oil, 2 eggs and 1/2 teaspoon vanilla extract.
In a separate bowl, mix together 2 cups all-purpose flour, 1/2 cup white sugar, 1/2 cup brown sugar, 1 teaspoon baking soda, 1 teaspoon baking powder, 1/2 teaspoon salt, and 1 teaspoon ground cinnamon.
Add the dry ingredients to the wet ingredients and mix until everything is well combined.
Stir in 1/2 cup chopped pineapple and mix until it's evenly distributed.
Grease a 9×5 inch loaf pan with butter or oil and pour the batter into the pan.
Place the pan in the preheated oven and bake for 60-70 minutes or until a toothpick inserted into the center of the loaf comes out clean.
Let the loaf cool in the pan for 15 minutes before turning it out onto a wire rack to cool completely.
Enjoy your zucchini bread with pineapple!
Nutrition Facts
Calories: 883
Total Fat: 26.3g
Saturated Fat: 6.3g
Cholesterol: 84mg
Sodium: 517mg
Total Carbohydrates: 153.3g
Dietary Fiber: 4.3g
Sugars: 61.3g
Protein: 11.3g
What is the best way to prepare the pineapple for the bread?
The best way to prepare the pineapple for zucchini bread is to use canned pineapple that is already diced or crushed. This saves time and makes it easy to mix into the batter. If you're using fresh pineapple, make sure to dice it up into small pieces so it is evenly distributed throughout the bread. Also, be sure to drain off any excess liquid so the bread does not become too soggy. Finally, add a little bit of lemon juice to the pineapple to help it blend in better with the other flavors of the bread.
What are the benefits of adding pineapple to zucchini bread?
Adding pineapple to zucchini bread is a great way to take this classic quick bread to the next level!
The sweetness of the pineapple helps to balance out the earthy, slightly bitter taste of the zucchini, resulting in a delicious loaf that everyone can enjoy.
Not only does the pineapple add flavor, but it also adds texture, making the texture of the bread more interesting and providing a delicious crunch.
Pineapple is a great source of vitamins and minerals such as Vitamin C, Vitamin A, and potassium, so adding it to your bread will give it a nutritional boost.
The pineapple's bright, tropical flavor also pairs perfectly with a variety of spices, such as cinnamon and nutmeg, creating a unique and flavorful quick bread.
The addition of pineapple is also a great way to add moisture to your bread, ensuring a soft and fluffy loaf.
How does the pineapple enhance the flavor of the bread?
Adding pineapple to zucchini bread provides a juicy and sweet burst of flavor that enhances the overall taste. Here are some of the ways that pineapple can enhance the flavor of zucchini bread:
The sweetness of the pineapple complements the subtle sweetness of the zucchini, creating a balanced flavor profile.
The pineapple pieces add a juicy texture to the bread, making it more moist and flavorful.
The vibrant aroma and flavor of the pineapple add a tropical touch to the bread, making it more appetizing and enjoyable.
Overall, the pineapple adds a unique and delicious flavor to the zucchini bread that makes it extra special.
What other ingredients are used to make this bread?
When it comes to making delicious and moist zucchini bread with pineapple, there are a few key ingredients that you'll need! You'll need zucchini and pineapple, of course, but there are also some other ingredients that really make this recipe shine. Aside from the zucchini and pineapple, you'll also need all-purpose flour, baking powder, baking soda, salt, eggs, vegetable oil, white sugar, and brown sugar. These ingredients come together to create a delicious and moist zucchini bread that's full of flavor and texture.
How long should the bread be cooked to get the perfect texture?
Cooking your zucchini bread with pineapple to perfection is all about getting the timing just right! For the perfect texture, you should bake your bread for around 45 minutes. You want the top to be a golden brown color and a toothpick inserted into the center of the loaf should come out clean. If you find the top is getting too dark before the center is cooked, you can cover it with foil to prevent it from burning before it's ready.
What other recipes could be improved with the addition of pineapple?
With the deliciousness of pineapple, there's no shortage of recipes that could be improved with its addition! From sweet to savory, pineapple is the perfect way to add a bit of tropical flavor to your meals. Here are some ideas to get you started:
Pineapple Salsa: For a unique take on traditional salsa, add some diced pineapple to the mix. It's a great way to liven up tacos, burritos, or nachos!
Pineapple Fried Rice: Take your fried rice to the next level by adding some diced pineapple. It adds a delicious sweet-and-sour flavor to the dish.
Pineapple Upside-Down Cake: A classic dessert that's sure to be a hit! Pineapple adds a unique flavor and texture to the cake.
Pineapple Pizzas: For a fun twist on pizza, try topping it with pineapple! It's especially delicious when combined with ham and cheese.
Pineapple Smoothies: A great way to start your day or recover after a workout. Pineapple adds a delicious sweetness to any smoothie.
Pineapple is a versatile and delicious addition to many recipes.
How can this bread be served to make a meal or a snack?
Serving up zucchini bread with pineapple is so easy and versatile! Whether you're looking for a meal or a snack, there are plenty of great options to choose from.
For a meal, you can top your bread with a variety of savory items like fried eggs, grilled chicken, or bacon. Or, for a vegetarian option, top with some sautéed spinach, mushrooms, and cheese. Top with avocado for some added creaminess. You can also serve it with a side of yogurt and some fresh fruit for a light but filling meal.
For a snack, you can top your bread with a nut butter and banana, or some cream cheese and jelly. You could also make a sweet treat out of it by adding some melted chocolate and marshmallows on top. Another great option is to add some fresh berries and a dollop of whipped cream.
No matter how you serve it, zucchini bread with pineapple is a delicious and easy way to put together a meal or snack.