Mouthwatering Mexican Cheese Enchiladas
I don't know about you, but enchiladas make me think of lazy Sunday afternoons, family gatherings, and warm, comforting meals. Enchiladas are one of my all-time favorite dishes to make because they're so easy to customize and they make a great crowd-pleaser. Plus, they're a great way to use up leftovers! In this recipe, I'm going to show you how to make delicious, cheesy enchiladas that will be the hit of any dinner table.
Enchiladas Recipe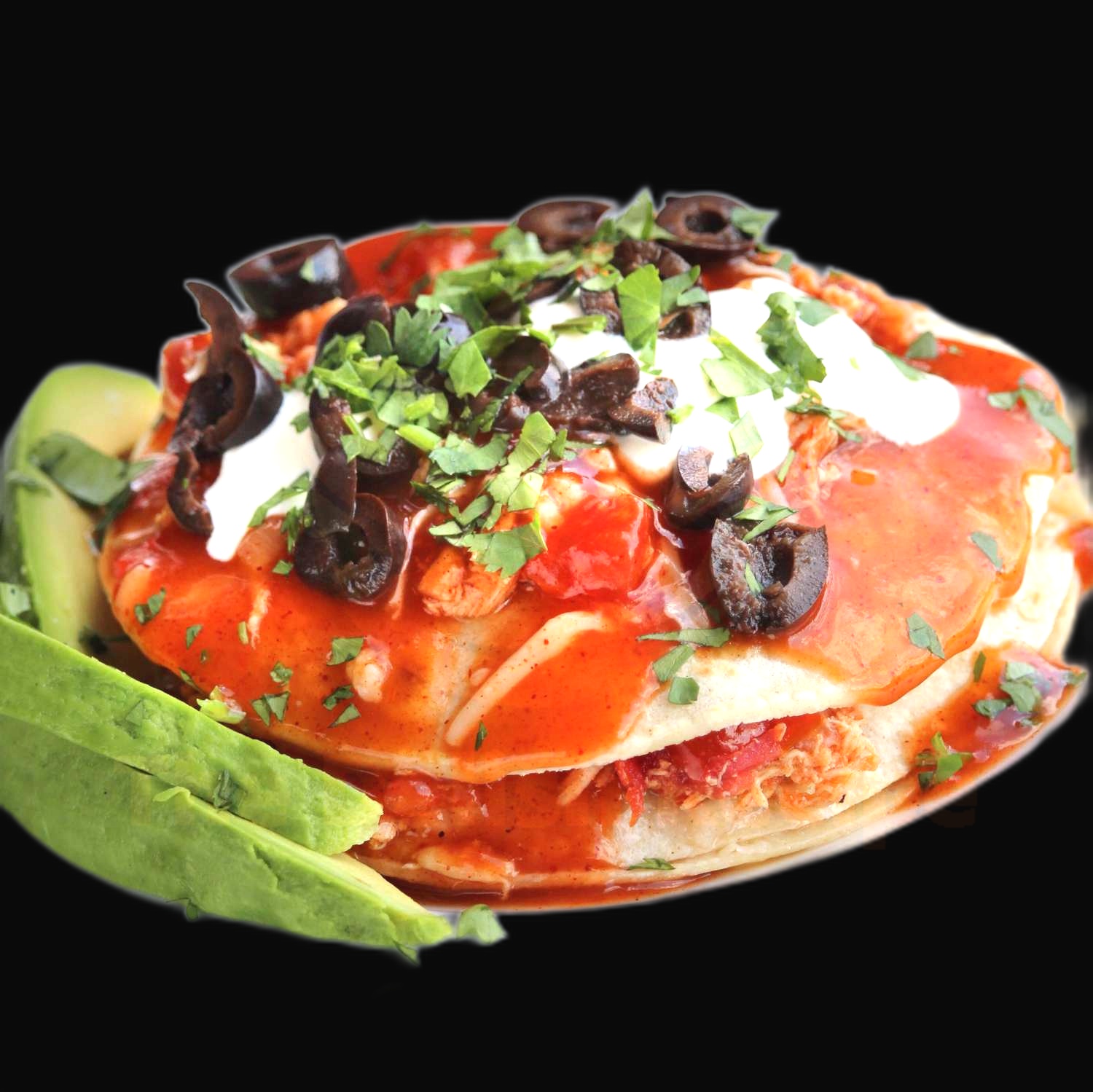 Ingredients
• 1 tablespoon olive oil
• 1 small onion, diced
• 1 clove garlic, minced
• 1 teaspoon ground cumin
• 1 teaspoon chili powder
• 2 cups cooked chicken, shredded
• 8 large flour tortillas
• 2 cups shredded Mexican cheese blend
• 1 (10 ounce) can red enchilada sauce
• 1 (4 ounce) can diced green chilies
• Salt and pepper, to taste
Instructions
Preheat your oven to 350°F.
Heat the olive oil in a medium skillet over medium-high heat. Add the diced onion and minced garlic and cook, stirring occasionally, until the onion is softened and lightly browned, about 5 minutes.
Add the ground cumin and chili powder to the pan and stir to combine. Add the shredded chicken and cook for another 3-4 minutes, stirring occasionally.
Grease a 9×13 inch baking dish with non-stick cooking spray.
Spoon the chicken mixture into the center of each tortilla, then sprinkle with the Mexican cheese blend. Roll up the tortillas and place them seam-side down in the baking dish.
Pour the enchilada sauce over the top of the rolled tortillas and sprinkle with the diced green chilies.
Bake the enchiladas in the preheated oven for 20-25 minutes, or until the cheese is melted and bubbly and the sauce is lightly browned.
Remove the enchiladas from the oven and let them cool for about 20 minutes before serving. Enjoy!
Nutrition Facts
Calories: 426
Total Fat: 20.2g
Saturated Fat: 7.9g
Cholesterol: 74.1mg
Sodium: 1164.3mg
Total Carbohydrates: 34.3g
Dietary Fiber: 3.3g
Sugars: 6.8g
Protein: 25.7g
What is an enchilada?
An enchilada is a Mexican dish consisting of a corn tortilla rolled around a filling, topped with a chili pepper sauce and often cheese, and then baked. The filling of an enchilada can vary from beef, chicken, or beans, among other proteins. The chili pepper sauce typically used is made with a variety of peppers, such as jalapeno, guajillo, and ancho, as well as other spices and seasonings. Enchiladas are often served with sour cream, lettuce, and other toppings. They are a popular dish in both Mexico and the United States.
How do you make authentic mexican enchiladas?
Preheat the oven to 350 degrees Fahrenheit.
Make the enchilada sauce by combining 2 tablespoons of chili powder, 1 teaspoon of cumin, 1 teaspoon of garlic powder, 1/2 teaspoon of oregano, and 1/4 teaspoon of salt in a small bowl.
Heat a tablespoon of oil in a skillet over medium-high heat and add 1/2 cup of chopped onion. Saute until the onions are softened, about 3 minutes. Add 1/2 teaspoon of minced garlic and cook for another minute.
Add the enchilada sauce to the skillet and stir until combined. Add 1/2 cup of chicken broth, 1/2 cup of tomato sauce, and 1/4 cup of chopped green chilies.
Bring the mixture to a boil, reduce the heat to low, and simmer for 10 minutes.
In a separate bowl, combine 1/2 cup of shredded cheese, 1/4 cup of chopped cilantro, and 1/4 cup of diced tomatoes.
Spread 1/4 cup of the enchilada sauce into a greased 9×13 inch baking dish.
Place a flour tortilla in the baking dish, fill it with the cheese mixture, and roll it up. Place the filled tortilla in the baking dish and repeat with the remaining tortillas.
Pour the remaining enchilada sauce over the top of the enchiladas, then sprinkle with the remaining cheese.
Bake for 20 minutes, or until the cheese is melted and bubbly.
Serve the enchiladas with your favorite toppings such as sour cream, guacamole, and diced tomatoes.
What are the different types of enchilada?
Enchiladas come in a variety of styles and flavors, each with its own unique set of ingredients and preparations. Common types of enchiladas include cheese, chicken, beef, and vegetarian enchiladas.
Cheese enchiladas are typically filled with a mixture of cheese and onion, and topped with a red or green sauce. Chicken enchiladas use shredded chicken and are often topped with a milder sauce such as a white sauce or tomatillo sauce. Beef enchiladas are usually filled with ground beef and topped with a red sauce. Vegetarian enchiladas are usually filled with a variety of vegetables such as zucchini, mushrooms, bell peppers, and black beans, and may or may not be topped with a sauce.
Additionally, there are also many regional variations of enchiladas. In Mexico, enchiladas are often made with a spicy sauce known as mole, while in some parts of the United States they can be found with a creamy sauce. There are also versions of enchiladas from other countries, such as Spain, which use a variety of different ingredients and sauces.
No matter the type, enchiladas are a delicious and satisfying dish that can be enjoyed for any meal.
What ingredients are needed to make enchiladas?
To make enchiladas, you will need several ingredients, including tortillas, enchilada sauce, cheese, and a filling of your choice.
Tortillas are an essential component of enchiladas, as they provide the wrap for the enchilada. For a traditional enchilada, you will need corn tortillas. You can use either soft or hard tortillas, depending on your preference.
Enchilada sauce is the next essential ingredient. This sauce usually contains ingredients like chile peppers, tomato, garlic, onion, and herbs, giving the dish its distinct flavor. You can make your own enchilada sauce from scratch, or buy pre-made enchilada sauce from the store.
Cheese is the final essential ingredient for enchiladas. To give the dish a creamy and delicious texture, you can use a variety of cheeses, such as cheddar, jack, or queso fresco.
Finally, you will need a filling for your enchiladas. This could be anything from cooked chicken, beef, beans, or vegetables. You can also add other ingredients such as onion, bell peppers, or olives.
How are enchiladas typically served?
Enchiladas are typically served with a side of Spanish rice, refried beans, and/or a salad. The enchiladas are traditionally topped with a variety of sauces, such as a green sauce, red sauce, or cheese sauce. Sliced avocado, sour cream, and/or salsa may also be added on top of the enchiladas. Other popular accompaniments include guacamole, jalapenos, and/or fresh cilantro. The dish is usually garnished with a sprinkle of queso fresco, a crumbly Mexican cheese. Enchiladas can be served as a main course, or as a side dish in a larger Mexican-style meal.
What are some unique variations of enchiladas?
Enchiladas are a popular Mexican dish consisting of a corn tortilla filled with a variety of ingredients and topped with a sauce or salsa. There are many different variations of enchiladas, some of which are traditional and some of which are more unique. Some of the most unique variations of enchiladas include vegetarian enchiladas with mushrooms and spinach, fish enchiladas with a white sauce made with sour cream, and fruit enchiladas with apples and cinnamon. Vegetarian enchiladas are a great way to enjoy a flavorful and healthy meal, while fish enchiladas offer a unique twist on the traditional enchilada. Fruit enchiladas are a sweet and festive way to enjoy traditional Mexican flavors.