Creamy Kale Slaw: An Easy And Delicious Side Dish
When I'm looking for a quick and delicious side dish for my meal, I turn to this Easy Kale Slaw. Not only does it take very little time to make, but it's also packed with flavor and nutrition. Not to mention, it's a great way to get creative with my meal planning. Every time I make this dish, it's a hit with my family and friends!
Easy Kale Slaw Recipe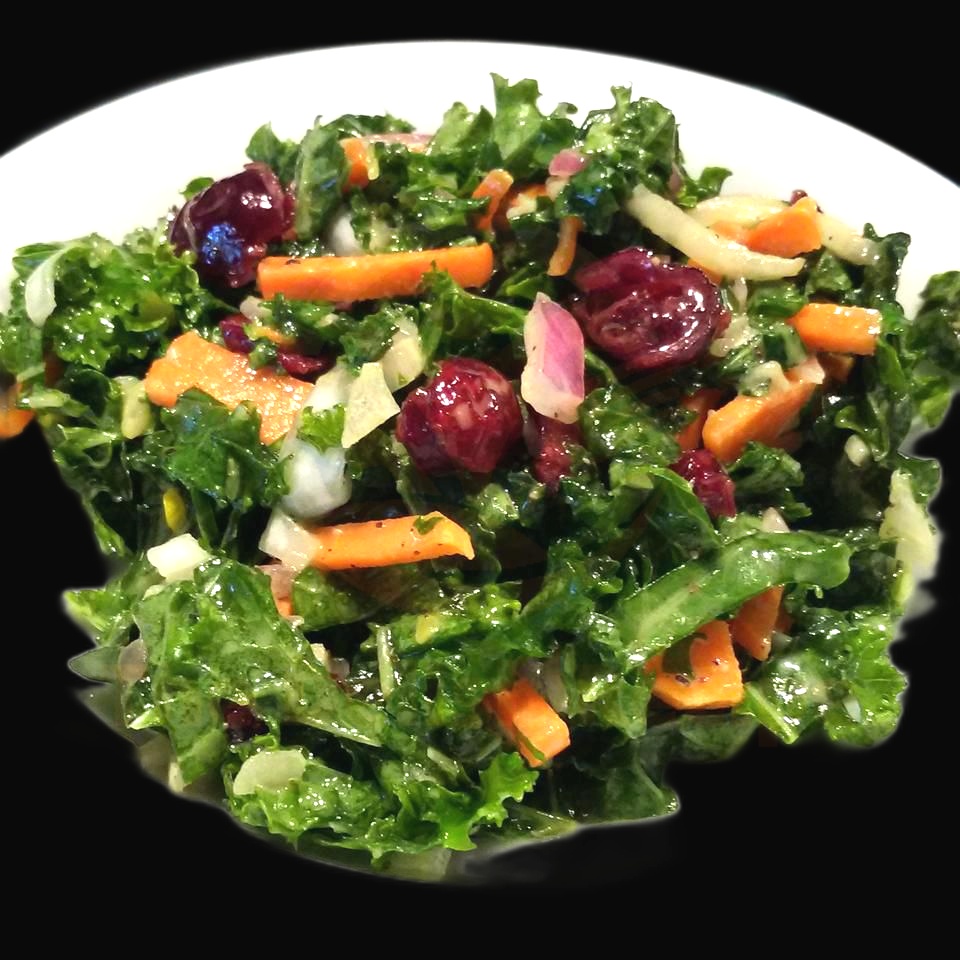 Ingredients
1 bunch of fresh kale, chopped
1/4 cup olive oil
2 tablespoons white wine vinegar
2 tablespoons honey
1/2 teaspoon garlic powder
1/4 teaspoon salt
1/4 teaspoon ground black pepper
1/3 cup shredded parmesan cheese
1/3 cup roasted slivered almonds
Instructions
Alright, let's get started on this Easy Kale Slaw! Start by prepping your ingredients. Grab a large bowl, chopping your kale into thin slices.
To the kale, add the olive oil, white wine vinegar, honey, garlic powder, salt, and black pepper. Give everything a good stir until the kale is evenly coated.
Now it's time to add in the parmesan cheese and roasted slivered almonds. Give the kale slaw another good stir to make sure everything is mixed together nicely.
Let the Easy Kale Slaw sit for 15 minutes. This will allow the flavors to really come together and give the kale a nice crunch.
Once the Easy Kale Slaw has had time to sit, it's time to enjoy! Serve it up and enjoy the deliciousness!
Nutrition Facts
Calories: 229
Fat: 11.8g
Carbohydrates: 16.3g
Protein: 8.6g
Sodium: 272mg
Cholesterol: 5mg
Sugar: 8.2g
What other nutritious ingredients make up this easy kale slaw?
This easy kale slaw is full of nutritious ingredients! Besides kale, it includes shredded cabbage, diced red onion, and shredded carrots for a colorful and crunchy mix. To add some natural sweetness, we also include diced apples and freshly squeezed orange juice. Finally, sunflower seeds offer a delicious nutty flavor and a healthy dose of omega-3 fatty acids.
What are the health benefits of eating kale?
Kale is one of the healthiest and most nutritious vegetables out there! It is packed with vitamins and minerals, and can offer an array of health benefits. Here are some of the top reasons why you should consider incorporating kale into your diet:
Rich in Vitamins and Minerals: Kale is an excellent source of essential vitamins and minerals, such as vitamin A, C, and K, as well as iron, potassium, and magnesium. It's also a great source of fiber and antioxidants.
Supports Heart Health: Kale is high in fiber, which can help lower cholesterol levels and reduce the risk of heart disease. It's also rich in antioxidants, which can help protect the heart from damage.
Boosts Immunity: Kale is packed full of vitamins and minerals, which can help boost your immune system and keep you healthy. It's also high in antioxidants, which can help reduce inflammation and fight off infections.
Aids in Weight Loss: Kale is low in calories and high in fiber, making it a great choice for those looking to lose weight. The fiber content can help you feel full longer, which can help you stick to your diet and reduce cravings.
Easy to Prepare: Kale is incredibly easy to prepare and can be used in a variety of dishes. From salads to soups, to smoothies and stir-fries, it's a versatile vegetable that can be used in a variety of ways.
Clearly, eating kale is a great way to improve your health and wellbeing. It's packed with vitamins, minerals, and antioxidants, and can offer a range of health benefits.
What tips can you offer for making the perfect kale slaw?
Start with fresh kale. Select a variety of kale that is crisp and vibrant in color. The fresher the kale, the better the slaw!
Give the kale a good rinse and then dry it off with a paper towel or kitchen cloth. Remove the stems from the kale and then finely chop it.
For the dressing, mix together apple cider vinegar, a little honey, Dijon mustard, and extra virgin olive oil. Add salt and pepper to taste.
Combine the chopped kale with the dressing and let it sit for around 10-15 minutes to let the kale soften.
Add color and flavor to the slaw with tasty additions like mandarin oranges, apples, red onions, and toasted almonds.
How quickly can you whip up this delicious side dish?
Time to get cooking! If you've got all the ingredients, this easy kale slaw can be whipped up in a matter of minutes. All you need is a head of kale, some carrots, a handful of slivered almonds, and a delicious vinaigrette dressing.
To assemble the slaw, first remove the thick central stems from the kale leaves and discard them. Using a sharp knife or kitchen scissors, shave the kale leaves into thin strips. Then peel and grate the carrots and mix them in with the kale.
Next, add in the slivered almonds for a nice crunch. To finish, dress the slaw with your favorite vinaigrette dressing. This will give the slaw a delicious tangy flavor and help the kale and carrots stay crisp.
Voila! With a few simple ingredients and a few minutes of effort, you can enjoy a flavorful and healthy side dish.
What kitchen items do you need to make this slaw?
Making this delicious and easy kale slaw is a breeze with the right kitchen items! To get started, you'll need a large bowl, a cutting board, a sharp knife, a spoon, and a mixing spoon.
To begin, prepare your kale by removing the tough stems and roughly chopping it into thin ribbons. Then, put the kale in the large bowl and set aside.
Next, you'll need to get your slaw dressing ingredients together. Depending on your preference, you can make a simple dressing with olive oil, lemon juice, salt, and pepper, or you can mix in some garlic, honey, and/or your favorite herbs and spices.
Finally, you'll need something to top off your slaw. A handful of chopped nuts, crumbled cheese, or sunflower seeds are great options for adding some crunch to your dish.
What are some creative ways to serve this slaw?
If you're looking for creative ways to serve up this Easy Kale Slaw, then you've come to the right place! Whether you're hosting a dinner party or just having a few people over, there are plenty of tasty and interesting ways to serve this delicious side dish. Here are a few creative ideas to get you started:
Serve the slaw as a taco topping. For a quick and easy dinner, top cooked ground beef or turkey tacos with a generous portion of slaw and some cilantro.
Make a slaw-stuffed wrap. Spread a large tortilla with hummus and layer on some slaw. Top with grilled chicken, tomatoes, and other vegetables for a tasty meal.
Use the slaw as a salad topper. For an extra crunchy salad, top crunchy romaine lettuce with the slaw, tomatoes, and diced avocado.
Mix it up as a slaw burger. Add a generous portion of slaw to your favorite burger recipes for a delicious twist.
Serve as a dip. Whip up a batch of ranch dip and serve the slaw as a dip with a variety of vegetables or chips.
These are just a few creative ways to serve up this Easy Kale Slaw.
What flavors and textures come together in this slaw?
This Easy Kale Slaw is a delightful combination of flavors and textures! You'll get a bit of crunch from the kale and cabbage, deliciously sweet notes from the raisins, and a touch of zest from the apple cider vinegar-based dressing. The creamy, tangy dressing is the perfect complement to the crisp kale and cabbage, and the sweetness of the raisins adds just the right balance.