These are the best magic cookie bars you will ever have! They are so easy to make and only require a few ingredients. The chocolate chips, pecans, and coconut flakes give these cookies a delicious flavor and texture.
Ingredients
1/2 cup margarine, melted
1 1/2 cups graham cracker crumbs
1 cup chopped walnuts
3/4 cup semisweet chocolate chips
3/4 cup butterscotch chips
1 1/2 cups flaked coconut
1 1/3 cups sweetened condensed milk
Instructions
1. Preheat oven to 350 degrees F (175 degrees C).
2. Pour melted margarine into a 9×13-inch pan.
3. Sprinkle the graham cracker crumbs evenly over the margarine, and press them in lightly with a fork.
4. Place the chopped nuts over the crumbs, and scatter the chocolate and butterscotch chips over the nuts.
5. Add the coconut over all, and pour the milk evenly over it so that everything is well coated..
6.. Bake 25 to 30 minutes or until lightly brown on top,. 7 Cool at least 20 minutes, then cut into desired sized bars
Nutrition Facts
Serving size: 1 bar
Calories: 160
Fat: 10 g
Saturated fat: 3.5 g
Cholesterol: 10 mg
Sodium: 95 mg
Carbohydrates: 17 g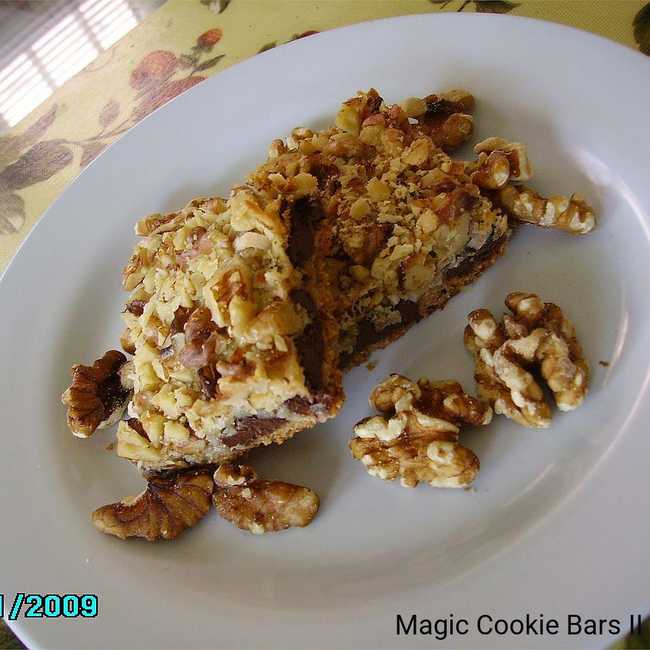 Do you use sweetened or unsweetened coconut for Magic Bars?
Coconut is a key ingredient in classic Magic Bars. The traditional recipe calls for sweetened coconut shreds, but many people prefer to use unsweetened shredded coconut. This is because there are already so many sweet elements in the mix. You can also use coconut flakes or coconut chips, sweetened or not. Ultimately, it comes down to personal preference.
How long do magic cookie bars last in the fridge?
Magic cookie bars are a delicious and easy dessert that can be made in just a few minutes. They are perfect for parties or any time you want a little something sweet. The best part about them is that they can be stored in the fridge and will last for up to a week.
To make magic cookie bars, you will need: 1 cup (2 sticks) of butter, melted 1 cup of graham cracker crumbs 1 cup of shredded coconut 1 cup of chopped nuts (optional) 1 can of condensed milk 2 cups of chocolate chips (semi-sweet or milk chocolate) Preheat your oven to 350 degrees Fahrenheit. Line an 8×8 inch baking dish with parchment paper and set it aside. In a large bowl, mix together the melted butter, graham cracker crumbs, coconut, nuts (if using), and condensed milk until everything is well combined. Pour the mixture into the prepared pan and spread it out evenly. Bake for 25 minutes or until the top is golden brown. Remove from the oven and let cool completely before cutting into bars.
What are 7 layer bars?
7 layer bars, also known as magic bars or seven layer cookies, are a classic dessert that is made with a graham cracker crust and then layered with chocolate chips, butterscotch chips, nuts, sweetened condensed milk, and shredded coconut. The bars are then baked until the ingredients are all melted and gooey.
This delicious treat was first created in the 1970s, and has since become a popular dessert option for potlucks, parties, and family gatherings. 7 layer bars are easy to make ahead of time and can be stored in the fridge for up to a week.
Do you use sweetened or unsweetened coconut for magic bars?
There are two schools of thought when it comes to using coconut in magic bars. Some people prefer sweetened coconut, while others prefer unsweetened. There are pros and cons to both options.
Sweetened coconut has a more pronounced sweetness that can add an extra layer of flavor to the bars. However, unsweetened coconut is a bit more versatile since it doesn't have as strong of a flavor. You can use either sweetened or unsweetened coconut in magic bars, depending on your preference.
Can you freeze magic cookie bars?
Yes, magic cookie bars can be frozen! The key is to cut them into the desired size before freezing, as they can become slightly ooey and gooey. Then, simply place them on a parchment-lined baking sheet and freeze until solid.