Cinnamon-Spiced Apple Bread Pudding Bliss
I still remember the day I first tried my mom's Apple-Cinnamon Bread Pudding. It was a cold winter evening, and my mom had made this amazing dessert – the smell of cinnamon and apples wafting through the house was simply divine! I remember taking my first bite and just being amazed at how delicious it was – the sweet apples and cinnamon combined with the soft bread created a truly unique flavor. I knew then that this was a must-try recipe!
Apple-Cinnamon Bread Pudding Recipe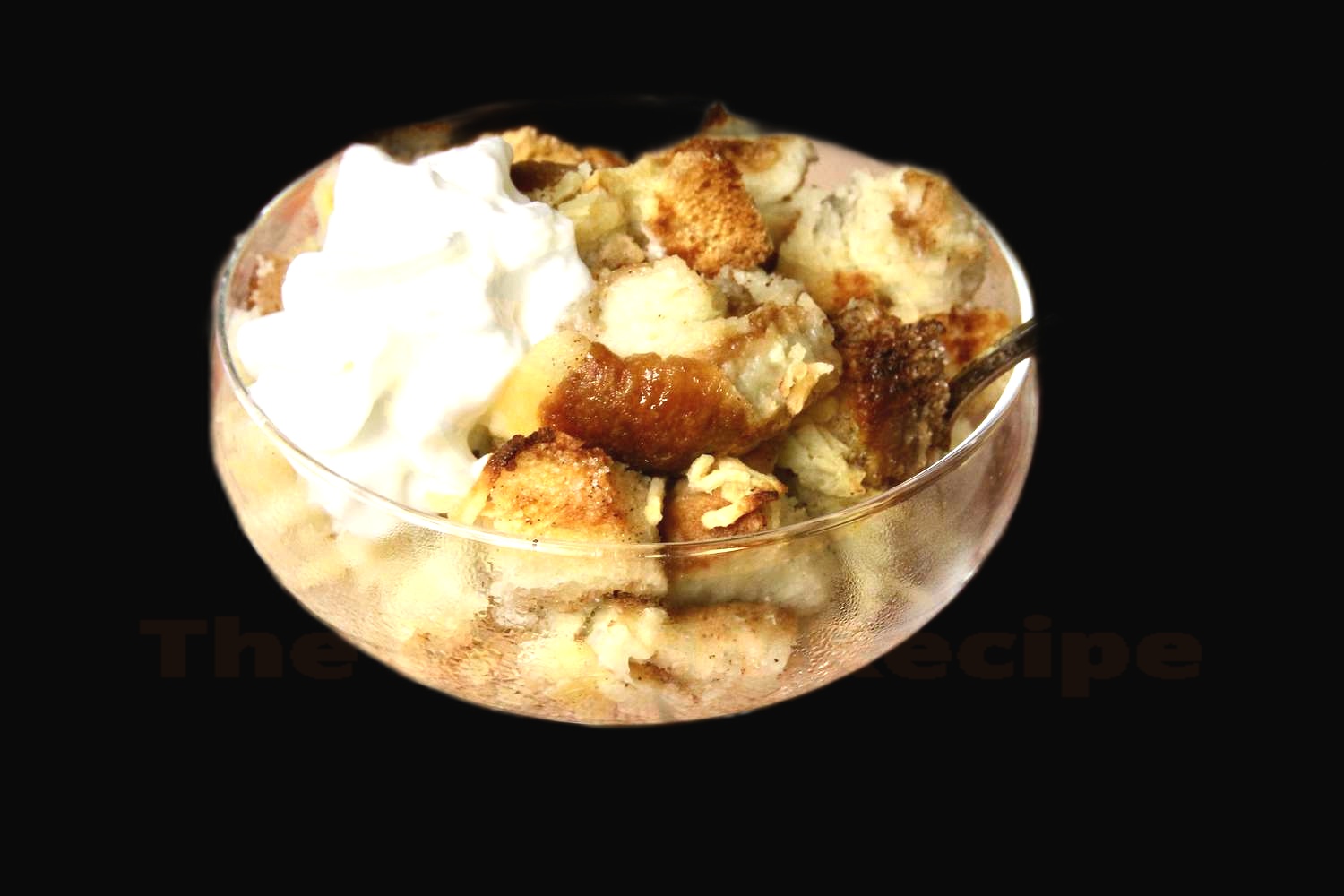 Ingredients
5 Apples, peeled, cored and diced
3/4 cup packed Brown Sugar
1/4 cup Raisins
2 teaspoons ground Cinnamon
1/4 teaspoon ground Nutmeg
3 cups Milk
2 Eggs
3 tablespoons Butter, melted
1/4 teaspoon Salt
4 cups cubed French Bread
Instructions
Preheat your oven to 350°F and lightly grease a 9×13 inch baking dish.
Start prepping the apples: Peel, core, and dice the apples and place them in a medium-sized bowl.
Add the brown sugar, raisins, cinnamon, and nutmeg and mix everything together until the apples are evenly coated.
In a separate bowl, mix together the milk, eggs, melted butter, and salt.
Place the cubed French bread in the greased baking dish and pour the milk mixture over it.
Then, add the apple mixture on top of the bread and gently stir everything together until the bread is evenly coated.
Bake the apple-cinnamon bread pudding in the preheated oven for 60 minutes.
Let the pudding cool for at least 20 minutes before serving. Enjoy!
Nutrition Facts
Calories: 310 kcal
Carbohydrates: 36 g
Protein: 8 g
Fat: 15 g
Saturated Fat: 9 g
Cholesterol: 109 mg
Sodium: 327 mg
Potassium: 207 mg
Fiber: 2 g
Sugar: 16 g
Vitamin A: 489 IU
Vitamin C: 2 mg
Calcium: 105 mg
Iron: 2 mg
What makes apple-cinnamon bread pudding a delicious and comforting dessert?
Apple-Cinnamon Bread Pudding is a delicious and comforting dessert because it perfectly combines all the most comforting flavors into one comforting dish. The combination of apples, cinnamon, bread, and creamy custard brings warmth and comfort to any winter night. The apples provide a sweet and tart flavor, while the cinnamon adds a touch of spice and warmth. The bread absorbs all the flavors and adds a beautiful texture to the dish. Finally, the creamy custard binds everything together and creates a smooth and luxurious base. All of these flavors come together to create a comforting dessert that can be enjoyed any time of year.
What tips and tricks can be used to make the perfect bread pudding?
Making the perfect Apple-Cinnamon Bread Pudding doesn't have to be a daunting task! Here are some simple tips and tricks to follow for a delicious, comforting dessert:
If possible, make the bread pudding the day before serving. This allows time for the flavors to meld and the liquid to be fully absorbed by the bread.
When choosing the bread, use a brioche or French bread to get a rich, buttery flavor.
Don't skimp on the apples! Use the ripest and sweetest ones you can find.
Use a combination of spices like cinnamon, nutmeg, and allspice for a delicious flavor.
If you're using raisins, soak them in hot water or tea for 20 minutes before adding them to the pudding.
To make sure the pudding is cooked through, insert a knife into the center and check that it comes out clean.
If you're feeling creative, you can add other flavorings like dried fruits, nuts, or chocolate chips.
To add a bit of crunch and texture, sprinkle some crushed pecans or walnuts on top before baking.
What are some of the best ingredients to use for a flavorful bread pudding?
When it comes to creating a delicious and flavorful apple-cinnamon bread pudding, there are a few key ingredients that can really make it stand out. The best way to ensure a flavorful bread pudding is to use quality ingredients like fresh apples, butter, eggs, cinnamon, nutmeg, and brown sugar. Fresh apples can be peeled and chopped for a nice texture in the pudding, while butter adds a creamy richness. Eggs help hold the pudding together, while cinnamon and nutmeg provide a warm and inviting aroma. Brown sugar not only adds sweetness, but it also helps to caramelize the apples and give the pudding a golden color. For a finishing touch, a sprinkle of raisins can add some extra sweetness and texture.
What is the perfect serving size for a delicious and satisfying bread pudding?
The perfect serving size for a delicious and satisfying apple-cinnamon bread pudding is a generous helping that will leave you wanting just a bit more. While it's tempting to go for a larger size, it's important to remember that a smaller serving size allows you to savor the flavors and truly enjoy every bite. A single serving of bread pudding can be just enough to satisfy your sweet tooth and bring a smile to your face.
How can you dress up your apple-cinnamon bread pudding to make it extra special?
Giving your apple-cinnamon bread pudding an extra special touch is easier than you think! To dress up this classic dessert, try adding a few simple ingredients. Here are some ideas to get you started:
Serve your apple-cinnamon bread pudding with a dollop of freshly whipped cream. The cool creaminess of the cream will contrast perfectly with the warm, sweet pudding.
Sprinkle a few toasted pecans or walnuts on top for a crunchy texture and an extra hint of nutty flavor.
Drizzle a little caramel sauce over the top for an indulgent and luxurious finish.
Serve the bread pudding with a scoop of creamy vanilla ice cream for a classic combination.
Scatter a few dried cranberries over the top for a tart burst of flavor.
Top with a sprinkle of cinnamon sugar for a sweet and spicy finish.
So there you have it—six simple ways to dress up your apple-cinnamon bread pudding and make it extra special.
How can you make apple-cinnamon bread pudding a healthier treat?
You can make apple-cinnamon bread pudding a healthier treat by swapping out a few traditional ingredients for healthier options! Start by replacing white bread with whole-grain bread and reducing the amount of butter in the recipe. You can also substitute some of the sugar with honey or maple syrup, as well as using reduced-fat milk in place of regular milk. Finally, add in some extra fiber and flavor with fresh diced apples and a sprinkle of ground cinnamon.