Heavenly Homemade Swedish Meatballs
I'm here to share with you one of my favorite recipes – Swedish Meatballs! I've been making this incredible dish for years now, and it never fails to impress. It's a classic combination of savory ground beef, pork, and spices, mixed with creamy sour cream and served over egg noodles. The flavors and textures all come together to create a delightful and comforting meal that I'm sure you'll love. So let's get started!
Swedish Meatballs Recipe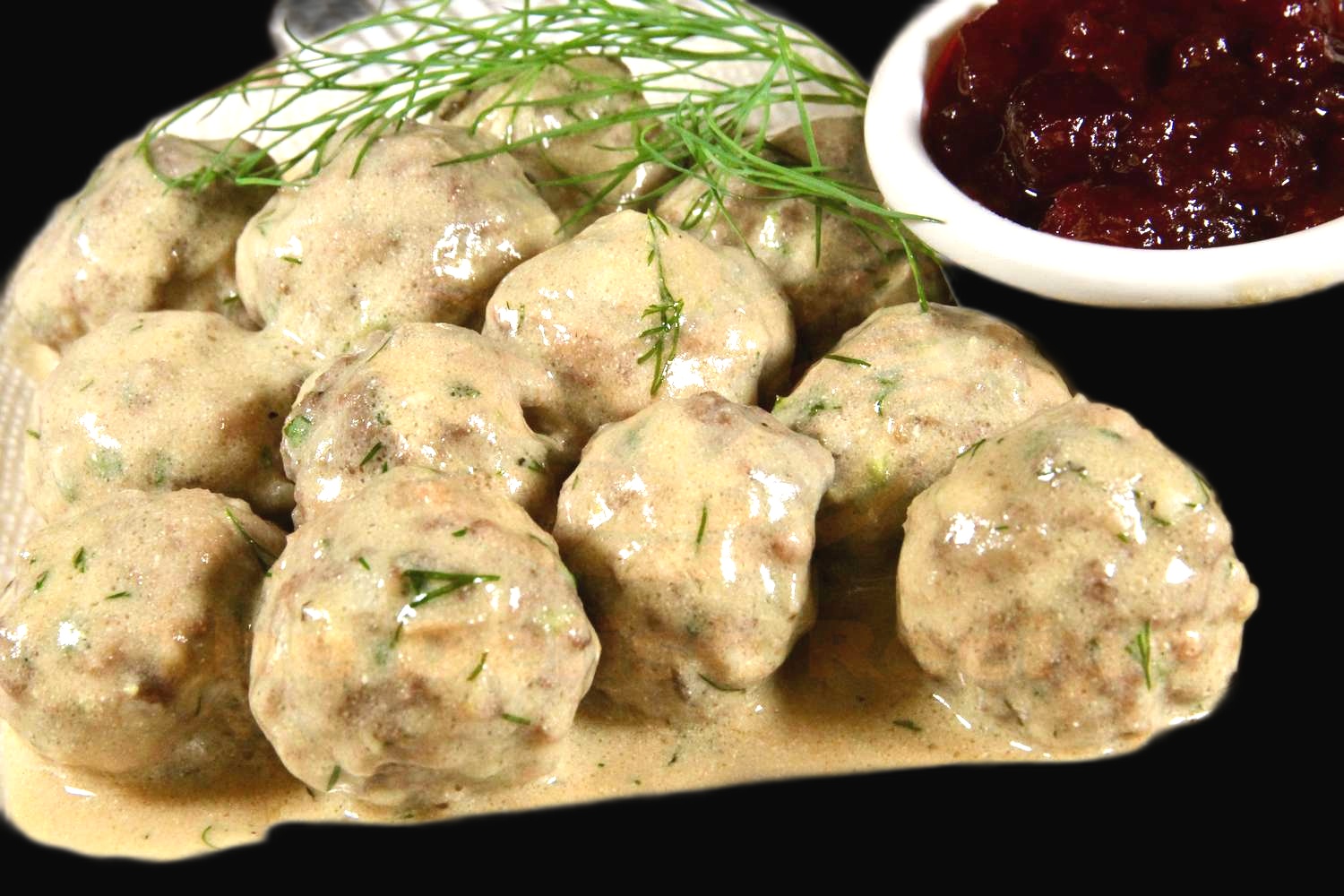 Ingredients
2 pounds ground beef
1/2 cup yellow onion, finely diced
2 cloves garlic, minced
2 tablespoons all-purpose flour
1/4 cup plain breadcrumbs
2 large eggs
1/4 cup whole milk
2 teaspoons salt
2 teaspoons ground black pepper
2 tablespoons fresh parsley, chopped
2 tablespoons unsalted butter
2 tablespoons olive oil
1/2 cup beef broth
1/4 cup heavy cream
Instructions
Let's make some delicious Swedish Meatballs! Gather all your ingredients and get ready to get cooking.
Preheat your oven to 375°F (190°C).
In a large mixing bowl, combine the ground beef, diced onion, minced garlic, flour, breadcrumbs, eggs, milk, salt, pepper, and chopped parsley.
Mix everything together with your hands until all the ingredients are fully incorporated.
Using your hands, form the mixture into meatballs, about 1 1/2 inches in diameter.
Heat a large skillet over medium-high heat, and add the butter and olive oil.
Add the meatballs to the skillet and cook until golden brown on all sides, about 5 minutes.
Once the meatballs are cooked, remove them from the skillet and set aside.
To the same skillet, add the beef broth and bring to a simmer.
Add the cooked meatballs to the broth and allow them to simmer for about 20 minutes, or until heated through.
Once the meatballs have cooked, add the heavy cream and gently stir to combine.
Allow the mixture to simmer for an additional 5 minutes.
Serve the Swedish Meatballs with your favorite sides and enjoy!
Nutrition Facts
Calories: 500
Fat: 30g
Carbohydrates: 30g
Protein: 20g
Sodium: 500mg
Cholesterol: 100mg
What makes swedish meatballs so special compared to other meatballs?
Swedish meatballs are special because they are incredibly flavorful and go great with a variety of sides and sauces. They have a unique taste that sets them apart from other types of meatballs. The combination of spices and seasonings used to make them taste incredibly savory and delicious. Furthermore, Swedish meatballs have a nice texture that is both light and fluffy, yet still holds its shape. All of these factors make them stand out from the crowd and make them a great addition to any meal.
What are some tips and tricks to make the perfect swedish meatballs?
Yes! Who doesn't love Swedish meatballs? Here are some tips and tricks to make the perfect batch every time:
Use a combination of ground pork and ground beef for the juiciest and most flavorful meatballs.
Soak the breadcrumbs in milk before adding them to the meat mixture. This will keep your meatballs nice and moist.
Use an egg and onion to bind the ingredients together and give the meatballs their classic texture.
Add a pinch of allspice, nutmeg, and ground pepper to give your meatballs a subtle sweetness and spice.
Form the meatballs into small, uniform round shapes for even cooking.
Fry the meatballs in olive oil over medium-high heat for about 8-10 minutes, turning them occasionally to get an even, golden-brown color.
Serve with a creamy, flavorful gravy for the most delicious Swedish meatballs experience.
How do you make swedish meatballs in an easy and delicious way?
Making Swedish meatballs is quick, easy and downright delicious! Here's how you do it:
Start by combining 1/2 cup of breadcrumbs, 1/4 teaspoon of allspice and 1/4 teaspoon of nutmeg in a large bowl.
In a separate bowl, mix together 1/2 pound of ground beef, 1/2 pound of ground pork, 1/4 cup of chopped onion, 1/4 cup of milk and 2 tablespoons of minced parsley.
Add the breadcrumb mixture to the ground beef mixture and mix until just combined.
Form the mixture into 1-inch meatballs and arrange them on a baking sheet.
Bake in a preheated oven at 350°F (175°C) for 20 minutes or until golden brown and cooked through.
Meanwhile, make the gravy. In a medium saucepan, melt 2 tablespoons of butter over medium heat. Whisk in 2 tablespoons of all-purpose flour and cook for 1 minute. Whisk in 1 cup of beef stock and 1/4 cup of heavy cream. Simmer for 3 minutes or until the gravy has thickened.
Add the cooked meatballs to the gravy and cook for an additional 5 minutes.
Serve the Swedish meatballs over a bed of mashed potatoes or egg noodles and enjoy.
What type of ingredients are used to make swedish meatballs?
Swedish meatballs are usually made with a combination of beef and pork, as well as a variety of herbs and spices. Ground beef, ground pork, onion, garlic, bread crumbs, eggs, allspice, nutmeg, and salt and pepper are all commonly used ingredients to make the delicious Swedish meatballs. The mixture is then rolled into small balls and fried until golden and crispy. After that, they are cooked in a flavorful sauce of beef broth, cream, and sometimes even a splash of cognac or brandy.
What is the origin of swedish meatballs?
Swedish meatballs are a classic comfort food that millions of people around the world enjoy! But what is their origin? The answer is a bit complicated, but it is a story that is steeped in culture and history.
Swedish meatballs have been around for centuries, but the exact origin is difficult to trace. The earliest known reference to them appears in a Swedish cookbook from 1754, where they are referred to as 'kottbullar' (meaning 'small meatballs' in Swedish). However, it is believed that the dish actually dates back to the 12th century when it was served as a festive dish at banquets.
The dish was popularized during the 1800s thanks to King Charles XII of Sweden, who was known to enjoy the dish. Over the years, the recipe has changed and evolved, with different ingredients being added or substituted to create a unique flavor or texture. Today, Swedish meatballs can be found in many different countries, with each culture adapting the recipe to fit their own tastes.
No matter where it has been served, Swedish meatballs have been one of the most beloved dishes in Europe for centuries. The savory flavor and comforting texture have kept generations of people coming back for more. So, if you're looking for a classic dish that is steeped in history, look no further than Swedish meatballs.
What type of dishes can swedish meatballs be served with?
Swedish Meatballs are incredibly versatile, so the possibilities for what you can serve them with are endless! Whether you're looking for a classic accompaniment or something a little more experimental, there's something for everyone.
If you're feeling classic, why not serve your Swedish Meatballs with mashed potatoes and lingonberry jam? This is a traditional pairing that's sure to please – the sweetness of the jam perfectly complements the savoury flavour of the meatballs.
If you're in the mood for something a bit more creative, you might want to try serving your Swedish Meatballs with sautéed vegetables like mushrooms, carrots and onions. Or how about pairing them with a creamy pasta dish like tagliatelle or fettuccine Alfredo?
These tasty meatballs can also be used to top salads for a different spin on a traditional Swedish dish. Try Swedish Meatballs with a bed of lettuce, cherry tomatoes, cucumbers and your favourite dressing for a delicious and nutritious meal.
The great thing about Swedish Meatballs is that they work with so many different flavours, so feel free to get creative and experiment with different accompaniments.
What other types of meat can be used in place of beef for swedish meatballs?
When it comes to Swedish Meatballs, beef is the classic go-to, but that doesn't mean you can't get creative! There are so many delicious alternatives out there that will make your meatballs just as tasty and flavorful as the original.
One great option is to use ground chicken or turkey. It might sound strange, but trust us – the result is amazing! You'll get a great texture and flavor, and you'll also be able to reduce the fat content of your dish without sacrificing any flavor.
Another option is to use pork. Pork is a great source of protein and works perfectly in Swedish Meatballs. It has a mild flavor that will blend into the other ingredients and you won't be able to tell the difference!
Finally, if you're looking for something a bit more exotic, why not try lamb? Lamb is a great option for Swedish Meatballs because it has a strong, distinctive flavor that will really stand out. Plus, it's a lean meat, which means you'll end up with a healthier dish.
So, the next time you make Swedish Meatballs, don't be afraid to experiment with different types of meat! You'll be surprised at how tasty the results can be.