This zucchini walnut bread is a delicious, moist, and healthy alternative to traditional quick breads. It's perfect for breakfast or as an afternoon snack. The best part about this recipe is that it's so easy to make!
Ingredients
1 cup chopped walnuts
4 eggs
2 cups white sugar
1 cup vegetable oil
3 ½ cups all-purpose flour
1 ½ teaspoons baking soda
1 ½ teaspoons salt
1 teaspoon ground cinnamon
¾ teaspoon baking powder
2 cups grated zucchini, drained well (squeeze out moisture with a paper towel) OR 2 cups unpeeled, diced apples (about 2 medium) – if using apples, don't drain well. You want some of the moisture for the bread. too much and it will be mushy.
vanilla extract
Instructions
1. Preheat oven to 350 degrees F (175 degrees C). Grease and lightly flour two 9 x 5 inch loaf pans.
2. In a large bowl, whisk together flour, baking soda, salt, cinnamon, and baking powder.
3. In a separate bowl, beat the eggs. Gradually beat in sugar, then oil.
4. Add the flour mixture alternately with zucchini into the egg mixture. Stir in the raisins, walnuts, and vanilla extract.
5 Bake on lowest rack of oven for 55 minutes.. Let cool for 10 minutes in pan before removing to racks to cool completely
Nutrition Facts
Serving size: 1 slice
Calories: 290
Fat: 14 g
Saturated fat: 2 g
Unsaturated fat: 10 g
Trans fat: 0 g
Carbohydrates: 36 g
Sugar: 20g
Fiber: 2g
Protein: 5g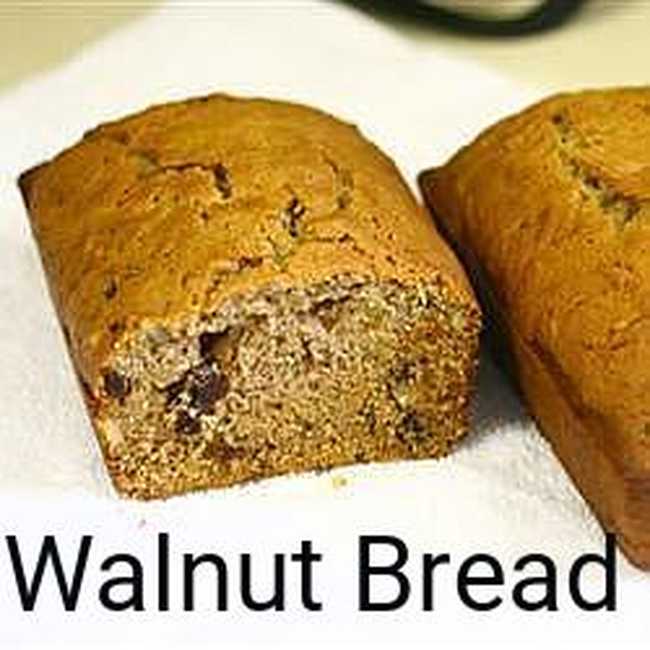 Should you squeeze water out of zucchini for bread?
The short answer is no, you should not squeeze water out of zucchini for bread. The long answer is a little more complicated.
Some recipes call for squeezing the excess moisture from grated zucchini, but unless the squash is excessively juicy, this could actually be removing some of the moisture you want in the bread. Squeezing is therefore optional.
Zucchini bread is typically made with shredded or grated zucchini, which can add a lot of moisture to the batter. Too much moisture can make the bread dense and heavy, so it's important to measure accurately and use just enough zucchini. If your batter seems too wet after adding the zucchini, you can try adding a bit more flour until it reaches the desired consistency.
In general, it's best to err on the side of less rather than more when it comes to adding moisture to bread dough or batter. This will help ensure that your finished product is light and fluffy, not wet and dense.
Can you use cashews in zucchini bread?
Yes, you can use cashews in zucchini bread. The nuts add a nice crunch and flavor to the bread. Simply whisk together flour, baking soda, Chinese five spice, baking powder, and salt in a medium bowl. Add the flour mixture to an egg mixture, stirring just until combined. Set aside 3 tablespoons of the cashews; stir the remaining cashews into the batter. Bake as directed.
Should zucchini be drained before baking?
Zucchini is a versatile vegetable that can be used in many different recipes, both savory and sweet. When it comes to baking with zucchini, there is some debate as to whether or not the vegetable should be drained before adding it to the batter. Some say that draining the zucchini is not necessary and could even negatively impact the final dish. Others believe that draining the zucchini helps to prevent a mushy texture in baked goods.
So, what is the verdict? Should you drain your zucchini before baking? The answer may depend on what type of recipe you are making. For example, if you are adding shredded zucchini to quick breads or pancakes, draining it beforehand can help to prevent a soggy final product. On the other hand, if you are using zucchini in a cake or muffin recipe, drainage may not be necessary since these types of recipes often already contain enough liquid.
Should I drain my zucchini?
It is very important to drain your zucchini before cooking it. If you do not drain the zucchini, the moisture from the vegetable will make your recipe turn out soggy. This is because zucchini and most other squash are about 95% water. By draining the zucchini, you can prevent this from happening and ensure that your recipe turns out delicious and perfect every time.
What nut is best for zucchini bread?
There are many different types of nuts that can be used in zucchini bread, but the best nut for zucchini bread is the walnut. Walnuts have a strong flavor that complements the sweetness of the zucchini and they also add a nice crunch to the texture of the bread. Other nuts such as pecans or almonds can also be used, but they will not provide as much flavor or crunch as walnuts.