Deliciously Savory Runzas – A Tasty Twist On A Classic!
I'm so excited to share my all-time favorite recipe with you today – Savory Runzas! This dish has been a staple in my house since I was a kid, and I still make it today with my own family. It's a delicious, hearty meal that's incredibly easy to make and always satisfies my cravings. Trust me, once you try this recipe you won't be able to resist making it again and again!
Savory Runzas Recipe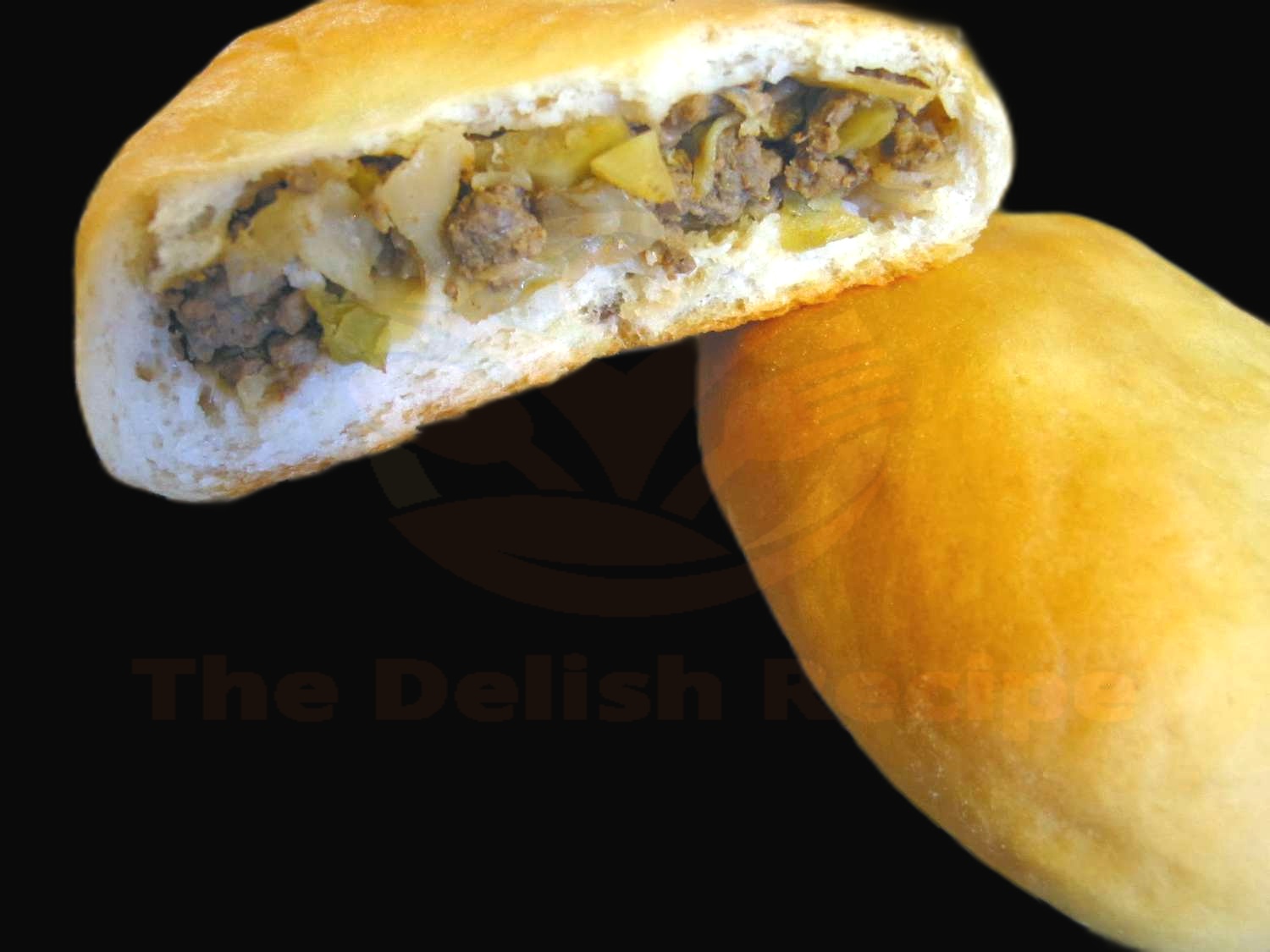 Ingredients
2 packages of Pillsbury refrigerated crescent dough
2 lbs lean ground beef
2 cups shredded cabbage
1 medium onion, chopped
2 cloves garlic, minced
1 teaspoon Worcestershire sauce
1/2 teaspoon salt
1/2 teaspoon pepper
1 teaspoon caraway seeds
1/4 cup butter
1/4 cup milk
Instructions
Preheat your oven to 375°F and get ready for some deliciousness!
Unroll the crescent dough onto a lightly floured surface and separate into individual triangles.
In a large skillet, brown the ground beef over medium-high heat, breaking it up with a spatula as it cooks.
Add the chopped onion, minced garlic, Worcestershire sauce, salt, pepper, and caraway seeds to the skillet. Continue to cook and stir until the beef is fully cooked, about 8-10 minutes.
Add the shredded cabbage to the mixture and cook for another 3-5 minutes, stirring occasionally.
In a small saucepan, melt the butter and stir in the milk.
Place about 2 tablespoons of the beef-cabbage mixture into the center of each triangle of dough. Fold each triangle over and seal the edges.
Place the runzas on a greased baking sheet and brush the tops with the butter-milk mixture.
Bake the runzas for 30 minutes, or until they're golden brown.
Let the runzas cool for 15 minutes before serving. Enjoy!
Nutrition Facts
Calories: 327
Fat: 16 g
Saturated Fat: 7 g
Cholesterol: 56 mg
Sodium: 528 mg
Carbohydrates: 28 g
Fiber: 2 g
Sugar: 5 g
Protein: 14 g
What is a runza and why is it so popular?
Runza is a delicious savory pastry that has been popular in the Midwest for generations. It is a round, doughy pocket filled with ground beef, cabbage, onions, and spices that is baked and served hot. It is a unique and tasty snack that is beloved by many.
The Runza is believed to have originated in the region of Central Europe known as the Volga Germans. Later, the Volga Germans emigrated to the United States, bringing their culinary tradition with them. Runzas have been a staple food in the Midwest since the late 1800s, and have become an iconic part of the region's cuisine.
The popularity of the Runza is due to its delicious flavor and its versatility. It can be eaten as an appetizer, snack, or even a meal. It's a great option for lunch or dinner, and it's also easy to make at home. The savory filling and the flaky, buttery dough are the perfect combination of flavors and textures, making the Runza a favorite for many.
What makes the Runza so special is that it is a beloved and unique dish that has been shared and passed down for generations. It is a reminder of the region's history and culture and is an important part of many Midwesterners' heritage.
No matter the occasion, Runzas are sure to please. They are a delicious and unique snack that is a staple of Midwestern cuisine.
What are the origins of the runza?
The Runza is a beloved Nebraska favorite that dates all the way back to 1949. Originally created by the Runza family in Lincoln, Nebraska, the Runza is a delicious pocket of dough stuffed with seasoned beef, onions, and cabbage. It can also be made with pork, chicken, sausage, cheese, and various seasonings. The Runza is a meal that can be enjoyed any time of day, from breakfast to dinner, and is a popular item at Nebraska sporting events.
Many say that the Runza was inspired by the traditional Russian dish, piroshki, which is a pocket of dough filled with mashed potatoes and beef. However, the Runza is unique in its own right and has been a favorite in Nebraska for decades. It has become a cultural icon that is celebrated throughout the state and is widely enjoyed as a quick and easy meal.
The Runza is a beloved Nebraska tradition that has been embraced for generations. From its humble beginnings to its current popularity, the Runza is an important part of Nebraska's culture that continues to be enjoyed today.
What are some of the health benefits of eating a runza?
Eating a Runza is one of the best ways to promote good health! Here are some of the amazing health benefits of Runzas:
High in protein: Runzas are packed with protein, making it an excellent food to help build and sustain muscle mass.
Low in calories: One Runza contains just 160 calories, making it an ideal snack for those watching their weight.
Rich in Vitamin B: Runzas are full of Vitamin B, which helps to improve energy levels and metabolism.
Nutrient-dense: Runzas are full of essential nutrients, including iron, zinc, and calcium, which are important for bone health.
Low in fat: Runzas contain just 6 grams of fat per serving, making them a healthier alternative to other snacks.
Low in sodium: Runzas contain just 140 mg of sodium per serving, making them an ideal snack for those on a low-sodium diet.
Eating a Runza can be a nutritious and delicious snack that helps to promote good health and well-being. With protein, essential vitamins, minerals, and low-fat content, Runzas are an excellent choice for those looking to maintain a healthy lifestyle.
What ingredients make up a traditional runza?
A traditional runza is a delicious sandwich-like pocket filled with savory ingredients and baked to perfection. It's a popular Midwestern comfort food that is easy to make and full of flavor! The core ingredients used to make a traditional runza are ground beef, cabbage, onion, garlic, and salt and pepper. To give the traditional runza a flavorful kick, add some Worcestershire sauce and spicy mustard. For a vegetarian option, swap out the ground beef for a plant-based meat alternative.
The mix of savory ingredients is packed into a soft, yeasty bread dough, which is then shaped into a pocket and baked. The result is a one-of-a-kind, delicious snack or meal. Runzas can be served alone or with a side of fries, onion rings, or coleslaw. They can also be customized with additional ingredients like peppers, mushrooms, or cheese.
So, what ingredients make up a traditional runza? Ground beef, cabbage, onion, garlic, salt, pepper, Worcestershire sauce, and spicy mustard are the keys to creating a classic, flavorful runza. With a few simple ingredients, you can enjoy a delicious Midwestern meal anytime.
How can you make a delicious runza at home?
Making a delicious runza at home is easy! Runza's are a savory sandwich-like dish made with dough, ground beef and cabbage. The traditional recipe is from Eastern Europe, and has become an iconic sandwich in the Midwest. You can easily make a delicious runza at home with just a few ingredients. Here's how:
First, you'll need to make the dough. Mix together warm water, active dry yeast, sugar, melted butter, and a pinch of salt. Then add in some all-purpose flour and knead the dough until it's smooth and elastic. Let the dough rise for an hour, then punch it down and divide it into eight equal pieces.
Next, make the filling. Brown some ground beef with onions, garlic, Worcestershire sauce, and a bit of salt and pepper. Once the beef is cooked, add in some shredded cabbage and simmer until the cabbage has softened.
Now it's time to assemble the runzas. Take one of the pieces of dough and flatten it into a circle. Place about a quarter cup of the beef and cabbage filling in the center, and then fold the edges of the dough up and press them together to form a pocket. Place the runza on a baking sheet, and repeat with the rest of the dough and filling.
Finally, bake the runzas at 375 degrees for about 20 minutes, or until golden brown. Serve hot and enjoy! With just a few simple steps, you can make your own delicious runzas at home.
Are there creative ways to customize your own runza?
Yes! With a few simple ingredients, you can create your own custom Runza that is sure to become a favorite. Runzas are a savory bread pocket filled with a delicious blend of beef, onion, cabbage, and spices—and that's just the traditional Runza! You can get creative with your Runza and add your own twist. Here are some ideas to get you started.
If you're a fan of Mexican flavors, you can create a "Mexi-Runza" by adding diced jalapenos, cilantro, and taco seasoning to the mix. You can also switch out the beef for ground turkey for a healthier version. For a vegetarian version, add chopped mushrooms, black beans, and corn.
Or, if you're looking for something a little sweeter, you can make a sweet "runza-dilla" by adding nutella, banana slices, and marshmallows. You can also try adding your favorite fruits, candy, nuts, or even chocolate chips for a custom treat.
The possibilities are endless when it comes to creating your own custom Runza. You can get creative with your ingredients and come up with something that's totally unique.
What sides pair best with a runza?
When it comes to savory Runzas, the possibilities are endless! Whether you're enjoying a classic Runza stuffed with beef, cabbage, and onions, or a creative twist like a chicken and cheese Runza, there are plenty of sides to help make your meal complete. Here are some of our favorite sides to pair with a Runza:
• French Fries – Nothing goes better with a Runza than a big plate of crispy golden French fries. Dip your Runza in ketchup or Ranch dressing for an extra flavor kick.
• Onion Rings – For a crunchy and savory side dish, onion rings are the perfect accompaniment to a Runza. Dip them in ketchup, mustard, or honey mustard for extra flavor.
• Potato Wedges – Potato wedges are a great way to add some texture and flavor to your meal. Serve them with sour cream or your favorite condiment for a tasty side.
• Macaroni and Cheese – Macaroni and cheese is a classic side dish that pairs perfectly with a Runza. Whether you're making it from scratch or using a boxed mix, you can't go wrong.
• Baked Beans – Nothing says comfort food like a plate of baked beans. Serve them with a Runza for a complete meal that will satisfy your taste buds.
No matter what side you choose to go with your Runza, you'll be sure to have a delicious meal.