Delicious Chocolate Pie Recipe – Easy To Make!
I can't think of a better way to end a meal than with a slice of homemade Chocolate Pie! This is one of my favorite dessert recipes and is always a hit with friends and family. Every time I make it, I'm reminded of how much I love the combination of velvety chocolate custard and buttery, flaky crust. If you're looking for a decadent and delicious treat, look no further!
Chocolate Pie Recipe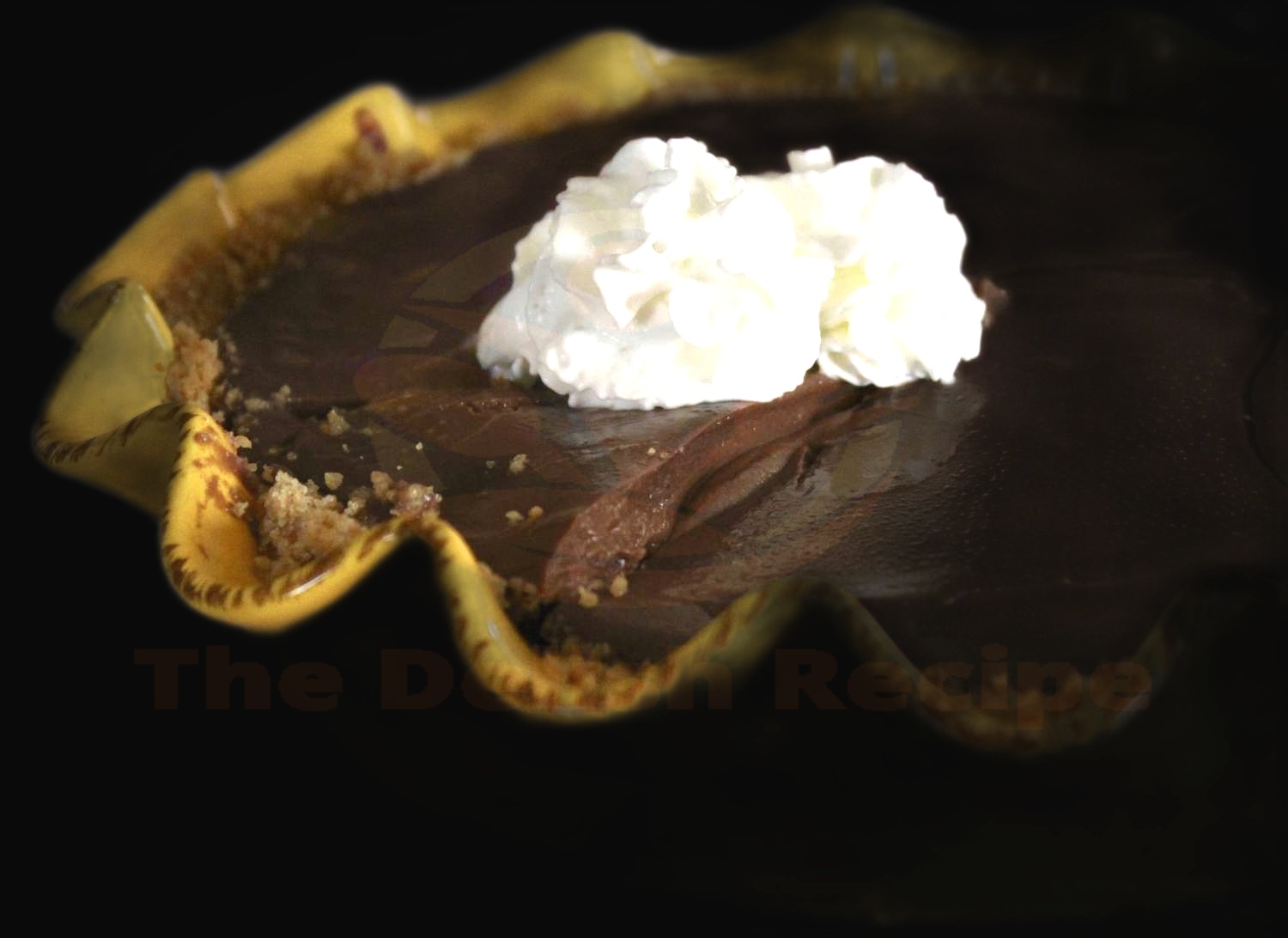 Ingredients
3/4 cup granulated sugar
1/3 cup all-purpose flour
1/4 cup cocoa powder
2 eggs
1/4 teaspoon salt
1/2 cup butter, melted
1 teaspoon vanilla extract
1 9-inch pie crust
Instructions
Preheat your oven to 350 degrees Fahrenheit.
In a medium-sized bowl, combine the sugar, flour, cocoa powder, and salt.
In a separate bowl, whisk together the eggs, melted butter, and vanilla extract.
Pour the egg mixture into the dry ingredients and stir until everything is combined.
Place the 9-inch pie crust into an oven-safe dish.
Pour the chocolate pie filling into the crust.
Place the dish in the oven and bake for 35 minutes.
Once the pie is done baking, remove it from the oven and let it cool for about 10 minutes before serving.
Enjoy your delicious Chocolate Pie!
Nutrition Facts
Calories: 420 kcal
Carbohydrates: 39 g
Protein: 7 g
Fat: 28 g
Saturated Fat: 16 g
Cholesterol: 126 mg
Sodium: 192 mg
Sugar: 22 g
What is it about chocolate pie that makes it so special?
Chocolate pie is special because it is a perfect combination of two of the world's greatest desserts – chocolate and pie! The creamy, rich chocolate flavor and the buttery, flaky crust come together to create a heavenly dessert that no one can resist. Not to mention, the versatility of a chocolate pie means you can customize it however you please – add a splash of raspberry liqueur or a sprinkle of mint for a unique take. Whether you prefer a classic slice or something a little more adventurous, you're sure to find something you love. And of course, it's easy to make – all you need is a few ingredients and some elbow grease and you've got the perfect treat! So what are you waiting for? Get those oven mitts on and whip up a delectable chocolate pie today.
What are some tips for making the perfect chocolate pie?
Start off with a good crust: For a perfect chocolate pie, you need to begin with a buttery, flaky, and delicious crust. You can either make your own crust from scratch or go for a pre-made crust.
Use high-quality chocolate: To make your pie stand out, you need to use the best quality chocolate you can find. Whether it's dark, milk, or white chocolate, make sure to buy high-quality chocolate.
Try different variations: You can make your pie even more special by adding some unique flavors. Try adding a pinch of cinnamon or a dash of coffee to the chocolate to give it a special twist.
Get creative with the filling: The filling is an important part of the pie. You can use a variety of ingredients to make the filling. You can add nuts, marshmallows, or coconut flakes to the filling to make it even more delicious.
Make the topping special: The topping is the final touch to your pie. You can choose from a variety of toppings such as caramel sauce, whipped cream, or chocolate shavings.
Give it time to cool: After baking your pie, let it cool down for at least an hour before serving it. This will ensure that the chocolate filling and topping are set, and the pie is ready to be served.
What are some of the different ways you can make chocolate pie?
If you're looking for a delicious dessert that's sure to be a hit with your friends and family, a chocolate pie is the way to go. Making a chocolate pie doesn't have to be intimidating – there are actually quite a few different ways you can make one. From no-bake to classic, here are a few of the different ways you can make this delicious treat.
First, there's the classic chocolate pie. This involves making a pie crust from scratch and then filling it with a rich and creamy chocolate custard. The custard can be flavored with anything from cinnamon to peppermint extract and topped with a homemade meringue or whipped cream.
Next, there's the no-bake chocolate pie. This is the perfect option if you don't have time or energy to make a pie crust from scratch. All you need to do is mix together some chocolate chips, sweetened condensed milk, and butter and then pour it into a pre-made graham cracker crust. Let it set in the fridge for a few hours and you've got yourself a delicious and easy chocolate pie.
Finally, there's the chocolate cream pie. This is a super indulgent treat that's perfect for those with a sweet tooth. To make it, you'll need to make a graham cracker crust and fill it with a layer of rich, creamy chocolate pudding. Top it with whipped cream and a few chocolate shavings and you've got yourself a decadent dessert.
No matter which version of chocolate pie you decide to make, you're sure to end up with something delicious and indulgent. So go ahead, give one of these methods a try – you won't be disappointed.
What flavors does chocolate pie pair well with?
If you're looking for some delicious flavor combinations to pair with your chocolate pie, you're in luck! Chocolate and a variety of other flavors make for a delectable treat. Here are some of the most popular flavor pairings to try with your chocolate pie:
Chocolate and peanut butter: These two flavors were made for each other, and they work wonderfully together in a chocolate pie. Whether you sprinkle some peanut butter chips on the top, add some to the filling, or drizzle a peanut butter sauce over the top, you'll be sure to love the combo!
Chocolate and mint: Another classic flavor combination, chocolate and mint work together to create a refreshing but indulgent dessert. Try adding some chopped peppermint candies to the filling or a drizzle of mint-flavored syrup over the top.
Chocolate and coconut: Sweet coconut complements the rich chocolate flavor of the pie perfectly. You can add some shredded coconut to the pie filling, or sprinkle some on the top for a crunchy texture.
Chocolate and raspberry: Tart raspberries are a great pairing for chocolate, and they work especially well in pies. Try adding some raspberry preserves to the filling or topping it with a raspberry sauce for a delicious flavor combination.
Chocolate and orange: A unique but delicious flavor combination, orange and chocolate pair together to create a unique but delicious dessert. Try adding some orange zest to the filling or a drizzle of orange-flavored syrup over the top.
No matter which flavor combination you choose, you can't go wrong with a delicious chocolate pie. With a variety of flavors to choose from, you're sure to find the perfect pairing for your dessert.
What type of crust is best for a chocolate pie?
When it comes to chocolate pies, the classic combination of a buttery, flaky crust and rich chocolate filling is the way to go. It's a match made in heaven! But if you're looking for something a little bit different, you can experiment with different types of crusts for a new twist on the classic. Here are some of the best crusts for a chocolately treat:
Shortcrust pastry is a great option for a chocolate pie. It's easy to work with and provides a deliciously light and crumbly texture. Plus, it's great for holding in all the sweet, gooey chocolate filling.
Graham cracker crust is another classic choice. The slightly sweet and crunchy texture pairs perfectly with the chocolate and makes for a delicious contrast.
Coconut cookie crust is a fun and unexpected twist on the usual suspects. It gives the pie a nutty, tropical flavor that pairs well with the chocolate. It's the perfect option for those looking to add a bit of extra flavor to their pie.
Chocolate crust is always a crowd pleaser. It adds an extra layer of indulgence to the pie and is sure to satisfy even the most die-hard chocoholics.
No matter which type of crust you choose, a chocolate pie is always a delicious treat. So go ahead and experiment with different types of crusts and find the perfect one for you.
What are some creative toppings you can put on a chocolate pie?
When it comes to chocolate pie, the topping possibilities are endless! You can get creative and have some fun with this classic dessert by experimenting with different types of toppings. Here are some ideas to get you started:
Whipped cream and fresh berries: Add a dollop of freshly whipped cream and top it with a mix of fresh berries. The combination of tart and sweet flavours will make your pie even more delicious.
Chocolate shavings: If you're looking for something a bit more decadent, try adding some chocolate shavings to your pie. The chocolate shavings will add a touch of richness and a bit of crunch.
Caramel sauce: Drizzle some caramel sauce over your pie for a sweet and salty combination. This is a great way to add a bit of extra flavour to your dessert.
Peanut butter: Peanut butter and chocolate are a classic combination. Try adding some peanut butter to your pie for a creamy and nutty twist.
Nuts: Adding some nuts to your chocolate pie will give it a crunchy and nutty flavour. You can use any type of nut that you like, such as almonds, walnuts, or hazelnuts.
Ice cream: Top your pie with a scoop of your favourite ice cream for an extra indulgent treat.
No matter which topping you choose, your chocolate pie will be sure to satisfy your sweet tooth. Have fun experimenting with different toppings and creating your own delicious dessert.
What is the best way to serve a chocolate pie?
The best way to serve a chocolate pie is to let it cool for a few hours before you cut into it. This will ensure that the chocolate filling is perfectly gooey and the crust is crunchy. You can then top it off with a scoop of ice cream or a dollop of freshly whipped cream for some extra decadence. Slice it into equal pieces and serve it to your guests with a generous sprinkle of cocoa powder and a dusting of icing sugar.