This recipe is for a delicious oatmeal pie that can be enjoyed any time of day. It's perfect for breakfast, a snack, or even dessert. The oats give the pie a hearty and filling texture, while the brown sugar and spices add just the right amount of sweetness and flavor. This recipe is easy to follow and sure to please everyone in your family.
Ingredients
2 eggs, ¾ cup brown sugar, 1 cup butter, melted, ¾ cup dark corn syrup, ¾ cup quick cooking oats, 1 teaspoon vanilla extract, ¼ teaspoon salt, ¾ cup flaked coconut OR pecans, 1 recipe pastry for a 9 inch single crust pie
Instructions
1. In a medium bowl, beat the eggs well.
2. Stir in sugar, butter or margarine, corn syrup, oatmeal, vanilla and salt.
3. Pour mixture into the pie shell and top with coconut flakes or pecans.
4. Bake at 350 degrees Fahrenheit for 30 to 35 minutes then cool before serving time.
Nutrition Facts
Calories: 2200
Fat: 120 g
Saturated fat: 60 g
Cholesterol: 300 mg
Sodium: 2300 mg
Carbohydrates: 250 g
Fiber: 10 g
Sugar: 90g
Protein: 20g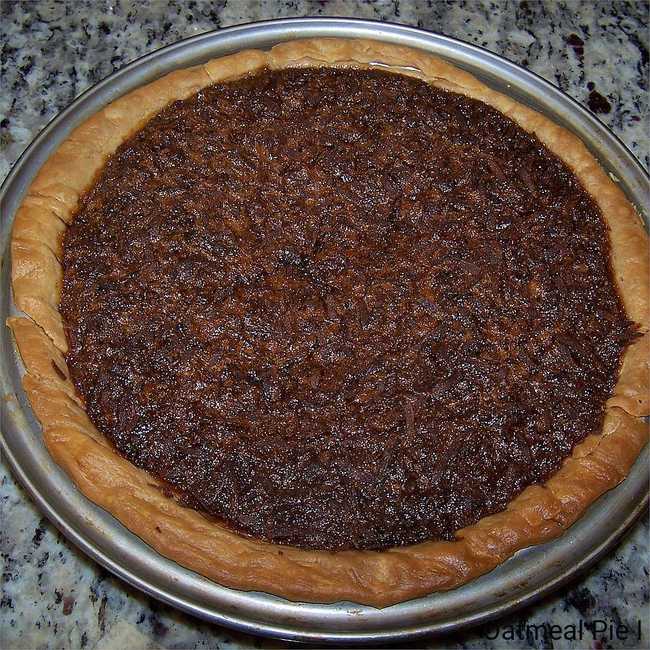 How do you make Mary Berry pastry?
Pastry is a dough of flour, fat and water that is rolled out and used to make pies, tarts and other baked goods. The proportion of ingredients varies depending on the type of pastry, but Mary Berry's recipe for sweet shortcrust pastry uses a ratio of 175g/6oz plain flour to 75g/2½oz cold butter to 25g/1oz icing sugar.
To make the pastry, rub the butter into the flour until it resembles breadcrumbs then stir in the sugar and orange zest. Add the beaten egg and mix until it forms a soft dough. If necessary, add a little more flour or water until you have a smooth dough that isn't too sticky.
Roll out the pastry on a floured surface and use it to line your chosen tin or dish. Prick the base with a fork then chill in the fridge for 30 minutes before baking blind (baking without adding any filling) at 200C/400F/Gas 6 for 10-15 minutes until golden brown.
How do you know when oatmeal pie is done?
Oatmeal pie is a delicious and easy-to-make dessert that can be enjoyed year-round. But how do you know when it's done?
The key to determining if oatmeal pie is done is to look at the center of the pie. It should be fully cooked and not too jiggly. The edges of the pie may also be slightly browned. If the center of the pie is still too jiggly, bake it for a few minutes longer. Once the oatmeal pie is done, it will be soft but not so soft that it can't be cut into slices.
What is coffin pie?
A coffin pie is a type of savory meat pie that is made with tall, straight-sided pastry crusts or lids. The pies are typically sealed on the bottom and sides, making them ideal for holding various fillings. Coffin pies have been around for hundreds of years and were once the only form of baking container used. Today, they remain a popular option for many home cooks and bakers.
Coffin pies can be filled with just about anything, though most commonly they are packed with meats, vegetables, and cheeses. They make an excellent main course or side dish, and can be easily tailored to suit any taste. Whether you like your pies hot or cold, sweet or savory, there's a coffin pie recipe out there for everyone.
How is pastry made?
Pastry is made by mixing fat and flour together, adding water, chilling and then rolling out the dough. Chilling before rolling is essential since it enables the fat (lard, butter etc) to harden again and thus create flaky layers in the dough.
The process of making pastry begins with mixing the fat and flour together. This can be done by hand or using a food processor. Once the fat and flour are combined, water is added slowly until the mixture comes together to form a dough.
The dough is then placed in the fridge to chill for at least 30 minutes. This step is important as it allows the fat to solidify again, which will create flaky layers when the pastry is rolled out.
Once chilled, the dough is rolled out on a floured surface until it's about 1/4 inch thick. The pastry can then be cut into desired shapes and used for pies, tarts or other desserts.
What is a Mary Berry pie?
A Mary Berry pie is a traditional British dish that consists of potatoes, leeks, and cheese. It is typically served with a pastry crust on top.
The Chairman of the annual British Pie Awards recently caused controversy when he claimed that Mary Berry's potato, leek and cheese pie did not qualify as a true pie. He argued that it was simply a casserole with some pastry on top – but many people disagree with his assessment.
So what makes a Mary Berry pie? Well, according to the BBC One show Mary Berry Everyday, the key ingredients are potatoes, leeks, and cheese. This classic combination is then topped with a puff pastry crust before being baked in the oven.