Easy Homemade Gingerbread Cookies Recipe
I remember the first time I made gingerbread cookies. I was so excited to try them, but I was a little nervous that I wouldn't get the recipe right. But I was pleasantly surprised when my first batch of gingerbread cookies came out of the oven perfectly soft and chewy, with a hint of ginger and sweetness. Ever since then, I've been hooked on this classic holiday treat. Today, I'm sharing my recipe for Basic Gingerbread Cookies, so you can try it out for yourself and see how delicious they can be.
Basic Gingerbread Cookies Recipe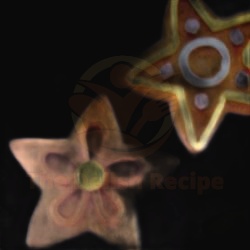 Ingredients
2 cups of all-purpose flour
1 teaspoon of baking powder
1/2 teaspoon of baking soda
1/2 teaspoon of ground cinnamon
1/4 teaspoon of ground nutmeg
1/4 teaspoon of ground cloves
1/4 teaspoon of ground ginger
1/2 teaspoon of salt
1/2 cup of butter (softened)
1/2 cup of packed dark brown sugar
1/3 cup of molasses
1 large egg
1/4 cup of granulated sugar (for rolling)
Instructions
Welcome to Basic Gingerbread Cookie making! Let's get started.
Preheat your oven to 350°F and line a baking sheet with parchment paper.
In a medium bowl, whisk together the flour, baking powder, baking soda, spices, and salt.
In a separate larger bowl, use an electric mixer to beat together the butter and brown sugar until creamy. Beat in the molasses and egg.
Gradually add in the dry ingredients, beating until combined and a soft dough forms.
Roll the dough into 1-inch balls and place them on the prepared baking sheets.
Roll each ball in the granulated sugar and slightly flatten them with the bottom of a glass.
Bake the cookies for 12-15 minutes or until lightly golden. Let them cool for 5 minutes before transferring to a wire rack to cool completely.
And there you have it! Delicious, homemade basic gingerbread cookies. Enjoy!
Nutrition Facts
Calories: 278
Total Fat: 11 g
Saturated Fat: 6 g
Trans Fat: 0 g
Cholesterol: 34 mg
Sodium: 177 mg
Total Carbohydrates: 39 g
Dietary Fiber: 1 g
Sugars: 22 g
Protein: 3 g
What makes gingerbread cookies so special?
Gingerbread cookies are special because of their unique combination of flavors, textures, and aromas. These cookies have a deep, rich flavor that comes from combining spices like cinnamon, nutmeg, cloves, and ginger. The texture is chewy and slightly crunchy, making them the perfect treat to enjoy with a hot cup of tea or coffee. On top of that, gingerbread cookies smell amazing, with a delicious aroma of molasses and spices that will draw you in and make your mouth water.
What are the benefits of baking gingerbread cookies from scratch?
Baking gingerbread cookies from scratch is a great way to create a unique, tasty treat!
There are many advantages to attempting this baking project. Here are a few of the benefits:
The aroma of fresh gingerbread cookies baking in the oven is a classic holiday smell that will fill your home with warmth and comfort.
Baking gingerbread cookies from scratch allows you to experiment with different flavors and spices to create your own special recipe.
Making gingerbread cookies from scratch lets you show off your baking skills and impress your family and friends!.
Baking gingerbread cookies from scratch is a fun and rewarding activity for the whole family. It's a great way to bond and create lasting memories.
Last but not least, baking gingerbread cookies from scratch is a great way to get into the holiday spirit and enjoy the season.
What tips and tricks can you use to make the perfect gingerbread cookie?
Spice It Up: A classic gingerbread cookie isn't complete without a good dose of ginger, cinnamon, nutmeg, and allspice. Don't be afraid to add a little extra of your favorite spices to give your cookies that extra kick.
Roll It Out: Rolling out your dough beforehand will help ensure that your cookies bake evenly. Aim for an even thickness of no more than 0.5 cm and use a rolling pin to achieve the perfect shape.
Get Creative: Gingerbread cookies are the perfect blank canvas for creativity. Use cookie cutters or stencils to make your cookies stand out from the rest. Try adding decorative icing with food coloring or sprinkles for even more festive flair.
Storage Solutions: Once your cookies are cooled, store them in an airtight container. This will help keep them from getting stale or soft. If you plan to keep them for more than a few days, consider wrapping them individually in plastic wrap for maximum freshness.
Perfect Temperature: Every oven is different and the heat can have an effect on the texture of your cookies. To get the perfect consistency, bake your cookies at the right temperature. 350°F is usually a safe bet but check the recipe for a more precise temperature.
What are the unique flavors that gingerbread cookies bring to the table?
Gingerbread cookies have a unique flavor that sets them apart from all other holiday treats. Not only are they deliciously spiced with ginger, cinnamon, nutmeg, and cloves, but they also bring a hint of molasses to the mix. On top of all that, the subtle sweetness of brown sugar and the warmth of the spices make these cookies a classic Christmas favorite. Plus, they just look so festive! Nothing says "Merry Christmas" quite like a plate of freshly-baked gingerbread cookies.
What variations can you make to your gingerbread cookie recipe?
There are so many variations you can make to a basic gingerbread cookie recipe that the possibilities are seemingly endless! Here are a few ideas to get you started:
Spice it up: If you like your cookies extra spicy, add some more ground ginger, cinnamon, cloves, and nutmeg to the dough. You can also add cardamom or star anise for an extra kick.
Make it crunchy: Add some chopped nuts or crystallized ginger to the dough to give your cookies a crunchy texture. You can also roll the edges of each cookie in chopped nuts before baking.
Get creative with shapes: Use cookie cutters to make festive shapes like stars, snowflakes, and Christmas trees. Or use a knife to create fun designs like zigzags, stripes, and polka dots.
Go fruity: Add some dried cranberries or chopped dried figs to the dough for a hint of sweetness.
Frost it: Once the cookies are cooled, you can decorate them with royal icing or buttercream frosting.
How can you use gingerbread cookies to create special holiday memories?
Making gingerbread cookies is a great way to create special holiday memories with your family! Not only are they fun to make, but they also look and taste amazing. Plus, with a little bit of creativity, you can turn your gingerbread cookies into unique and festive works of art. Here are some ideas to help you turn basic gingerbread cookies into something special this holiday season.
Decorate with icing and other edible decorations. Frosting is the perfect way to make your gingerbread cookies stand out. Try using different colors and shapes to create festive designs. You can also use small candies and other edible decorations to create a one-of-a-kind cookie.
Make personalized shapes. If you have cookie cutters, you can use them to make gingerbread cookies in shapes like stars, snowflakes, and Christmas trees. Or, if you don't have cookie cutters, you can just freehand cut shapes out of the dough.
Create a gingerbread village. This is a great way to get creative with your gingerbread cookies. You can use different cookie cutters to make buildings and other shapes, then decorate them with frosting and edible decorations. You can even use tiny pieces of candy for small details like windows, doors, and other decorations.
Make gingerbread people. This is a classic way to use gingerbread cookies to create special holiday memories. Just use a simple person-shaped cookie cutter, then decorate with frosting and candy to create funny and unique gingerbread people.
Making gingerbread cookies is a great way to bring the family together and create special holiday memories.