Cheesy Chicken Enchiladas – A Delicious Mexican Feast!
I remember the first time I made chicken enchiladas. I had seen them on TV and in magazines, but I was nervous to try and make them at home. But with a few simple ingredients, I was able to create an amazing dish that my family enjoyed. The combination of the savory chicken and the creamy cheese sauce was absolutely delicious. I'm excited to share this recipe with you so you can make this wonderful dish yourself!
Chicken Enchiladas Recipe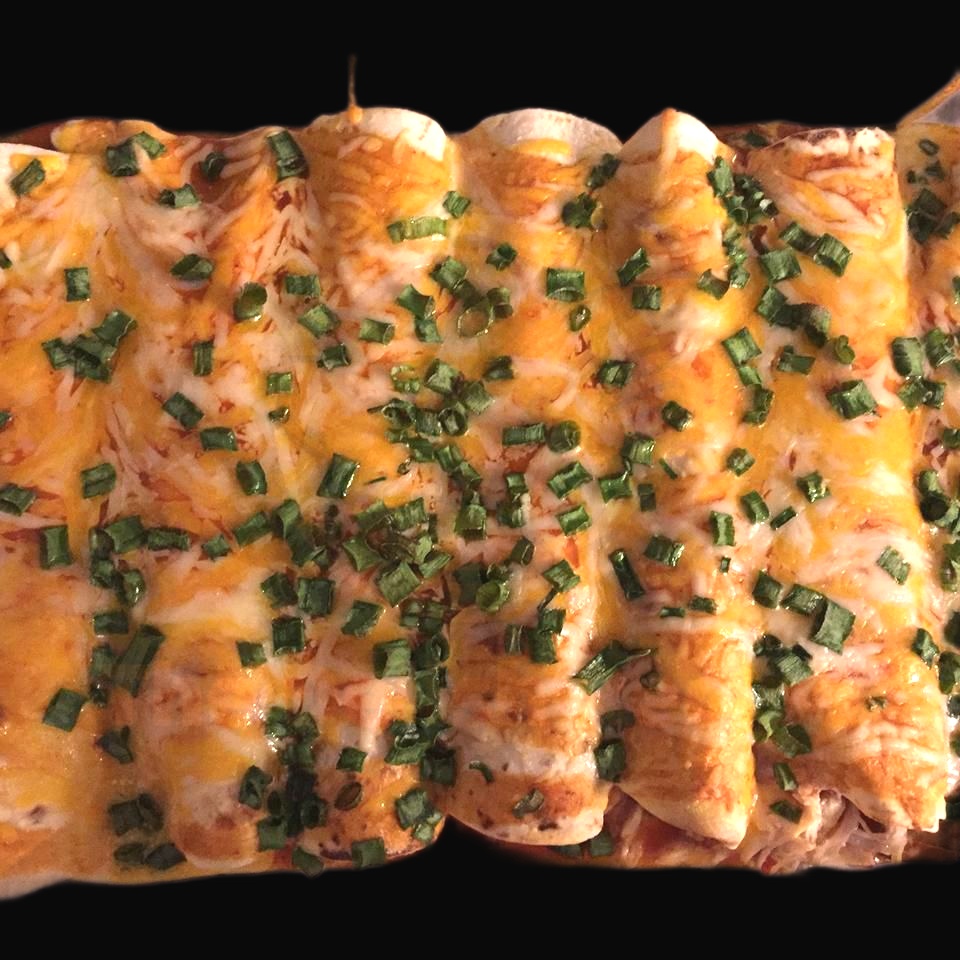 Ingredients
6 boneless, skinless chicken breasts
1 tablespoon olive oil
1 teaspoon garlic powder
1 teaspoon paprika
1/2 teaspoon salt
1/2 teaspoon black pepper
1/2 cup diced onion
1/2 cup chopped bell pepper
1 (10-ounce) can enchilada sauce
1 (4-ounce) can diced green chiles
12 (6-inch) flour tortillas
2 cups shredded Mexican cheese blend
Instructions
Preheat oven to 375°F.
Heat olive oil in a large skillet over medium-high heat. Add chicken breasts, garlic powder, paprika, salt, and black pepper. Cook until chicken is cooked through, about 10 minutes. Remove chicken from skillet and set aside.
Add diced onion and chopped bell pepper to skillet and cook until vegetables are softened, about 5 minutes.
In a medium bowl, combine enchilada sauce, diced green chiles, and shredded cheese blend.
To assemble the enchiladas, spread a spoonful of enchilada sauce mixture in the bottom of a greased baking dish.
Take a tortilla and fill with a spoonful of chicken, onion, bell pepper, and cheese mixture. Roll up and place in the baking dish. Repeat with remaining tortillas.
Pour the remaining enchilada sauce mixture over the enchiladas and sprinkle with remaining cheese.
Bake in preheated oven for 45 minutes or until enchiladas are golden and cheese is melted.
Let cool for 15 minutes before serving. Enjoy!
Nutrition Facts
Calories: 393
Total Fat: 15g
Saturated Fat: 6g
Cholesterol: 57mg
Sodium: 1045mg
Carbohydrates: 35g
Fiber: 4g
Sugar: 5g
Protein: 26g
What is the origin of chicken enchiladas?
Chicken enchiladas are believed to have originated in Mexico, where they were traditionally made with masa corn tortillas, shredded chicken, and a variety of sauces. Enchiladas are believed to be a descendant of the ancient Aztec dish of tlacoyo, which consists of a corn tortilla stuffed with beans, cheese, and other fillings. Over time, the addition of chili peppers and other spices to the dish evolved into what is now known as chicken enchiladas.
The first known recipe for chicken enchiladas was written by chef and author Diana Kennedy in 1959. She called the dish "enchiladas de pollo" and her recipe included roasted chicken, mole sauce, green peppers, onions, and cheese. Kennedy's recipe was quickly picked up by Mexican restaurants in the United States and adapted to include other ingredients such as sour cream, olives, and jalapenos.
Today, chicken enchiladas can be found in a variety of flavors and preparations, ranging from the traditional Mexican version to Americanized versions. Many variations of the dish exist, such as the popular "chicken enchilada casserole" which combines layers of tortillas, chicken, and cheese with sauces and other ingredients. No matter how it is prepared, chicken enchiladas remain a popular dish in Mexico and around the world.
What are the nutritional benefits of eating chicken enchiladas?
Chicken enchiladas offer several nutritional benefits.
One of the main benefits of eating chicken enchiladas is that they are a source of lean protein. Chicken is low in fat and high in protein, which helps to build and repair muscle tissue and also helps to keep you fuller for longer.
Chicken enchiladas also contain a variety of vitamins and minerals, including vitamin A and iron. Vitamin A helps to maintain a healthy immune system and iron helps to transport oxygen throughout the body.
Chicken enchiladas are also a good source of dietary fiber. Fiber helps to keep your digestive system healthy and regular, and can help to reduce cholesterol levels.
Finally, chicken enchiladas can also be a good source of B vitamins, which are essential for energy production and metabolism.
What tips can experienced cooks give for making the best chicken enchiladas?
Experienced cooks recommend marinating the chicken for at least 30 minutes in a combination of garlic, cumin, chili powder, and lime juice for the best flavor.
They suggest using a combination of Monterey Jack and cheddar cheese for the filling, as it gives the enchiladas a more complex flavor.
They recommend adding a layer of refried beans to the enchiladas before rolling them up. This will help bind all the ingredients together and create a richer flavor.
Lastly, they suggest baking the enchiladas in the oven instead of deep-frying them. This will help keep the dish healthier and give it a more authentic flavor.
What are the main ingredients for traditional chicken enchiladas?
The main ingredients for traditional chicken enchiladas are chicken, enchilada sauce, cheese, and tortillas.
When making chicken enchiladas, the first step is to prepare the chicken. The chicken can be cooked in a variety of ways, from baking or grilling to poaching or boiling. Once the chicken is cooked, it should be shredded or chopped into small pieces.
The second step is to make the enchilada sauce. This can be made with a variety of spices, such as cumin, oregano, chili powder, and garlic, as well as tomatoes and onion. The sauce should be cooked until it is thick and flavorful.
The third step is to assemble the enchiladas. The tortillas should be heated in a skillet or oven until they are pliable. Then they should be filled with the chicken and topped with cheese and enchilada sauce. The filled tortillas should then be rolled up and placed in a baking dish.
The final step is to bake the enchiladas. The dish should be covered with additional cheese and sauce, and then baked in the oven until the cheese is melted and the enchiladas are heated through.
These are the main ingredients for traditional chicken enchiladas. With these simple steps and ingredients, you can make a delicious dish that is sure to please the whole family.
What are the key steps for making chicken enchiladas?
Making chicken enchiladas is a simple and delicious recipe that can be enjoyed all year round. The key steps for making chicken enchiladas are:
Preheat the oven to 375°F.
Shred cooked chicken.
Heat a skillet over medium heat and add 1 tablespoon of olive oil.
Add 1/2 cup of chopped onion, 1/4 cup of chopped bell pepper, 1 jalapeño (seeded and minced), 2 cloves of garlic (minced) and cook for about 5 minutes.
Add 1 (4 ounce) can of diced green chilies, 1 teaspoon of ground cumin, 1/2 teaspoon of chili powder, 1/2 teaspoon of garlic powder, 1/4 teaspoon of onion powder, 1/4 teaspoon of smoked paprika, 1/4 teaspoon of dried oregano, 1/4 teaspoon of salt, and 1/4 teaspoon of black pepper.
Stir in the shredded chicken and cook for another 5 minutes.
Grease a 9×13 inch baking dish.
Fill each tortilla with chicken and roll them up. Place them in the baking dish.
Pour 1 cup of enchilada sauce over the top of the enchiladas.
0. Sprinkle 1 cup of shredded cheese over the enchiladas.
Bake for 20 minutes, or until the cheese is melted and bubbly.
Serve with your favorite toppings (sour cream, cilantro, avocado, etc).
How can you customize chicken enchiladas to suit different dietary needs?
Customizing chicken enchiladas to suit different dietary needs can be done in a variety of ways. Depending on the individual's dietary restrictions, there are options that can make these enchiladas suitable for everyone.
For those who are vegan or vegetarian, simply omit the chicken and substitute with plant-based proteins. This can include beans, tofu, tempeh, or seitan. These proteins will still be flavorful and provide a hearty meal. Additionally, if cheese is not part of the diet, vegan cheese or dairy-free cheese can be used.
For those who are looking for gluten-free enchiladas, it's important to use corn tortillas instead of flour tortillas. Additionally, special attention should be paid to the ingredients in the enchilada sauce, as some may contain gluten. If the sauce does not have a gluten-free label, it's best to avoid it.
In addition to gluten-free and vegan/vegetarian options, there are also low-calorie and low-fat versions of chicken enchiladas. For a low-calorie option, use low-fat cheese, use extra vegetables, and opt for a lighter sauce. For a low-fat option, use low-fat cheese, ditch the tortilla, and use extra vegetables.
No matter the dietary restriction, there are ways to customize chicken enchiladas to suit different needs.
What accompaniments can be served with chicken enchiladas?
When it comes to serving accompaniments to chicken enchiladas, there is no shortage of delicious options. From classic Mexican side dishes to more modern accompaniments, the possibilities are endless. Some classic accompaniments to serve with chicken enchiladas include refried beans, Spanish rice, and guacamole. For something a little more modern, you can try adding a fresh green salad with a light dressing, roasted vegetables, or a simple fruit salsa. No matter what you choose, these accompaniments will add flavor and variety to your chicken enchiladas.