Blackberry Mascarpone Tart Recipe: A Deliciously Sweet And Creamy Treat.
I've been making Blackberry Mascarpone Tart since I was a young girl, and it's a classic in my family. Its creamy, tart filling and buttery crust will have your guests begging for seconds. It's an easy but impressive dessert that's sure to impress every time. Plus, the blackberries make it a beautiful centerpiece for any table. Give this recipe a try, and I guarantee you won't be disappointed!
Blackberry Mascarpone Tart Recipe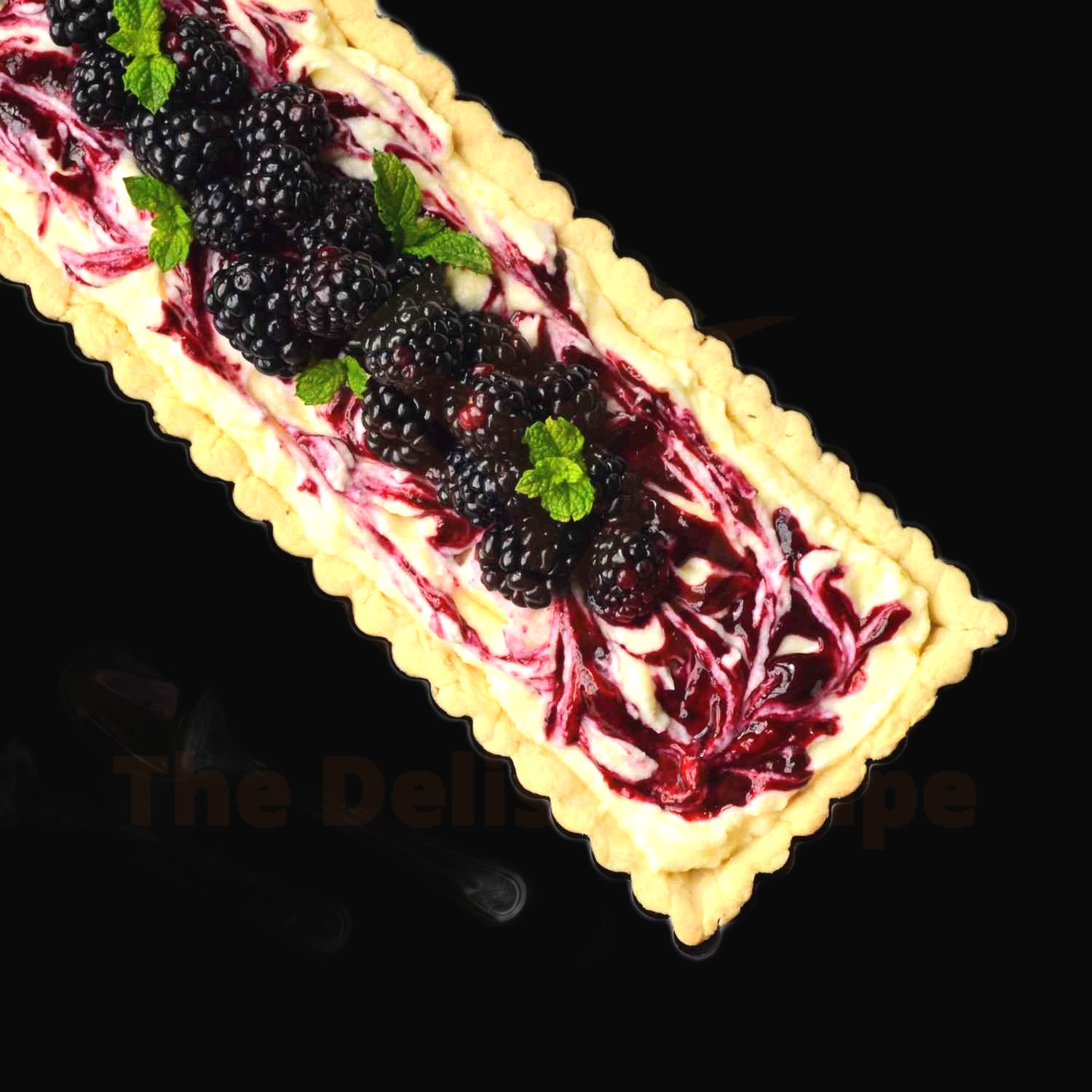 Ingredients
2 cups graham cracker crumbs
6 tablespoons melted butter
3 tablespoons granulated sugar
8 ounces mascarpone cheese
2 tablespoons confectioners' sugar
1 teaspoon vanilla extract
2 cups blackberry compote
1/4 cup heavy cream
Fresh blackberries, for garnish
Instructions
Preheat your oven to 350°F.
In a medium bowl, mix together the graham cracker crumbs, melted butter and granulated sugar until evenly combined.
Grease an 8-inch tart pan with butter or cooking spray and pour the graham cracker mixture into the pan, pressing it firmly into the bottom and edges of the pan.
Bake the crust for about 30 minutes or until the edges are a light golden-brown.
Remove the tart pan from the oven and let cool for about 15 minutes.
While the crust is cooling, make the filling. In a medium bowl, mix together the mascarpone cheese, confectioner's sugar and vanilla extract until combined.
Spread the mascarpone mixture on the cooled crust and spread the blackberry compote on top.
In a separate bowl, whip the heavy cream until stiff peaks form.
Spread the whipped cream over the blackberry compote.
Garnish with fresh blackberries.
Refrigerate the tart for at least 15 minutes before serving.
Enjoy your delicious Blackberry Mascarpone Tart!
Nutrition Facts
Calories: 350
Fat: 21 g
Carbohydrates: 36 g
Protein: 4 g
Sodium: 150 mg
Cholesterol: 30 mg
What makes this blackberry mascarpone tart so special?
This blackberry mascarpone tart is special because it offers a delicious blend of tart and sweet flavors. The crust is a buttery shortbread crust that is perfectly balanced with the sweet blackberry filling. The mascarpone cream topping adds a light and creamy texture that brings all the flavors together. The end result is a delicious tart that is sure to become a favorite in no time.
How does the sweet and tart blackberry flavor combine with the creamy mascarpone?
When you combine the sweet and tart flavor of blackberries with the creamy, indulgent taste of mascarpone, you get a truly delicious dessert. This Blackberry Mascarpone Tart is a perfect example of how these two flavors go together so wonderfully.
Here's why this tart is so delicious:
The sweetness of the blackberries is the perfect contrast to the slightly tart mascarpone, creating a flavor combination that is both sweet and savory.
The creamy mascarpone also allows the tartness of the blackberries to really shine, while the sweetness of the berries rounds out the flavor.
The texture of the tart is also a perfect balance of creamy and crunchy, thanks to the combination of the creamy mascarpone and crisp crust.
In short, the combination of sweet and tart blackberry flavor with creamy mascarpone in this tart is one of the best desserts you'll ever have.
What tips do you have for assembling the tart quickly and easily?
First and foremost, give yourself plenty of time to assemble the tart. You don't want to rush through it and make it sloppy.
Take your time to measure and mix the ingredients carefully. This will ensure that your tart is perfect.
Have all the ingredients prepped and ready to go before you start. This will save you time and effort.
If you're using a pre-made crust, make sure it's at room temperature before you begin. This will make it easier to assemble.
Always follow the recipe instructions closely and never skip any steps. This will help ensure that your tart turns out just right.
When it comes to assembling the tart, work quickly and efficiently. Don't overthink it, just get it done!.
Lastly, don't forget to enjoy the process. Baking can be a fun and rewarding experience.
What type of pastry is used for this tart?
The Blackberry Mascarpone Tart is made with a buttery shortcrust pastry! This light and flaky pastry is the perfect base for the creamy tart and the sweet blackberries. The pastry is made using cold butter and flour, which is then worked into a dough. Once the dough is rolled out to the desired size, it is carefully placed into the tart tin and then baked in the oven until the pastry is lightly golden. The result is a perfectly crisp and flaky pastry that pairs perfectly with the creamy mascarpone and juicy blackberries.
What other ingredients are needed to make this tart?
For this delectable blackberry mascarpone tart, you'll need a few simple ingredients: a pre-made tart shell, mascarpone cheese, honey, blackberries, and powdered sugar. To make the tart, start by pre-baking the tart shell according to the package instructions. Then, in a medium bowl, mix the mascarpone cheese with honey and spread it over the tart shell. Arrange the blackberries over the cheese, then sprinkle the top with powdered sugar. Bake for 30 minutes, then let cool before serving.
What are some creative ways to serve this blackberry mascarpone tart?
If you're looking for a unique and creative way to serve your blackberry mascarpone tart, look no further! This delicious dessert is incredibly versatile and can be served in many different ways. Consider these fun and unexpected options:
Make it a sundae! Create a blackberry mascarpone tart sundae by topping it with vanilla ice cream, a drizzle of melted dark chocolate, and a sprinkle of your favorite nuts.
Put it in a parfait! Layer alternating scoops of tart and mascarpone in a tall parfait glass, then add a drizzle of honey and some fresh blackberries.
Serve it with a side of fruit. Cut the tart into thick slices and serve with a side of fresh strawberries, blueberries, and raspberries for a sweet and refreshing contrast.
Turn it into a tart "cake". Cut the tart into thin slices and layer the slices like a cake. Frost the top and sides with the mascarpone and decorate with blackberries and a sprinkle of powdered sugar.
These are just a few of the creative ways to serve your blackberry mascarpone tart.