Delicious Apple Upside-Down Cake Recipe
I love baking cakes, and this one is one of my absolute favorites! Apple Upside-Down Cake is a delicious, moist and fluffy cake with a sweet and sticky caramelized topping of delicious apples. Every time I make it, my family can't get enough. It's a guaranteed crowd pleaser!
Apple Upside-Down Cake Recipe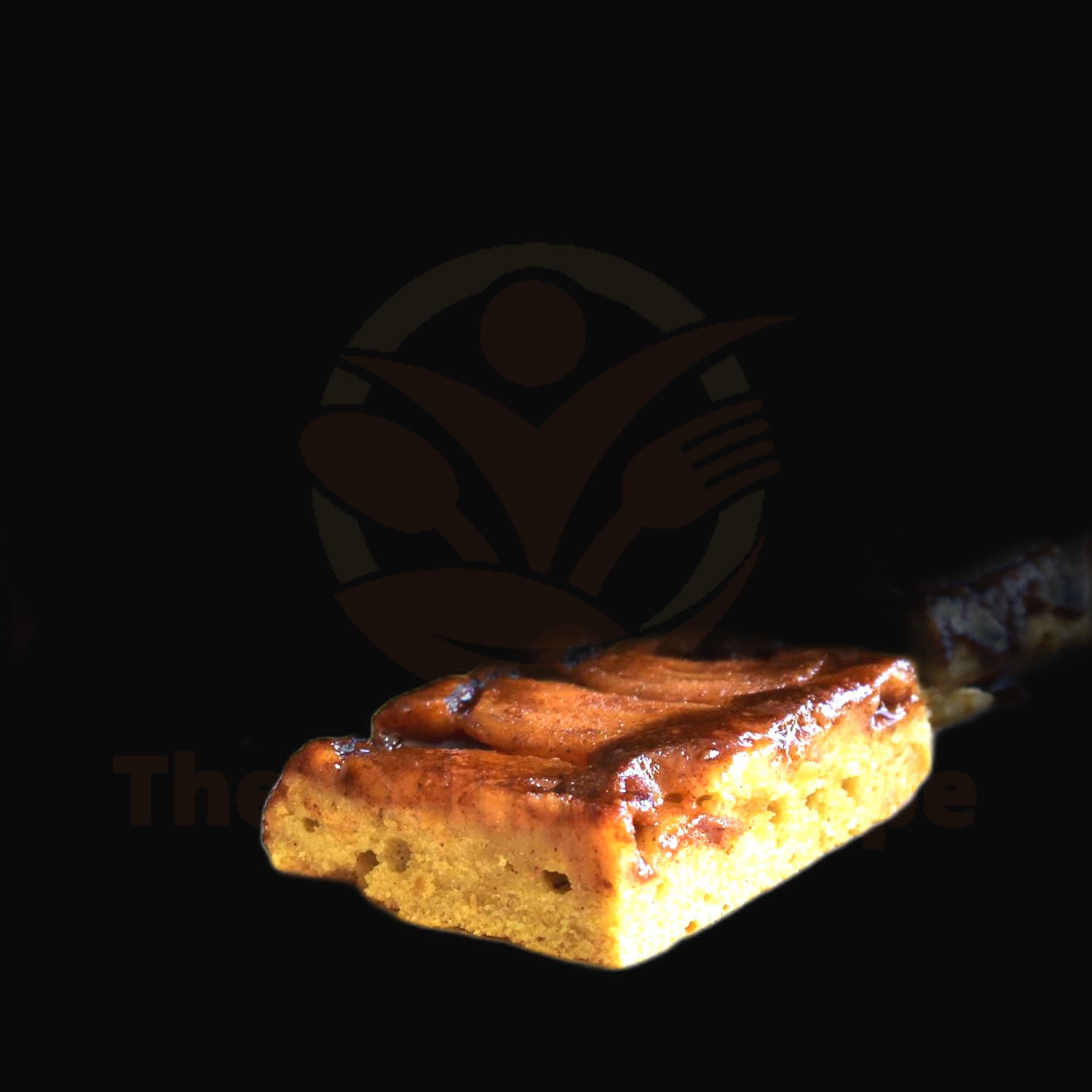 Ingredients
2 apples, peeled, cored, and thinly sliced
1/4 cup butter
1/4 cup packed light brown sugar
1/2 teaspoon ground cinnamon
1/4 teaspoon ground nutmeg
1/3 cup all-purpose flour
1/4 cup granulated sugar
1 teaspoon baking powder
1/4 teaspoon salt
1/3 cup milk
1 large egg
1 teaspoon vanilla extract
Instructions
Preheat your oven to 350°F (175°C) and prepare a 9-inch round cake pan by greasing it with butter or nonstick cooking spray.
In a medium-sized skillet, heat the butter over medium heat. Once it's melted, add in the light brown sugar, cinnamon, and nutmeg. Stir the mixture until it's combined and the brown sugar has dissolved. Remove from the heat.
Arrange the sliced apples in the bottom of the prepared cake pan. Pour the butter-sugar mixture over the apples and spread it out evenly.
In a medium-sized bowl, whisk together the flour, granulated sugar, baking powder, and salt. In a separate bowl, whisk together the milk, egg, and vanilla extract. Add the wet ingredients to the dry ingredients and stir until just combined.
Pour the batter into the cake pan, over the apples. Spread it out evenly.
Bake the cake for 60 minutes, or until a toothpick inserted in the center comes out clean. Allow the cake to cool in the pan for 15 minutes before flipping it out onto a plate.
Enjoy your delicious Apple Upside-Down Cake!
Nutrition Facts
Calories: 600
Total Fat: 25g
Cholesterol: 95mg
Sodium: 470mg
Total Carbohydrate: 87g
Protein: 8g
What makes this apple upside-down cake so special?
What makes this Apple Upside-Down Cake so special? Well, it's the combination of sweet, fragrant apples paired with a caramel-y, buttery topping that really takes this cake over the top. But, beyond that, it's the way the apples are arranged and cooked that really makes this cake stand out.
The apples are cut and arranged in a decorative pattern, then topped with butter and brown sugar. This creates a caramel-y glaze that helps to bring out the natural sweetness of the apples. The apples are then cooked until tender and the syrup is slightly reduced, which helps to bring out even more flavor.
The cake itself is light and fluffy, made with butter, sugar, and eggs, and flavored with a hint of cinnamon and nutmeg. The combination of the caramel-y topping, fragrant apples, and spiced cake is simply divine.
This Apple Upside-Down Cake is sure to be a big hit with your family, friends, and guests. The combination of flavors and textures is truly unique, and the presentation is stunning.
How can you make it look extra festive and inviting?
You can make your apple upside-down cake look extra festive and inviting by getting creative with your presentation. Consider topping off your cake with some extra goodies such as chopped apples, pecans, or caramel sauce. Then, drizzle the top with icing or sprinkle with powdered sugar. If you want to add some color and texture to your masterpiece, try adding some mini marshmallows or gummy bears around the edges. You can also try decorating the top with some fun shapes like leaves, stars, or hearts. Finally, don't forget to add a festive banner or a cake topper to complete the look.
What type of apples work best for this recipe?
If you're looking to make a delicious Apple Upside-Down Cake, there's no better apples for the job than a sweet and juicy variety like Honeycrisp or Braeburn. Both of these apples have a nice balance of sweetness and acidity that will add a great flavor to the cake, plus they hold their shape well when cooked, resulting in perfectly formed slices of apple in your finished dessert.
You can also experiment with other sweet types of apples, such as Gala, Fuji, or Pink Lady. These apples also have a good balance of sweetness and acidity and will give your cake a unique flavor. However, it's important to note that these apples tend to be much softer when cooked, so the end result may be a bit mushier than when using Honeycrisp or Braeburn.
No matter which apples you choose, be sure to peel and slice them evenly before arranging them in the pan. This will ensure that all the slices cook evenly, resulting in a beautiful, delicious cake.
What kind of pan should you use to make the perfect apple upside-down cake?
The perfect pan to make an apple upside-down cake is a cast iron skillet. Not only does the skillet provide even heat to the cake, but it also helps create a golden crust on the bottom and sides of the cake.
The cake itself is incredibly simple to make, and the skillet is the one piece of equipment that will take your recipe from good to great. In addition to providing the perfect crispness and golden color, the skillet won't stick, which means a perfectly intact cake that slides right out.
Not only is a cast iron skillet the best choice for baking an apple upside-down cake, but it's also incredibly versatile. You can use the same skillet to make pancakes, omelets, seared steaks, and many other recipes. Plus, cast iron skillets are incredibly durable, so you won't have to worry about replacing your pan anytime soon.
When it comes to making the perfect apple upside-down cake, a cast iron skillet is the way to go. Not only will it make your cake look and taste great, but it will also provide you with a durable and versatile kitchen tool that you can use for many other recipes.
What are the best ways to ensure the cake is moist and delicious?
The best way to ensure your Apple Upside-Down Cake is moist and delicious is to use good quality ingredients, prepare your baking pan properly, and bake the cake until it's fully cooked.
To get the most out of your apples, choose ones that are ripe and juicy. For the best taste and texture, try to use sweet, firm apples like Honeycrisp, Granny Smith, or Braeburn. Cut the apples into thin slices so that they bake evenly and don't become mushy.
Before adding the batter to the pan, make sure you grease it well with butter or margarine. This will help ensure that the cake doesn't stick or burn.
When it comes to baking, it's important to keep an eye on the cake to make sure it's cooked through. Check the cake with a toothpick or knife to make sure that it comes out clean. If it comes out with wet batter still on it, it means the cake needs to bake a little longer.
By using high-quality ingredients, preparing the pan properly, and baking the cake until it's fully cooked, you'll be sure to get a delicious and moist Apple Upside-Down Cake every time.
What toppings can you add to make this dessert even more decadent?
You can make your apple upside-down cake even more decadent with a few extra toppings! Try adding a layer of caramel sauce for an extra sweet and decadent touch. Or if you're looking for something a little more indulgent, top your cake with a scoop of your favorite ice cream. Another easy way to make this dessert even more delicious is to sprinkle some chopped nuts on top. If you want to go all out, you can even add a layer of chocolate for a touch of richness.
What techniques can you use to make the cake easier and quicker to prepare?
Making an apple upside-down cake is easier and quicker than you think! With just a few simple techniques, you can have a delicious dessert ready in no time.
The first step is to choose the right type of apples for your cake. Granny Smith apples are the most popular choice as they are tart and hold their shape well when cooked. For a sweeter cake, try using Honeycrisp apples.
To cut down on the time spent preparing the apples, pre-slice them into thin wedges before you begin. This will make it easier to arrange them in the cake tin.
Next, use store-bought cake mix instead of making the batter from scratch. This way, all you have to do is add a few ingredients to the mix and it's ready to go.
Finally, bake the cake in a preheated oven for about 25 minutes. To make sure it's cooked through, use a toothpick to check the center of the cake.