Healthy Apple-Oatmeal Muffins – A Deliciously Simple Recipe
I've been making these Apple-Oatmeal Muffins for years, and they never disappoint! There's something special about the combination of sweet apples and hearty oats that makes these muffins so special. Plus, they're a great way to use up any apples you may have lying around. This recipe is simple, easy, and always a hit with family and friends. So, let's get baking!
Apple-Oatmeal Muffins Recipe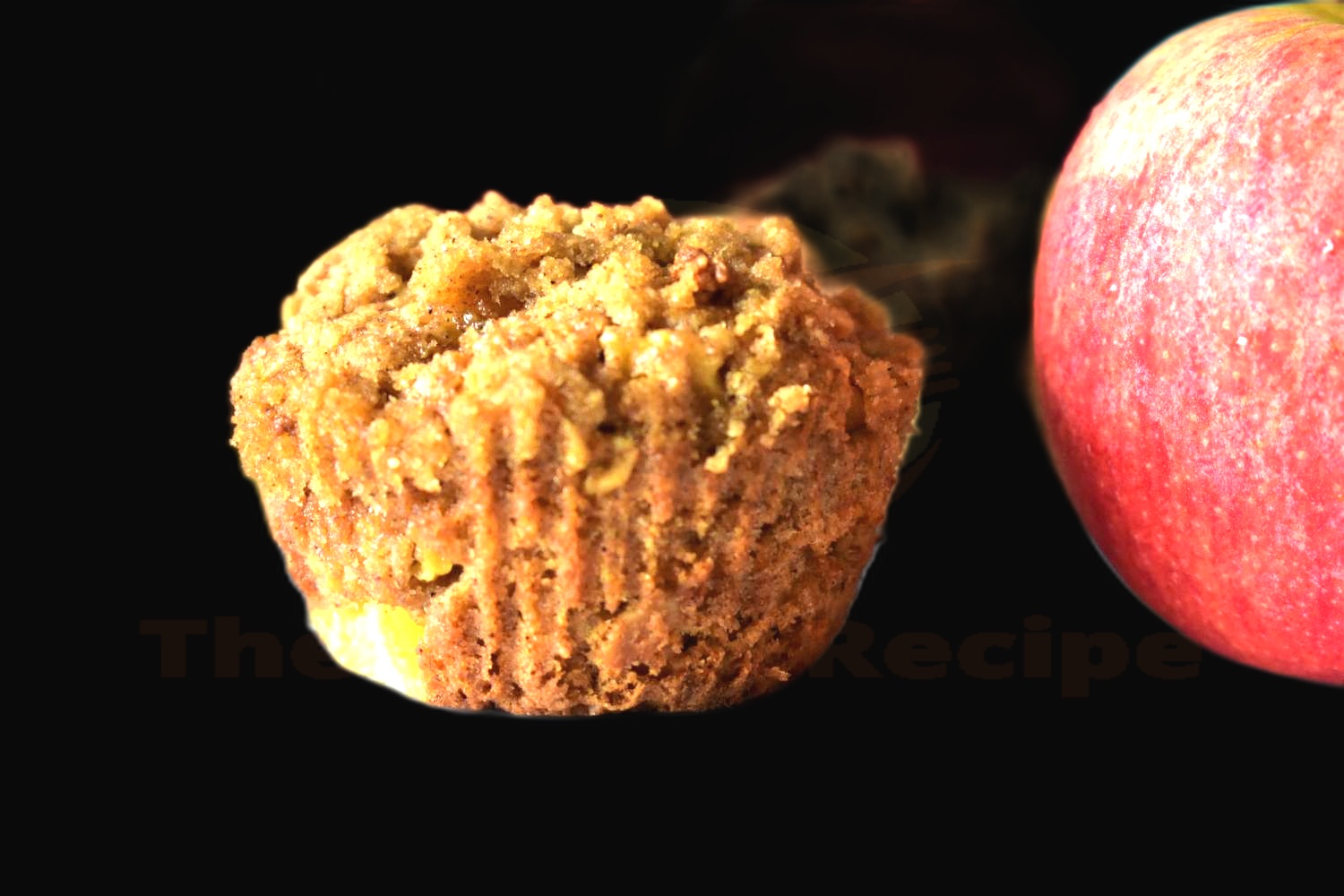 Ingredients
2 cups all-purpose flour
2 teaspoons baking powder
1 teaspoon baking soda
1/2 teaspoon salt
1/2 teaspoon ground cinnamon
3/4 cup packed light brown sugar
1/2 cup vegetable oil
2 eggs
1 cup applesauce
1/2 cup rolled oats
1/2 cup chopped walnuts
1/2 cup raisins
Instructions
Preheat your oven to 375°F.
In a medium bowl, whisk together the all-purpose flour, baking powder, baking soda, salt, and ground cinnamon.
In a large bowl, mix the light brown sugar and oil together.
Add the eggs, one at a time, mixing well after each addition.
Stir in the applesauce until everything is thoroughly combined.
Gradually stir in the flour mixture until everything is blended together.
Add the rolled oats, chopped walnuts, and raisins, stirring until everything is evenly distributed.
Grease a 12-cup muffin tin and divide the batter among the cups.
Bake the muffins in the preheated oven for 18-20 minutes, or until a toothpick inserted in the center of a muffin comes out clean.
Allow the muffins to cool in the tin for about 5 minutes before transferring them to a wire rack to cool completely.
Enjoy your delicious Apple-Oatmeal Muffins!
Nutrition Facts
Calories: 527
Total Fat: 18.9 g
Saturated Fat: 2.6 g
Cholesterol: 49.6 mg
Sodium: 375.6 mg
Total Carbohydrate: 78.3 g
Dietary Fiber: 3.6 g
Sugars: 37.2 g
Protein: 10.2 g
What are some variations to the traditional apple-oatmeal muffin recipe?
When it comes to apple-oatmeal muffins, the possibilities are truly endless! Whether you love incorporating seasonal ingredients or like to switch things up for a unique twist, there are plenty of variations to the traditional apple-oatmeal muffin recipe that you can try. Here are a few suggestions that are sure to satisfy your taste buds:
For a more indulgent flavor, try adding a layer of sweet and creamy caramel between the muffin batter and the apples. This will give your muffins an extra layer of richness and decadence.
If you're looking for a lighter option, try using yogurt instead of butter or oil. This will provide a boost of protein and can help keep your muffins both moist and fluffy.
For a sweeter option, add a layer of streusel topping on top of your muffins. This will add a nice crunch and a sweet flavor.
If you're a fan of spice, try adding a pinch of cinnamon or nutmeg to the batter. This will give your muffins a warm and comforting flavor.
If you're feeling adventurous, you can even try using oats as the base for your muffins. Simply grind the oats into a flour-like consistency and use it as a replacement for all-purpose flour.
No matter which variation you choose, you're sure to have a delicious, unique apple-oatmeal muffin that your family and friends will love.
What are the nutritional benefits of eating apple-oatmeal muffins?
Eating apple-oatmeal muffins provides a range of nutritional benefits!
Here are some of the key reasons why apple-oatmeal muffins are a great snack:
They are high in fiber and a great source of complex carbohydrates. Both of these components help to keep your appetite under control and provide you with long-term energy.
They are filled with vitamins and minerals, including vitamin A, C, E, B6, and potassium. These vitamins and minerals are essential for your body's daily needs.
They are packed with antioxidants, which can help fight against free radicals, reducing your risk of developing certain diseases.
They are low in fat and calories, making them a great snack for people who are trying to lose weight.
The oats in apple-oatmeal muffins are high in protein, which helps to keep you feeling full for longer periods of time.
The combination of apples and oats in these muffins provides a delicious taste and a great source of nutrients.
What are the best ingredients to use when making apple-oatmeal muffins?
When it comes to making apple-oatmeal muffins, the best ingredients are apples, oats, butter, brown sugar, baking powder, baking soda, salt, and cinnamon. Apples provide a sweet and tart flavor, while oats give the muffins a hearty and chewy texture. Butter and brown sugar add sweetness and moisture, and baking powder, baking soda, and salt help the muffins rise. Finally, a dash of cinnamon brings a warm and spicy flavor that ties everything together.
What is the ideal baking time and temperature for apple-oatmeal muffins?
When it comes to baking apple-oatmeal muffins, the ideal baking time and temperature is 350°F (175°C) for 25-30 minutes. This will ensure that the muffins are cooked through and have a golden brown top.
To make sure your muffins are perfectly cooked, you can test them by inserting a toothpick into the center. If the toothpick comes out clean, your muffins are done. If not, you can continue baking for a few more minutes until the toothpick comes out clean.
It is important to preheat your oven to the correct temperature and to make sure your oven is at the correct temperature before putting in the muffins. You can also place the baking sheet on the middle oven rack to ensure even cooking.
When baking apple-oatmeal muffins, you should also use the correct ingredients, such as all-purpose flour, baking powder, baking soda, salt, butter, eggs, brown sugar, apples, and rolled oats. Make sure to measure the ingredients correctly and combine them properly.
By following these tips, you can make the perfect apple-oatmeal muffins every time.
What are some creative topping ideas to add to apple-oatmeal muffins?
There are plenty of creative topping ideas to add to your delicious apple-oatmeal muffins. Whether you're after something sweet or savory, you can really get creative here and make your muffins stand out. From classic options like cinnamon sugar to more adventurous ideas like peanut butter and jelly, there are so many ways to top your muffins and make them more delicious. Here are some of our favorite topping ideas for apple-oatmeal muffins:
Cinnamon Sugar – This classic topping is so easy to make and adds a delicious flavor to your muffins. Simply combine equal parts of ground cinnamon and granulated sugar, and sprinkle it generously over your muffins.
Peanut Butter and Jelly – Why not try something a little different and top your muffins with a classic sandwich combo? Spread a thin layer of peanut butter on each muffin, then top it with a dollop of your favorite jelly.
Chocolate Chips – Add a little sweetness to your muffins with chocolate chips. Sprinkle them over the top of the muffins, or mix them into the batter before baking.
Walnuts – For a crunchy topping, try adding some chopped walnuts. Toast them first for extra flavor, then sprinkle them over the muffins.
Coconut – If you're after a tropical twist, try topping your muffins with some shredded coconut. Toast the coconut first for an even better flavor.