Wholesome Chicken Pie Recipe | Easy Homemade Recipe
I've been making this Whole Chicken Pie recipe for years now and it's become a favorite in my family. It's a classic dish that never fails to bring a smile to everyone's faces! The combination of the savory chicken filling and buttery, flaky pastry crust is irresistible. It's hearty, comforting, and delicious. Plus, it's a great way to use up any leftover cooked chicken you might have. Give it a try and enjoy!
Whole Chicken Pie Recipe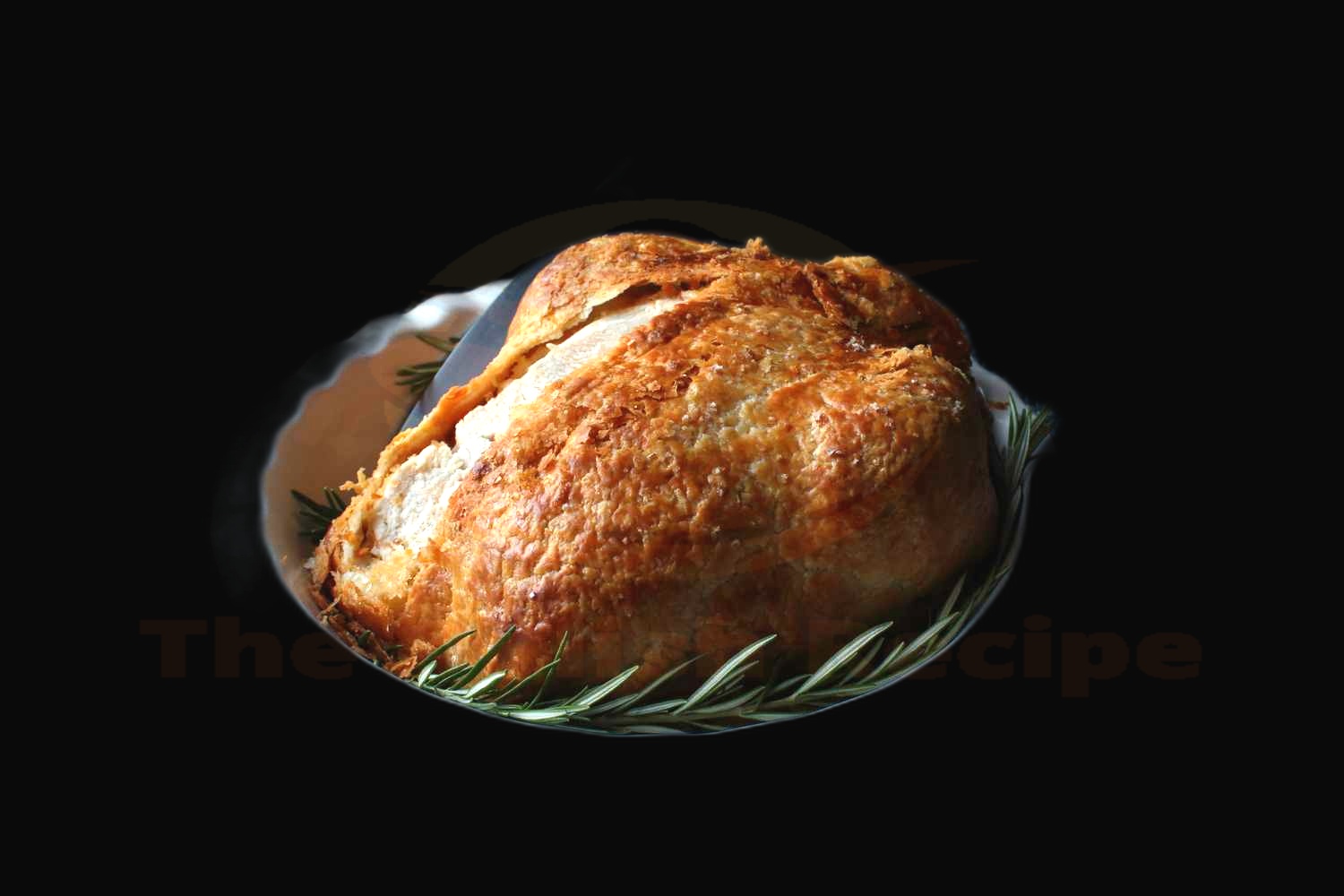 Ingredients
1 (3-4 lb) whole chicken
1 teaspoon kosher salt
1/2 teaspoon ground black pepper
1 teaspoon paprika
1 teaspoon garlic powder
2 tablespoons olive oil
1 large onion, chopped
2 cloves garlic, minced
1 (14.5 oz) can diced tomatoes
1 tablespoon Worcestershire sauce
1/2 cup chicken broth
1/2 teaspoon dried thyme
1/2 teaspoon dried oregano
1/3 cup all-purpose flour
1/3 cup butter
2 cups frozen mixed vegetables
1 (9 inch) unbaked pie crust
Instructions
Let's make a delicious Whole Chicken Pie!
Preheat oven to 375°F.
In a large bowl, combine the salt, pepper, paprika, and garlic powder and mix until spices are evenly distributed.
Rub the chicken with the spice mixture and then coat with olive oil.
Place chicken in an oven-safe baking dish.
Bake the chicken for 30 minutes.
Remove chicken from oven and let cool for about 15 minutes before shredding.
Meanwhile, in a large skillet, heat the olive oil over medium-high heat.
Add the onion and garlic and saute for about 5 minutes, or until onion is softened.
Add the diced tomatoes, Worcestershire sauce, chicken broth, thyme, and oregano, and simmer for about 10 minutes, stirring occasionally.
In a small bowl, combine the flour and butter and mix until they are thoroughly combined.
Add the butter-flour mixture to the skillet and stir until thickened.
Add the cooked, shredded chicken and mixed vegetables to the skillet and mix until everything is evenly combined.
Place the pie crust in a 9 inch pie dish and spoon the chicken and vegetable mixture into the crust.
Bake in the preheated oven for 30 minutes, or until the crust is golden and the filling is bubbling.
Let cool for 5 minutes before serving. Enjoy!
Nutrition Facts
Calories: 420
Total Fat: 14.9g
Saturated Fat: 5.2g
Cholesterol: 102mg
Sodium: 624mg
Total Carbohydrate: 28.7g
Dietary Fiber: 4.1g
Sugars: 4.6g
Protein: 34.5g
What kind of chicken is best for a whole chicken pie?
If you're looking for the perfect chicken for your whole chicken pie, then you'll want to go for a roasting chicken! Roasting chickens have a good fat content that gives the pie that delicious flavor and texture. Plus, they have a good size that's perfect for slicing and layering. Not too big, not too small – just right!
When choosing a roasting chicken, look for a bird that's plump and juicy, with no signs of bruising or discoloration. It should also have a nice yellow hue to the skin, which indicates that it's been well-fed and will have good flavor. Also, try to pick one that's not too big – a bird that's over 6 pounds will be too big for a single pie.
When it comes to your whole chicken pie, you'll be glad you chose a roasting chicken. You'll get the perfect combination of flavor and texture, as well as a bird that's the perfect size for your pie.
What are the benefits of making a whole chicken pie?
Making a whole chicken pie is a great way to make a delicious meal for your family or friends. There are many benefits to making this dish, including:
Comfort: Nothing satisfies quite like a warm and comforting chicken pie. The flaky crust and creamy filling make it a truly special dish that's sure to please.
Versatility: Chicken pie is a great base for a variety of different toppings. Try adding some vegetables or herbs to give it a unique flavor.
Cost-Effective: A whole chicken pie is a great way to stretch your budget. The ingredients are usually inexpensive and can be used to make multiple meals.
Nutritious: The ingredients in a chicken pie are packed with vitamins and minerals. Eating a meal made with wholesome ingredients is a great way to ensure you're getting the nutrients you need.
Making a whole chicken pie is a great way to enjoy a comforting and delicious meal without breaking the bank. With its versatility and nutritious ingredients, it's the perfect solution for any meal.
What are the different steps involved in making a whole chicken pie?
Making a whole chicken pie is a simple and delicious way to enjoy a comforting meal. You'll need a few ingredients and some time, but the end result will be worth it! Here are the steps you'll need to follow to ensure a delicious pie:
Start by preheating your oven to 375 degrees Fahrenheit.
Grease a 9-inch pie dish with butter or non-stick cooking spray.
Cook two large chicken breasts in a skillet with a little oil over medium-high heat until they are cooked through. Once they are cooked, cut them into cubes and set aside.
In a large mixing bowl, combine 1 cup of cooked chicken, 1 cup of diced vegetables (such as carrots, celery, onion, and/or potatoes), and 1 cup of frozen peas.
In a separate bowl, whisk together 1/2 cup of chicken broth, 1/4 cup of all-purpose flour, 1 teaspoon of garlic powder, 1/2 teaspoon of salt, and 1/4 teaspoon of black pepper.
Pour the whisked mixture into the large bowl with the chicken and vegetables and mix together.
Transfer the mixture to the prepared pie dish.
In a small bowl, mix together 1/2 cup of shredded cheese, 1/2 cup of melted butter, 1 cup of crushed butter crackers, and 1/4 cup of chopped parsley.
Sprinkle the cheese-cracker mixture over the top of the chicken mixture in the pie dish.
0. Bake for 30-35 minutes, or until the top is golden-brown and bubbly.
Allow to cool for 5-10 minutes before serving.
What spices and herbs can be used to enhance the flavor of a whole chicken pie?
You can really bring out the flavor of a whole chicken pie by adding some herbs and spices! To start, you could use a combination of oregano, basil, thyme, rosemary, and sage for a delicious herby flavor. If you're looking for more of a kick, try adding some paprika, cumin, or chili powder. For a sweet and savory combination, go for some nutmeg, cinnamon, or allspice. A pinch of garlic powder and onion powder will also give your pie a great boost of flavor. Whatever combination you choose, it's sure to make your chicken pie even more delicious! So get creative and experiment with different herbs and spices to make your pie the tastiest it can be.
What type of crust should be used for a whole chicken pie?
When it comes to making the perfect whole chicken pie, the crust is key! To get the best possible results, you'll want to use a shortcrust pastry for the crust. This type of pastry is light and crispy, and it's the perfect base for your meal.
Shortcrust pastry is made from just three simple ingredients: flour, butter, and salt. It's easy to make from scratch and you can also purchase pre-made shortcrust pastry from most supermarkets and specialty stores. Once you have your shortcrust pastry, you'll be ready to get started on your whole chicken pie.
To make sure your crust is perfectly cooked, it's important to pre-bake the pastry before adding the filling. This will ensure that your pie has a nice, golden-brown crust and a crisp texture. To pre-bake the pastry, simply line the bottom and sides of your pie dish with the pastry and then bake it in a hot oven for around 15 minutes or until it's golden and crisp. Then, you can add your filling and bake the pie until the filling is cooked through and the crust has a beautiful golden colour.
Using shortcrust pastry for your whole chicken pie is the best way to get a crisp, golden crust that's full of flavour. With this simple tip, you're sure to get the best results every time.
How long should a whole chicken pie be cooked for?
Cooking a whole chicken pie just right is key to getting a delicious and juicy dish! To ensure the perfect result, you should cook your pie for at least an hour and a half. This will give you a juicy, golden-brown top and a moist, succulent filling. It's important to keep an eye on your pie as it cooks and make sure it doesn't burn. If you find it's getting too dark, cover it with some foil and that should do the trick.
If your filling looks cooked after an hour and a half but your pie isn't golden-brown yet, you can turn up the heat a little. This will help to give it the perfect finish. However, make sure you keep an eye on it as you don't want it to burn!
To test if your pie is cooked, insert a knife into the middle of it. If the knife comes out hot, then your pie is ready to go.
For a delicious and juicy whole chicken pie, make sure to cook it for at least an hour and a half. With a little bit of patience and attention, you'll be rewarded with a delicious, succulent dish.
What are some creative ideas to serve a whole chicken pie?
Serving a whole chicken pie is a great way to enjoy a delicious meal with friends and family. There are plenty of delicious and creative ideas on how to serve a whole chicken pie that will be sure to please everyone! Here are some ideas to get you started:
Serve it with a side of creamy mashed potatoes: Mashed potatoes are a classic pairing with chicken pie. Add a dollop of butter and some herbs to the mashed potatoes before serving to give it an extra boost of flavor.
Top it with a rich and creamy gravy: A creamy gravy is a great way to enhance the flavor of a whole chicken pie. Make your own gravy from the juices and drippings from the pie or use a store-bought gravy mix.
Serve it with a side of roasted vegetables: Roasted vegetables make a great accompaniment to a whole chicken pie. Try roasting some carrots, onions, and garlic and adding them to the plate for extra flavor and nutrition.
Top it with melted cheese: A cheesy topping on your whole chicken pie will take it to the next level. Try topping it with some grated cheddar or Parmesan cheese before baking to give it a delicious cheesy flavor.
Add a crunchy topping: A crunchy topping such as crushed potato chips or bread crumbs will give your whole chicken pie a nice crunchy texture. Try adding some herbs to the crunchy topping for extra flavor.
These are just a few ideas on how to serve a whole chicken pie that will be sure to please everyone.