Fresh & Fruity Watermelon Granita!
I'm so excited to share my favorite summer treat with you – Watermelon Granita! It's the perfect way to cool off in the hot summer days. This delicious frozen treat is made with just four simple ingredients, and it's so easy to make that you'll be enjoying it in no time. Trust me, it's a guaranteed crowd-pleaser at any summer gathering!
Watermelon Granita Recipe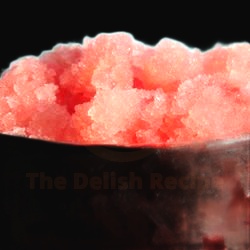 Ingredients
4 cups cubed seedless watermelon
1/4 cup sugar
1/4 cup freshly squeezed lime juice
2 tablespoons cold water
Pinch of salt
Instructions
Start by gathering all the ingredients you'll need for your Watermelon Granita. You'll need 4 cups cubed seedless watermelon, 1/4 cup sugar, 1/4 cup freshly squeezed lime juice, 2 tablespoons cold water and a pinch of salt.
Place the watermelon cubes into a blender and puree until smooth.
Add the sugar, lime juice, cold water and salt to the blender and blend until combined.
Pour the mixture into a 9×13 inch baking dish and spread it evenly.
Place the baking dish in the freezer and freeze for about 10 minutes, or until the mixture is frozen and slushy.
Using a fork, scrape the granita until it's flaky.
Serve the granita in a glass and enjoy!
Nutrition Facts
Calories: 75
Total Fat: 0g
Cholesterol: 0mg
Sodium: 27mg
Potassium: 112mg
Total Carbohydrate: 18g
Dietary Fiber: 1g
Sugars: 15g
Protein: 1g
What is watermelon granita?
Watermelon Granita is an amazingly refreshing summer dessert! It's a frozen dessert made with pureed watermelon and a few other simple ingredients. The watermelon is blended with sugar, lime juice, and a pinch of salt to create a sweet and tart slushy treat. The mixture is then frozen until it is almost solid and scraped into a fluffy granita.
What are the benefits of watermelon granita?
Refreshingly Delicious: Watermelon granita is the perfect combination of sweet and slightly tart flavors, making it a delicious and refreshing treat.
Hydrating: Watermelon is a great source of hydration, and this granita is no exception. Enjoy a glassful and you'll be feeling refreshed and energized in no time.
Low-Calorie: Watermelon granita is low in calories, making it a great choice for those looking to watch their calorie intake.
Versatile: Watermelon granita is incredibly versatile and can be enjoyed in a variety of ways – blended up into a smoothie, served as a refreshing drink, or enjoyed as a cool dessert.
Nutritious: Watermelon granita is packed with vitamins and minerals, making it a great way to get your daily dose of essential nutrients.
What are some tips for making watermelon granita?
Start by prepping your watermelon – cut it into cubes and blend it with a bit of sugar, lime juice, and mint. This will give your granita a refreshingly sweet and tangy flavor.
Once you've blended your watermelon, pour it into a metal pan and place it in the freezer. Check on it every hour or so and give it a stir to keep it from becoming a solid block of ice.
After a few hours, your granita should be ready. Scrape it with a fork and serve it in individual glasses with a sprig of mint for a finishing touch.
If you're looking for something a bit more indulgent, try adding chunks of dark chocolate or a drizzle of maple syrup for an extra flavor boost.
Don't forget to experiment with different flavors – try adding a splash of coconut milk or a pinch of chili powder for an unexpected twist.
If you're making a large batch, pour the granita into ice cube trays and freeze it overnight. This will make it easier to store and serve the granita later on.
How can watermelon granita be served?
Watermelon Granita is a delicious, icy treat that can be enjoyed all year round. You can serve it in a number of ways, making it the perfect accompaniment to any meal or snack. Here are a few of our favorite ways to enjoy this delicious dessert:
• As a topping to your favorite cake or ice cream sundae – a sprinkle of Watermelon Granita adds a sweet and refreshing note to any dessert.
• As an afternoon snack – serve Watermelon Granita in small cups as an energizing and flavorful snack.
• As a dessert – enjoy Watermelon Granita on its own or topped with a dollop of whipped cream and fresh berries.
• As a drink – blend Watermelon Granita with a bit of sparkling water or club soda to create a refreshing and flavorful cocktail.
No matter how you serve it, Watermelon Granita is sure to be a hit! So, the next time you're looking for a delicious and unique treat, give Watermelon Granita a try.
What flavors pair well with watermelon granita?
If you're looking to add a burst of flavor to your watermelon granita, there are so many delicious options to choose from! Some of the best flavors to pair with watermelon granita include mint, lime, raspberry, strawberry, and peach. Adding a few drops of lime juice to the mix gives you a tart, citrusy flavor that really complements the sweetness of the watermelon. For a bit of herbal flavor, you can't go wrong with a few sprigs of fresh mint. Or, for a more fruity flavor, try adding some raspberry, strawberry, or peach puree. These flavors will add a tartness and sweetness that will really elevate your granita.
What type of occasions is watermelon granita suitable for?
Watermelon Granita is a refreshingly delicious and easy-to-make summer treat that is perfect for any occasion! Whether you're throwing a pool party or hosting a summer BBQ, this fruity, icy delight is sure to be a hit. It can be served as a sophisticated dessert or a refreshing palate cleanser. It's also a great way to cool down on a hot summer day.
What are some creative recipes for watermelon granita?
If you're looking for creative recipes for watermelon granita, you're in luck! There are plenty of delicious ways to make this refreshing summer treat. From classic recipes to unique takes, here are some of our favorite ideas to get you started.
For a classic watermelon granita, start with four cups of cubed and peeled watermelon. Place the watermelon pieces in a blender and blend until a puree is formed. Strain the puree through a sieve to remove any large pieces. Place the puree in a large shallow dish or pan and place in the freezer for about two hours, or until the mixture is slushy. Use a fork to scrape the frozen granita from the pan and freeze for another two hours. Serve with a sprinkle of sugar and a sprig of mint for a cool and delicious treat.
For a sweeter twist, try adding a few tablespoons of honey to the puree before freezing. Honey will add a hint of sweetness and will also create larger ice crystals when frozen, giving the granita a nice texture. To make a creamy granita, add a tablespoon of non-dairy milk to the puree before freezing. This will create a smooth and creamy granita that almost resembles a sorbet.
For a zesty and fruity granita, try adding a few tablespoons of lime juice and a pinch of ground ginger to the puree before freezing. This will create a unique and delicious flavor that is both refreshing and flavorful. For a unique take, try adding a few tablespoons of coconut milk and a teaspoon of lime zest to the puree before freezing. The coconut milk will add a subtle sweetness and the lime zest will add a bright and zesty flavor to the granita.
No matter which version you choose to make, watermelon granita is always a refreshing and delicious treat. With these creative recipes, you can enjoy a unique and flavorful version of this traditional summer favorite.