Zesty Gluten-Free Lemon-Poppy Seed Muffins
I'm always looking for new recipes to share with my family and friends, and this gluten-free lemon-poppy seed muffin recipe is one of my absolute favorites. Not only are these muffins light and deliciously sweet, but they are also gluten-free, which means that everyone can enjoy them. The combination of lemon and poppy seeds creates a unique flavor that will have your taste buds singing with delight. I can't wait for you to try this recipe out!
Gluten-Free Lemon-Poppy Seed Muffins Recipe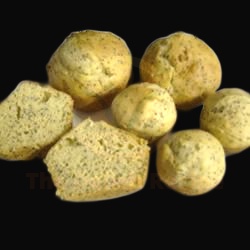 Ingredients
2 cups gluten-free all-purpose flour
2/3 cup coconut sugar
1 teaspoon baking powder
1/2 teaspoon baking soda
1/2 teaspoon salt
2 tablespoons poppy seeds
2 tablespoons freshly grated lemon zest
1/2 cup unsalted butter, softened
1/2 cup plain Greek yogurt
2 large eggs
1/4 cup fresh lemon juice
2 tablespoons honey
1 tablespoon almond extract
Instructions
Preheat your oven to 375°F.
In a medium-sized bowl, whisk together the gluten-free all-purpose flour, coconut sugar, baking powder, baking soda, salt, and poppy seeds.
In a separate bowl, beat the butter until it's light and fluffy.
Add the yogurt, eggs, lemon juice, honey, almond extract, and lemon zest to the butter and mix until combined.
Slowly add the dry ingredients to the wet ingredients and mix until just combined.
Line a 12-cup muffin tin with muffin liners.
Scoop the batter into the muffin tin, filling each cup about 3/4 of the way full.
Bake for 25 minutes, or until a toothpick inserted into the center of the muffin comes out clean.
Let the muffins cool for 15 minutes before enjoying!
Nutrition Facts
Calories: 233
Total Fat: 10.1g
Saturated Fat: 6.2g
Trans Fat: 0.0g
Cholesterol: 54.6mg
Sodium: 411.3mg
Total Carbohydrates: 29.9g
Dietary Fiber: 2.2g
Sugars: 13.3g
Protein: 4.9g
What makes these lemon-poppy seed muffins different?
These gluten-free lemon-poppy seed muffins are unlike any other! Infused with lemon juice and zest for a tart flavor, these muffins are then topped off with a sprinkle of poppy seeds for a unique twist. Not only are these muffins gluten-free, but they also contain no dairy products – making them perfect for those with a gluten or dairy intolerance. But don't worry, these muffins still pack a flavorful punch – from the zesty lemon to the nutty poppy seeds. Plus, they make for a great snack or a quick and easy breakfast on the go. So what makes these lemon-poppy seed muffins different? It's the perfect combination of tart lemon and nutty poppy seeds that will make your taste buds dance.
What ingredients do you need to make gluten-free muffins?
Making gluten-free muffins is easy, and you only need a few simple ingredients! To make a batch of delicious lemon-poppy seed muffins, you'll need gluten-free flour, baking powder, salt, sugar, eggs, butter, milk, lemon juice, lemon zest, and of course, poppy seeds.
For the flour, you can use a pre-made gluten-free flour blend, or you can make your own by combining different gluten-free flours such as almond flour, rice flour, and potato starch. The baking powder, sugar, and salt are the same as you'd use for any other muffin recipe, and the butter and milk can be dairy-based or plant-based, depending on your preference.
The lemon juice and zest give the muffins a delicious citrusy flavor, and the poppy seeds provide a nutty crunch. If you'd like to add a little sweetness, you can also add a few tablespoons of honey or maple syrup.
What are the health benefits of gluten-free baking?
Gluten-free baking is a great way to enjoy delicious treats without compromising your health. It can provide a range of health benefits, including:
Improved Digestion: Gluten-free baking substitutes gluten-containing ingredients with gluten-free alternatives that are easier to digest, reducing symptoms associated with digestive issues like bloating and gas.
Weight Loss: By avoiding foods with gluten, you can reduce your total caloric intake, which can lead to weight loss. Additionally, since gluten-free foods have fewer calories, they can help you feel fuller after eating.
Reduced Risk of Heart Disease: Studies have shown that a gluten-free diet can help reduce the risk of developing heart disease. The high fiber content found in most gluten-free ingredients can help lower cholesterol levels and improve cardiovascular health.
Improved Immunity: Gluten-free baking can help boost your immune system by replacing gluten with other ingredients that are rich in vitamins and minerals. This can help reduce the risk of common illnesses like colds and flu.
By baking gluten-free treats like Gluten-Free Lemon-Poppy Seed Muffins, you can not only enjoy delicious treats, but also gain a range of health benefits.
What tips and tricks can you use to make the perfect gluten-free muffins?
Here are some tips and tricks to help you make the perfect gluten-free muffins:
If you're using a gluten-free flour blend, make sure it contains a combination of flours such as rice, tapioca, and sorghum flours. This combination is important for the texture and structure of the muffins.
To ensure a light and airy crumb, use xanthan gum. This ingredient helps provide the elasticity that gluten would provide in a wheat flour-based recipe.
To make sure the muffins are moist and tender, use a fat such as butter, cream cheese, or sour cream.
Always use fresh, high-quality ingredients. This includes fresh lemon zest and juice, as well as fresh poppy seeds.
Make sure the oven is preheated before you put the muffins in. This will help ensure an even bake.
Be sure to use the proper size muffin tins. A standard-sized muffin tin should be filled two-thirds of the way with batter.
Let the muffins cool in the tin for five to ten minutes before transferring to a cooling rack. This allows them to finish baking in the tin and will help them stay moist.
How can you serve these lemon-poppy seed muffins?
Serving these gluten-free lemon-poppy seed muffins is easy! These delicious muffins make a great addition to any meal or snack, and are bound to be a hit with the whole family.
You can serve these muffins as-is, straight out of the oven. They are sure to be warm and fragrant, with a hint of lemon and a satisfying crunch from the poppy seeds. To make them even more special, you can garnish them with a sprinkle of sugar or a dollop of freshly whipped cream.
These muffins are also great for entertaining. Serve them on a platter with a variety of other goodies, and they will be a crowd favorite. You can also make them mini-muffins and top them with a sugary glaze, creating a unique and delicious treat.
No matter how you choose to serve these gluten-free lemon-poppy seed muffins, they are sure to be a hit! They are simple to make, and are sure to delight everyone who tries them.
Are there any variations to the recipe that you can try?
Yes! To make these gluten-free lemon-poppy seed muffins even more delicious, there are several variations you can try. For a burst of flavor, you can add an extra tablespoon of lemon juice and a teaspoon of lemon zest to the batter. If you're looking for a sweeter option, you can also increase the amount of sugar to ¾ cup. Another alternative is to substitute the almond milk with coconut milk for a nutty and creamy taste. To give your muffins a crunchy topping, sprinkle a mixture of oats, almonds, and sugar on top before baking. Finally, try adding dried cranberries or raisins for a chewy and fruity surprise. With all these variations, you'll be able to create different types of gluten-free lemon-poppy seed muffins each time.