Moroccan-Style Chicken With Butternut Squash Noodle – A Delicious And Healthy Meal
I love the exotic flavors of Moroccan-Style Chicken with Butternut Squash Noodles! The fragrant spices, the juicy chicken, and the perfectly cooked butternut squash noodles make this dish truly a delight to eat. It's one of my go-to recipes when I'm craving something a little different but still comforting. Plus, it's so easy to throw together, especially on busy weeknights! Give this recipe a try and I'm sure you'll love it as much as I do.
Moroccan-Style Chicken with Butternut Squash Noodles Recipe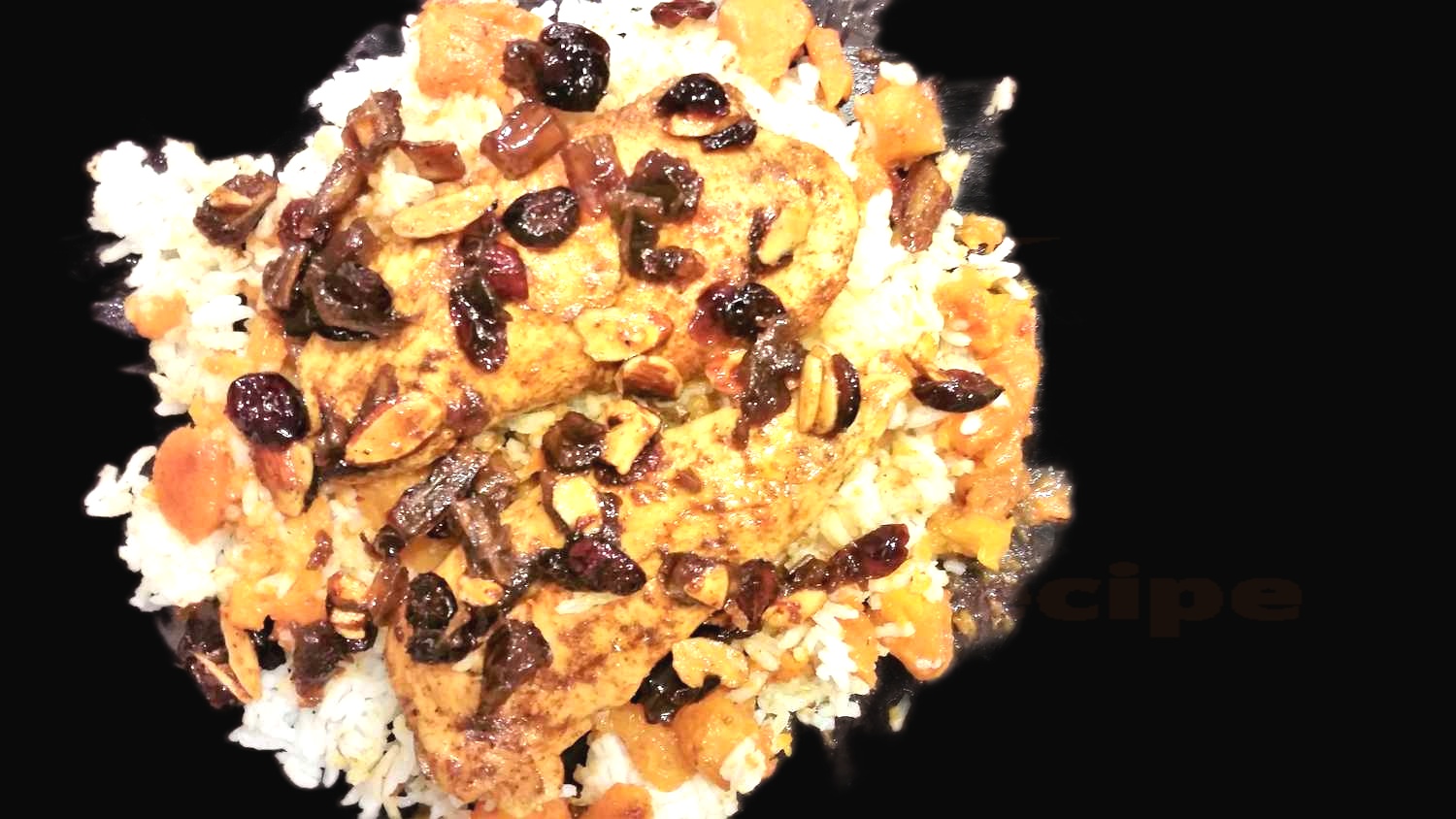 Ingredients
4 (6-ounce) boneless, skinless chicken breasts
2 tablespoons olive oil
2 teaspoons paprika
1 teaspoon ground cumin
1 teaspoon garam masala
1 teaspoon garlic powder
1 teaspoon onion powder
Salt and pepper, to taste
1 large butternut squash, peeled and spiralized into noodles
1/2 teaspoon ground cinnamon
2 tablespoons honey
1/4 cup chopped cilantro leaves
2 tablespoons chopped parsley leaves
Instructions
Step 1: Preheat your oven to 375 degrees F (190 degrees C) and grease a baking dish.
Step 2: Place the chicken breasts into the baking dish.
Step 3: In a small bowl, mix together the olive oil, paprika, cumin, garam masala, garlic powder, onion powder, salt and pepper.
Step 4: Pour the spice mixture over the chicken breasts and rub it in to ensure all sides are evenly coated.
Step 5: Bake the chicken for 30 minutes or until cooked through and golden brown.
Step 6: While the chicken is baking, peel and spiralize the butternut squash into noodles.
Step 7: Heat a large skillet over medium heat and add the butternut squash noodles.
Step 8: Sprinkle the ground cinnamon over the noodles and stir to combine.
Step 9: Cook the noodles for 5-7 minutes or until they are tender.
Step 10: Remove the noodles from the heat and stir in the honey, cilantro, and parsley.
Step 11: Once the chicken is cooked through, remove it from the oven and serve it with the butternut squash noodles.
And there you have it – a delicious Moroccan-Style Chicken with Butternut Squash Noodles that is sure to please. Enjoy!
Nutrition Facts
Calories: 214
Fat: 9.4g
Saturated fat: 1.4g
Carbohydrates: 15.2g
Fiber: 2.6g
Protein: 16.3g
Sodium: 246mg
What inspired you to try out this moroccan-style chicken with butternut squash noodles recipe?
I found my inspiration for this Moroccan-Style Chicken with Butternut Squash Noodles recipe while flipping through one of my favorite cookbooks. The combination of ingredients, like chicken, butternut squash noodles, and traditional Moroccan spices, immediately caught my eye. I love trying new recipes, and this one had all the makings of a delicious and nutritious meal.
Once I had all the ingredients ready, I was eager to get started. I began by sautéing the onions and garlic in a hot skillet, then added the chopped chicken. I stirred in the Moroccan spices, toasted for a few minutes, and then added the diced tomatoes. After simmering for a few minutes, I added the butternut squash noodles and cooked until they were tender.
The result was a flavorful and hearty one-pot meal. I was pleasantly surprised at how quickly and easily the dish came together. The combination of flavors was amazing, and it was a great way to get my family to try something new.
I'm so glad I decided to try this Moroccan-Style Chicken with Butternut Squash Noodles recipe.
What tips do you have for preparing the perfect dish?
Start by gathering all of your ingredients. Make sure you have the right amounts and quality of ingredients to create the perfect dish.
Pre-heat the oven and prepare the ingredients for cooking. You can chop and dice the vegetables, mix the spices, and marinate the chicken.
Put the ingredients together in an oven-safe dish. Layer the veggies, chicken and spices to get the perfect blend of flavors.
Bake for about 45 minutes and serve hot.
Garnish with some fresh herbs and a squeeze of lemon juice for some extra flavor.
What unique flavors come together in this dish?
This Moroccan-Style Chicken with Butternut Squash Noodles is an explosion of flavors! The chicken is marinated in a blend of aromatic spices like cumin, coriander, ginger, garlic and turmeric, creating a flavor that is both savory and spicy. The butternut squash noodles add a sweet yet earthy note to the dish, and the combination of the two is truly magical. To top it off, the dish is finished with a sprinkle of fresh herbs, like parsley and mint, that add a fragrant, herbal flavor to the mix. All in all, this dish is a truly unique culinary experience that is sure to tantalize your taste buds.
What ingredients do you need to make this dish?
If you're looking to try something new and exciting for dinner, this Moroccan-Style Chicken with Butternut Squash Noodles is the perfect choice! This delicious dish is packed full of flavor, and it's surprisingly easy to make. All you need is a few simple ingredients to get started:
boneless, skinless chicken breasts
tablespoons olive oil
cloves garlic, minced
teaspoons ground cumin
teaspoon ground ginger
teaspoon turmeric
teaspoon paprika
/2 teaspoon salt
/4 teaspoon ground pepper
cups butternut squash, spiralized
red onion, diced
/4 cup pitted kalamata olives, halved
/4 cup fresh parsley, chopped
This dish is sure to become a favorite. With just a few ingredients, you can have a delicious, flavorful meal on the table in no time! Plus, the butternut squash noodles make it super healthy and satisfying.
What side dishes would you recommend to pair with this moroccan-style chicken?
If you're looking to get your fill of flavor with Moroccan-style chicken and butternut squash noodles, you can't go wrong with these delicious side dishes! To start, a nice couscous salad with feta, olives, and tomato is a great choice. Not only is it packed with flavor, but it's also light and refreshing and will help balance the heavier flavors of the main dish. Another great option is roasted broccoli with garlic and lemon. This dish is really simple to make but it's full of flavor and adds a nice crunchy texture to the meal. Finally, if you're looking for a heartier side, why not try a quinoa pilaf with dried apricots, almonds, and a touch of cinnamon? This flavorful dish will provide some sweetness and nuttiness that is sure to complement the hearty flavors of the Moroccan-style chicken and butternut squash noodles.
How would you describe the overall taste of this dish?
You simply cannot go wrong with this tantalizing Moroccan-Style Chicken with Butternut Squash Noodles dish! With a combination of lemon juice, garlic, and cumin, it's bursting with delicious flavors that will tantalize your taste buds in every bite. The butternut squash noodles provide that extra bit of sweetness that brings together all the flavors. The result? A mouth-watering combination that is simply extraordinary. All the ingredients blend together to create a wonderful aroma that will have everyone at the table wanting more. Its overall taste is exquisite and unforgettable.
What makes this dish a great choice for a weeknight dinner?
If you're looking for a flavorful, filling, and easy weeknight dinner, Moroccan-Style Chicken with Butternut Squash Noodles is a great choice! With a few simple ingredients, you can whip up a delicious meal that's sure to please everyone.
The backbone of this dish is the combination of tender chicken and roasted butternut squash noodles. The chicken is cooked with warm spices like cumin, ginger, and paprika, resulting in a flavorful main course. Roasting the squash noodles enhances their sweetness and gives them a perfect al dente texture.
Adding a few vegetables to the dish makes it even more satisfying. You can use whatever vegetables you have on hand, but this recipe recommends bell peppers, onion, and garlic. These add great flavor and make the dish more colorful.
This meal is also incredibly easy to make. You can prep the vegetables and spices in advance to save time. Once you have everything ready, you can throw it all in the oven and let it cook until the chicken is cooked through. You'll have dinner on the table in about 45 minutes!
Moroccan-Style Chicken with Butternut Squash Noodles is a great weeknight dinner because it's flavorful, filling, and easy to make.