The Best Rolled Sugar Cookies
Rolled sugar cookies are a classic cookie that can be enjoyed any time of year. This recipe yields tender, flavorful cookies that will melt in your mouth. The dough is easy to work with and can be rolled out thinly for a delicate cookie, or thicker for a more substantial treat. Decorate these cookies with your favorite frosting or simply dust them with powdered sugar; either way, they are sure to be a hit!
Ingredients
1 1/2 cups butter, softened
2 cups sugar
4 eggs
1 teaspoon vanilla extract
5 cups all-purpose flour
2 teaspoons baking powder
1 teaspoon salt
Instructions
1. Preheat oven to 400 degrees F (200 degrees C).
2. Cream together butter and sugar in a large bowl with an electric mixer until smooth.
3. Beat in eggs and vanilla. Stir in flour, baking powder, and salt. Cover, and chill dough for at least 1 hour (or overnight).
4. Lightly dust a work surface with flour. Roll out dough to 1/4 to 1/2 inch thickness. Cut into shapes with any cookie cutter. Place cookies 1 inch apart on ungreased baking sheets 5 Bake in the preheated oven until cookies are lightly browned, 6 to 8 minutes 6 Carefully transfer cookies to a wire rack and cool completely before decorating
Nutrition Facts
Serving size: 1 cookie
Calories: 120
Fat: 7g
Saturated fat: 2.5g
Unsaturated fat: 3.5g
Trans fat: 0g
Carbohydrates: 15g
Sugar: 8g
Fiber: 0g
Protein: 1.5 g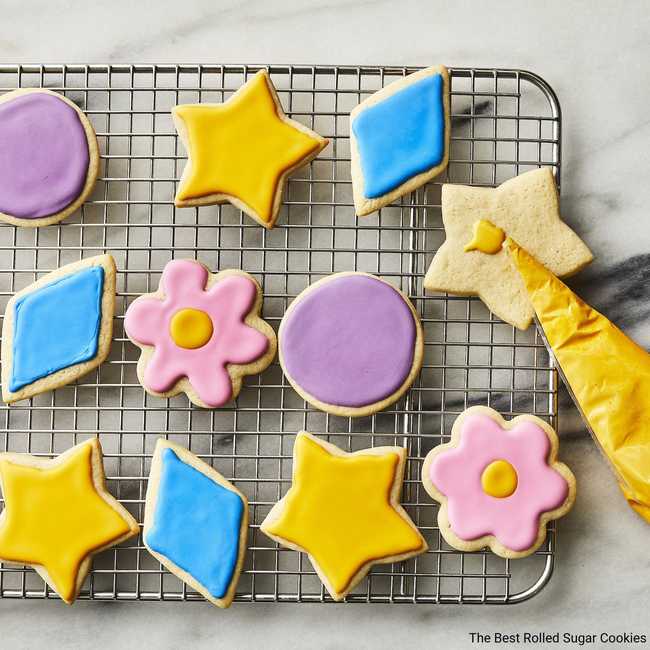 What thickness is best for rolling sugar cookies?
There are a few things to consider when rolled sugar cookies: how thick you roll the dough, how much flour you use, and how long you bake the cookies. Each of these factors affects the cookie's final texture.
Rolling the dough too thin will result in crispier cookies, while rolling it too thick will make them more cake-like. The perfect thickness for sugar cookies is somewhere in between 1/4 and 1/8 inch thick. This allows the cookies to retain some of their softness while still getting nicely browned in the oven.
Using too much flour when rolling out the dough can also make for crispier cookies. So if you find your dough is a bit on the sticky side, don't be afraid to dust your work surface with additional flour until it's no longer sticking. Just be sure to brush off any excess before baking.
Finally, baking time also plays a role in how soft or crispy your sugar cookies turn out.
What is the best thickness when rolling dough to cut sugar cookies ¼ or ½?
The best thickness when rolling dough to cut sugar cookies is ¼ to ½ inch. This will ensure that the cookies are evenly cut and have a consistent thickness. Dip the sharp edge of your cookie cutter into flour and cut out shapes.
What kind of rolling pin is best for sugar cookies?
There are a few things to consider when choosing the best rolling pin for sugar cookies. First, you'll want to decide whether you want a wooden or metal pin. Wooden pins are typically more durable and easier to clean, but they can also be heavier than metal pins. Metal pins may be lighter and easier to maneuver, but they can also dent or scratch more easily.
Next, you'll want to think about the size of the rolling pin. Some rolling pins are adjustable, so you can choose the thickness of your dough. Others are fixed-size, so you'll need to select one that is the right size for your cookie cutters.
Finally, consider the weight of the rolling pin. Heavier pins may be easier to use because they provide more pressure on the dough, making it thinner and less likely to stick together. However, lighter pins may be easier to control and less likely to break delicate cookies.
The best rolling pin for sugar cookies is ultimately a matter of personal preference. But with these four factors in mind, we recommend checking out the Joseph and Joseph adjustable rolling pin. It's easy to adjust, cleans up well thanks to its wooden construction, and has just the right weight for easy maneuvering without being too light or too heavy.
How do you make sugar cookies keep their shape?
One major trick to making sugar cookies that hold their shape is to roll out the dough, cut out your cookie shapes, and then put them on a lined baking sheet and only then PUT THEM IN THE FREEZER for 10 minutes, before straight into the oven. No cooling and then rolling. You roll, cut, and then cool!
Another tip is to make sure your dough is well-chilled before you start working with it. This will help prevent it from spreading too much when you bake it. If your dough is too soft, you can add a little more flour to it until it's the right consistency. And be careful not to overbake your cookies – they should be just set when they come out of the oven.
What makes a good sugar cookie?
A sugar cookie is a type of cookie that is typically made with flour, sugar, butter, eggs, and vanilla extract. They are commonly decorated with icing or sprinkles. Sugar cookies are popular around holidays, such as Christmas and Easter.
There are many factors that make a good sugar cookie. The dough should be easy to work with and not too sticky. It should also only need to chill for 30 minutes before being rolled out. The ingredients should be simple and few in number so the cookies do not end up being overly sweet. Additionally, the cookies should hold their shape when baked and be nice and soft, but not crumbly.