This is a light and fluffy cake that is perfect for any occasion. The orange flavor is not too overpowering, but just enough to give the cake a refreshing taste.
Ingredients
2 1/4 cups cake flour
1 1/2 cups white sugar
1 tablespoon baking powder
1 teaspoon salt
5 egg yolks
1/2 cup vegetable oil OR melted butter
3/4 cup orange juice (freshly squeezed is best)
1 tablespoon orange zest (grated)
1 teaspoon vanilla extract
7-8 egg whites
1/2 teaspoon cream of tartar
Instructions
1. Preheat oven to 325 degrees F (165 degrees C). Wash angel food tube pan in hot soapy water to ensure it is totally grease free.
2. Sift flour, sugar, baking powder, and salt together into bowl. Make a well in center. Put egg yolks, cooking oil, orange juice, orange rind, and vanilla into well. Set aside. Don't beat yet.
3. In a large bowl, beat egg whites and cream of tartar in mixing bowl until very stiff. Set aside.
4Using same beaters, beat egg yolk-flour mixture until smooth Gently fold 1/4 at a time into egg whites Pour batter into ungreased 10 inch angel food tube panBake in oven for 60 to 70 minutes until an inserted wooden pick comes out clean Invert pan until cake has cooled Remove from pan Serve plain or frost with Orange Icing
Nutrition Facts
Serving size: 1 slice
Calories: 400
Fat: 18 g
Saturated fat: 3.5 g
Unsaturated fat: 14 g
Trans fat: 0 g
Carbohydrates: 54 g
Sugar: 34 g
Fiber: 1.5g
Protein 7g
Cholesterol 85 mg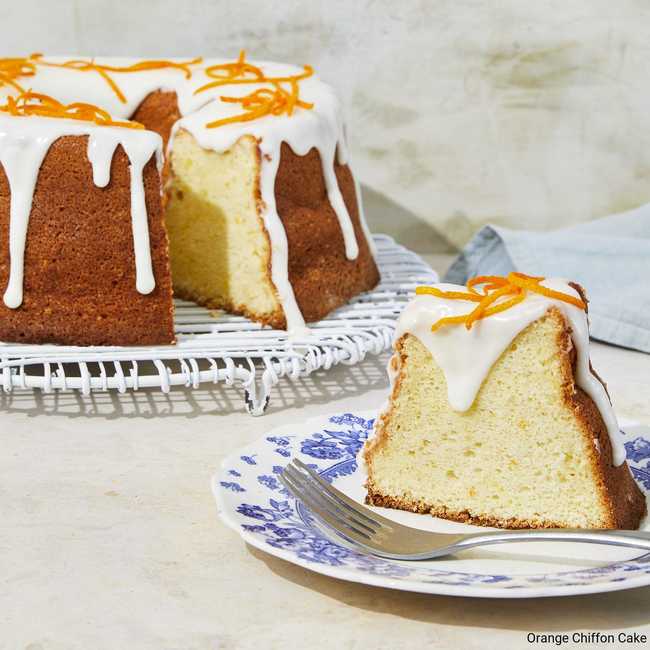 What is a good birthday cake flavor?
A good birthday cake flavor will be dependent on the person's preferences. Some people might prefer classic flavors like vanilla or chocolate, while others might want something a little more unique, like pineapple or red velvet. There are also richer flavors like butterscotch or black forest that can be perfect for adults. And of course, there are always beloved strawberry cakes.
Which flavor is best for birthday cake?
There are many flavors of birthday cake to choose from, but which one is the best? It really depends on personal preference, but there are some flavors that are more popular than others. Let's take a look at some of the most popular birthday cake flavors and see what makes them so special.
Chocolate truffle cake is a rich and decadent choice that is sure to please any chocolate lover. The dense chocolate cake is filled with a creamy chocolate ganache, making it an ultra- indulgent treat. If you're looking for a showstopping cake, this is the one for you.
Pineapple cakes are light and refreshing, perfect for summer birthdays. The sweetness of the pineapple pairs perfectly with the rich cream cheese frosting, making it a crowd-pleasing choice. Plus, who doesn't love those cute little pineapple decorations on top?
Vanilla cakes are classic and timeless – they're perfect for any occasion. Whether you dress them up with colorful sprinkles or keep them simple with just a dusting of powdered sugar, they're always guaranteed to be delicious. If you're not sure what flavor to choose, vanilla is always a safe bet.
Red velvet cake is another classic flavor that's perfect for birthdays (or any other special occasion). The beautiful red color makes it eye-catching and festive, while the smooth buttercream frosting provides a delicious contrast in texture. This Southern favorite is sure to be loved by all who try it! Butterscotch Cake has been around since Victorian times when baking soda was first introduced as an ingredient in cakes Back then this unique tasting cake was known as " sponge jum ".
What is chiffon cake made of?
A chiffon cake is a very light cake made with vegetable oil, eggs, sugar, flour, baking powder, and flavorings. Being made with vegetable oil, instead of a traditional solid fat such as butter or shortening, it is easier to beat air into the batter. This results in a cake that is extremely tender and moist.
The key to making a successful chiffon cake is to get the ratio of wet ingredients to dry ingredients just right. Too much liquid and the cake will be dense and heavy; too little and it will be dry and crumbly. The perfect chiffon cake should be light and fluffy yet still moist enough to eat without being overly oily.
In addition to the standard ingredients listed above, many recipes for chiffon cakes call for additional flavorings such as extracts or zests. These can be used to create all sorts of delicious variations on the basic recipe. For example, adding lemon extract or zest will give your cake a refreshing citrus flavor; vanilla extract will give it a more classic taste; almond extract will add a nutty note; etc.
What flavor cake is most popular?
There is no doubt that chocolate is the reigning king of cake flavors. With so many different levels of richness and options for flavor pairings, chocolate remains the most popular cake flavor.
Whether you are looking for a simple chocolate cake or something more elaborate, there is sure to be a recipe that will suit your taste. And with so many different ways to make chocolate even more delicious, it's no wonder that this flavor continues to reign supreme.
For those who want a classic chocolate cake, there are endless recipes to choose from. A simple search online will yield dozens of results, each with its own unique twist. For something a little richer, you could try a recipe that includes cocoa powder or dark chocolate. Or for an extra indulgent treat, you could opt for a recipe that uses melted chocolate in the batter.
There are also plenty of ways to incorporate other flavors into your chocolate cake without compromising on the rich chocolaty taste that we all know and love. Popular flavor combinations include Chocolate & Peanut Butter, Chocolate & Raspberry, and Chocolate & Orange – just to name a few!
So whatever your preference, there is sure to be a delicious chocolate cake out there that will satisfy your sweet tooth.
What goes with orange sponge cake?
There are many things that can go with an orange sponge cake. One option is to serve it with some fat free ice cream. Another possibility is to top the cake with lemon zest, fresh lemon juice, and 1 tsp. of honey. Yet another option is to serve the cake with extra orange juice.