Old Fashioned Peanut Butter Cookies
Old-fashioned peanut butter cookies are a classic recipe that has been passed down for generations. These simple, yet delicious cookies are made with just a few ingredients and are sure to be a hit with the entire family!
Ingredients
3 cups all-purpose flour
1 teaspoon baking powder
1 teaspoon salt
1 cup unsalted butter, softened
1 cup packed brown sugar
1 cup white sugar
2 eggs
2 cups peanut butter chips OR 1 cup peanut butter + 1 cup chocolate chips
2 teaspoons vanilla extract
Instructions
1. Preheat oven to 350 degrees F (175 degrees C). Line 2 large baking sheets with parchment paper.
2. Mix flour, baking powder and salt in a medium bowl.
3. In a large bowl, beat butter, peanut butter and vanilla with an electric mixer until well blended. Beat in both sugars. Scrape down the sides of the bowl. Stir in half of the dry ingredients into the mixture
4 Add eggs one at a time, blending well after each addition
5 Mix in remaining ingredients
6 Stir in peanut butter chips
7 For each cookie roll 1 heaping tablespoon full of dough into 1 3/4 inch diameter ball
8 Arrange balls 2 1/2 inches apart on prepared baking sheets
9 Using the back of fork flatten dough balls and form crosshatch on tops
10 Bake cookies until dry on top about 15 minutes
11 Cool cookies on baking sheets for 5 minutes
12 Using spatula transfer cookies to cooling racks to cool completely
Nutrition Facts
Serving size: 1 cookie
Calories: 210
Fat: 13 g
Saturated fat: 5.5 g
Unsaturated fat: 7.5 g
Trans fat: 0.2 g
Carbohydrates: 21g
Sugar: 12g
Fiber; 1.6g
Protein 4.4g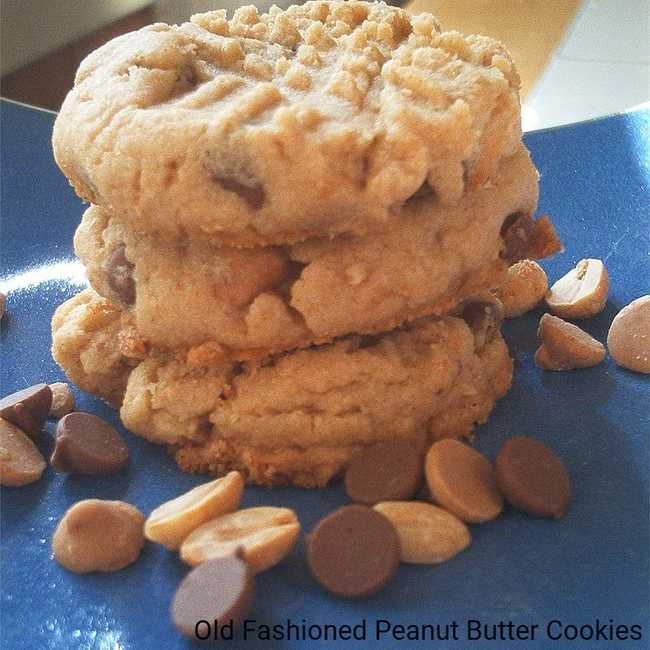 What are the 6 cookie categories?
There are six main types of cookies: molded, dropped, rolled, pressed, refrigerator, and bar.
Molded cookies are usually round in shape and formed by rolling the dough with your hands. The most common type of mold used for these cookies is a simple round cookie cutter. Dropped cookies are usually the easiest kind of cookie to make. They are made by dropping spoonfuls of dough onto a baking sheet and then baking them. Rolled cookies are made by rolling out the dough on a flat surface and then cutting it into shapes with a cookie cutter or knife. Pressed cookies are made by pressing the dough into a mold or onto a baking sheet using an embossed rolling pin or cookie press. Refrigerator cookies are made by chilling the dough before shaping it into balls or logs and then slicing it thinly before baking. Bar cookies are baked in a pan and then cut into bars or squares after they have cooled.
What is Snoop Dogg's favorite cookie?
Snoop Dogg's favorite cookie is a peanut butter chocolate chip cookie. This recipe is perfect for anyone who loves the classic flavor combination of peanut butter and chocolate. The cookies are soft and chewy, with a rich flavor that will satisfy any sweet tooth.
What are the 7 different types of cookies?
There are seven different types of cookies: dropped, molded, rolled/cutout, pressed, bar, no-bake, and refrigerator.
Dropped cookies are the easiest to make and are the most common type of cookie for people's first experience. Molded cookies usually molded into balls or wreaths before baking. Rolled/cutout cookies require dough to be rolled out flat before cutting out shapes with a cookie cutter. Pressed cookies involve pressing designs into the dough with a fork or other utensil. Bar cookies are baked in a pan and then cut into bars after cooling. No-bake cookies do not require baking – they can be made simply by mixing together ingredients and then refrigerating them. Refrigerator cookies must be refrigerated before baking so that they will retain their shape while baking.
What are the 8 basic types of cookies?
There are 8 basic types of cookies: drop cookies, bar cookies, rolled cookies, molded cookies, sandwich cookies, no bake cookies, refrigerator cookies or ice box cookies, and pressedcookies.
Drop Cookies: Drop Cookies are the most common type of cookie. They are made by dropping spoonfuls of dough onto a baking sheet. The dough is usually soft and can be flavored with chocolate chips, nuts, spices, or extracts. Bar Cookies: Bar Cookies are made by spreading batter or dough in a pan and then cutting it into bars after it has baked. They can be made from scratch or from a mix. Common flavors include peanut butter and oatmeal raisin. Rolled Cookies: Rolled Cookies are made by rolling out dough on a floured surface and then cutting out shapes with cookie cutters. They can be decorated with frosting, sprinkles, or candy before baking. Molded Cookies: Molded Cookies are made by pressing dough into molds to create shaped cookies. They can be simple shapes like hearts or stars, or more elaborate designs like animals or flowers. Sandwich Cookies: Sandwich Cookies consist of two thin biscuits with a filling in between them. The most common type is the Oreo cookie which has a cream filling sandwiched between two chocolate wafers. No Bake Cookies: No Bake Cookie recipes do not require any baking at all! The ingredients are simply combined and then chilled until firm enough to eat – perfect for when you're short on time (or oven space).
What is an Elvis cookie?
An Elvis cookie is a peanut butter, banana pudding cookie filled with bits of bacon and chocolate. It was created by Jamie on August 31, 2014 in honor of Elvis Presley's birthday. The cookies quickly became popular among Elvis fans and foodies alike for their unique flavor combination.