This recipe is for a deliciously moist and fluffy Jamaican cake that is bursting with flavor! The ingredients are simple and easily available, so you can whip this up anytime you're in the mood for something sweet. The cake itself is not overly sweet, but the frosting definitely is. If you want a less sugary version, feel free to omit the frosting altogether.
Ingredients
2 cups white sugar
1 1/2 cups vegetable oil
1 1/2 cups chopped pecans
3 cups all-purpose flour
2 bananas, peeled and diced
3 eggs, beaten
1 (20 ounce) can crushed pineapple with juice
1 teaspoon vanilla extract
1 teaspoon salt
1 teaspoon baking soda
Instructions
1. Preheat your oven to 350 degrees Fahrenheit before beginning this recipe.
2. In a large mixing bowl, combine the sugar, vegetable oil, pecans, flour, and bananas. Stir until everything is mixed together well.
3. Add in the eggs, pineapple (with juice), vanilla extract, salt and baking soda. Mix everything together well again without mashing the bananas this time.
4. Pour the batter into an ungreased 13 x 9 inch pan and bake for 60 minutes or until the cake tests done when poked with a toothpick or knife in the center of it comes out clean..
5. Let Jamaica Cake cool slightly before serving so you don't burn yourself
Nutrition Facts
Calories: 2643
Fat: 143 g
Saturated fat: 14 g
Unsaturated fat: 129 g
Trans fat: 0 g
Cholesterol: 75 mg
Sodium: 2480 mg
Potassium: 862 mg
Carbohydrates: 323 g
Fiber: 20 g
Sugar : 153g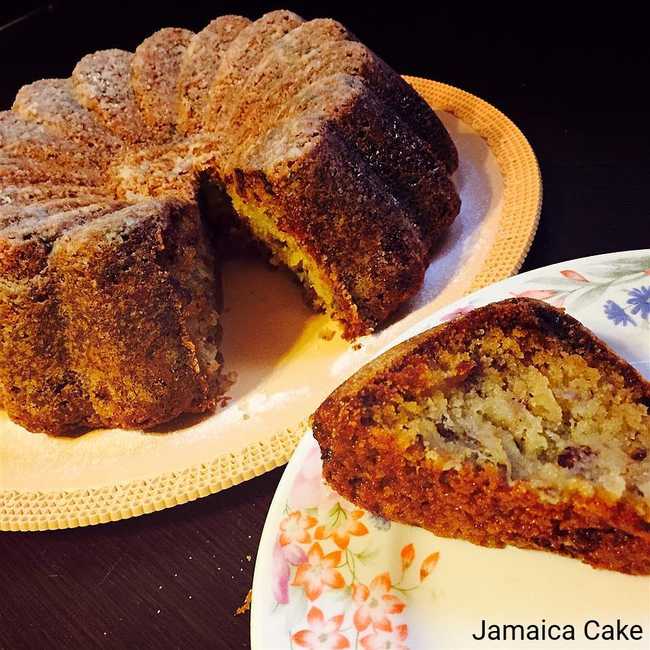 Why is it called Jamaican ginger cake?
Jamaican ginger cake is a type of cake that gets its name from using Jamaican ginger. Jamaica was one of the first British Caribbean colonies to produce ginger for export to Britain and Europe, so the cake is named after the country where the ginger originated.
The cake is typically made with molasses, which gives it a deep, rich flavor. Gingerbread spices are also usually added to the batter, including cinnamon, nutmeg, and cloves. These spices add even more depth and flavor to the already delicious cake.
Jamaican ginger cake is often served during holidays or special occasions. It can be enjoyed plain or with whipped cream or ice cream on top.
Is ginger cake the same as gingerbread?
Parkin is a type of soft gingerbread cake made with oatmeal and treacle. It is popular in northern England, and is thought to have originated in Yorkshire. In the United States, this form of gingerbread is sometimes called "gingerbread cake" or "ginger cake" to distinguish it from the harder forms of gingerbread.
So, what exactly is the difference between gingerbread and ginger cake? Well, both are cakes that contain ginger as a key ingredient. However, Gingerbread generally refers to a range of cakes that are made with molasses or honey, whereas Ginger Cake typically uses sugar instead. Both types of cake can be either soft or hard in texture, depending on the recipe.
In terms of flavor, both Gingerbread and Ginger Cake tend to be quite spicy due to the addition of ginger. However, because Molasses or honey is used in most recipes for Gingerbread, this type of cake tends to have a slightly deeper and more complex flavor than Ginger Cake.
So there you have it! The main difference between these two popular types of cake is their ingredients list; with one using molasses or honey (Gingerbread) and the other using sugar (Ginger Cake).
What is Jamaican Gingerbread?
Jamaican gingerbread, also known as sticky gingerbread, is a delicious molasses-based bread that is traditionally flavored with ginger and cinnamon. This bread was a staple in my childhood home in Ireland, and we would always enjoy a slice with some warm butter alongside our cup of tea or coffee. While it may not be the traditional hard cookie that we typically think of when we hear the word "gingerbread", Jamaican gingerbread is nonetheless a delicious and comforting treat.
How long does Jamaican ginger cake last?
Jamaican ginger cake is a delicious and moist cake that is perfect for any occasion. Made with fresh ginger, molasses, and spices, this cake has a unique flavor that is sure to please everyone. Jamaican ginger cake will last for up to two weeks when stored properly.
To extend the shelf life of your Jamaican ginger cake, be sure to store it in an airtight container at room temperature. If you are planning on storing the cake for more than a week, you can wrap it tightly in plastic wrap or aluminum foil before placing it in the container. This will help keep the moisture in and prevent the Cake from drying out.
What is Jamaican cake made of?
Jamaican rum cake is made with almond flour, all-purpose flour, sugar, baking powder, vegetable oil, butter, milk, eggs, vanilla paste and instant pudding mix. Pecans and rum are also added to the cake for flavor. If you do not have almond flour on hand, don't worry – it's not necessary to go out and get some.
Rapone uses a specific combination of ingredients to make her Jamaican rum cake recipe turn out perfectly every time. She starts with almond flour and all-purpose flour as the base of the cake. Then she adds sugar, baking powder and vegetable oil to create a moist batter. After that she mixes in butter and milk for richness before adding in eggs for structure followed by vanilla paste and instant pudding mix for flavor. Finally pecans and rum are folded into the batter before being poured into a bundt pan and baked until golden brown.
The result is an incredibly moist Bundt cake with hints of vanilla, nutmeg and cinnamon throughout each bite. The pecans add a crunchy texture while the rum provides just enough boozy flavor without being overpowering.