Delicious Hawaiian Chicken Wings Recipe
I was first introduced to Hawaiian Wings on a trip to Hawaii with my family. I was immediately taken aback by their sweet and savory flavor, and I knew then that I had to learn how to make them myself. I've made these wings countless times since then and they never fail to impress. If you're looking for a unique and delicious appetizer, then look no further than Hawaiian Wings.
Hawaiian Wings Recipe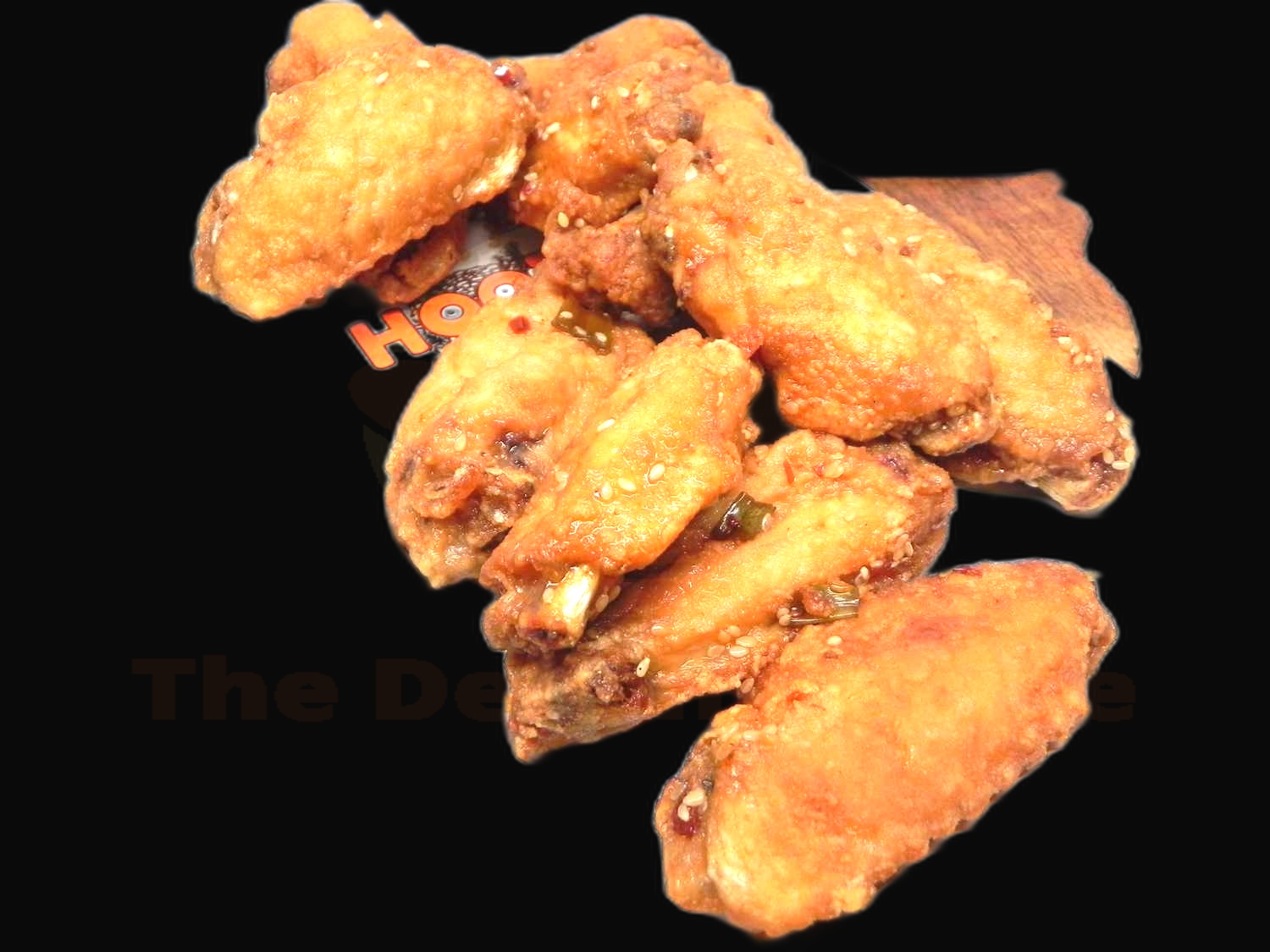 Ingredients
5 lbs. chicken wings
2 cups pineapple juice
1/2 cup soy sauce
2 teaspoons garlic powder
1 teaspoon ground ginger
1/4 teaspoon cayenne pepper
1/4 cup brown sugar
2 tablespoons honey
1/4 cup ketchup
Instructions
Let's make some delicious Hawaiian Wings!
First, preheat your oven to 375 degrees.
Next, combine the pineapple juice, soy sauce, garlic powder, ground ginger, cayenne pepper, brown sugar, honey, and ketchup in a bowl – mix it all together until it's well-combined.
Then, grab a large bowl and place the 5 lbs. of chicken wings in it. Pour the marinade over the chicken wings and mix everything together until the wings are evenly coated.
Next, line a baking sheet with foil and spray it with cooking oil spray. Place the chicken wings on the baking sheet, making sure they are spaced apart evenly.
Bake the chicken wings in the oven for 35-45 minutes, or until they are cooked through and golden brown.
Once the Hawaiian Wings are done cooking, let them cool for about 5 minutes before serving. You can serve these delicious wings with a side of ranch or your favorite dipping sauce. Enjoy!
Nutrition Facts
Calories: 510
Total Fat: 22.5g
Saturated Fat: 6g
Cholesterol: 151mg
Sodium: 882mg
Total Carbohydrates: 15.5g
Dietary Fiber: 0.5g
Sugars: 11.5g
Protein: 59g
What makes hawaiian wings so popular?
Hawaiian wings have been gaining immense popularity lately, and it's no surprise why! These succulent wings have a unique flavor unlike anything else out there. The combination of savory, sweet, and spicy tastes creates a delicious balance that can't be beat. Plus, the wings are fried to perfection, so they have a satisfying crunch that adds to the overall flavor experience. Whether you're looking for a quick snack or a full meal, Hawaiian wings are sure to satisfy.
What are the different variations of hawaiian wings?
Hawaiian wings are a delicious twist on the traditional classic. They come in a variety of delicious flavors, including sweet and sour, teriyaki, and even mango habanero! Sweet and sour Hawaiian wings have a delicious combination of tangy and sweet flavors, while teriyaki Hawaiian wings are marinated in a flavorful teriyaki sauce. If you're looking for something a bit spicier, mango habanero Hawaiian wings are sure to tantalize your taste buds with their unique combination of sweet tropical fruit and fiery heat.
What are some tips to make the best hawaiian wings?
Marinate the wings: Marinating the wings in a sweet and savory sauce is one of the key steps in creating the best Hawaiian wings. Combine soy sauce, garlic, ginger, and pineapple juice in a bowl and let the wings sit in the mixture for at least an hour.
Deep-fry the wings: Deep-frying the wings will give them a delicious crunchy texture. Make sure the oil is hot enough before adding the wings. Fry them until they are golden and crispy.
Add a glaze: Create a glaze by combining honey, brown sugar, and pineapple juice and brush it over the wings. This will give them a sweet and sticky flavor.
Garnish with pineapple: Adding a touch of pineapple to the wings will give them a tart and tropical taste. Slice a pineapple into wedges and use them as a garnish.
Serve with a dipping sauce: No Hawaiian wings are complete without a delicious dipping sauce. Try making a sauce with mayonnaise, garlic, and fresh pineapple chunks.
There you have it! With these tips, you're sure to make the best Hawaiian wings.
What are the best sauces to accompany hawaiian wings?
If you're looking for the best sauces to accompany Hawaiian wings, you're in luck! There are plenty of tasty options to choose from that will complement the unique flavors of these wings. From sweet and spicy to tangy and savory, there's something for everyone. Here are some of our top picks for the best sauces to pair with Hawaiian wings:
Teriyaki Sauce: Teriyaki sauce is sweet and slightly tangy and is a classic choice for Hawaiian wings. It enhances the flavor of the wings without overpowering them.
Sweet and Sour Sauce: Sweet and sour sauce is the perfect balance of sweet and tangy. It's great on Hawaiian wings for adding a bit of zing.
Honey Mustard Sauce: Honey mustard sauce is a creamy and slightly sweet sauce that pairs well with the flavors of Hawaiian wings. It adds a bit of sweetness without being too overpowering.
Barbecue Sauce: Barbecue sauce has a smoky flavor that complements the flavors of Hawaiian wings. It adds a bold flavor without being too spicy.
Spicy Buffalo Sauce: Spicy buffalo sauce is the perfect way to give your Hawaiian wings a kick! It adds a nice heat that complements the flavors of the wings without being too overwhelming.
What are some delicious side dishes to enjoy with hawaiian wings?
If you're looking for the perfect side dish to complement your delicious Hawaiian Wings, you're in luck! Here are some of our favorite sides to enjoy with this flavorful dish:
Coconut Rice: Coconut Rice is a fluffy and fragrant side that pairs perfectly with the sweet and savory combination of Hawaiian Wings. It's a great way to add a bit of sweetness to your meal.
Fried Plantains: Fried plantains are a delicious way to add a bit of crunch and sweetness to your meal. They're a great compliment to the tangy and savory flavors of the wings.
Mango Salsa: If you're looking for a bit of a kick, try adding some mango salsa to your plate. The sweetness of the mango and the heat of the peppers are the perfect balance to the flavor of the wings.
Coleslaw: Coleslaw is a great way to cool down your meal and add some crunch. The creamy and tangy dressing is the perfect contrast to the sweetness of the wings.
These are just a few of the many delicious sides that you can enjoy with your Hawaiian Wings.