Heavenly Creamy Deviled Eggs – A Simple Yet Delicious Delight!
I love deviled eggs! They make the perfect snack or appetizer for any occasion, and this particular recipe for Easy Creamy Deviled Eggs is one of my absolute favorites. The creamy texture and mild flavor of these eggs make them a crowd favorite at any gathering. Plus, they are so quick and easy to make that you can whip them up in no time! I guarantee that after you try this recipe, you will be hooked.
Easy Creamy Deviled Eggs Recipe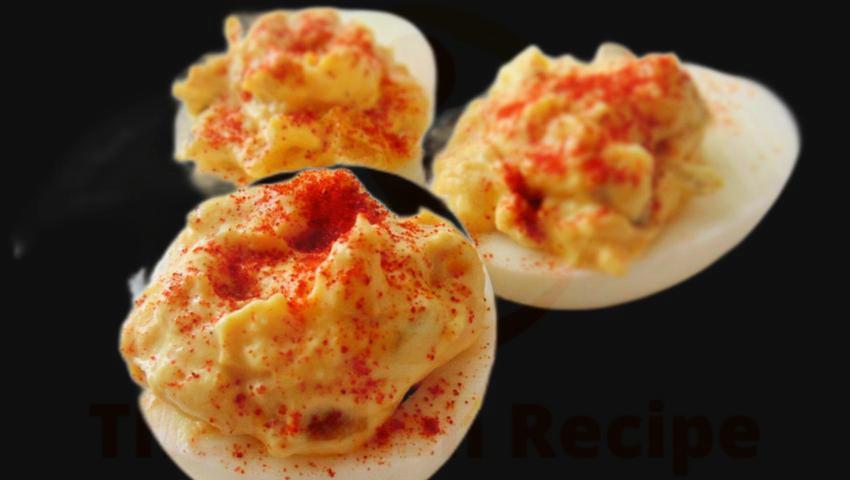 Ingredients
12 eggs
6 tablespoons creamy salad dressing (e.g. Miracle Whip™)
¼ cup wasabi mayonnaise
2 tablespoons sweet pickle relish
1 tablespoon prepared yellow mustard
Garlic salt, to taste
Ground black pepper, to taste
Paprika, for garnish
Instructions
Boil 12 eggs for 10 minutes in a pot of boiling water.
Once boiled, remove eggs from heat and place in a bowl of cold water for a few minutes to cool. Peel the shells off the eggs and cut them in half lengthwise.
Separate the yolks from the whites and place the whites on a plate.
Place the yolks in a bowl and mash them with a fork.
Add 6 tablespoons of creamy salad dressing (e.g. Miracle Whip™), ¼ cup of wasabi mayonnaise, 2 tablespoons of sweet pickle relish, and 1 tablespoon of prepared yellow mustard to the mashed yolks and stir until everything is well combined.
Add garlic salt and ground black pepper to taste.
Spoon the egg yolk mixture into the centre of the egg whites.
Sprinkle paprika over the eggs for garnish.
Serve the deviled eggs on a plate. Enjoy!
Nutrition Facts
Per Serving (1 deviled egg):
Calories: 65 kcal
Fat: 5 g
Carbohydrates: 2 g
Protein: 3 g
Sodium: 230 mg
Sugar: 1 g
What is the history behind deviled eggs?
Deviled eggs have been around since ancient times, with variations of the dish appearing around the world. In 18th century England, they were known as "devilled kidneys", with a mixture of chopped kidneys, butter and spices. In the 19th century the dish became popular in the United States and the name was changed to "deviled eggs", which is still the popular name today.
The classic deviled egg is made with a mixture of mayonnaise, mustard, vinegar, and paprika, as well as other seasonings. However, recipes for deviled eggs can vary widely, including variations with hot sauce, horseradish, bacon, chives, and even tuna.
Though it is uncertain exactly when the dish was first served in the United States, it was certainly popular by the late 1800s. In the early 1900s, deviled eggs began to appear on restaurant menus and in cookbooks. During the mid-20th century, deviled eggs were a popular party appetizer. Today, they are still a popular party dish, often served with a variety of fillings and toppings.
Deviled eggs have also been featured in many popular culture references, including the film A Christmas Story and the television show Mad Men. They are also the subject of many jokes, including the popular saying, "You can't make an omelette without breaking a few eggs."
From ancient times to modern day, deviled eggs have been a favorite dish around the world. From savory to sweet variations, the dish has been enjoyed by many for a long time.
What makes this particular recipe so easy and creamy?
This particular recipe for Easy Creamy Deviled Eggs is so easy and creamy because it uses just five basic ingredients and takes less than 30 minutes to prepare. The key to achieving a creamy texture is to use mayonnaise, which helps to bind the ingredients together. Additionally, a touch of mustard and Worcestershire sauce give the deviled eggs a bold, savory flavor. Finally, the addition of paprika and chives provide a hint of subtle sweetness and a pop of color to the dish. All of these ingredients work together to create a delicious, creamy deviled egg that's perfect for any occasion.
What tips can help make the perfect deviled eggs every time?
Use room temperature eggs – this will make them easier to peel.
Cook the eggs in boiling water for 10 minutes – this will ensure they are cooked properly.
Use a spoon to scoop out the egg yolks – this will ensure a smooth and creamy texture.
Mash the egg yolks with a fork before adding other ingredients – this will help create a smooth texture.
Add mayonnaise and mustard for added flavor – this will give the eggs a tangy flavor.
Add a pinch of salt and pepper to taste – this will help to enhance the flavor.
Garnish with paprika and chopped chives – this will give the eggs a colorful and flavorful presentation.
Serve chilled – this will ensure the eggs are cold and creamy.
How can deviled eggs be served and enjoyed in a variety of ways?
Deviled eggs offer a delicious, easy-to-make snack that can be enjoyed in a variety of ways. With a few simple ingredients and a few minutes of preparation, you can turn these simple eggs into a tasty, crowd-pleasing treat. Here are some ideas for how to serve and enjoy deviled eggs in a variety of ways.
One option is to mix up the fillings and toppings. Instead of using the traditional mayonnaise and mustard, try using a creamy avocado filling or spicy Sriracha mayonnaise. You can also add a sprinkle of herbs, crumbled bacon, finely chopped jalapenos, capers, or even smoked salmon for a more gourmet twist.
If you're serving deviled eggs for a special occasion, you can dress them up with a few creative garnishes. Try topping deviled eggs with a sprinkle of chives, diced red peppers, or diced olives. You could also try adding a dollop of crème fraiche or sour cream for an extra creamy topping.
For a playful take on deviled eggs, try cutting the eggs in half and making little faces with the yolks. Simply spread the egg yolk filling on the egg whites, then use your favorite ingredients to make a face, such as olives for eyes, a smidge of mustard for a nose, and/or diced bell peppers for a smile.
Finally, a classic way to serve deviled eggs is to arrange them on a platter and let guests pick out their favorite flavors. This allows everyone to enjoy the deviled eggs their own way and adds a fun, interactive element to your gathering.
No matter how you choose to serve and enjoy them, deviled eggs are always a hit. With a few simple ingredients and a few minutes of preparation, you can create a delicious snack that everyone will love.