Delicious Buttermilk-Pear Pies – An Easy Recipe
I have been making Buttermilk-Pear Pies for as long as I can remember. They are one of my favorite desserts to make and I have been perfecting the recipe over the years. The combination of sweet pears and tangy buttermilk is unbeatable. I am so excited to share my recipe with you!
Buttermilk-Pear Pies Recipe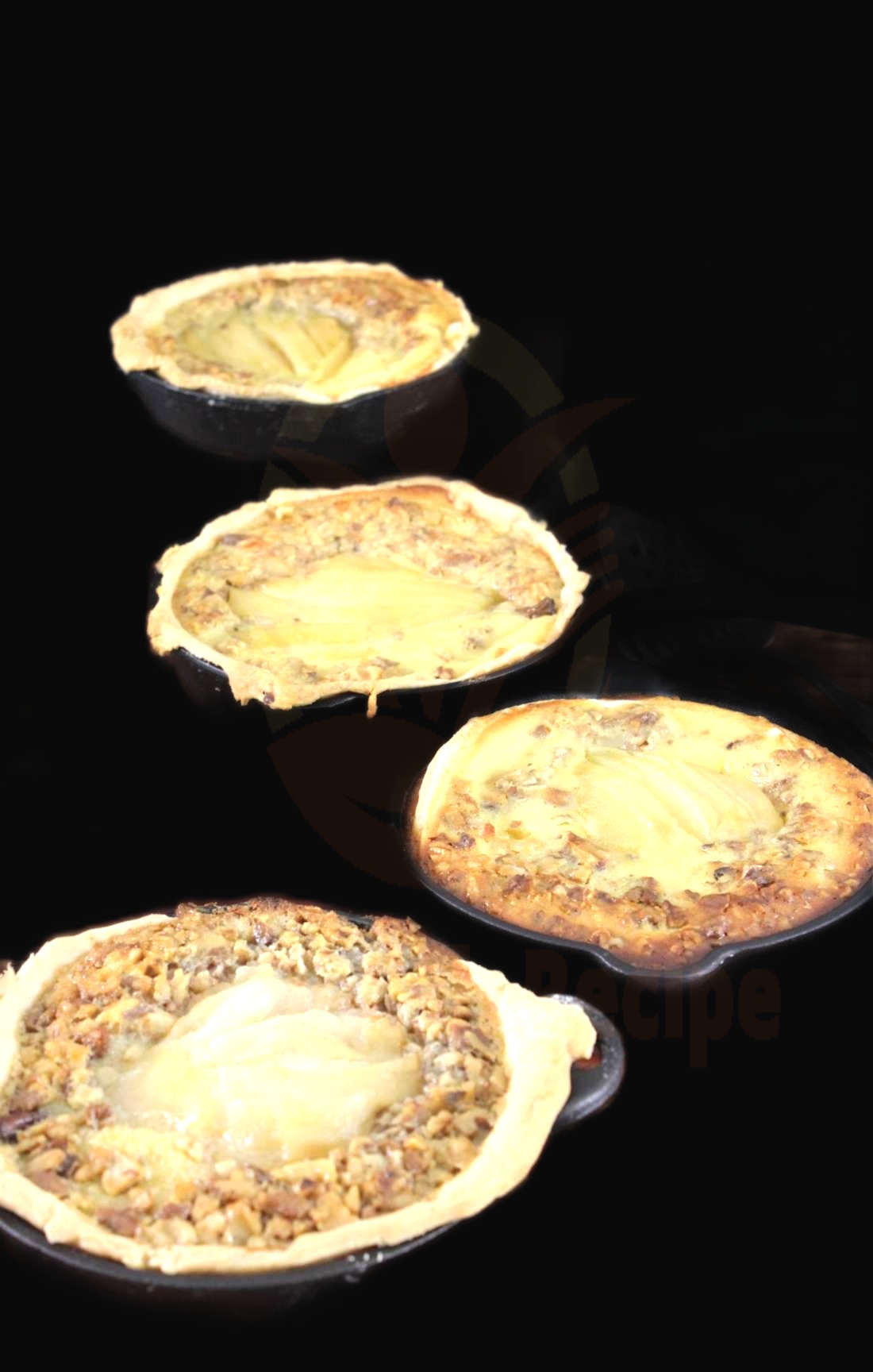 Ingredients
5 cups all-purpose flour
2 teaspoons baking powder
1 teaspoon salt
2/3 cup cold unsalted butter
1 cup buttermilk
2 tablespoons sugar
5 large ripe pears, peeled and chopped
2 tablespoons ground cinnamon
2 tablespoons all-purpose flour
1/4 cup melted butter
Instructions
Preheat your oven to 375 degrees Fahrenheit.
In a medium bowl, mix together 5 cups of all-purpose flour, 2 teaspoons of baking powder, and 1 teaspoon of salt.
Cut 2/3 cup of cold unsalted butter into the flour mixture until it resembles a coarse meal.
In a separate bowl, stir together 1 cup of buttermilk and 2 tablespoons of sugar.
Pour the buttermilk mixture into the flour mixture and mix until it forms a dough.
Divide the dough into 12 equal parts and roll each part into a circle about 1/4 inch thick.
Place the circles on a baking sheet lined with parchment paper.
In a medium bowl, combine 5 large peeled and chopped pears, 2 tablespoons of ground cinnamon, 2 tablespoons of all-purpose flour, and 1/4 cup of melted butter.
Spoon the pear mixture into the center of each pastry circle.
Fold the edges of the dough over the filling, crimping to seal.
Bake for 30 minutes or until the tops are golden brown.
Let cool for 15 minutes and enjoy your delicious Buttermilk-Pear Pies!
Nutrition Facts
Calories: 300
Total Fat: 10g
Saturated Fat: 6g
Trans Fat: 0g
Cholesterol: 15mg
Sodium: 300mg
Total Carbohydrate: 48g
Dietary Fiber: 4g
Sugars: 12g
Protein: 5g
What types of ingredients are needed to make this delicious buttermilk-pear pie?
If you've never had a buttermilk-pear pie before, you're in for a real treat! Making one is easy, and all you need are a few simple ingredients. For the crust, you'll need some all-purpose flour, butter, and a pinch of salt. For the filling, you'll need pears, brown sugar, cinnamon, nutmeg, and buttermilk. Finally, for the topping, you'll need a bit of butter and some pecans.
When it comes to the pears, choose ones that are ripe but still firm. You'll want to peel and core them before slicing them into thin slices. For the buttermilk, you can use either low-fat or full-fat buttermilk – your choice! You'll need about two cups for the pie.
Once you have all your ingredients in order, it's time to get baking! First, you'll need to preheat your oven to 350 degrees Fahrenheit. Next, roll out your crust and place it in a greased pie dish. Then, add your pears, brown sugar, cinnamon, nutmeg, and buttermilk to the dish. Finally, top it off with butter and pecans and bake it in the oven for about 40 minutes.
You'll know your buttermilk-pear pie is ready when the crust is golden brown and the filling is bubbling.
What are the steps for making this pie?
Making a delicious Buttermilk-Pear Pie is easy and fun! Here's what you need to do:
Preheat your oven to 375 degrees.
In a medium bowl, mix together 1 1/2 cups of all-purpose flour, 1/2 teaspoon of baking powder, 1/4 teaspoon of baking soda, and 1/2 teaspoon of salt. Then, add 1/2 cup of cold, unsalted butter and use a pastry blender or your hands to combine it with the dry ingredients until the mixture is crumbly.
In a separate bowl, mix together 1/2 cup of buttermilk, 1/3 cup of granulated sugar, 2 tablespoons of freshly squeezed lemon juice, and 1/4 teaspoon of vanilla extract.
Add the wet ingredients to the dry ingredients, and mix until just combined.
Peel and core two pears, then cut them into small cubes. Add the cubes to the dough, and gently fold them in.
Grease a 9-inch pie plate with butter and lightly dust it with flour.
Place the dough in the pie plate and use your hands to press it into the bottom and sides.
Bake the pie for 35-40 minutes, or until the top is golden-brown.
Let the pie cool completely before serving.
What are some tips for making the pie crust perfectly flaky?
Pre-chill your ingredients: chilling your butter, buttermilk, and even your flour prior to mixing is key to making a perfectly flaky pie crust.
Use a food processor: using a food processor to blend your ingredients together helps to ensure that the butter is evenly distributed throughout the dough.
Don't over-mix: over-mixing your pie dough will create too much gluten, which will make it tough and hard to roll out.
Give it some time: once your dough is formed, allow it to rest in the fridge for at least an hour or two. This will give the gluten time to relax and prevent the crust from shrinking when you bake it.
Roll it out: when ready to roll out the dough, make sure to lightly flour your work surface and rolling pin. Start rolling from the center and work your way outwards to ensure an even thickness.
Make sure it's cold: make sure the pie crust is cold before you add the filling. Cold dough will hold its shape better and will prevent the crust from shrinking while baking.
Bake it: once your pie is filled and ready to go, bake it in a preheated oven to your desired temperature. And voila! You're ready to enjoy a perfectly flaky and delicious Buttermilk-Pear Pie.
What are the health benefits of eating this buttermilk-pear pie?
You can enjoy a plethora of health benefits when you eat Buttermilk-Pear Pie! Here's what you'll get from this delicious treat:
Fruits: The combination of pears, buttermilk, and other tasty ingredients make for a great source of essential vitamins and minerals. This includes vitamins A and C, as well as calcium, magnesium, and potassium.
Dairy: Buttermilk is packed with protein, calcium, and other important nutrients that can help your bones stay healthy.
Whole grains: The crust of the Buttermilk-Pear Pie is made with whole wheat flour, providing you with fiber and other important nutrients like iron and B vitamins.
Low in fat: The Buttermilk-Pear Pie is low in fat, making it a great choice for anyone looking to watch their calorie intake.
Energy boost: Eating this delicious pie will give you a natural energy boost, thanks to the combination of the essential vitamins and minerals found in the ingredients.
Low in sugar: The Buttermilk-Pear Pie is made with just the right amount of sugar, ensuring that it won't spike your blood sugar levels.
How can you store the pie to make sure it stays fresh?
You can store your Buttermilk-Pear Pie to make sure it stays fresh and delicious by wrapping it tightly in plastic wrap before placing it in the refrigerator. This will help to keep the outside of the pie from drying out. You can also store it in an air-tight container or a plastic bag to maintain the flavor and texture of the crust.
If you want to freeze the pie for future use, wrap it in plastic wrap and then place it in a resealable bag. To avoid freezer burn, use the same wrapping method you would use for refrigeration, but with an extra layer of plastic wrap. It is important to label the bag with the date, so you know when the pie was stored.
To reheat the pie, take it out of the fridge or freezer and let it come to room temperature. Preheat your oven to 350°F and bake the pie until it's heated through, about 20-25 minutes. If the crust starts to get too dark, cover it with aluminum foil to protect it.
You can also enjoy the pie cold. Slice it into wedges and serve with a dollop of ice cream on the side.
By following these tips, you can store your Buttermilk-Pear Pie to make sure it stays fresh and delicious.
What are some creative variations of this recipe?
You're in luck because there are plenty of creative variations of buttermilk-pear pies that you can make! If you're looking to switch things up a bit and give this classic recipe a modern twist, try one of these tasty ideas:
Use cream cheese in the filling instead of the buttermilk. This will give your filling a bit of a tangy flavor and make it super creamy.
Add some spices to the filling. Try adding some nutmeg or cardamom for a slightly different flavor.
Use a graham cracker crust instead of the traditional pie crust. This will give the pie a crunchy texture that's perfect for a summertime dessert.
Instead of using pears, use apples or berries in the filling. This will give you a new flavor profile and add a bit of natural sweetness to your pie.
Top your pie with a crumble topping. This will give you a delicious crunchy texture that goes perfectly with a creamy filling.
These are just a few of the creative variations of buttermilk-pear pies that you can make.