The King Of Summer Pies: Blackberry Pie
Hello everyone! I'm so excited to share my recipe for the Best Homemade Blackberry Pie. I have been making this pie for years and it never fails to please. It's the perfect combination of sweet and tart, with a beautiful crumbly crust that melts in your mouth. Whether you're looking for a comforting dessert to make for friends and family or a special treat for yourself, this pie is sure to hit the spot. So let's get baking!
Best Homemade Blackberry Pie Recipe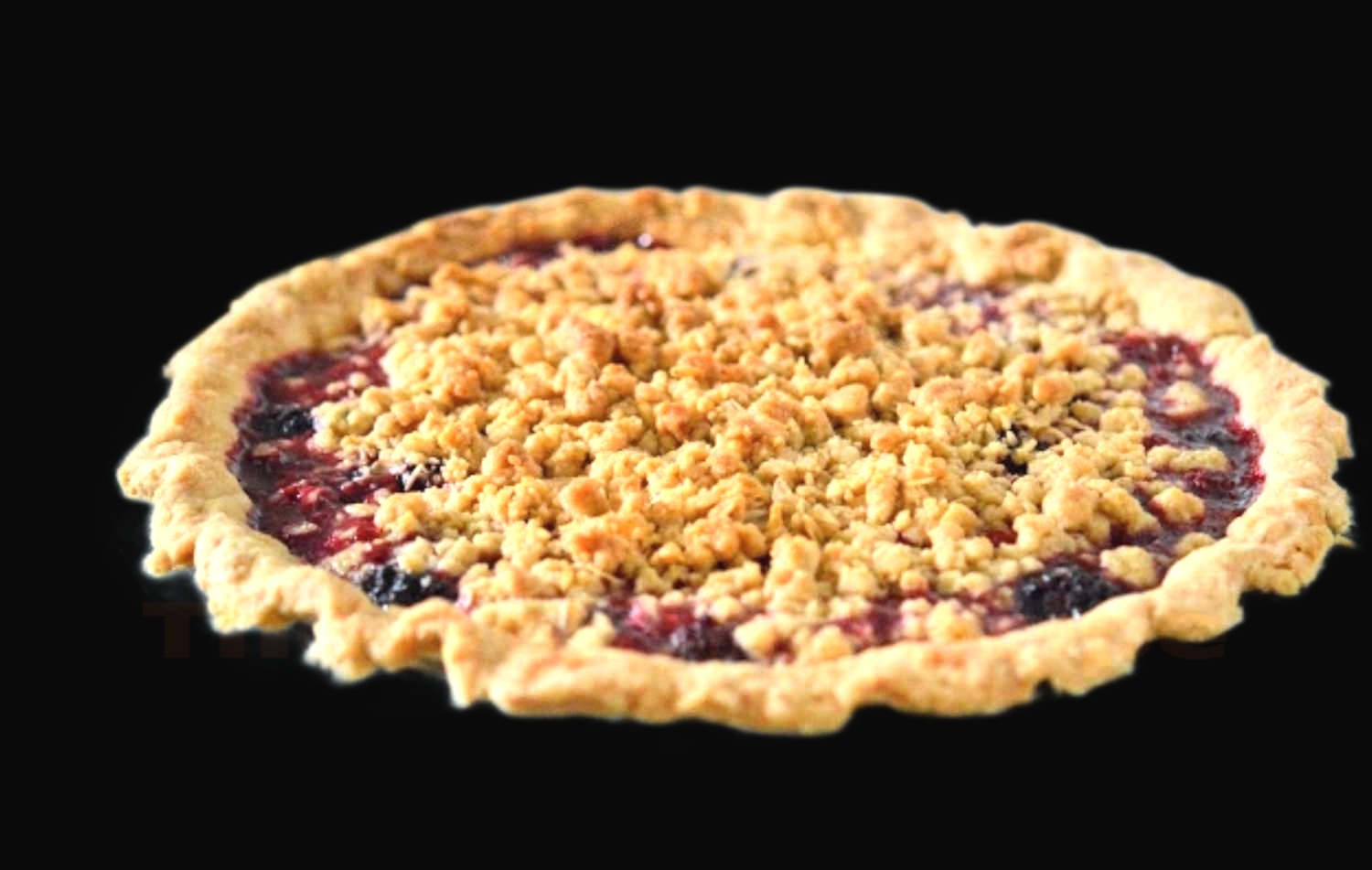 Ingredients
1 (9-inch) store-bought or homemade pie crust
2 cups fresh blackberries
1 cup sugar
2 tablespoons cornstarch
1 teaspoon ground cinnamon
1/4 teaspoon salt
3 tablespoons butter, cut into small pieces
1 tablespoon heavy cream or milk, for brushing the crust
Instructions
Preheat your oven to 375°F and get ready to make the best homemade blackberry pie!
Get out a 9-inch pie crust, either store-bought or homemade. Let it sit at room temperature for about 20 minutes.
In a medium bowl, mix together 2 cups of fresh blackberries, 1 cup of sugar, 2 tablespoons of cornstarch, 1 teaspoon of ground cinnamon, and 1/4 teaspoon of salt.
Pour the blackberry mixture into the pie crust and dot the top with 3 tablespoons of butter cut into small pieces.
Cover the pie with a top crust, pressing the edges together to seal. Cut a few ventilation slits in the top crust.
Brush the top of the crust with 1 tablespoon of heavy cream or milk and then bake in the preheated oven for 35-45 minutes.
Let it cool for at least 50 minutes before serving.
Enjoy a slice of the best homemade blackberry pie ever!
Nutrition Facts
Calories: 294
Fat: 10g
Carbohydrates: 47.6g
Protein: 2.4g
Sodium: 228mg
Sugar: 27g
What is the secret to making an unforgettable blackberry pie?
The secret to making an unforgettable blackberry pie lies in a few simple steps. First, use the freshest and sweetest blackberries you can find. Make sure they are ripe and juicy, because this will give the pie its signature flavor. Second, use a thick and flaky pie crust. This will ensure that the crust holds up to the juicy blackberries and compliments the sweet flavor of the fruit. Finally, top the pie with a creamy and delicious custard filling. This will add a layer of richness and creaminess that will take your blackberry pie to the next level. With these three elements, you can create an unforgettable homemade blackberry pie that will have everyone coming back for more.
What are the most important tips to keep in mind when baking blackberry pie?
Get the freshest ingredients possible: Fresh blackberries are essential to a great blackberry pie. The flavor and texture of frozen or canned blackberries just can't compare. When selecting ingredients like flour and butter, try to buy organic and of the highest quality.
Pre-bake the crust: Blind baking the crust is a must for any pie. This ensures that the bottom of the crust is golden and cooked through, avoiding soggy crust.
Don't overfill the pie: Blackberry pies should have a generous helping of filling, but be careful not to overfill the pie. This will cause the filling to bubble over while baking and make a mess.
Don't forget the egg wash: An egg wash helps to give the crust a nice golden color and shine. Simply whisk an egg with a tablespoon of cream and brush it over the top crust before baking.
Monitor the baking process: Blackberry pies need to bake for a relatively long time. Monitor the baking process and adjust the temperature or baking time as needed. The pie is finished when the filling is bubbling and the crust is golden brown.
Enjoy! Last, but not least, enjoy your homemade blackberry pie! It will be a delicious treat that is sure to impress.
How can i achieve a perfectly flaky crust for my blackberry pie?
If you're looking to take your homemade blackberry pie to the next level, you can't do better than achieving that perfect flaky crust. Sure, it takes a little extra time and effort, but the results are totally worth it! Here are some simple steps you can follow to ensure that your blackberry pie crust comes out perfectly flaky every time:
Start off with a solid foundation by using a combination of butter and shortening. This will help you achieve a flaky texture and perfect flavor.
Use cold ingredients. Cold butter and water will help keep the dough from becoming overly sticky.
Don't overwork the dough. You want to mix it just until it comes together, but not more. Overworking the dough can make it tough and less flaky.
Use plenty of ice water when mixing the dough. This helps keep it from becoming too soft.
Roll the dough out thin. A thinner crust will help ensure that it bakes up perfectly flaky.
Prick the dough with a fork or pastry tool before baking. This helps steam escape, ensuring a crisp, flaky texture.
Bake the crust until it's golden brown. This will help contribute to a crisp, flaky texture.
By following these simple steps, you're sure to achieve a perfectly flaky crust for your blackberry pie.
What is the best way to pick the freshest blackberries for my pie?
If you want to make a delicious homemade blackberry pie, the secret is to start with the freshest blackberries you can find! Picking blackberries can be a lot of fun, and it's the first step to making an amazing pie. Here are a few tips to help you find the ripest, juiciest blackberries for your dessert.
First, look for deep, dark-colored berries. The darker the berry, the riper it is. Avoid any that are pale or have white or green tips, as they won't have the same sweet flavor as the darker ones.
Next, check for firmness. A good blackberry should be small and firm, and not too squishy. If it's too soft, it's likely not as fresh.
Finally, give the berries a sniff! If they have a sweet aroma, they're probably ripe and ready to be picked.
Using these tips, you should be able to find the perfect blackberries for your homemade blackberry pie.
Is adding other ingredients to my blackberry pie a good idea?
Yes! Adding other ingredients to your homemade blackberry pie is a great idea! You can customize your pie and make it even more delicious. Whether you want to use a combination of berries, spices, or nuts, there are so many options to explore. With a few simple additions, you can create a unique and flavorful blackberry pie that your family and friends will love.
If you're a fan of classic blackberry pie, adding other fruits can make the flavor more complex and interesting. Try combining fresh blackberries with blueberries, raspberries, or cherries for an unforgettable twist. You can even add diced apples or pears for a unique spin on the classic.
Nuts can also be used to enhance the flavor and texture of your blackberry pie. Toasted walnuts, almonds, and hazelnuts pair wonderfully with sweet blackberries and are sure to give your pie an extra crunch.
Adding spices to your pie is also a great idea. Warm, fragrant spices like cinnamon, nutmeg, and cardamom can add a little something special to your pie. You can also use extracts like vanilla or almond to give your pie an extra boost of flavor.
Finally, don't forget to get creative with your homemade blackberry pie. Try adding a layer of chocolate chips or swirls of caramel for an indulgent treat. You can also top your pie with a crumble or streusel for a delicious crunch.
With a few simple additions, you can take your homemade blackberry pie to the next level.
How long should i bake my blackberry pie for maximum flavor?
Baking your blackberry pie for the perfect amount of time is key to maximizing the flavor and getting that golden, flaky crust. If you're wondering how long to bake your homemade blackberry pie for, the answer is approximately 40-45 minutes in a 350°F oven.
When it comes to baking pies, the key is to cook it until the crust is golden brown and the juice is bubbling. To ensure you don't overbake your pie and end up with a dry, crumbly crust, it's best to set a timer for 25 minutes and check in periodically. If the edges are starting to brown, cover them with a foil ring to prevent burning.
When it comes to blackberry pies, you'll want to look for the juice bubbling in the center of the pie, as this is a sure sign that it's done. If the crust is starting to turn golden brown, then your pie is ready.
To get the maximum flavor out of your homemade blackberry pie, it's important to bake it until the crust is golden brown and the juice is bubbling. With just a few minutes of extra baking time, you can have a delicious and flavorful pie that everyone will love.
What are some creative topping ideas to make my blackberry pie more unique?
Making your own homemade blackberry pie is a delicious and rewarding experience, but why not take it to the next level by adding creative toppings? There are lots of creative ways you can make your blackberry pie more unique and add even more flavor to the mix. Here are some of our favorite topping ideas:
Streusel Topping – This classic topping is a great way to add a crunchy texture to your blackberry pie. Combine brown sugar, flour, butter and cinnamon until it's crumbly, sprinkle it over the top of your pie and bake.
Crumble Topping – If you're looking for a more savory topping option, try making a crumble topping. Combine oats, butter, flour, and diced nuts to create a delicious topping that adds a crunchy texture to your pie.
Chocolate Ganache – If you're feeling a bit indulgent, why not top your blackberry pie with a layer of rich chocolate ganache? Heat heavy cream and dark chocolate together until it's smooth and creamy, then spread it over the top of your pie for a special treat.
Whipped Cream – An easy way to add a light and airy texture to your pie is to top it with whipped cream. You can also add a bit of flavor to the whipped cream by stirring in a bit of cinnamon or nutmeg.
Caramelized Nuts – To give your pie a bit of texture, try topping it with caramelized nuts. Toast some chopped nuts in a skillet with butter and brown sugar until they're golden brown, then sprinkle them over the top of your pie for a sweet and salty crunch.
These are just a few creative topping ideas to make your homemade blackberry pie more unique. With any of these toppings, your pie is sure to be a hit.