Deliciously Spicy Shrimp Fried Coconut Rice Recipe
When it comes to one-pot meals, I'm all about Spicy Shrimp Fried Coconut Rice! It's the perfect combination of savory, spicy, and sweet flavors, and I love that you can make it in just one pan. Plus, it's packed with protein, thanks to the shrimp, and it's a great way to use up leftover rice. It's become a staple in my kitchen, and I know you'll love it too!
Spicy Shrimp Fried Coconut Rice Recipe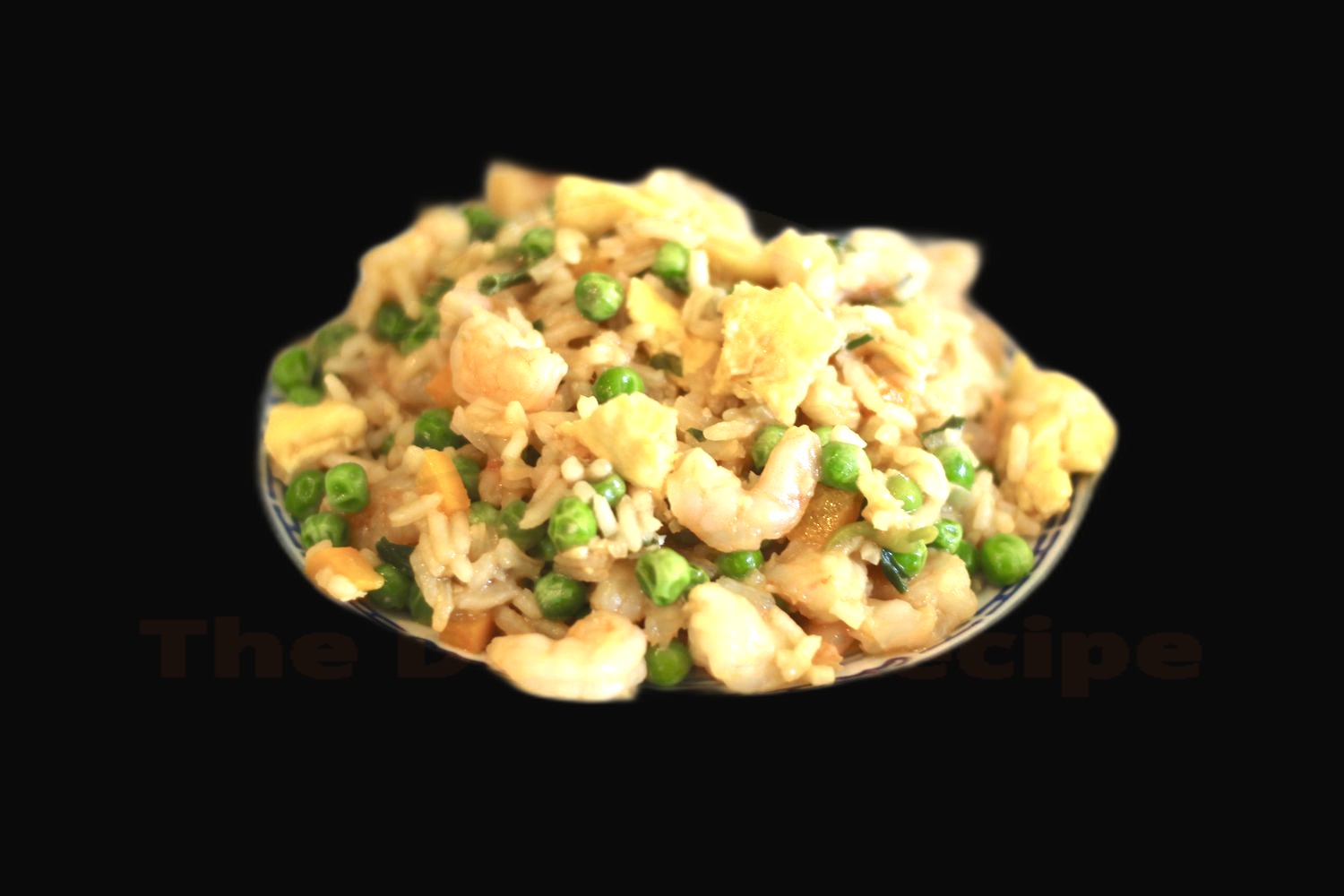 Ingredients
2 tablespoons vegetable oil
1 pound large shrimp, peeled, deveined and tails removed
2 cloves garlic, minced
1 teaspoon freshly grated ginger
1/4 teaspoon ground red pepper
1/4 teaspoon ground turmeric
1/4 teaspoon salt
3 cups cooked white rice
1/2 cup unsweetened coconut flakes
2 tablespoons freshly chopped cilantro
Instructions
Begin by heating the oil in a large skillet over medium-high heat.
Once the oil is hot, add the shrimp, garlic, ginger, red pepper, turmeric and salt to the skillet. Cook for 5 minutes, stirring often, until the shrimp are just cooked through.
Add the cooked white rice to the skillet, stirring to combine. Cook for 5 more minutes, stirring often.
Add the coconut flakes and cilantro and stir until everything is evenly combined. Cook for an additional 5 minutes, stirring occasionally.
Your Spicy Shrimp Fried Coconut Rice is now ready to enjoy! Serve it warm and enjoy the delicious flavors!
Nutrition Facts
Serving size: 1 cup
Calories: 393
Total Fat: 14g
Saturated Fat: 7g
Cholesterol: 143mg
Sodium: 636mg
Total Carbohydrate: 43g
Dietary Fiber: 3g
Sugars: 2g
Protein: 22g
What makes spicy shrimp fried coconut rice so special?
You've probably had fried rice before, but there's something special about Spicy Shrimp Fried Coconut Rice that makes it stand out from the rest. It's all about the mix of flavours – the coconut, the spicy chilli, the sweet and savoury shrimp – that come together to create something truly unique and delicious.
To start, the rice is cooked in coconut milk, giving it a slightly sweet and creamy taste. Then, it's mixed with chilli, garlic, and onions for a spicy kick. Next, juicy shrimp are added for a savoury flavor. Finally, the whole dish is cooked to perfection, creating a flavourful and fragrant meal that will have you coming back for more.
The beauty of this dish lies in the combination of bold and subtle flavours, resulting in a meal that will tantalize your taste buds. Plus, it's a relatively healthy option as the ingredients are all natural and not overly processed. So, if you're looking for something different and delicious to try, this is a great option.
What tips can you offer to get the most out of this dish?
To get the most out of this spicy shrimp fried coconut rice, start by prepping all ingredients before you start cooking – this will ensure that everything cooks evenly and quickly.
Make sure to use fresh ingredients when you're cooking this dish. Fresh shrimp, vegetables, and rice are a must!.
Once you start cooking, don't forget to taste as you go and adjust the seasoning as needed. This will ensure that the dish is perfectly seasoned before serving.
If you want to take the flavors even further, you can add some extra chili flakes to the dish for an extra kick.
Finally, don't forget to finish the dish with a sprinkle of fresh herbs and a squeeze of lime juice for a bright and flavorful finish.
What kind of flavors do you experience when you eat this dish?
When you eat this dish, you will experience a unique blend of flavors! The spicy shrimp is a great contrast against the sweetness of the coconut rice, while the crunch of the fried coconut adds a delightful texture. This combination ensures that when you take a bite, you will be treated to an explosion of flavors!
The spicy shrimp is the star of the show, bringing a hint of heat to the mix. The chili peppers, garlic, and ginger add a punch of flavor, while the shallots and red peppers bring sweetness. The shrimp is cooked in a mix of flavorful sauces and spices, ensuring that each bite is full of flavor.
The coconut rice provides a delightful sweetness, which is balanced out by the savory shrimp. The rice is cooked in coconut milk, and it is lightly seasoned with turmeric and cumin. The fried coconut adds a crunchy texture to the dish, as well as an additional layer of sweetness.
All of these flavors come together to create an unforgettable dish.
What ingredients do you need to make this delicious dish?
If you're looking to make an amazing, delicious dish of Spicy Shrimp Fried Coconut Rice, you'll need a few essential ingredients. The first and most important ingredient is, of course, the shrimp! You'll need to find some fresh shrimp, preferably raw, and then you'll want to season them with salt and pepper. Once the shrimp are prepped and ready, you'll need some coconut oil to fry them up in.
After that, you'll need some jasmine rice and coconut milk to make the coconut rice. For the spices, you'll need some garlic, ginger, and chili flakes. As for additional ingredients, you can include some chopped cilantro, scallions, and/or onions. Lastly, you'll need some lime juice for a bit of a zesty finish.
With these ingredients in hand, you'll be ready to make this delicious dish of Spicy Shrimp Fried Coconut Rice.
How can you best serve spicy shrimp fried coconut rice?
Serving up spicy shrimp fried coconut rice is easy! To get the most flavor, you'll want to start by toasting the rice in a wok or large skillet. Be sure to stir the rice continuously until it's lightly golden brown. Once the rice is toasted, add in your shrimp and any other desired ingredients. Lastly, pour in the coconut milk and cook the rice until it's tender. The result will be a flavorful, fragrant dish that's sure to impress your family and friends.