Sandra'S Delicious Party Salad Recipe
I can still remember the first time I made Sandra's Party Salad for a family gathering. I was nervous and unsure if it would turn out okay, but I was pleasantly surprised. The vibrant colors and delicious flavors captivated all of my guests and they couldn't get enough of it! It's one of my go-to recipes for any kind of party or gathering, and I'm so excited to share it with you. Let's get started!
Sandra's Party Salad Recipe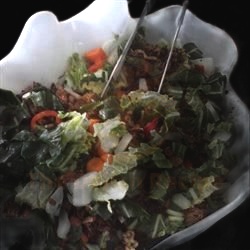 Ingredients
1 head of lettuce, chopped
1 cup cherry tomatoes, halved
1/2 cup cucumber, chopped
1/4 cup crumbled feta cheese
1/4 cup diced red onion
1/4 cup sliced black olives
1/4 cup chopped red bell pepper
1/4 cup ranch dressing
2 tablespoons balsamic vinegar
1 tablespoon honey
1 clove garlic, minced
Salt and pepper, to taste
Instructions
Hey Sandra, are you ready to make your Party Salad? Let's get started!
Start by prepping all the ingredients. Chop the lettuce, cherry tomatoes, cucumber, red onion, red bell pepper, and garlic. Slice the black olives and crumble the feta cheese.
Now, in a large bowl, combine the lettuce, cherry tomatoes, cucumber, feta cheese, red onion, black olives, and red bell pepper.
In a separate bowl, whisk together the ranch dressing, balsamic vinegar, honey, minced garlic, salt, and pepper.
Pour the dressing over the salad and toss well to combine.
Let the salad sit for 30 minutes to let the flavors meld together.
And you're done! Your Party Salad is ready to be served. Enjoy!
Nutrition Facts
Calories: 220
Total Fat: 16g
Saturated Fat: 5g
Cholesterol: 22mg
Sodium: 683mg
Total Carbohydrate: 16g
Dietary Fiber: 4g
Sugars: 9g
Protein: 5g
What inspired you to create sandra's party salad?
When I decided to create Sandra's Party Salad, I was inspired by my love of fresh ingredients and the desire to bring something special to the table. I wanted to create a salad that was bursting with flavor and texture and that would be the perfect side dish for any gathering.
I wanted to make something that was sure to please everyone, so I used a combination of fresh vegetables, fruits, and herbs to create a delicious and colorful mix. I combined crunchy cucumbers, sweet grape tomatoes, and tangy red onions, and added fresh parsley, basil, and mint for a burst of flavor.
I also wanted the salad to have a unique and special touch, so I added a few special ingredients. I used dried cranberries for a sweet and tart addition, and creamy feta cheese for a hint of richness. I also added some crunchy walnuts for texture and a sprinkle of sesame seeds for an extra boost of flavor.
The result was a delicious and unique salad that was sure to be a hit at any gathering.
What tips do you have to make this salad even more delicious?
If you want to make Sandra's Party Salad even more delicious, here are a few great tips!
Add fresh herbs to the salad. Parsley, oregano, basil, or cilantro will really heighten the flavor of the dish.
Don't forget to season the salad with salt and pepper. It will bring out the flavor of the vegetables and make them taste even better.
If you want to add some tangy flavor, try adding a squeeze of lemon or lime juice. It will give the salad an extra zing.
If you like a bit of heat, try adding some chili flakes or a dash of hot sauce. It will give the salad a nice kick.
If you want to make the salad more filling, try adding some grilled chicken or shrimp. This will make it a full meal.
To add a bit of crunch, toss in some croutons or toasted nuts. This will add an interesting texture to the dish.
Finally, don't forget to top the salad with a delicious and flavorful dressing of your choice. This will really make the salad pop.
What are the most important ingredients to make this salad a success?
If you're looking to make Sandra's Party Salad a guaranteed success, there are a few key ingredients that you need to have on hand. First, you'll need some crunchy lettuce like Romaine or iceberg. Adding a variety of fresh vegetables like carrots, tomatoes, peppers, and cucumbers will make it a colorful and nutrient-packed dish. To make it extra special, you can add some feta cheese, olives, and croutons. Finally, don't forget the dressing! A classic Italian or a zesty ranch will bring the flavors together and make it a hit with your guests.
What makes this salad stand out from other party salads?
Sandra's Party Salad is a hit with guests because it stands out from other party salads! It's packed with flavor, texture, and color, making it extra satisfying and visually appealing. The secret to its success lies in the combination of ingredients.
This salad is made with a mix of leafy greens, such as romaine, spinach, and kale, plus crunchy vegetables like cucumber, carrots, and celery. Then, it's loaded up with flavorful toppings like shredded cheese, croutons, and sunflower seeds. Finally, it's finished off with a healthy, homemade dressing made from lemon juice, olive oil, and a touch of garlic and herbs.
The combination of flavors and textures in Sandra's Party Salad make it an unforgettable addition to any gathering. The crunchy vegetables and salty cheeses add a delightful contrast to the light and flavorful greens, while the homemade dressing ties it all together. And with so many colors, it's sure to look as good as it tastes.
So if you're looking for a unique and delicious party salad, look no further than Sandra's Party Salad! It's sure to be an instant hit with guests.
How long does this salad take to prepare and how can you save time?
You can have Sandra's Party Salad on your table in no time! This delicious salad is super easy to prepare and only takes about 10 minutes. To save time, you can buy pre-washed and pre-cut veggies like carrots, cucumbers, and radishes. You can also buy precooked bacon and pre-shredded cheese. For the dressing, you can make your own homemade version or buy a store-bought one. To save even more time, you can buy a bag of pre-washed and pre-chopped lettuce.
What do you think your guests will love most about sandra's party salad?
You can be sure that your guests are going to love Sandra's Party Salad! It's such a unique and delicious dish, packed full of fresh ingredients that come together to create an amazing flavor. The combination of sweet, spicy, salty and savory is sure to surprise and delight your guests. Plus, it's so easy to make – all you need to do is toss everything in a bowl and you're good to go. With its vibrant colors and tantalizing textures, this salad will be a hit at your next gathering.