Delicious Nutella Bread Pudding Recipe
I've been making Nutella Bread Pudding for years now, and it's always been one of my favorite desserts. It's so easy to make, yet so decadent and delicious, and it's always a crowd pleaser. It's a great way to use up stale bread and satisfy your sweet tooth at the same time. Plus, it's made with Nutella, which makes it even better! Try this easy yet delicious recipe and you'll see why I love this Nutella Bread Pudding so much.
Nutella Bread Pudding Recipe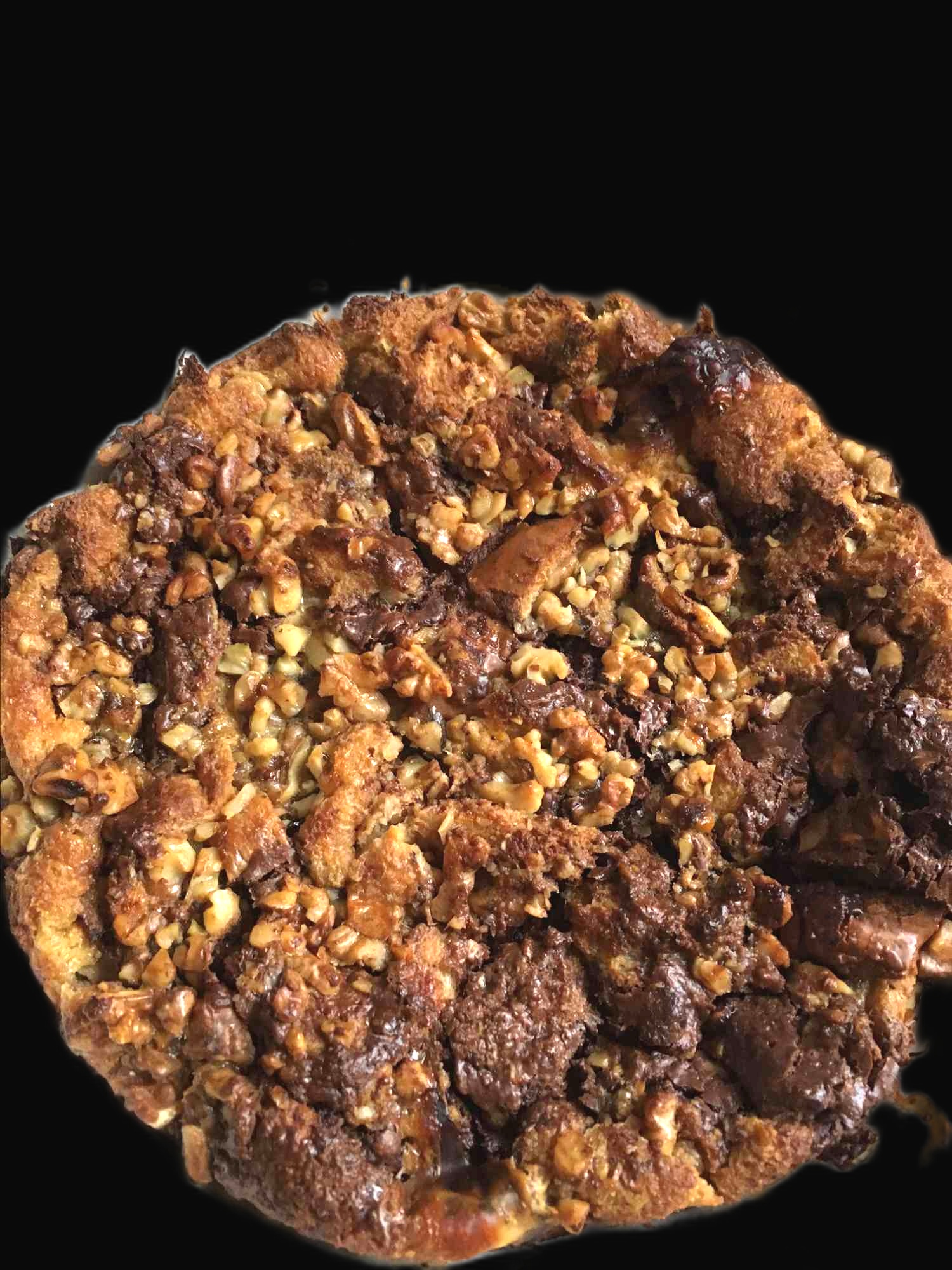 Ingredients
2 cups day-old French bread, cut into 1-inch cubes
2 cups whole milk
3 eggs
¼ cup granulated sugar
½ cup Nutella
¼ teaspoon ground cinnamon
¼ teaspoon ground nutmeg
¼ teaspoon salt
2 tablespoons butter, melted and cooled
1 teaspoon vanilla extract
1/3 cup dark chocolate chips
Instructions
Preheat your oven to 350°F (176°C).
Grease an 8-inch baking dish with butter or non-stick cooking spray.
Place the cubed French bread in the baking dish.
In a medium bowl, whisk together the milk, eggs, sugar, Nutella, cinnamon, nutmeg, and salt until combined.
Pour the mixture over the bread cubes, making sure to coat evenly.
Drizzle melted butter over the top and sprinkle with vanilla extract.
Sprinkle the dark chocolate chips over the top.
Bake for 45 minutes, or until the top is golden brown and the center is set.
Let cool for at least 90 minutes before serving.
Enjoy your delicious Nutella Bread Pudding!
Nutrition Facts
Calories: 382 kcal
Carbohydrates: 42 g
Protein: 10 g
Fat: 17 g
Saturated Fat: 9 g
Trans Fat: 0 g
Cholesterol: 120 mg
Sodium: 581 mg
Fiber: 2 g
Sugar: 22 g
Have you ever tried nutella bread pudding? if not, you're missing out on a delicious and indulgent treat!
Yes, you definitely should try Nutella Bread Pudding if you haven't already! This tasty treat combines two of the best things in life – Nutella and bread pudding – for an indulgent, delicious, and definitely drool-worthy experience.
This classic dessert is easy to make and will surely be a hit at any gathering. The combination of the moist, buttery bread pudding, the creamy Nutella, and the crunchy topping creates the perfect balance of flavors and textures. Not to mention, it's a great way to use up any leftover bread you have in the house.
To make Nutella Bread Pudding, you'll need some cubed bread of your choice, eggs, cream, a cup of Nutella, and a topping of your choice. Start by preheating the oven to 350°F. Then, in a bowl, mix together the eggs, cream, and Nutella until everything is combined. Grease an oven-safe baking dish, add the cubed bread, and pour the Nutella mixture over the top. Sprinkle the topping of your choice over the top, and bake for 30 minutes. When it's finished baking, you'll have a deliciously indulgent treat for you and your family to enjoy!
So what are you waiting for? If you haven't tried Nutella Bread Pudding yet, make sure to give it a try! After all, it's a classic dessert that everyone will love.
What makes nutella bread pudding so special? find out why it's a favorite among dessert lovers.
Nutella bread pudding is one of the most delicious desserts around! It's a favorite among dessert lovers for a lot of reasons. The combination of sweet and creamy Nutella, soft bread, and crunchy sugar crystals is just heavenly. Plus, it's super easy and quick to make, and you don't need any fancy ingredients or tools.
When you make Nutella bread pudding, the bread is soaked in a mixture of milk, eggs and Nutella. This creates a custard-like texture that's both creamy and light. The Nutella melts into the custard and pairs perfectly with the sweetness of the sugar crystals sprinkled on top. Plus, it's a great way to use up any stale bread you may have lying around.
The best part about Nutella bread pudding is that it's so customizable. You can add nuts, dried fruits, or chocolate chips to the custard mixture. And if you prefer a tart flavor, you can add a few drops of lemon juice. You can even get creative and top the pudding with a scoop of ice cream or a drizzle of melted chocolate.
No matter how you make it, Nutella bread pudding is an absolute treat. It's the perfect balance of sweet and creamy flavors, and it's sure to satisfy any sweet tooth.
Learn the simple steps for preparing this scrumptious dessert.
Ready to indulge in the deliciousness that is Nutella Bread Pudding? It's simple to make, you just need to know the steps!
First, you'll need to gather your ingredients. You'll need a loaf of French bread, butter, eggs, sugar, milk, cream, vanilla extract, and delicious Nutella! Now that you have all the necessary ingredients, it's time to get started.
Begin by preheating your oven to 350 degrees and buttering a baking dish. Then, cut the French bread into cubes and spread out evenly across the baking dish. Now it's time for the delicious Nutella. Spread generous amounts of Nutella all over the bread cubes and make sure the cubes are completely covered.
Next, whisk the eggs, sugar, milk, cream, and vanilla extract together until everything is thoroughly combined. Then pour this mixture over the Nutella-covered cubes and let the pudding sit for 15 minutes.
Once the pudding has had a chance to soak up all the egg mixture, you can place it in the oven and bake for 30-35 minutes. When the pudding is golden brown and bubbly, you can take it out and let it cool.
Discover the perfect ingredients for the best-tasting nutella bread pudding.
If you're looking for the perfect ingredients for the best-tasting Nutella bread pudding, you've come to the right place! This indulgent dessert is a great treat for any occasion, and all you need are a few simple ingredients. Here's what you need to whip up this yummy dessert:
cups of stale bread cubes
cups of whole milk
large eggs
½ cup of white sugar
teaspoon of vanilla extract
¼ cup of butter
½ cup of Nutella
Once you have all your ingredients ready, you can start prepping your Nutella bread pudding.
To begin, preheat your oven to 350 degrees Fahrenheit. Grease a 9-inch baking dish with some butter. Then, spread the stale bread cubes over the bottom of the dish. In a bowl, whisk together the milk, eggs, sugar, vanilla extract, and butter. Pour the mixture over the bread cubes and let the bread soak for 30 minutes.
Next, spread the Nutella over the top of the bread cubes. Bake the pudding for 35 to 40 minutes until the pudding is golden and set. Let it cool for 10 minutes before serving.
Find out how to make it even more delicious by adding your own creative spin.
You can make Nutella Bread Pudding even more delicious by getting creative! There are so many different variations you can explore to give it your own unique spin. Here are some ideas of how you can take your Nutella Bread Pudding from delicious to extraordinary:
Try adding a layer of cream cheese or Greek yogurt to the pudding for an extra creamy texture.
Sprinkle some nuts on top for a crunchy, nutty flavor.
For a hint of sweetness, try adding some dried fruits like cranberries or raisins.
Drizzle some honey over the top for a sweet, sticky glaze.
Want to give your bread pudding a bit of a kick? Add a pinch of cayenne pepper or ground cinnamon.
Give your bread pudding a bite of tartness by adding a bit of lime or lemon zest.
Give your bread pudding a bit of a tropical twist by adding some chopped mango or pineapple.
For an extra-decadent treat, add some dark chocolate chips or chunks.
You can get as creative as you like with your Nutella Bread Pudding and create a delicious dish that's sure to please everyone.
Get inspired to try this classic dessert with a modern twist.
You're in for a treat if you try Nutella Bread Pudding! This classic dessert with a modern twist is sure to satisfy your sweet tooth. Whether you are an experienced baker or just getting started in the kitchen, this easy-to-make dessert is a great way to get inspired to try something new. It combines the classic flavors of bread pudding with the delicious flavor of Nutella, creating a wonderful combination that is sure to please.
To make this delicious treat, start by tearing up some thick slices of white bread into small pieces. Place the pieces in a greased baking dish and pour a mixture of melted Nutella, eggs, and cream over the top. Mix until everything is evenly combined. Bake the pudding in the oven for about an hour. Once it's done, let it cool before sprinkling with a bit of powdered sugar.
Serve this classic dessert with a modern twist for a delicious after-dinner treat. Enjoy it warm with a scoop of ice cream or top it with fresh fruit for an added touch of sweetness. Nutella Bread Pudding is sure to become a family favorite.