Healthy Cream Of Vegetable Soup Recipe
There's nothing quite like a bowl of creamy vegetable soup on a cold winter day. I've been making this delicious recipe for years, and it never fails to hit the spot! The combination of fresh vegetables and a creamy base gives this soup a comforting, satisfying flavor that is sure to please everyone in the family. Plus, it's easy to make and can be customized with whatever vegetables you have on hand. So whip up a batch of this delicious Cream of Vegetable Soup and enjoy a cozy, comforting meal!
Cream of Vegetable Soup Recipe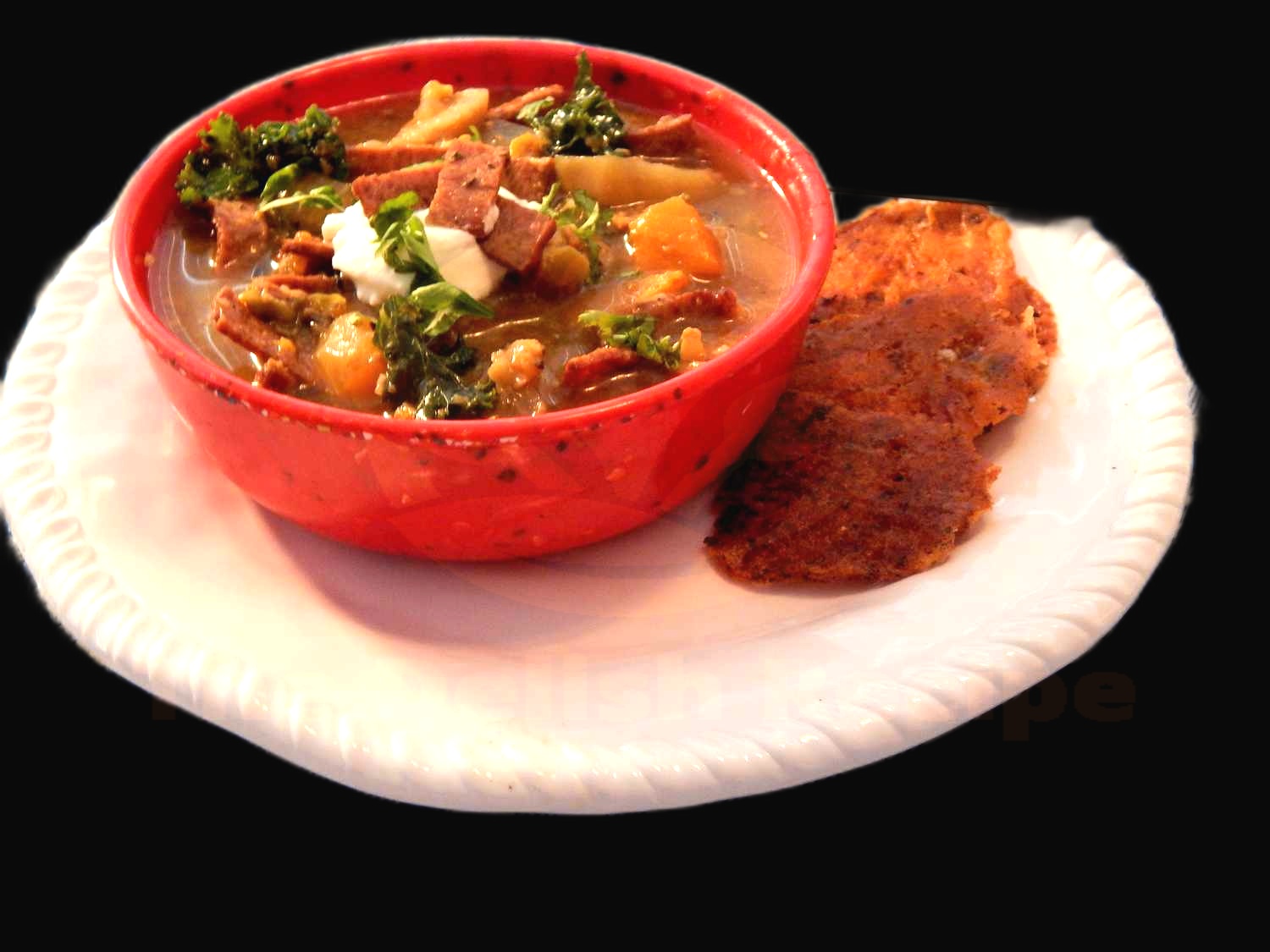 Ingredients
6 cups vegetable broth
2 cups diced carrots
2 cups diced potatoes
1 cup diced celery
1 cup diced onion
2 cloves garlic, minced
1/4 teaspoon dried thyme
1/4 teaspoon dried basil
1/2 teaspoon salt
1/4 teaspoon ground pepper
1/4 cup all-purpose flour
1 cup heavy cream
1/4 cup grated Parmesan cheese
Instructions
Let's make some delicious Cream of Vegetable Soup! Gather all the ingredients you'll need: 6 cups of vegetable broth, 2 cups diced carrots, 2 cups diced potatoes, 1 cup diced celery, 1 cup diced onion, 2 cloves garlic (minced), 1/4 teaspoon of dried thyme, 1/4 teaspoon of dried basil, 1/2 teaspoon salt, 1/4 teaspoon ground pepper, 1/4 cup all-purpose flour, 1 cup heavy cream, and 1/4 cup of grated Parmesan cheese.
Start by heating up a large soup pot over medium-high heat. Add the vegetables and garlic, and sauté for about 5 minutes, until they start to soften.
Pour in the vegetable broth and add in the thyme, basil, salt, and pepper. Stir everything together and bring the mixture to a boil.
Once the soup is boiling, reduce the heat to low and simmer for about 15 minutes.
In a separate bowl, whisk together the all-purpose flour and cream until it forms a smooth paste.
Slowly stir the paste into the soup, stirring constantly to make sure it doesn't clump. Simmer for an additional 10 minutes.
Once the soup is finished, turn off the heat and stir in the Parmesan cheese.
Your Cream of Vegetable Soup is now ready to serve! Enjoy!
Nutrition Facts
Calories: 225 kcal
Fat: 8.5 g
Carbohydrates: 28.5 g
Protein: 7.5 g
Sodium: 965 mg
Sugar: 4.2 g
Cholesterol: 30 mg
What makes cream of vegetable soup so special?
Cream of Vegetable Soup is special because it offers a taste that is unique and comforting. Not only does this soup give a creamy and rich flavor, but also it provides a hearty and filling meal that can be enjoyed during any season. What makes this soup truly special is that it combines the richness of cream with the nutrient-packed goodness of vegetables.
The combination of these two ingredients makes Cream of Vegetable Soup a nutritional powerhouse. The creamy base adds essential vitamins and minerals, while the vegetables offer an abundance of vitamins, minerals, and antioxidants. This soup is also an excellent source of dietary fiber, which helps to keep you feeling full and energized.
Another great thing about Cream of Vegetable Soup is that it is extremely versatile. You can easily customize the recipe to suit your taste and dietary needs. Depending on what vegetables you use, you can create a soup with a variety of flavors. Additionally, you can add other ingredients like beans, rice, or pasta to make the soup even more filling.
Cream of Vegetable Soup is truly a special dish that is both nutritious and delicious. It is the perfect way to enjoy a comforting and hearty meal, while also providing your body with the essential nutrients it needs.
What are the health benefits of eating vegetable soup?
Eating vegetable soup is a delicious and easy way to get all the great health benefits of vegetables! Here are some of the incredible health benefits you can get from a bowl of creamy, vegetable-packed soup:
Improved Digestion: Vegetable soup is loaded with dietary fiber, which helps to keep your digestive system running smoothly by promoting regularity and promoting healthy bacteria in the gut.
Heart Health: Vegetables are high in heart-healthy vitamins and minerals like potassium, magnesium, and folate, which can help reduce the risk of heart disease.
Stronger Bones: Soups are a great source of calcium, which is essential for building and maintaining strong bones.
Weight Loss: Vegetable soup is packed with nutrients but low in calories, making it a great choice for those looking to lose weight.
More Energy: The vitamins and minerals in vegetable soup are known to give you a boost of energy, making it the perfect meal to fuel your day.
What tips and tricks do you need to know to make the best cream of vegetable soup?
Making the best cream of vegetable soup doesn't have to be hard. All you need are a few simple tips and tricks to take your soup to the next level. Here's what you need to know:
Start with a flavorful broth: Your broth will be the foundation of your soup, so make sure to use one that is flavorful. If you're using store-bought broth, try to use low-sodium varieties and enhance the flavor with herbs and spices.
Roast your vegetables: Roasting your vegetables before adding them to the soup will help to bring out their natural flavor. Simply toss your vegetables with a bit of olive oil, garlic, and salt and pepper, and then roast them in the oven until they're tender.
Add cream: For a creamy soup, you'll want to add cream or a combination of cream and milk. To avoid a heavy soup, use light cream or half and half.
Use a blender: If you want a velvety smooth soup, use a high-powered blender to puree the soup until it reaches the desired consistency. For an extra-smooth soup, you can even pass it through a strainer.
Adjust the seasoning: Before serving, make sure to adjust the seasoning to your taste. Depending on the vegetables used, you may need to add more salt, pepper, or herbs and spices.
With these tips and tricks, you're sure to make the best cream of vegetable soup.
How can you customize this dish to your own taste?
You can customize Cream of Vegetable Soup to your own taste in many different ways! For instance, if you're looking for a bit more protein, you can add cooked chicken, shrimp, or beef. If you want a bit more flavor, try adding different herbs and spices, such as garlic, cumin, oregano, or thyme. You can also mix up the types of vegetables you use in the soup. For example, try adding mushrooms and carrots instead of just potatoes and celery. And if you want a creamy soup without all the added fat, you can swap out the heavy cream and use a combination of milk and yogurt.
What are some creative ways to serve cream of vegetable soup?
You can get creative with cream of vegetable soup! While the classic version is delicious, you can easily add different flavors, textures and ingredients to make it even more special. Here are some ideas:
For a crunchy texture, top your soup with crumbled bacon, fried onions, roasted pumpkin seeds, or croutons.
If you're feeling adventurous, add a dollop of pesto, a spoonful of yogurt, or a sprinkle of chili flakes.
Make a vegan version of the soup by swapping the cream for coconut cream or a nut-based cream.
If you're looking for something sweet and savory, add a drizzle of honey or maple syrup, a sprinkle of nutmeg, or a splash of orange juice.
Instead of using the classic vegetables like carrots, potatoes, and celery, try using other vegetables like sweet potatoes, parsnips, or kale.
Mix in cooked grains like quinoa, barley, or farro for an extra dose of protein and fiber.
Add a spoonful of freshly grated Parmesan cheese or a sprinkle of freshly chopped herbs to give the soup a burst of flavor.