Tantalizing Jamaican Chicken Curry – A Taste Of The Caribbean!
If you're looking for a flavorful, satisfying dish that's sure to please the whole family, look no further than this delicious Jamaican Chicken Curry recipe! I've made this dish countless times and it never fails to hit the spot. Packed with the aromatic flavors of Jamaica, this comforting meal is sure to be a hit with everyone. With just a few simple ingredients and a few minutes of prep time, you can have this comforting, delicious meal on the table in no time!
Jamaican Chicken Curry Recipe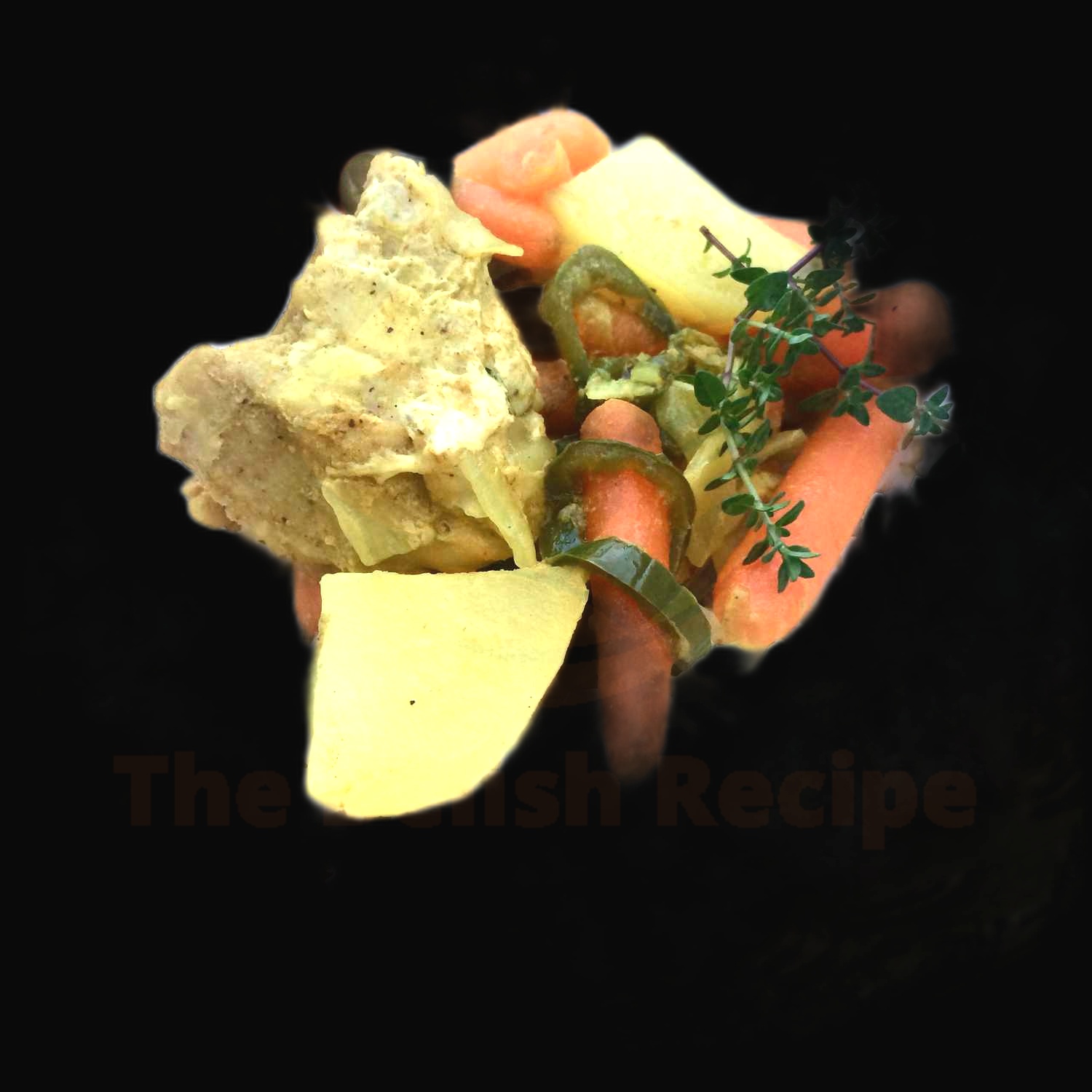 Ingredients
3 chicken breasts, cubed
2 tablespoons olive oil
1 large onion, chopped
2 cloves garlic, minced
1 teaspoon ground ginger
1 teaspoon ground cumin
1 teaspoon ground coriander
1 teaspoon ground turmeric
1 teaspoon ground allspice
1/2 teaspoon cayenne pepper
1/2 teaspoon sea salt
2 cups chicken stock
1 large sweet potato, peeled and cubed
1 red bell pepper, diced
1 14-ounce can coconut milk
1/4 cup chopped fresh cilantro
Juice of 1/2 lime
Instructions
Begin by prepping your ingredients. Start by cubing your 3 chicken breasts, chopping the onion, mincing the garlic, and cubing the sweet potato and then dicing the red bell pepper.
Heat the olive oil in a large pot over medium heat. Once the oil is hot, add in the onion and garlic and cook until the onion is soft and translucent.
Add in the ginger, cumin, coriander, turmeric, allspice, cayenne pepper, and sea salt and stir everything together until the spices are well incorporated.
Add the cubed chicken and stir everything together to coat the chicken with the spices.
Pour in the chicken stock and add in the sweet potato and red bell pepper. Increase the heat to medium-high and bring the mixture to a boil.
Once boiling, reduce the heat to low, cover the pot and let the chicken curry simmer for 40-45 minutes or until the sweet potatoes are tender.
Once done, stir in the coconut milk and fresh cilantro and simmer for an additional 5 minutes.
Turn off the heat and squeeze in the juice of 1/2 lime.
Jamaican Chicken Curry is now ready to serve! Enjoy!
Nutrition Facts
Calories: 337
Total Fat: 8.9g
Saturated Fat: 2.5g
Cholesterol: 62.1mg
Sodium: 599.6mg
Total Carbohydrates: 21.4g
Dietary Fiber: 4.4g
Sugars: 6.3g
Protein: 36.2g
What makes jamaican chicken curry unique?
Jamaican chicken curry is a delicious, one-of-a-kind dish that stands out from other curries in the world. Its unique flavor is a result of the exotic combination of spices and ingredients that make up the classic Jamaican curry. The combination of coconut milk, scallions, garlic, ginger, thyme, and Scotch bonnet peppers gives the dish its signature taste and zest. Additionally, the addition of potatoes, onions, and carrots adds texture and heartiness that round out the full flavor profile. The dish is also quite versatile, allowing you to customize it with different types of meat, vegetables, and extra spices to tailor the flavor to your own palate. With its unparalleled combination of spices, textures, and flavors, it's no surprise that Jamaican chicken curry has become a popular dish around the world.
What are the essential ingredients for a traditional jamaican curry?
If you want to make a traditional Jamaican curry, you'll need some key ingredients. The most essential are curry powder, garlic, onions, hot peppers, thyme, allspice, coconut milk, and of course, chicken. With these ingredients, you can make a delicious and flavorful Jamaican chicken curry that will have your taste buds dancing!
Curry powder is the most important ingredient and gives a traditional Jamaican curry its distinct flavor. You can find Jamaican curry powder in a range of colors, from yellow to brown, and with varying levels of spiciness. When choosing the right curry powder for your dish, consider the colors, the levels of heat, and the ingredients listed on the label.
Garlic and onions are also essential to a traditional Jamaican curry. The combination of garlic and onions adds a depth of flavor to the dish, and can be cooked in a variety of ways. You can sauté the onions and garlic in oil, or you can cook them in the curry sauce itself.
Hot peppers are an important element in Jamaican curries, adding a unique flavor and a kick of heat. Habanero peppers are the most commonly used peppers in Jamaican curries, but you can also use jalapeño peppers or any other hot peppers that you prefer.
Thyme and allspice are two of the most important herbs used in Jamaican curries. Thyme adds a bright, earthy flavor that is essential for making a traditional Jamaican curry. Allspice brings a warm and spicy flavor that is essential for creating the signature Jamaican curry flavor.
Finally, coconut milk is an essential ingredient for a traditional Jamaican curry. Coconut milk adds a creamy texture and a hint of sweetness to the dish, creating a flavor balance that is essential for a delicious Jamaican curry.
With these essential ingredients, you can make a delicious and flavorful Jamaican chicken curry that will have your taste buds dancing.
How can you adapt the recipe to suit your tastes?
If you want to make Jamaican Chicken Curry your own, the possibilities are endless! There are lots of ways to adapt the recipe to suit your taste. Whether you like it spicy, savory, or sweet, you can easily customize the dish. Here are some ideas to get you started.
First, consider the seasonings. If you like your curry spicier, try adding extra chili peppers or a dash of cayenne pepper. If you prefer a more savory flavor, add some additional garlic and onion. For a sweeter taste, add some coconut milk or a bit of honey.
Next, consider the vegetables you add. You can always switch up the type of vegetables you use in the dish. Some great options for Jamaican Chicken Curry include bell peppers, squash, potatoes, carrots, and green beans. You can also add some fresh herbs like cilantro or parsley to give the dish a bright, flavorful finish.
Finally, if you want to make your Jamaican Chicken Curry even more flavorful and hearty, try adding some extra protein. One great option is to add cubed and cooked chicken breasts, which will give the dish a delicious, savory flavor. You can also try adding some cooked shrimp, which will give the dish an added layer of flavor.
With just a few simple adjustments, you can easily adapt Jamaican Chicken Curry to suit your tastes. Whether you like it spicy, savory, or sweet, there's a way to make this delicious dish your own.
What accompaniments complement jamaican curry?
When it comes to Jamaican Chicken Curry, the possibilities are endless when it comes to accompaniments! From plantains to dumplings, there's something to please everyone. Here are some of our favorite accompaniments to serve up alongside this delicious dish.
Plantains are a favorite when it comes to Jamaican cuisine. Not only are they a great compliment to the spiciness of the curry, but they also add a delicious sweetness. Whether you fry them in a pan or bake them in the oven, plantains are sure to please.
If you're looking for something a bit more substantial, try dumplings. Dumplings can be filled with a variety of ingredients, and are easy to prepare. Make sure to include some vegetables, such as carrots, potatoes, and peas, for a more balanced meal.
Rice is another great accompaniment for Jamaican Curry. White rice is a classic, but feel free to get creative with your choice. Coconut rice, jasmine rice, or even brown rice are all excellent options.
Finally, no meal is complete without a side of vegetables. Boiled or steamed vegetables are great, or try roasting them in the oven for a more flavorful option. Broccoli, cauliflower, and carrots are all wonderful choices.
Jamaican Chicken Curry is a delicious dish, and the accompaniments above make it even better.
How can you add more heat to the dish?
Adding more heat to a Jamaican Chicken Curry is easy! All you need is a few extra spices, such as cayenne pepper, red pepper flakes, or dried chili peppers. You can also add some fresh peppers, such as jalapenos, habaneros, or Scotch bonnets. If you want a milder heat, add sweet peppers like red or green bell peppers. Another great way to increase the heat is to add a spicy condiment, such as hot sauce or chili sauce. You can also add spicy herbs like oregano, thyme, or rosemary. Finally, don't forget the all-important curry powder, which is a mixture of spices that adds plenty of heat.