Sizzling Spiced Shrimp Fajitas
I've been perfecting my grilled shrimp fajitas recipe for years, and my family can't get enough! The marinated shrimp, zesty peppers and onions, and spicy seasoning combine to create a flavor that can't be beaten. I love to make this dish for friends and family, and it always gets rave reviews. The best part is that it's quick and easy to make, so I can enjoy more time with my guests.
Grilled Shrimp Fajitas Recipe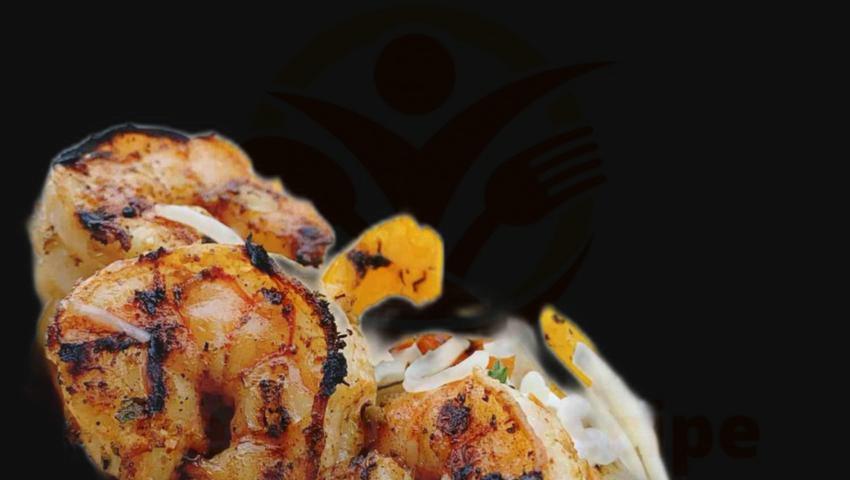 Ingredients
1 (1.06 ounce) package mojito lime marinade mix
¼ cup vegetable oil
2 tablespoons cider vinegar
2 tablespoons water
2 pounds raw jumbo shrimp, shelled and deveined
1 serving cooking spray
1 large onion, sliced into 1/2-inch rings
2 yellow bell peppers, quartered
2 red bell peppers, quartered
1 (8 ounce) package fajita-size flour tortillas
Instructions
In a medium bowl, combine the mojito lime marinade mix, vegetable oil, cider vinegar, and water to create the marinade.
Place the shrimp in a large resealable plastic bag and pour the marinade over the shrimp. Seal the bag and gently mix the marinade and shrimp together. Place the bag in the refrigerator for at least 30 minutes to marinate.
Preheat a grill to medium-high heat and lightly spray with cooking spray.
Remove the shrimp from the marinade and place them on the preheated grill. Grill the shrimp for about 3-4 minutes per side, or until the shrimp is cooked through.
Meanwhile, spray a large skillet with cooking spray and heat to medium heat. Add the onion and bell peppers to the skillet and cook for about 5-7 minutes, stirring occasionally, until the vegetables are tender.
Place the cooked shrimp and cooked vegetables in a large bowl and set aside.
Warm the tortillas in the microwave according to package instructions.
To assemble the fajitas, place some of the shrimp and vegetables on each tortilla. Serve immediately. Enjoy!
Nutrition Facts
Serving Size: 1 Fajita
Calories: 227
Fat: 7.5 g
Carbohydrates: 25 g
Protein: 12.5 g
Sodium: 225 mg
Cholesterol: 58 mg
Spice it up
Adding spice to grilled shrimp fajitas is easy to do with the right recipes. There are a variety of marinades, seasonings, and toppings that will give your grilled shrimp fajitas the perfect amount of spice. Here are some recipes to help you spice up your grilled shrimp fajitas.
Marinades:
For a flavorful marinade, combine 1/4 cup olive oil, 1/4 cup lime juice, 1 teaspoon smoked paprika, 1 teaspoon chili powder, 1/2 teaspoon garlic powder, 1/2 teaspoon onion powder, 1/2 teaspoon cumin, 1/4 teaspoon cayenne pepper, and a pinch of salt. Pour the marinade over the shrimp, cover, and refrigerate for at least 30 minutes.
Seasonings:
For a flavorful seasoning, mix together 1 tablespoon garlic powder, 1 tablespoon paprika, 1 teaspoon cumin, 1 teaspoon chili powder, 1/2 teaspoon cayenne pepper, 1/2 teaspoon oregano, and a pinch of salt. Rub the seasoning over the shrimp before grilling.
Toppings:
To add a bit of extra heat, top the grilled shrimp fajitas with diced jalapenos, diced onion, diced bell peppers, and a sprinkle of chili powder. For a refreshing kick, top the fajitas with chopped cilantro, diced avocado, and a squeeze of lime juice.
These recipes will help you take your grilled shrimp fajitas to the next level. With the right marinade, seasoning, and toppings, you can easily add just the right amount of spice to your fajitas.
A taste of mexico
For those who want to experience the flavor and culture of Mexico without leaving their homes, a plate of grilled shrimp fajitas is a great way to start. Fajitas, a classic Mexican dish of grilled meats and vegetables with a spicy marinade, have a rich and fascinating history. From their humble beginnings in the Mexican state of Tamaulipas to their rise in popularity in the United States, fajitas have become a staple of both Mexican and Tex-Mex cuisine. To recreate the flavors of traditional Mexican cuisine at home, we can look to the original recipe for fajitas and use simple, accessible ingredients to make a delicious meal.
Fajitas originated in the Mexican state of Tamaulipas in the late 1930s. The original recipe was a simple combination of skirt steak, onions, and chiles wrapped in flour tortillas. It was a popular dish that was served in roadside stands and local restaurants. During the 1960s, the dish began to gain popularity in the United States, particularly in Texas. The Americans adapted the dish, adding grilled bell peppers, tomatoes, and other ingredients to create the familiar fajitas we know today.
To recreate the flavors of authentic Mexican fajitas at home, one should start with a simple marinade of garlic, chili powder, cumin, paprika, and vegetable oil. This marinade will tenderize and flavor the shrimp while adding a mild spiciness. After marinating, the shrimp can be grilled on a hot skillet and served with grilled vegetables, flour tortillas, and your favorite toppings.
Fajitas are a delicious and easy way to bring the flavors of Mexico into your kitchen. Whether you're looking to recreate the flavors of traditional Mexican cuisine or you just want to enjoy a delicious meal, grilled shrimp fajitas are sure to hit the spot. With the right ingredients and a little bit of time, you can enjoy a taste of Mexico in your own home.
Benefits of grilled shrimp fajitas
Grilled Shrimp Fajitas offer a number of nutritional and health benefits, as well as being easy to prepare.
Shrimp are an excellent source of protein, providing almost 20 grams per 3-ounce serving. They are also low in fat and rich in essential vitamins and minerals, including iron, zinc, and vitamin B.
Grilling is a healthier cooking method than frying or sautéing, as it requires little to no added fats or oils, which helps to keep fat and calories down.
Grilling also helps to preserve the beneficial nutrients in the shrimp, such as vitamins and minerals.
Fajitas can be prepared quickly and easily with minimal ingredients, making them a great weeknight dinner option. All you need is some shrimp, bell peppers, onions, and tortillas, along with your favorite seasonings and sauces.
The preparation is simple: just marinate the shrimp, grill the vegetables, and cook the shrimp until they're just cooked through. Then, assemble your fajitas and enjoy!.
Not only are Grilled Shrimp Fajitas nutritious and easy to prepare, they're also delicious and can be tailored to your own tastes. With a variety of flavors and spices, you can create a dish that is sure to please.
Tips and tricks
Tips and Tricks for Making Perfect Grilled Shrimp Fajitas:
For the best-grilled shrimp, marinate the shrimp in a mixture of lime juice, garlic, cumin, chili powder, and olive oil for at least 30 minutes before grilling.
To cook the shrimp, preheat a grill to medium-high heat and oil the grates to avoid sticking. Grill the shrimp for 2-3 minutes on each side until they are cooked through and lightly charred.
When assembling the fajitas, warm up your tortillas in the oven or on the stovetop before filling them.
Use a combination of sautéed onions, bell peppers, and mushrooms as a filling.
Top the fajitas with shredded cheese, lettuce, tomatoes, and/or sour cream for added flavor and texture.
Serve the fajitas with warm tortillas, guacamole, and pico de gallo for a delicious and complete meal.
Get creative
Creativity is key when it comes to making grilled shrimp fajitas. To customize your dish, get creative by suggesting alternate ingredients and recipes. There are countless possibilities to choose from, depending on your preferences and what's in season. Here are a few ideas for alternate ingredients and recipes for grilled shrimp fajitas:
Try adding different vegetables. Examples include bell peppers, onions, mushrooms, zucchini, sweet potatoes, and squash.
Consider different proteins to add to your fajitas. Examples include chicken, beef, pork, chorizo, and tofu.
Try adding different sauces and spices to your fajitas. Examples include salsa, guacamole, cilantro, lime juice, and chili powder.
Try using different types of tortillas. Examples include corn, wheat, or flour tortillas.
Try grilling different types of seafood. Examples include scallops, salmon, mussels, and calamari.
By experimenting with different ingredients and recipes, you can create a unique grilled shrimp fajita dish that's tailored to your preferences.