Slow-Roasted Salmon with Sweet Chili Glaze and Scallions
If you're looking for an impressive yet easy-to-make salmon recipe, look no further than this slow-roasted salmon with sweet chili glaze and scallions. The salmon is first rubbed with a fragrant blend of spices, then slowly roasted until tender and flaky. The sweet chili glaze adds a touch of sweetness and spice, while the scallions provide a fresh pop of flavor. This dish is sure to impress your guests, but is simple enough to make any night of the week.
Ingredients
– 1/2 cup sweet Thai chili sauce
– 1 teaspoon Sriracha
– 2 tablespoons lime juice
– 2 teaspoons soy sauce
– 1 tablespoon finely chopped fresh ginger
– 1 bunch scallions, thinly sliced
– 1 1/2 pounds center cut salmon fillet, skin and pin bones removed
– Kosher salt and freshly ground black pepper
Instructions
1. In a bowl, stir together the Thai chili sauce, sriracha, lime juice, soy sauce, ginger and half of the chopped scallions. Reserve the remaining scallions for garnish.
2. Check salmon for pin bones by running fingers gently over surface; remove any pin bones you find (see Recipe Note). Sprinkle salmon with salt and pepper on both sides.
3. Spread about 1/3 cup glaze in center of 9-x13 inch baking dish. Set salmon fillet on top and coat bottom with glaze; spread remaining glaze over top of fish if desired. Fish can be covered and refrigerated at this point for up to 2 hours before cooking.
4 Preheat oven to 275°F and roast fish 18-23 minutes or until thermometer inserted into thickest part registers 130°F (temperature will rise a few degrees once out of oven).
5 In a bowl, toss greens with olive oil, salt and pepper; sprinkle with lime juice and toss again. Arrange greens on platter; top with broken pieces of salmon from Step 4 along with cilantro, mint and remaining scallions
Nutrition Facts
Serving size: 1/6 of recipe
Calories: 190
Fat: 10 g
Saturated fat: 1.5 g
Unsaturated fat: 7.5 g
Trans fat: 0 g
Cholesterol: 55 mg
Sodium: 470 mg
Carbohydrates: 8 g
Fiber 2g
Sugar 4g Protein 17g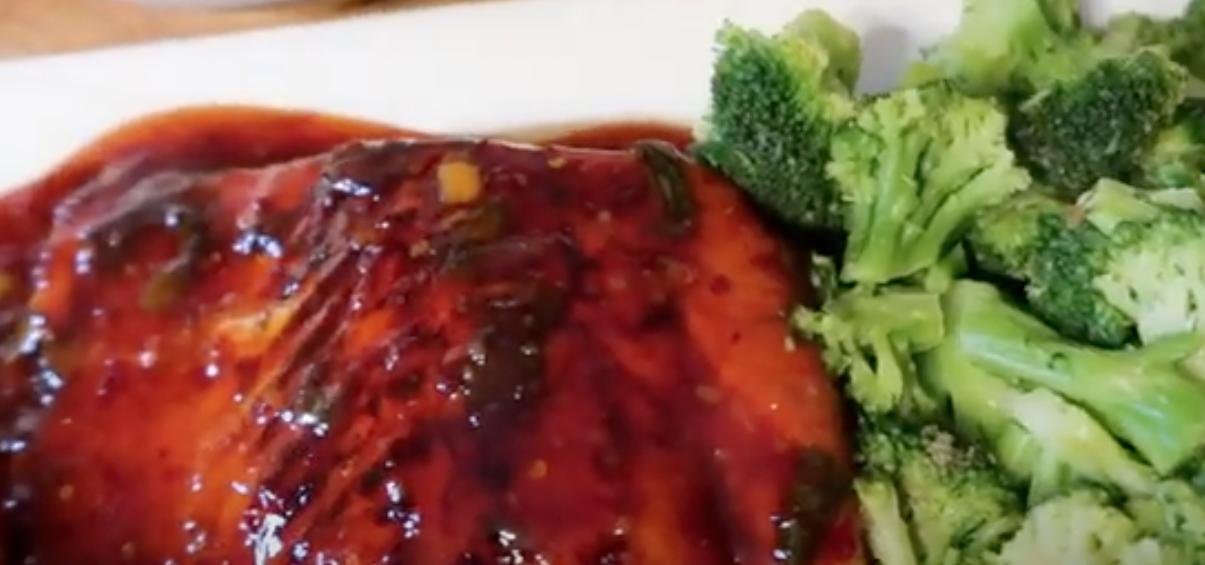 FAQs
What is slow roasted salmon?
Slow roasted salmon is a type of salmon that is cooked slowly at a low temperature. This leaves the fish incredibly moist and tender throughout. As the herb shallot compound butter melts, it seeps into the salmon, flavoring the fish with shallots, lemon zest, and fresh herbs.
What toppings are good for salmon?
There are many delicious toppings that can be used on salmon. Some popular choices include balsamic glaze, remoulade sauce, cilantro lime ranch, bell peppers, basil pesto, shiitake mushrooms, and lemon. Parmesan cheese also goes well with salmon. When choosing a topping for your salmon, it is important to consider what you will be serving it with. For example, if you are planning to serve the salmon with rice and vegetables, then a light sauce or glaze would be a good choice. If you are serving the salmon as part of a sandwich or burger, then something more substantial like pesto or ranch dressing would be a better option. Ultimately, it is up to you to decide what toppings you want to use on your salmon.
How do you bake salmon so it's not dry?
If you're looking to bake salmon that's not dry, there are a few things you can do. First, be sure to increase the baking time to about 20 minutes for 6-oz fillets. This will help ensure the salmon is cooked through. Additionally, cooking fish from frozen often helps avoid drying them out. However, you should only do this with smaller, 6-oz fillets. Bigger fillets will likely be undercooked in the middle if you cook them from frozen.
How does Gordon Ramsay bake salmon?
Gordon Ramsay's method for baking salmon is simple but effective. He starts by seasoning the fish with salt, pepper, and olive oil. Then, he places it on a bed of herbs (he typically uses rosemary and thyme) and lemon slices. Finally, he bakes it in a preheated oven at 400 degrees Fahrenheit for 12-15 minutes.
This method works because the seasonings help to bring out the natural flavors of the salmon, while the lemon slices add a touch of acidity that helps to balance everything out. The result is a perfectly cooked piece of fish that is moist and packed with flavor.