Fresh And Refreshing Cucumber Salad
This recipe for cucumber salad has been a family favorite of mine for years. Whenever I make it, I'm reminded of all the summer barbecues we've had with friends and family over the years. The creamy and tangy dressing, combined with the crunchy cucumbers, is a match made in heaven.
Cucumber Salad Recipe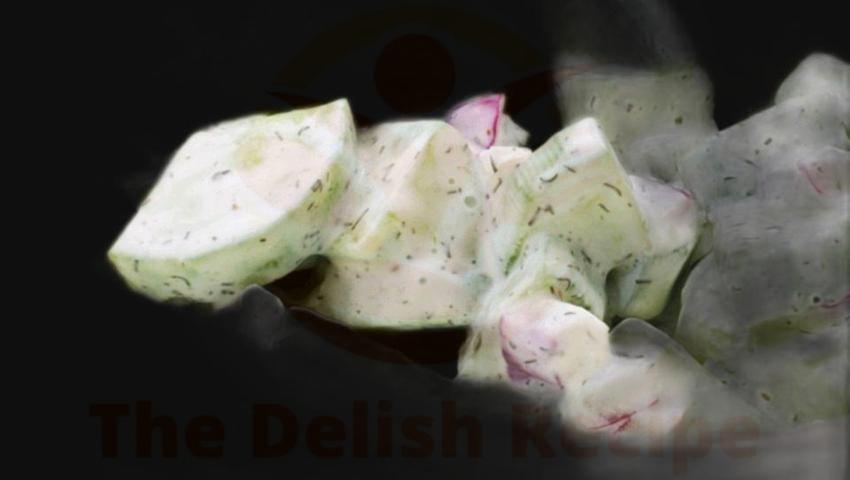 Ingredients
4 medium cucumbers, peeled and diced
½ cup diced onion
2 cloves garlic, minced
1 tablespoon dried dill weed
1 (8 ounce) container vanilla low-fat yogurt
1 (8 ounce) container reduced-fat sour cream
Salt and pepper to taste
Instructions
Begin by prepping the cucumbers, onion, and garlic. Peel and dice the cucumbers, then dice the onion and mince the garlic.
In a large bowl, combine the cucumbers, onion, garlic, dill weed, yogurt, and sour cream. Stir to combine.
Season with salt and pepper to taste.
Cover the bowl and refrigerate for at least 2 hours, or overnight if desired.
Serve the cucumber salad chilled. Enjoy!
Nutrition Facts
Serving Size: 1/4 of the recipe
Calories: 75
Fat: 2.5 g
Carbohydrates: 8 g
Protein: 3 g
Sodium: 50 mg
Cholesterol: 10 mg
What other vegetables can be added to cucumber salad?
Cucumber salad is a great way to add some fresh, summery flavor to your dinner table. In addition to cucumber, there are a variety of vegetables that can be added to create a delicious and nutritious salad. Some vegetables that pair well with cucumbers are tomatoes, bell peppers, red onion, and radishes.
Tomatoes add great flavor and texture to cucumber salad. They can be diced or sliced, depending on the desired texture. They can also be added to the salad raw or cooked for a more tender texture. Bell peppers provide a nice crunch, and can be diced and added to the salad for a colorful burst of flavor. Red onion can be diced and added to the salad for a nice sharp flavor, or you can use pickled onions for a more mild flavor. Radishes can be thinly sliced and provide a peppery flavor.
In addition to vegetables, cucumber salads can also be dressed up with some other ingredients, such as grated cheese, olives, nuts, and herbs. Grated cheese adds a nice creaminess that pairs well with the cucumbers, while olives add a salty, briny flavor. Nuts, such as almonds, hazelnuts, or pine nuts, can provide crunch and a nutty flavor. Fresh herbs, such as parsley, mint, or dill, can also be added to give the salad a pop of flavor.
Overall, cucumber salad is a great way to add a summery, fresh flavor to your meal. The possibilities are endless, so try adding some of these vegetables and ingredients to create a delicious and nutritious salad.
What are the health benefits of eating cucumber salad?
Eating cucumber salad can provide a variety of health benefits.
Cucumbers are a good source of vitamin K, which helps to support bone health.
Eating cucumbers can help to reduce inflammation, as they contain anti-inflammatory compounds.
Cucumbers are rich in antioxidants, which can help to protect against oxidative damage and protect cells from free radical damage.
Eating cucumber salad can help to regulate blood sugar levels, as cucumbers contain a compound called cucurbitacin, which has been found to have blood sugar-lowering properties.
Cucumbers are also a good source of dietary fiber, which can help to promote healthy digestion and can even help to reduce cholesterol levels.
Eating cucumbers can also help to keep your skin looking healthy and youthful, as they are high in water content, which helps to keep your skin hydrated and glowing.
The vitamins and minerals found in cucumbers can also help to support a healthy immune system and help to protect your body from illness.
How does cucumber salad make a great side dish?
Cucumber salad makes a great side dish because it is light, refreshing, and simple to make.
It is a versatile dish that can be enhanced by adding ingredients such as herbs, tomatoes, and onions.
Its versatility allows it to be served as a side dish for a variety of meals, from a picnic lunch to a fancy dinner.
It is a great way to add a healthy dose of crunch and flavor to any meal.
Cucumber salad is also very easy to make, requiring only a few simple ingredients and minimal prep time.
It can be made ahead of time and stored in the refrigerator for a few days, making it a convenient and time-saving addition to any meal.
Cucumber salad is a great source of nutrition, containing vitamins A and C and fiber.
It can also be made in a variety of flavors, from a sweet honey-vinegar dressing to a zesty Italian-style dressing.
It is a healthy and delicious way to add a refreshing and flavorful side dish to any meal.
What are the key tips for making a cucumber salad?
Slice cucumbers thinly: This ensures that the cucumbers are evenly coated with the dressing and that the flavors are distributed more evenly.
Make sure to season the cucumbers: The cucumbers should be lightly salted before adding the dressing to draw out some of the flavors.
Use a light and fresh dressing: Try using a light vinaigrette or a citrus-based dressing. Avoid heavy creamy dressings, as they can overpower the flavors of the cucumbers.
Add herbs and vegetables to customize the salad: Try adding fresh vegetables like tomatoes, onions, or bell peppers for a pop of color and flavor. Adding herbs like parsley, chives, or dill can also add a great flavor.
Let the salad sit for an hour before serving: This will allow the flavors to blend together and the cucumbers to soften slightly.
What different types of dressing pair best with cucumber salad?
When it comes to cucumber salads, the best dressings to pair with them are typically light and fresh. Greek yogurt dressings, citrus-based vinaigrettes, and creamy tahini dressings are all excellent options. Greek yogurt dressings have a light and tangy flavor that pairs well with the cucumber, while citrus-based vinaigrettes are perfect for adding a bright and acidic finish. Creamy tahini dressing is also a great option for cucumber salads, as the nutty flavor of the tahini complements the cool, crunchy texture of the cucumber. For a more savory flavor, try a dressing made from olive oil and cider vinegar, or a dressing made with garlic, Dijon mustard, and honey.
What occasions is cucumber salad best suited for?
Cucumber salad is the perfect side dish for a variety of occasions. It is a light and refreshing accompaniment to a summertime cookout, a great addition to a Sunday brunch spread, and can even be served as a light lunch on its own.
Cucumber salad is an ideal summer side dish. It is composed of cool cucumbers, fragrant herbs, and a light vinaigrette dressing, making it a delicious and refreshing addition to any cookout. It pairs well with grilled meats and vegetables, and is a great way to add a little something special to your outdoor gathering.
Cucumber salad also makes a wonderful addition to a brunch spread. It is a great way to bring a bit of freshness to the more indulgent dishes that tend to dominate, and its lightness allows for a more leisurely brunch. Serve it alongside quiches, frittatas, and other egg dishes for a complete meal.
Finally, cucumber salad is a great option for a light lunch. Packed full of crunchy cucumbers, fresh herbs, and a bright dressing, it is the perfect summertime meal. Add grilled chicken or shrimp to make it more substantial, or serve it with some crusty bread or crackers for a heartier meal. No matter how you serve it, cucumber salad is sure to be a hit.
In conclusion, cucumber salad is a great option for a variety of occasions. From summer cookouts to Sunday brunches and light lunches, this light and refreshing dish is sure to be a hit.
What are some creative ways to serve cucumber salad?
Cucumber salad is a fresh and light dish that can be a great accompaniment to many summer meals. If you're looking for some creative ways to serve it, here are a few ideas to get you started.
One way to give your cucumber salad a unique touch is to add a variety of other ingredients. Try adding some crumbled feta cheese, diced red onion and diced tomatoes for a Mediterranean twist. Or, you can top it with a sprinkle of toasted sesame seeds for an Asian-inspired flavor.
You can also get creative with the dressing for your cucumber salad. Instead of using a traditional vinaigrette, try making a creamy dressing. Simply blend together some Greek yogurt, fresh dill, garlic powder, lemon juice, and salt and pepper to taste. Or, if you're feeling adventurous, you can mix together a few tablespoons of mayonnaise and a tablespoon of mustard for a more classic dressing.
For a more unexpected way to serve cucumber salad, try making cucumber tacos. Start by slicing cucumbers into thin strips, then top with a mix of diced tomatoes and red onion, some crumbled feta cheese, and a creamy dressing. Serve them up in small taco shells for a fun and creative twist.
Finally, for a light and tasty snack, try serving cucumber salad as a dip. Simply dice up a cucumber, add a few tablespoons of Greek yogurt, some chopped fresh dill and a sprinkle of garlic powder. Serve with some crunchy vegetable sticks for a delicious, healthy snack.
These are just a few of the many creative ways you can serve cucumber salad. With a little experimentation, you can create a unique and delicious dish that everyone will enjoy.